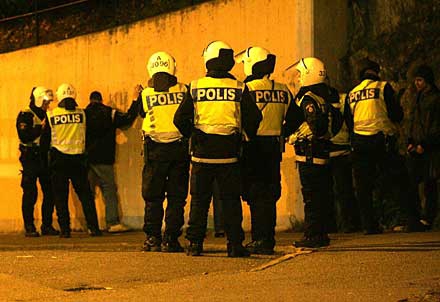 Sweden Grapples with Rising Extremism
By: John C. K. Daly
The Jamestown Foundation & http://www.moderntokyotimes.com
Placid constitutional monarchy Sweden used to be perceived as largely immune from Islamist terrorism; even Osama bin Laden, in a videotaped speech in November 2004, said: "Before I begin, I say to you that security is an indispensable pillar of human life and that free men do not forfeit their security, contrary to Bush's claim that we hate freedom. If so, then let him explain to us why we don't strike, for example, Sweden?" (al-Jazeera, November 1, 2004). Just over a decade later, Sweden is being forced to grapple with the issue of radicalization in its Muslim communities, with the rise of the Islamic State threatening to catalyze existing trends of alienation, criminal and anti-Semitic violence and social polarization. A 2009 U.S. government report stated that there were 450,000-500,000 Muslims in Sweden, composing around five percent of the total population. [1] Large-scale Muslim immigration to Sweden began in the late 1960s, with immigration primarily from Turkey and the Balkans, later supplemented by arrivals from North Africa and the Middle East.
Growing Radicalization
Although the problem of Islamist radicalization came to Sweden later than to other European countries such as the UK and France, this trend was evident by the early 2010s. One of the most visible signs of this development came in November 2010, when Sweden raised its national terrorism threat level to medium for the first time ever; it has remained elevated ever since. [2] The very next month, on December 11, a car bomb exploded in central Stockholm, following which the bomber detonated his own suicide vest on a street, killing himself (The Local [Stockholm], December 11, 2010). The bomber, a Swedish citizen of Iraqi origin, had emailed a news organization before the attacks to say that his attack was in retaliation for the presence of Swedish soldiers in Afghanistan and for controversial cartoons of the Prophet Muhammad drawn by a Swedish artist (Tidningarnas Telegrambyra, December 11, 2010). Although the bomber was believed to have been at least partly radicalized in the UK and was potentially trained by militants in Iraq, the incident drew attention to the growing threat posed by radicalized Swedish nationals (Sverige Radio, October 22, 2014).
Although no equally significant Islamist attacks have occurred in Sweden since then, Swedish government assessments have continued to note the ongoing threat. For instance, in its 2013 annual report, the Swedish intelligence service Säkerhetspolisen (Säpo) noted:
Terrorist-related activities in Sweden are primarily carried out by those who are motivated by Islamist extremism and such activities most often serve to support terrorist offenses in conflict zones such as Iraq, Afghanistan, Somalia, Yemen and Syria. Several people are also known to have travelled from Sweden to conflict zones to engage in terrorist training or other unlawful acts of violence… The terrorist threat to Swedish interests stems mainly from violence-promoting Islamism or al-Qaeda-inspired groups. [3]
More recently, in November 2014, Säpo's director general, Anders Thornberg, estimated that around 200-300 Swedish citizens had travelled to Syria to join al-Qaeda-inspired groups, with around 20 of these being killed and others returning to Sweden (Sveriges Radio, November 22, 2014). Referring to the Iraq and Syria-bound Swedish jihadists, Thornberg commented: "A certain number of young Swedish men are leaving and training in camps, learning to become terrorists to use explosives and weapons. They're going beyond the bounds of human behavior. They're fighting and killing other people." Since then, Säpo seems to have grown increasingly concerned about terrorist groups' recruitment of Swedish citizens, with spokesman Fredrik Milder saying in January 2015: "This is a national and international problem"(Sveriges Radio, January 23). Similarly, the chief police inspector of the capital Helsinki, Jari Taponen, said in January that of those who have travelled from Sweden to the Islamic State, 76 percent were Finnish passport holders and "almost 20" of whom were ethnic Finns (Yle TV1, January 22).
Evidence also suggests that Sweden may also see violence related to the ongoing tensions between Muslim radicals and wider society over issues relating to free speech and blasphemy. In particular, long predating France's Charlie Hebdo controversy, Sweden had its own cartoon controversy in 2007, which has not yet entirely died down. The controversy followed the Jyllands-Posten Muhammad cartoons incident in Denmark in early 2006 and began on June 11, 2007, when Swedish artist Lars Vilks, after being invited to participate in an art exhibition on "The Dog in Art," submitted three pen and ink drawings depicting Muhammad as a dog; Vilks had already drawn Muhammad in another exhibition in Vestfossen, Norway, leading to a number of reported threats against him (Dagens Nyheter, May 17, 2010). In 2011, police in Gothenburg arrested three men on suspicion of planning to murder Vilks (Goteborg Daily, September 21, 2011). Tensions over the issue re-emerged following the Charlie Hebdo shootings in Paris in early 2015. For instance, on January 7, a Swedish TV broadcaster accessed a secret Facebook group of Swedish jihadists and their supporters and found messages praising the attack on Charlie Hebdo's offices in Paris. One user also posted, "Now these disgusting pigs will think twice before they mock Allah and His prophet," while another called for Allah to "multiply such attacks" (Sveriges Television AB, January 7).
Unrest
In addition to Islamist radicalization, Sweden has also faced broader problems with integrating Muslim immigrants. This was illustrated in May 2013 when several Stockholm suburbs with large Muslim immigrant populations, including Husby, Rinkeby and Kista, were plagued by riots lasting two weeks and were only ended after a massive police effort and a huge civil society mobilization (Sveriges Radio, May 28, 2013). The riots left 30 police officers injured and caused an estimated 60 million krona of damage ($6 million) (Sveriges Radio, July 29, 2013).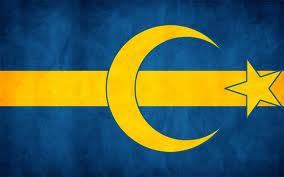 The challenges facing Sweden in integrating its large Muslim population are perhaps best illustrated in Malmö, Sweden's third largest city, where 41 percent of the population have a foreign background (30 percent were born abroad and 11 percent are Swedish-born with foreign-born parents). [4] The city is marked by high levels of criminal and anti-Semitic violence, both of which often involve Muslims from the city's low-income districts. In 2014, Malmö suffered 36 small-scale bombing, with targets including police stations, courts, a prosecutor's office, a detention center and shops (10News.dk, December 28, 2014). Amid rising Muslim-Jewish tension in the city, Malmö police also recorded 60 hate crimes against Jews in 2012, up from an average of 22 in 2010 and 2011 (Jerusalem Post, August 1, 2013). Although most of these bombing incidents appear to be related to criminal and gang-related issues, rather than terrorism or ideologically-driven extremism, many also involved Muslim immigrants and therefore indicate the potential for Islamist extremists to access firearms and explosives.
Government Response
In response to the above developments, and particularly to the involvement of Swedish citizens in the Islamic State group, the government is now considering revamping its national counter-terrorism strategy, which was last updated in 2012. According to Interior Minister Anders Ygeman, this is motivated by both the growing number of people fighting abroad and from assessments that these individuals may pose a threat to Sweden. Ygeman said: "We have those who travel and fight abroad and then come back, who can pose a terrorist threat" (Sveriges Radio, January 23). In addition, on January 11, Thornberg told the country's annual security policy meeting in Salen that Säpo had managed to prevent a terrorist attack on Sweden through online surveillance conducted with the assistance of the National Defense Radio Establishment. He also commented on the country's slowness to move into online monitoring: "It was terrible when we were the only Western democracy where the security police could not conduct online surveillance" (Helsingin Sanomat [Helsinki], January 13).
Outlook
The scale of Muslim immigration into Sweden has long caused tensions between the Swedish population and the newcomers. More than two decades ago, on August 14, 1993, Sweden's Muslim community suffered its first arson attack when the Trollhättan mosque was burned to the ground (Polimasaren, August 19, 2014). Since then, strains between the two communities have slowly risen, no doubt partly prompted by growing radicalization among some elements of Sweden's Muslim communities. In particular, there is a trend of mosques being attacked. Over an eight-day period in December-January 2015, several mosques in cities across Sweden – Eslöv, Eskilstuna and Uppsala – were torched in arson attacks (Svenska Dagbladet [Stockholm], January 4). On January 9, Gothenburg's main mosque was evacuated after a bomb threat, exacerbating Swedish Muslims' fear of reprisals following the Charlie Hebdo massacre in Paris (Expressen [Stockholm], January 9).
These incidents, alongside the above evidence of growing Islamist radicalization, highlight the potential for further attempted terrorist attacks in Sweden and for broader unrest between Sweden's different communities. In particular, there is the clear potential for a cycle of violence to develop, fuelled by relatively easy access to firearms and explosives in cities such as Malmö, attacks on mosques, Islamist anger at perceived slights to their religion by artists such Vilks, all fuelled further by the growing involvement of a significant number of Swedes in the Islamic State organization.
Dr. John C. K. Daly is a Eurasian foreign affairs and defense policy expert for The Jamestown Foundation and a non-resident fellow at the Central Asia-Caucasus Institute in Washington, DC.
Notes
"2009 Report on International Religious Freedom," U.S. Department of State, October 26, 2009,

http://www.state.gov/j/drl/rls/irf/2009/

.

"2013 Crime and Safety Report," Government of Sweden.

"Säkerhetspolisens årsbok 2013" (Security Service Yearbook), Säkerhetspolisen, pp. 29-31.

"Malmö stad – Malmöbor med utländsk bakgrund," Malmö city (City of Malmö – Malmö residents of foreign origin),

http://malmo.se/Kommun–politik/Statistik/Befolkning/Utlandsk-bakgrund.html

.
Files:
TerrorismMonitorVol13Issue3_01.pdf
The Jamestown Foundation kindly allows Modern Tokyo Times to publish their highly esteemed articles. Please follow and check The Jamestown Foundation website at http://www.jamestown.org/
https://twitter.com/JamestownTweets The Jamestown Foundation
Photo: Remains of a mosque in Eskilstuna, Sweden after it was set on fire (Source: Pontus Stenberg).
http://www.jamestown.org/programs/tm/single/?tx_ttnews%5Btt_news%5D=43511&tx_ttnews%5BbackPid%5D=26&cHash=138e685255a4e15904e8a30df4c56459#.VN_NNMb6nLU