door Sid Lukkassen
Ex: https://www.novini.nl
Ex: Eerder dit jaar filosofeerde ik over het boek Keep the Aspidistra Flying. Daarin maakt George Orwell invoelbaar hoe banaal en afgestompt het leven van de Britse middenklasse was. Nadien verscheen er in Nederland een boek met een soortelijk thema: het is geschreven door Mel Bontje en heet Bart Mittendorf, een zak met niets. Van de film The Matrix (1999) kennen we allemaal de keuze tussen de blauwe en de rode pil. Wie de rode pil slikt, wordt wakker in de harde realiteit maar leeft wel in de authentieke waarheid. De blauwe pil betekent weer in slaap vallen en wegdromen bij comfortabele leugens.
Laat me daarom tevoren één opmerking maken: voorbij dit boek is de weg naar de blue pill onbegaanbaar. Reader beware.
Het verhaal heeft raakvlakken met films als Fight Club (1999) en Noise (2007). In Noise ontmoet een man die is voorbestemd voor het leven van de familie doorzon een even wellustige als gewillige filosofiestudente. Zij prikkelt zijn geest en vervult zijn oerinstincten. Hierdoor ziet hij in een moment van helderheid hoe hij gebukt gaat onder een hedonistische technocratie: hij breekt los uit zijn routinebestaan en besluit volledig break the system te gaan.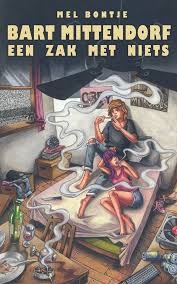 Vanaf de openingspagina is duidelijk welke auteur voor Mel Bontje een grote inspirator is. Seks in een boek is één ding, maar waarom toch die fascinatie met zelfbevlekking? Een ander feit dat in het oog springt is dat de auteur doorklinkt in de gesprekken. Hij laat zich kennen in zowel zijn fascinatie met aftandsheid en verval, als in zijn erudiete woordkeuzes om sociale analyses uit te drukken. Dit rijmt niet overal met de personages: het zijn deftige zinnen waarmee de jonge geest absoluut en doordringend oordeelt over de werkelijkheid.
De hoofdpersoon Bart Mittendorf loopt een zielloze haptent binnen. "Het enige speelse in de zaak was het geluid van het borrelende frituurvet" (p.38). Elke pagina kent dergelijke zinnen – de auteur is duidelijk getalenteerd. Wel geven de personages lange, gestileerde commentaren op de maatschappij en op wat er speelt in hun leven. Deze reflecties vinden plaats binnen situaties die daar soms te vluchtig voor lijken.
Via deze commentaren drukt het boek het afgrijzen uit van het vooruitzicht een diploma te halen bij een instituut dat zich niet om je bekommert, om vervolgens in dienst te treden bij een bedrijf dat zich niet om je bekommert. Ondertussen een sprankelend en levenslustig enthousiasme veinzend om jezelf 'in de markt te zetten' – dit afgrijzen wordt met drank, drugs of Netflix gekalmeerd en dit noemen we 'vrijheid'.
"Ik heb het geprobeerd, maar ik kwam erachter dat ik geen geluk haal uit een leven dat bestaat uit interactie met jongens en meisjes die hun gebrek aan authenticiteit verschuilen achter maat- en mantelpakjes […] Alles voor het behalen van validatie in een absurde, ontwortelde en volledig vervlakte realiteitscontext. Niemand was meer dan een mislukte reproductie van een vacatureomschrijving." (p.16-7)
Het type leven dat zojuist werd omschreven hebben we ook nog eens uitgeroepen tot het hoogst haalbare in de menselijke geschiedenis, namelijk 'liberale democratie'. En zo stuurt het boek ons indirect in de richting van een levenswijsheid: niet het hebben van een hoog inkomen is het geheim van de vrijheid, maar het hebben van een laag uitgavenpatroon. De auteur verwoordt dit als volgt: "Zijn buikvet zou schuilgaan achter een maathemd van dure stof. Dag in dag uit zou hij gehuld moeten gaan in een mantel van leugens en opgaan in de grijze massa der kantoorschepsels tot hij niet beter zou weten. Toch wilde hij de chaos in zijn ziel niet laten bedwingen door de dwangbuis van het bedrijfsleven." (p.17)
De kernzin van het boek – en feitelijk van de Westerse cultuur – vinden we op pagina 52: "Niets dwong me om serieus te worden." Oftewel de hedonistische technocratie houdt ons gevangen in een post-adolescentie. Het is normaal dat je na je afstuderen een vaste baan vindt met een degelijk salaris en dan een gezin sticht. Tenminste dat geldt voor een beschaving die wil voortbestaan. Onze realiteit na het afstuderen is tig onbetaalde stages, nul urencontracten, tien jaar Tinderen, een leven lang huurwoningen.
Échte volwassenheid betekent in deze situatie: een slaaf worden van het systeem. Steeds meer jongvolwassenen zien dit en slikken de rode pil. Ik ken een arts die maandelijks 4.000 euro verdient en 2.500 overhoudt. Ik ken een consultant die 5.000 verdient en 2.800 overhoudt. Beiden werken dag en nacht. De auteur beschrijft soortgelijke situaties en concludeert dat we welbeschouwd werkvee zijn van een globale elite, die jongeren met kosmopolitische propaganda bestookt om hen in dit keurslijf te lokken:
"Hoe langer de jonge westerling op reis is, hoe meer hij gaat geloven in de maakbaarheid van de wereld, het ideaal van mondiaal pacifisme en postmoderne theorieën. In de Berlijnse hostels krioelt het van de cultuurmarxisten: types die het als hun levensdoel zien om zich op te werpen voor alles wat zwak en zielig is. Ze willen niets liever dan zichzelf wegcijferen voor alles dat als minderheid, onderdrukt of achtergesteld bestempeld kan worden. Het Berlijnse jeugdhostel is de bunker van de Gutmensch." (p.56)
Dat de welbespraaktheid van de personages niet overal rijmt met hun sociale stratificatie, maakt echter niet dat het geen leuke personages zijn om over te lezen. Neem nu Vera – zij wordt omschreven als slank, blond en goed in vorm. "Vera zweeg, legde haar hand op Barts rug, bracht haar lippen richting zijn hals en klom langzaam op zijn schoot. Ze zat met haar gezicht naar hem toe, met zijn neus onder haar boezem" (p.56). Dit personage vervult een belangrijke pedagogische rol: Vera's geile gekronkel leert jeugdige lezers dat cultuurrealisme en postprogressivisme wel degelijk kunnen leiden tot goede seks.
Dit is een passend moment om kort iets te zeggen over Houellebecq, met wiens proza er vele gelijkenissen zijn. "Mijn wanstaltige voorkomen zou ze met een enkele blik veroordelen. Zonder woorden zou ze de verwerpelijkheid van mijn gedaante in volle helderheid bevestigen" (p.35). Deze Franse schrijver wordt soms 'vrouwonvriendelijkheid' verweten oftewel misogynie – het tegendeel is waar. Deze auteur die in de verleidingskunst wat klungelig is, maakt zijn vrouwelijke personages tot lustvolle sletten die zélf het contact initiëren. 'Sletterig' is hier niet in een negatieve zin bedoeld, maar juist in een sekspositieve. De vrouwelijke karakters die hun genot najagen zijn uiterst geëmancipeerd.
Het enige kritiekpunt op Bart Mittendorf is dat de auteur mogelijk teveel doorschijnt in de erudiete volzinnen van de personages. De dialogen van de personages zijn soms te intelligent geschreven voor de proleten die ze zijn. Maar al met al is dit een perfect jeugd- en avonturenboek dat de huidige tijdsgeest weerspiegelt. De anti-Steppenwulf.
"Rustig blijven we onze dagelijkse taken uitvoeren; we hopen dat iedereen elkaar ooit, zonde enige vorm van wrok, de hand zal reiken. In lijn met de Duitse filosoof Johann Gottfried von Herder stellen we ons voor dat culturen elkaar prachtig aanvullen, zoals bloemen in een tuin. Wat we vergeten is dat al die bloemen snakken naar licht, ruimte en lucht. Het hardnekkigste onkruid zal de dienst gaan uitmaken en al het overige verdringen. We laten iedereen binnen en zien alles steeds verder naar de klote gaan. Hierover durven we geen oordeel te vellen." (p.63)

"We worden uitgeleverd door een politieke elite die zijn machtsgeile gezicht verschuilt achter een masker van valse humanitaire waarden. Het is de neomarxistische elite die de fatale baksteen in het bloedende gezicht van Europa smijt. Ik kan het niet accepteren om als nietszeggend schepsel te worden vertrapt onder de schoenzolen van de botsende beschavingen." (p.64)

"In de menigte leek iedereen op elkaar: het kroost van het kroost van 68-ers." (p.77)

"We zijn te laf om de slijmerige realiteit te ontsluieren. Tot dat moment, het moment dat we onszelf hebben ontdaan van de leugen, zullen we enkel leven om vergeten te worden, tot niets groots in staat zijn en louter onzinnig slavengedrag vertonen." (p.22)
De schrijver Mel Bontje zal natuurlijk niet worden 'ontdekt' door 'kwaliteitsmedia': daarvoor is het deuggehalte onvoldoende – zo zal duidelijk zijn uit het bovenstaande meesterlijke proza. Maar het boek is zéker de moeite van het lezen waard. Misschien is het hier en daar zelfs net te gepassioneerd geschreven 'for his own good'. Zoals ik al zei: voorbij dit boek is de weg naar de blue pill onbegaanbaar.
Op zaterdag 29 september om 15:00 uur vindt een boekpresentatie plaats van het boek 'Bart Mittendorf. Een Zak Met Niets' in Boekhandel Cursief te Gorinchem. Meer informatie hier: https://www.facebook.com/events/1129092800581064/