Murad Makhmudov and Lee Jay Walker
Modern Tokyo Times: http://www.moderntokyotimes.com

The mass media corporations throughout the Northern Hemisphere that incorporate the Sunni Muslim media agenda, once more appear to be quenching the al-Qaeda and Sunni Islamist terrorist chord along with so-called humanitarian organizations that incite. Of course, the pattern is abundantly obvious despite the media elites ignoring this reality. After all, since the Siege of Mecca, this natural flow can be seen in the coverage of Afghanistan (the 1980s and early 1990s), Bosnia, Libya, Syria, and now the same media and the humanitarian machine that incites is in full flow against Myanmar.
In other words, the mass media ups the ante against either the non-Muslim side in the conflict or against Muslim leaders that seek a more secular or non-Sharia Islamic path. Hence, the mass media and various Sunni Islamist terrorist groups espouse overt generalizations jointly in order to galvanize the "Takfiri sword."
Reuters reported last year, "In a video message released by al Qaeda's al-Malahem media foundation, Khaled Batarfi called on Muslims in Bangladesh, India, Indonesia, and Malaysia to support their Rohingya Muslim brethren against the enemies of Allah."
The result of the usual theme turned Afghanistan into Year Takfiri Zero after ousting President Najibullah. Since the start of the demise of Afghanistan the same one-sided media hatchet job then manipulated events in Bosnia to galvanize the "Muslim victim card," while Islamists – including international jihadists – were butchering and beheading on the ground based on a mainly silent mass media. Of course, the same scenario of good versus evil would then be ushered against Libya and Syria – in recent times the same process is being used against Myanmar. This mass propaganda that is propagated in Western media circles – and similarly being ushered by Gulf media outlets – is the boost that Sunni Islamists need in order to declare another "fake jihad." The upshot is a huge boost for international Sunni Islamist terrorists, a future failed or weakened nation-state, and further persecution against religious minorities – be they Alawites, Christians, the Shia, Shabaks, Yazidis, or other faith groups.
Therefore, the announcement that al-Qaeda seeks a Sunni Islamist "fake jihad" against Myanmar on the back of the mass media, is yet another continuation of a process that is monotonous by nature. In other words, the same collaborating forces are now seeking a new conflict in Myanmar that will encourage more terrorism and embolden sectarianism on all sides. Hence, humanitarian groups are equally inciting against one side while glossing over massacres in the other direction and failing to link events in the Chittagong Hill Tracts and Southern Thailand.
Khaled Batarfi, a leading figure in Al-Qaeda in the Arabian Peninsula (AQAP), called on international Sunni Islamists to declare war against the government of Myanmar. He said, "So spare no effort in waging jihad against them and repulsing their attacks, and beware of letting down our brothers in Burma [Myanmar]."
Of course, it is fine for AQAP and other Sunni Islamist terrorist groups to butcher and slaughter Shia Muslims and other non-Muslim groups. After all, Shia Muslims are deemed to be "apostates" in the eyes of Sunni Takfiris. Hence, AQAP and Saudi Arabia led Sunni alliance in Yemen, happens to be turning this country into a living nightmare. However, this reality isn't seen by AQAP and other Sunni Muslim voices emanating from nations including Turkey (a nation that also kills the mainly Sunni Kurds and is involved in supporting sectarianism against the Syria government) because it doesn't suit the agenda. Like usual, while Yemen is going to hell the usual Western powers are selling more military arms to allies throughout the Gulf. Therefore, the only thing that unites "the fake unifying Sunni Muslim voice" is a sense of injustice providing Muslims are perceived to be on the losing side when fighting non-Muslims or the Shia.
Shia Iran is also caught up in the rhetoric but where were the mass Sunni Muslim demonstrations against ISIS (Islamic State – IS) in Iraq, when ISIS butchered the Shia in vast numbers in single based massacres in several parts of the nation? Likewise, did nations like Malaysia (Shia Islam is illegal) and Turkey (Alevi persecuted and the mainly Sunni Kurds killed by the state apparatus) lambast ISIS to the same anti-Myanmar degree when Sunni Takfiris began to cleanse Christians in Iraq, enslave Yazidis, and kill the Shia? Despite this, Iran also plays the "Muslim victim card" despite the fact that it is Sunni Islamists on the whole that is butchering the Shia in several nations.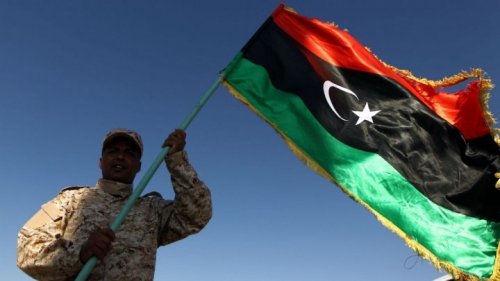 Turning to Libya, Colonel Gaddafi was no saint but the mass media glorified a "fake-revolution" that was based on Gulf and NATO intrigues. Like usual, the media provided the propaganda angle and then Sunni Islamists entered the fray on the ground. Hence, the usual forces promised democracy in Libya but the end result was a failed state, the lynching of black Africans by various Arab militias, ISIS beheading Christians, rampant poverty, countless militias, the destruction of Sufi shrines by Takfiris, and becoming a conduit for exporting Sunni Islamist sectarians to Syria. In 2018, Libya is now a paradise for human smuggling and raping black African female migrants in transit and other ill deeds based on being a failed state.
This reality, just like supporting Sunni Islamists in Afghanistan in the 1980s and early 1990s, is a million miles from the promises ushered by senior international politicians and the mass media. In other words, the propaganda used to oust both leaders led to failed states, narcotics, women put further into the shadows, chaos, and boosting forces that support killing apostates, stoning women to death for adultery, butchering the Shia (Afghanistan), and other barbaric realities.
The next nation to follow the usually combined forces of the mass media, Sunni Islamist sectarianism, Gulf and NATO intrigues, and the incitement by humanitarians was Syria. After all, from day one Sunni Takfiris supported the policy of "Alawites to the grave, Christians to Beirut." Yet, the mass media portrayed a one-sided view of events that swelled the numbers of Sunni Islamist terrorists entering Syria from nations including NATO Turkey.
Myanmar now faces the same combined forces based on "good versus evil." Given this reality, Al-Qaeda is seeking to further increase the bloodshed and spill blood in the name of sectarianism and Sunni Islamic jihad in this nation – while Bengali Muslims on the ground in Rakhine seek another land grab to replicate the Chittagong Hill Tracts. Hence, like usual, this is following on from the one-sided mass media reports of events in Myanmar. Hence, while small minorities including the mainly Buddhist Mro people face being cleansed by the Arakan Rohingya Salvation Army (ARSA) – who are following the usual Islamist traits of killing and persecuting small minorities – the mass media is negating this reality to any major extent. Similarly, ARSA terrorists in Myanmar are killing Bengali Hindus. Meanwhile, some reports state Hindu women are being forced to convert to Islam – a tactic used against Yazidis in Iraq and against other minorities in countless conflicts throughout history. Despite this, the mantra of the mass media is creating the knock-on-effect of encouraging international jihadists to flock to the arena of conflict based on "good versus evil."
AFP (France 24) reports, "San Tun said many of his Mro people — who number between 20,000 and 40,000 — had to leave everything behind as they sought sanctuary in government-held areas, fearful Rohingya militants would target them again."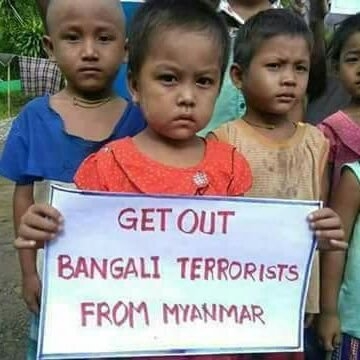 Modern Tokyo Times says, "In other words, just like Yazidis have been enslaved and raped by Sunni Islamists in Iraq, and the same Sunni Islamist Takfiri virus stating "Alawites to the grave, Christians to Beirut" in Syria, then the small mainly Buddhist tribe of the Mro equally face Islamist cleansing. Yet, if mass media corporations seek to be believed, then surely the Islamists of ARSA would be solely focused on the armed forces of Myanmar in order to protect Bengali Muslims. Instead, just like in Iraq where Sunni Islamists target Yazidis and other minorities who have no power – nor have persecuted Sunni Muslims – it seems that ARSA is following the Islamist mantra of cleansing, killing, and persecuting…Therefore, ARSA is threatening the small mainly Buddhist tribe of the Mro who number between 20,000 and 40,000 people. At the same time, Bengali Hindus caught in the path of ARSA also face the Islamist sword."
Overall, with al-Qaeda seeking a new Sunni Islamic jihad against Myanmar, then once more the mass media is laying the foundation by spreading one-sided versions to the point of inciting hatred. Similarly, Sunni Islamists throughout Europe will utilize the non-Muslim angle in order to recruit more terrorists to several conflicts. Therefore, Myanmar faces increasingly dark times and regionally divided loyalties will boost sectarianism on several fronts.
It is worth noting that more Muslims have been killed by Muslims in nations including Afghanistan, Iraq, Libya, Somalia, Syria, and Yemen – rather than in Myanmar. Equally, the security forces in this nation only responded after Islamists and Bengali Muslims turned against the indigenous of Rakhine. Of course, this will not stop the Islamist agenda of spreading more violence to Myanmar – while increasing pressure regionally in nations including Bangladesh and Indonesia. This role is continuously played out based on the one-sided media mantra and the role of humanitarian agencies that incite.
http://www.france24.com/en/20170903-buddhists-hindus-flee...
https://www.reuters.com/article/us-myanmar-rohingya-alqae...