mardi, 22 octobre 2013
Ex: http://www.elespiadigital.com
Por Germán Gorraiz Lopez
Erdogan proseguiría con su estrategia de implementar el Estado Erdoganista, (socavando los pilares del Estado Secular que en 1923 implantó el Padre de la Turquía Moderna, Mustafa Kemal) y que se plasmarían en pinceladas como la implantación de la enseñanza del Corán en la escuela Primaria, restricciones a la libertad de expresión en forma de encarcelación de periodistas opositores, la polémica restricción de venta de alcohol y el anunciado despliegue de la policía en los campus y residencias universitarias que podría desencadenar un nuevo Mayo del 68. Recordar que Kemal creía que "el secularismo y la europeización de Turquía eran los medios más aptos para transformar su país en una nación industrial moderna", pero el kemalismo dejó como herencia una crisis de identidad en la sociedad turca, europeizada pero no integrada en las instituciones europeas y musulmana pero extraña al mundo islámico.
Erdogan y Egipto
El primer ministro turco, Recep Tayip Erdogan, ha acusado al Gobierno en funciones de Egipto de terrorismo de Estado y ha comparado al jefe del Ejército, Abdel Fatá al Sisi, con el presidente sirio, Bashar al Assad. Igualmente, acusó a los medios de comunicación occidentales que transmitieron en directo las protestas violentas de las calles de Estambul, "como BBC y CNN" de "no mirar ni escuchar lo que ocurre en Egipto", según el diario 'Hurriyet'.
El propio Erdogan ha reiterado que Turquía no reconoce al Gobierno interino egipcio y que sigue considerando al depuesto y encarcelado mandatario, Mohamed Morsi, como único presidente legal del país árabe, con lo que la tensión entre ambos Gobiernos ha ido "in crescendo" y tras el baño de sangre producido por la represión del ejército egipcio, ambos países habrían llamado a consultas a sus respectivos embajadores y Egipto habría cancelado las maniobras militares marítimas conjuntas que tenía previsto realizar con Turquía el próximo mes de octubre , debido " a la injerencia flagrante de Ankara en los asuntos egipcios", por lo que Erdogan se habría granjeado la enemistad de EEUU.
Pulso Erdogan-TSK
El Ejército turco (TSK) desempeña un importante papel político en la sombra, puesto que se consideran los guardianes de la naturaleza secular y unitaria de la República siguiendo los postulados kemalistas y los partidos políticos juzgados como anti-seculares o separatistas por el Poder Judicial Turco (a instancias del estamento militar), pueden ser declarados ilegales.Ya en vísperas de la elección de Abdullah Gül como Presidente de Turquía ( agosto del 2007), las Fuerzas Armadas afirmaron que "intervendrán decisivamente en la defensa del laicismo ante los esfuerzos de determinados círculos de socavar los valores fundamentales de la república que han aumentado claramente en tiempos recientes", advertencia próxima a la retórica del Golpe Militar de 1.980 y que podría extrapolarse a la situación política actual.
En los últimos años , Erdogan ha asestado varios golpes a la cúpula militar turca, del que sería paradigma la decisión de Erdogan de relegar de su cargo a tres oficiales de alto rango acusados de formar parte de la trama "Ergenekon", una agrupación ultra-nacionalista compuesta por militares y activistas de marcado carácter laicista, pero también por segmentos de la esfera política, mediática, intelectual y educativa del país y cuyo supuesto cometido habría sido deponer al actual ejecutivo islamista de Erdogan y el pulso Erdogan-TSK habría llegado a su paroxismo con las sentencias condenatorias del caso Erdegon, destacando la dureza de las penas impuestas a 250 de los implicados, 12 de los cuales habrían sido condenados a cadena perpetua.
¿Hacia el golpe de mano?
El mandato de Erdogan como primer ministro finiquita en el 2015 sin posibilidad de reelección,por lo que es previsible que abandone el puesto de Primer Ministro para competir por la presidencia en las elecciones presidenciales de septiembre.
Dicho cargo sería meramente simbólico pero podría asumir poderes ejecutivos si prospera la reforma constitucional que el propio Erdogan propone con el objetivo inequívoco de implantar la nueva República Islámica de Turquía en el horizonte del 2016, con lo que Turquía se convertiría en un régimen indefinido en el que la lealtad a los intereses occidentales en Oriente Próximo estaría en entredicho.
Ante esta situación, tras conocerse las condenas del mediático affaire Ergenekon, (de las que sería paradigma el general retirado Ilker Basbug, antiguo Jefe de Estado Mayor del TSK, condenado a cadena perpetua y su frase premonitoria "La Nación tendrá la última palabra") y sin el paraguas protector de la UE (al posponer "sine die" la incorporación de Turquía miembro de pleno de derecho de la UE), no sería descartable que el ejército turco (TSK) protagonice un nuevo golpe "virtual" o "posmoderno" que acabaría con el mandato del Primer Ministro Erdogan, (rememorando el 'golpe blando' de 1997, cuando los generales kemalistas arrebataron el poder al Gobierno del presidente Necmettin Erbakanpor, quien lideraba una coalición islamista).
Dicho golpe contaría con las bendiciones de Washington al haber dejado Erdogan de ser un peón útil para la estrategia geopolítica de EEUU en Oriente Próximo y significaría el ocaso de la primavera árabe del arco mediterráneo y la posterior inmersión en el llamado otoño árabe, fruto de la nueva estrategia de EEUU para la zona tras el evidente fracaso para sus intereses del experimento de exportación del otrora régimen islamista moderado y pro-occidental de Erdogan a todos los países que componen el tablero gigante del mundo árabe-mediterráneo.
La nueva estrategia de EEUU consistirá en la implementación de "golpes virtuales o postmodernos" en los países de la zona con el objetivo inequívoco de sustituir a los regímenes islamistas surgidos de las urnas por regímenes militares presidencialistas en el marco del nuevo escenario geopolítico mundial surgido tras el retorno al endemismo recurrente de la Guerra Fría entre EEUU y Rusia, quedando Siria y Marruecos como portaaviones continentales de Rusia y EEUU respectivamente.
* Analista
00:06 Publié dans Actualité | Lien permanent | Commentaires (0) | Tags : actualité, politique internationale, erdogan, turquie, levant, proche orient, armée turque |
|
del.icio.us |
|
Digg |
Facebook
mardi, 17 septembre 2013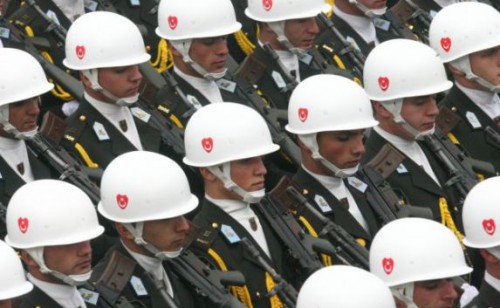 Turkey's Islamists and the military
Youri Kirillov
Ex: http://journal-neo.org
A trial of a group of the former military has started in Turkey. They are accused of the overthrow, in the course of the bloodless coup in 1997, of the Islamist government led by Prime Minister N. Erbakan's Refah Partisi (Welfare Party). Later, it was banned by the country's Constitutional Court for the activities of the "anti-secular nature".
The Justice and Development Party (JDP) – the Islamist party which has been ruling the country since 2002 – originated from Refah Partisi. One of its founders – present Prime Minister Erdoğan – received the relay baton from the hands of his teacher Erbakan.
The trial process, which reminds us of who governs politics in Turkey today, continues the sequence of trials of the military. They include the Ergenekon case, which took place only a month ago, a conspiracy against the government, the imprisonment verdicts issued earlier to more than 300 military for preparing terrorist acts aimed at destabilisation.
In fact, this is the echo of the confrontation between the Islamists and the Turkish army, which, for a long time, considered itself to be the successor of Kemal Ataturk – the founder of secular Turkey.
Although the current process is Turkey's internal matter, its regional subtext should not be disregarded in the context of the ongoing turbulent Arab Spring near Turkey.
After the Islamists' success (which was unexpected for many) at the elections in Egypt and Tunisia, as well as the deepening of the crisis in Syria, prospects have emerged for these forces to strengthen their positions at the centre of power, in place of the former elites. A number of Arab political forces, especially the Muslim Brotherhood and similar groups, have focused their attention on the development experience according to the Turkish model. These trends, obviously, appealed to the JDP's leadership and increasingly inspired them for political involvement, and not only that, in the internal affairs of the countries undergoing the "Arab awakening".They have revived the long-cherished dreams of Ankara's Islamist elite to obtain the status of the leader or "big brother" in the Arab-Muslim region.
However, as the subsequent events of the Spring have shown, the leadership of the Islamist parties in Egypt and Tunisia turned out to be incapable to put an end to the post-revolutionary turmoil. Their rule just exacerbated the existing problems in all aspects, and in the field of security in particular.
In Syria, the anti-government opposition was joined, under the mask of the revolution, by the most militant elements of the international terrorist forces.
As a result of the perturbations and the overall imbalance of the situation in the region, the system of economic relations established by Turkey with a number of Arab countries during the rule of the authoritarian leaders, has been shaken. Ankara suffered damage economically and financially due to the internal war and overthrow of Gaddafi in Libya, which used to be one of the strongholds of Turkey's entrepreneurship in the Arab world. There were about 30,000 Turks here engaged in the implementation of projects worth $15 billion dollars.
The Ankara–Syria relations – once friendly and mutually beneficial for both countries – now have been knocked out. Bilateral trade was growing rapidly, the visa regime was removed, but Ankara's withdrawal from this trajectory in 2011 shook the cooperation structure like an earthquake.
In addition to the expenses for the support of rebels, the Turkish authorities had to provide shelter to more than 400,000 Syrian refugees. The presence of so many people is fraught with the destabilisation of normal life in the region, which leads to dissatisfaction among the local population.
Experts are warning that the rebellion in Syria fomented with Turkey's help can have a boomerang-like effect on Turkey itself, and the Syrian religious war will spill into Turkey.
Turkey's regional geopolitical ambitions were challenged by the overthrow of President Mohamed Morsi in Egypt as the Egyptian Muslim Brotherhood had been considered by Ankara as one of the most important partners.
Ankara's relations with Egypt began to show signs of strain after Turkey's leadership condemned the rise of the military in Egypt and the overthrow of Morsi. Cairo responded with an official protest to the interference in its internal affairs.
A very subdued reaction to the coup in Egypt from the West (especially from Turkey's close ally – the US), the support for the Egyptian military on the part of Saudi Arabia and the other Gulf monarchies increased Erdoğan's concerns about the military, interprets Atilla Yesilada, political analyst at Global Source Partners, Istanbul.
There is no denying that Turkey has outpaced the Arab world in terms of the level of the secularisation of society. Today, when in a number of the Spring countries there is a growing divide in society and an increasing confrontation between the Islamists, who came to power on the protest wave, and the liberal pro-secular forces, logically Ankara should side with the latter.
However, in reality, its authorities, following their narrow party interests, are playing into the hands of those forces in the Arab countries which, by striking the Islamist chords, are pulling their countries back.
Yuri Kirillov, an expert on the Middle East and North Africa, exclusively for the online magazine "New Eastern Outlook".
00:05 Publié dans Actualité, Géopolitique, Islam | Lien permanent | Commentaires (0) | Tags : turquie, armée turque, proche orient, politique internationale, géopolitique, islamisme, erdogan, islam |
|
del.icio.us |
|
Digg |
Facebook