vendredi, 03 mai 2013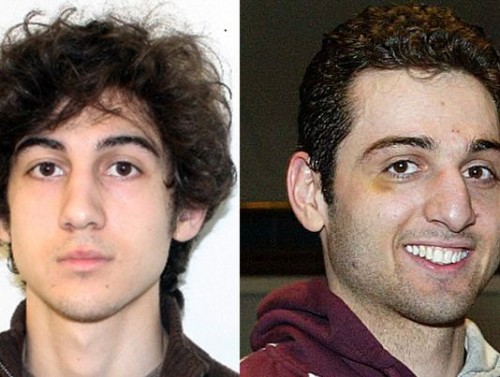 The Tsarnaevs are a product of America
Interview with Mark Sleboda
Ex: http://granews.info/
- Assessing the existing information from the media, can we say that Tsarnaevs' guilt in committing a terrorist act in Boston is obvious?
Mark Sleboda: While the guilt of the Tsarnaev brothers in being responsible for the Boston Marathon bombings may seem self-evident to most people from the narrative of events that the government and mainstream media have put forth, the US like most countries, operates on the legal principle of guilty until proven innocent. Until proven guilty of these crimes in a court of law (hopefully a civilian court of law and not a military show trial) with the presentation of sufficient evidence, they are presumed innocent. Personally, I think there are many holes and inconsistencies in the narrative of events put forth by the authorities and the mainstream media that must be addressed and answered.
As of writing, Dzhokar Tsarnaev, a naturalized American citizen, has not yet been read his Miranda rights or been charged with any crime under a legally dubious 'public safety' exemption that has been expanded and abused by the Obama administration under the rationale of interrogating suspects for 'critical intelligence'. Some neoconservative politicians are calling for Dzhokar Tsarnaev to de declared an 'enemy combatant' so that he receives no legal due process, and others have even openly called for him to be tortured. This is all extremely disturbing for anyone concerned with the rule of law in the United States.
- In general in the USA there is a widespread perception of the Chechens as victims who suffered from the Russians in both Chechen wars. There are people sympathetic to them among the professors as well. For example, Bryan Williams, a professor at the University of Massachusetts sent to Dzhokhar Tsarnaev material on, as he put it, "Russia's genocidal war on Chechen people". In this case, why did the Tsarnaevs turn their anger against the USA? Given Tsarnaevs' strong patriotic feelings should we consider, first of all, as radical Muslims or as Chechen nationalist, as applied to the terrorist act in Boston.
M.S: It is par for the course for Western politicians and academics to take an extremely unobjective and critical view of Russia and the Russian government due to latent Russophobia and self-righteous ethnocentrism, while at the same time hypocritically remaining silent and willfully ignorant of their own countries often far greater and more numerous crimes and human rights violations, both historical and those in the present day. Opprobrium over Russia's actions in the two wars in Chechnya, while simultaneously whitewashing and seeing no equivalence in the West's numerous and continuing crimes in the invasions and occupations of Iraq, and Afghanistan, regime change operations in Libya and Syria, and the continuing so-called 'Global War on Terror' is a prime example of this selective and subjective finger-pointing. Such is extremely unhelpful for international efforts to genuinely deal with the root causes of terrorism and extremism. Schadenfreude…
If the Tsarnaevs are guilty of the crimes they are suspected of as presented by the authorities it would seem that a strict reading of their Chechen ethnicity would have only a marginal influence on their neuroses and motivations. As Chechen leader Ramzan Kadyrov rightly noted, "They grew up and studied in the United States and their attitudes and beliefs were formed there. Any attempt to make a connection between Chechnya and the Tsarnaevs is in vain." The Tsarnaev brothers spent most of their lives in Kyrgyzstan and the United States. If their lifestyle is any indication they obviously have only faded and vague emotional connections to their ethnic roots. If they are guilty of the crimes they are alleged to have committed, it would seem that the most likely motivation is Islamic fundamentalism and radicalization of a pernicious Wahhabist variety, occurring primarily over the internet. Tamerlan was recently in Russia, but he did not lash out in violence there against Russians. He committed an act of terror against the United States and against Americans, which he obviously had conflicted feelings about. With America's 'Global War on Terror' commonly perceived by both Americans and the rest of the world as a hegemonic war against Islam, such an act is easily understood if not accepted. He is far from the first to do so and he will not be the last. The US's bloody 'Global War on Terror' is a self-perpetuating one, breeding its own terrorists. The Tsarnaevs are a product of America and thus took out their religious and political frustrations on America.
- Republicans call on the authorities to treat Tsarnaev as a terrorist, not just criminal. In this context, what do you think about Guantanamo prison? Does its existence contribute to eradication of terrorism or quite the contrary?
M.S.: The Guantanamo Bay Gulag is a bleeding hole of crimes against humanity and egregious violations of international and domestic law. We can only hope, one day, that the American politicians and military leaders responsible, from both the Bush and Obama regimes, will be held accountable and receive justice. It is an embarrassment to the nation, which has tarnished the US's international reputation and already questionable moral standing. It only causes more hatred and resentment against the US, spurring more violence and acts of terror.
- Recently in the USA, not long ago before the Boston tragedy, there was a series of shootings, when innocent people, including children, were killed. Thus could we say that Tsarnaevs were a sort of the society's product or did their Caucasian origin play a crucial role?
M.S.:The US does indeed have a terrible "culture" of violence, glamorized and normalized by Hollywood, video games, and the US's global military Empire. It is perfectly reasonable to assume that this had at least as much, if not more of a role to play, as their remnant ethnicity, in motivating the Tsarnaev's alleged crimes, considering that they spent much of their lives in the so-called 'melting pot' of the US, and very little of it in the Caucasus.
- What is your attitude to the right to bear and use a gun? After the shootings some American politicians increasingly began to demand its limitation. However, in Boston people were killed with the use of a self-made bomb. Should we focus so much on the means of committing a crime?
M.S.:I do not believe there is any inherent right to bear and use a gun, beyond limited hunting and sporting purposes. The US Constitution's second amendment regarding regulated militias or armed forces has been badly abused and misinterpreted by special interest lobbies such as the National Rifle Association (NRA). To the contrary, I would say that Hobbes was right. We have given the Leviathan, our states, a monopoly on violence, because without it, life is, indeed, 'nasty, brutish, and short'. It is understandable to fear the power of the state. But I am much more afraid and mistrusting of lethal weapons in the hands of my fellow irrational, emotional, maladjusted, and often inebriated citizens. I fear the people, more than the state, and the Tsarnaev brothers, if guilty of the crimes they are alleged to have committed, are a perfect illustration of why. The Rest of the world looks on in horror at the continuous stream of gory headlines of Americans killing themselves with guns.
Russia is a statistical and social aberration in that is has extremely high levels of homicide, suicide, and domestic abuse, even without private gun ownership. I shudder to think what would result from adding firearms to that mix.
-What can thе authorities can do to avert such terrorist acts? What should be done first: stricter immigration laws, stricter control in public places or something else?
M.S.:There is no one single magic bullet solution to ending 'terrorism'. Terrorism is just a tactic. Acts of terror most often have political, ethnic, religious, and economic motivations and root causes that must be addressed. Context is everything.
Russia in the Chechen Republic under the leadership of Ramzan Kadyrov, for example, has seen remarkable success over the last decade in reducing terrorism and violence through a combination of autonomous government and self-rule in the Chechen ethnic Republic, a firm hand, the sizeable influx of federal funds bringing jobs and reconstruction, rebuilding education and universities, and promoting the institutions and moral guidance of traditional and moderate Sufi Islam. This model needs to be repeated and expanded throughout the Northern Caucasus.
The biggest things the United States can do to end terrorism is to bring an end to their global military Hegemony, stop their 'Global War on Terror', close their hundreds of military bases in the Middle East and bring their troops home, stop supporting, arming, and propping up brutal dictatorships, including Saudi Arabia, Qatar, and Bahrain, and generally stop interfering in the Islamic world and trying to impose their values and way of life on the people who live there.
In short, in the words of the great US political thinker and philosopher, Noam Chomsky: "Everybody's worried about stopping terrorism. Well, there's a really easy way: stop participating in it."
- In American media the Chechens are often called "the Russians". However in Russia it's crucial to emphasize that these are two different nations. For he part of the American media, is it just a mistake or maybe it's being done so deliberately?
M.S.:Great ethnic Russians and Chechens are indeed two different ethnicities. However, as with the other 185 ethnicities in the rich tapestry that makes up the Russian Federation, their lives, history, culture, and blood have been intermingled for centuries. Russia is a multi-ethnic and multi-confessional country and has been – from the time of the Golden Horde, through the early Russian Empire, to the Romanov Empire, through the Soviet Union, and to the Russian Federation today. The Chechen people are a vital and intrinsic part of who and what we are as Russians. We would not be the same without them, and would be much less for their loss. The vast majority of the Chechen and Caucasian peoples are normal and peaceful citizens with a rich tradition, religion, and culture – concerned primarily with their personal economic situation, family, and communities – as we all are. We must not fall into the trap of stereotyping and blaming the whole for the despicable actions of an extremist few, often motivated to violence by Saudi-promoted foreign Wahhabism. That would lead to the disintegration of Russia.
Americans are as rule ignorant of other countries, cultures, religions, and peoples. The outside world doesn't exist for them. They don't understand the difference between Russians (Russki) and Russians, (Rossisski), nor how important Russia's varied ethnicities are for who and what we are. We must not become like them. We cannot claim that Chechnya or any other ethnic republic is part of Russia, but then try to disown and keep a distance from them when it is inconvenient. Chechens are Russians (rossisski) and Russians are Chechen. And we should be proud of that. Russians are many and one.
"How many people are there in Russia who have no Khazar or Polovtsian, Tatar or Bashkir, Mordin or Chuvash blood in their veins" [This applies to Russian or Chechen blood as well] - P.N. Savitsky, Povorot k Vostoku (Turn to the East), 1921
00:05 Publié dans Actualité | Lien permanent | Commentaires (0) | Tags : attentat deboston, boston, états-unis, tchétchénie, tchétchènes, politique internationale, actualité, terrorisme |
|
del.icio.us |
|
Digg |
Facebook