lundi, 25 mars 2013
Interview with Mr Leonid SAVIN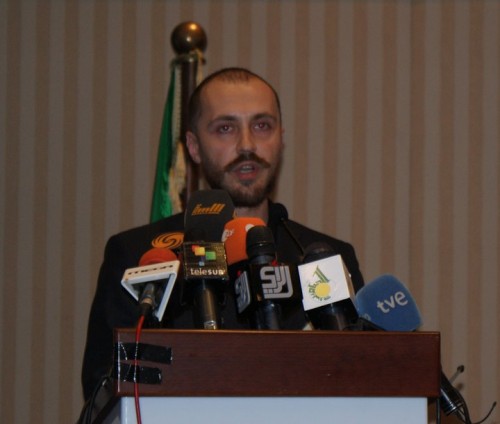 Interview with Mr Leonid SAVIN of the International Eurasian Movement
- Could you describe in a few key words the essence and goals of your movement? Does it place itself in an existing sociopolitical-historical trend of Russian politics? Does it lobby in Russian government circles to achieve its goals?
The main idea and goal of the International Eurasian Movement is to establish a multipolar
world order, where there will be no dictatorship of the U.S. anymore or of any other country or actor of world politics. In the sector of ideology we strongly reject (neo)liberalism and the
globalization process as its derivative. We agree that we (as well as other nations) need a
constructive platform for our alternative future. In the search of it, our work is directed to
dialogue with other cultures and peoples who understand the meaning and necessity of
conservative values in contemporary societies. Speaking about Russian reality, we are heirs and assigns to the former eurasianists (this ideology was born in the 1920s): Piotr Savitsky, Nikolay Trubetskoy, Nikolay Alekseev as well as Lev Gumilev – the famous Soviet scholar. They all studied historical processes and proposed a unique vision of our history, separate from the eurocentric science approach. The understanding that Russia is not part of Europe or Asia, but forms a very own unique world, named Eurasia, is also implemented in our political activity. In cooperation with members of parliament or the Council of the Federation or other governmental bodies, with our advices and recommendations, we always provide a strong basis linked to our history, culture, diversity and so on. And I must tell you that many people understand and support our ideas and efforts (in governmental structures, local and regional authorities, science and education, religious institutions and in society at large).
- What is your vision on a multipolar world? Which role do you see for Western European
nations? Do they have any future at all on the world stage of the 21st century? Will they
surmount the actual crises on a demographic, metaphysical and mental level?
In my opinion, a multipolar world is the order with 5 or more centers of power in the world and this reality will keep our planet more safe and balanced with shared responsibility between the regions. But it is not just interdependence by the logic of liberalism: some regions might well exist in relative political and economic autarky. Beside that, there might exist a double core in one center (for example Arabs and Turks in a large Muslim zone or Russia and Central Asian states for Eurasia) and shifted and inter-imposed zones, because, historically, centers of power can be moved. Of course at the moment the most significant centers of power are described in terms of nuclear arms, GDP, economic weight/growth and diplomatic influence. First of all we already have more poles than during the Soviet-US opposition. Secondly, everybody understands the role of China as a 'Bretton Woods-2', as well as emerging countries under acronyms as BRICS or VISTA, "anchor countries" and so on. And, thirdly, we see the rise of popular and unconventional diplomacy and the desire of many countries (many of them are strong regional actors such as Iran, Indonesia and Brazil) to not follow the U.S. as satellites or minor partners.
Of course, Washington does not like this scenario and tries to make coalitions based on states
with a neocolonial background or on dutiful marionettes. But even in the U.S., politicians and
analysts understand that the time of unipolar hegemony has gone. They are trying to build a more flexible approach to international relations, called 'multilateralism' (H. Clinton) or 'non-polarity' (R. Haas), but the problem is that the U.S. do not have enough confidence in foreign actors united as joint, but who still have no strong alternative to the contemporary world order. So, they use another option for destabilization of rising regions, known as controlled chaos. Because of its military presence over most parts of the globe and its status of promoter of democracy and the protection of human rights, the White House can justify its own interests in these places. And cyberspace is also the object of manipulation, where the whole world is divided in two camps that remind us of the times of the Cold War (I call it 'Cold Cyber War').
We think that the contemporary West European nations are one of the poles (centers of power) in a forthcoming multipolar world order). But the problem for now is their engagement in U.S. proatlanticist politics, as manifested in the Euro-Atlantic chart of cooperation (common market, legislation and regulation mechanisms, including items of domestic politics), as well as NATO activity. The same we see on the other side of Eurasia – attempts of Washington to start trans-Atlantic cooperation with Asian countries. The contemporary crisis is neither good nor bad. It's a fact. And the European nations must think about the way they'll choose, because it will form the future (at least in Europe). It is not the first time in history: during the middle ages there was decline of population because of pestilence and wars. Religious schisms also occurred, so Europeans have some experience in metaphysics and ethics dealing with system failure too. The point is that now we have more interconnected reality and the speed of information sharing is fantastic, that was not possible, imagine, a century ago. And European society becomes more consumerist! But even in Europe, there are a lot of voices in respect of nature (organic greens), anti-grow movements (in economics) and traditionalists who try to keep and preserve ethnic and historical values and manners. Even the Soviet experience could be useful: after the Great Social Revolution there was a strong anti-church attitude promoted by the government, but after 70 years we're back at our roots (of course during all this time not all people were atheists and the return to church happened during Stalin's period when the institute of the Patriarchy was restored).
- How do you see the dialogue of civilizations in the light of more than 10 years of wars
between the West and the Muslim world? Where does Russia stand in this opposition? Are there fears of an islamization process within the Russian Federation, or are Russian
authorities setting on long-time accommodation with Muslim minorities and actors?
At first we must bear in mind that the idea of Huntington (the 'clash of civilizations') was
developed out of necessity of justifying the U.S.'s military and economic expansion. His book
was issued when the first wave of globalization as the highest principle of Westcentrism just
began its tide in the Third World. By the logic of neoliberal capitalism it must be re-ordered and re-programmed in the search for new markets. All non-western societies must consume western products, services and technologies by this logic. And let's remember that war against the Muslim countries originated from the neocons from Washington. So, these 10 years of wars that you to mention is nothing more than a provoked conflict by a small group that was very powerful in American politics at the beginning of the 2000s. By the way, all kinds of radical Islam (Wahhabism) were promoted by the United Kingdom. This version of Islam was founded in Saudi Arabia only with London's special support. The Great Game in Eurasia was started many years ago and Britain has played here a most significant role. The U.S. took this role only after WW2, but many destructive processes were already unleashed. Of course, Russia is suspicious of the radical Islam, because emissaries of the wahhabis and al-Qaeda were already in the Northern Caucasus. And still now, there are different terrorist groups with the idea of the socalled "Emirate of the Caucasus". There were also attempts to spread another sectarian belief promoted by Fetullah Gullen (Nurjular), but for now this sect is prohibited here. Actually Islam is not a threat to Russia, because, traditionally, a lot of people living here are Muslim. Regions like Tatarstan, the North Caucasus republics, Bashkortostan have an Islamic population. And our government supports traditional Islam here.
- What do you think about the American/Western strategy of strategic encirclement of
Russia? Can we see this as well in the process of the so-called 'Arab Spring'? Is an open,
Western-waged war against Syria and Iran possible and would it be the onset to a major
world conflict, a 'Third World War'? Where would Russia stand?
It works. Not only because of the reset of the Anaconda strategy for Eurasia by means of military presence. Sometimes it doesn't manifest in classical bases. Logistics is the main element of contemporary warfare, as well as C4ISR – Command, Control, Computer, Communications, Intelligence, Surveillance, Reconnaissance – works in the vein of smart engagement. Other tools are: economics, promotion of democracy and human rights, cyber politics. The Arab Spring is a very complex phenomenon – there are a couple of components, but you can see that the U.S. has a bonus anyway: Egypt has asked for a huge loan from the World Bank; Western companies go to Libya; Muslim extremists are being manipulated against moderate Muslims, because they are a threat to western interests and so on. Organized chaos is just another view on the socio-political reality in turbulence. As Steve Mann (famous theorist of the chaos principle in diplomacy) wrote: the state is just hardware and ideology is its soft version. It were better to use 'virus' (in other words 'promoting democracy') and not to break PC. Syria and Iran are interesting for many nations now. The hysteria of Israel is not good, because this country has nuclear weapons. What will come of Israel using it? The Palestinian question is also on the table. I think that Israel is a more serious problem than Syria and Iran. Russia firmly supports Syria and takes a moderate
position on Iran. During the presidency of Dmitry Medvedev, Russia declined to provide the "S-300" rocket complex to Iran (we had already signed the contract) and the deal was canceled. You bear in mind that during the same time Russia supported resolution 1973 of UN Security Council and the West started operation "Odyssey Dawn" against Libya. So, even VIP politicians in Russia sometimes do wrong things! But Mr. Putin is actively pro-Syrian and I think that the position of Russia about Iran and about Western pressure will be more adequate than before. As foreign minister Sergey Lavrov told: "we got experience with Libya and don't believe the West anymore".
- What do you think about the Western Europeans: should they remain loyal to their
historical-political heritage of individualism and atlanticism, or should they rethink
themselves and orient themselves towards Russia and continentalism? What about pro-
Russian elements in European society? Can they be partners or are they, politically and
socially spoken, too marginal for that?
John M. Hobson, in his brilliant work The eurocentric conception of world politics, made very
clear that the West is rooted in the logic of immanence instead of the logic of co-development
that is characteristic of non-western societies. He continues that the formula "the West and the Rest" is wrong, because without the rest there is no place for the West. Now we see one United Europe, but in real life we have two levels. The first one is presented by the bureaucratic establishment with its symbols, history, power projections and procedures. The second one is active publicity with movements, political parties and personal activists who are not interested in an Orwellian future with "Big Brother", universal values and so on. Actually, in geography we have more than one substance. And where is the border between Southern, Western and Eastern Europe? It's mostly in the minds. From history we remember the Celtic space, the Roman Empire, the Germanic and nomad invasions (Huns, Avars, etc.), that shows that the face of Europe permanently changed throughout the centuries. Now the European population includes people from Africa and Asia and soon the demographic balance will change. Political culture will change too. Without Russia, Europe is impossible. Not only because of geography (just look at the map and you will see that the EU is just the small, overpopulated western peninsula of Eurasia), but also because of the role of Russia in European history. Napoleon and Hitler – the two most significant unifiers of Europe - were stopped and defeated in Russia and, after that, new political orders were established. And for now in Europe we have so many Russian "prints": in culture, history, the role of some persons and diasporas. I think that pro-Russian elements just now have a very good choice, because the window of opportunity is open. All these elements could form an avant-garde of a new kind of cooperation: in trade relations, science, art and education and public diplomacy. The last one is the tie for all activities. Actually Minister Lavrov just today (i.e. 26.02.2013) announced that, because of the Russia year in the Netherlands and vice versa, there will be more than 350 actions on state level. It is a good sign of mutual respect and it may be deeper.
- What about key power Germany? Do you believe in, let's say, an 'Indo-European bloc',
an axis Berlin-Moscow-New Delhi, as a formidable counterweight to the atlanticist bloc of
the axis Washington-London-Paris? Do the horrors of the Second World War still affect
Russians' views of Germany and the Germans, or is it possible to turn the page on both
sides and look forward? What about the French: do they belong in the atlanticist bloc, or
can they be won for the continentalist bloc without giving in to their chauvinism? And what
about China: will it turn out to be an even more dangerous enemy than the USA, or will
both Russia and China remain strategic partners, e.g. within the SCO?
Because the EU has two levels, the same is true for Germany. One Germany, represented by the political establishment, is pro-U.S. and cannot do anything without Washington. Another one (latent or potential) is looking for closer cooperation with Russia. At the time of the Russian Empire a lot of German people came to our country at the invitation of Empress Catherine the Great. Even before that, many foreigners were in Russia as military officers, teachers, technical specialists, etc. People's potential can do a lot of things. We must keep in mind that, besides Sea Power and Land Power in geopolitics, we have Man Power, which is the unique and main axis of any politics. The problem is that, after WWII, there was in most European countries a strong influence of Britain and the U.S.. They used very black propaganda and the peoples of Europe were afraid of a communist invasion. The U.S. even started more horrible projects in Western Europe (for example Propaganda-Due and operation "Gladio" in Italy, as well as "Stay Behind" NATO secret armies, formed from right-wing extremist elements). Still now in the EU, we see anti-Russian propaganda, but our borders are open and any European can go to Russia and see what happens here. The case of Gérard Depardieu is just one example.
If we look at what happens in China we'll understand that it is a very strong actor and that its
power grows from year to year. In the UN Security Council China is an important partner of
Russia (for the Syria voting too). Russia is a supplier of oil and gas to China and we have new
agreements for the future. Besides that we provide military equipment to China, though they
have good weapon systems of their own as well. In the SCO we had good results and I think that cooperation in this organization must be enlarged through strategic military elements with the entry at least of Iran, Belarus, India and Pakistan (they have an observer or dialogue partner status). Turkey is interested as well, but because of its NATO membership it will be difficult to join.
I know that some Russians and Europeans describe China as a possible enemy, a "yellow threat" (the Polish writer Ignacy Witkiewicz even wrote about it in his novel in 1929!!!) and so on, but in reality China has no intents of border pretence to Russia. We have had some incidents in Siberia with contraband, but these are criminal cases which do not deal with state politics. China will focus on Taiwan and on the disputed islands in the Pacific and it will take all geopolitical attention and may be some loyalty from Russia and SCO members.
Also China has the same view on the future world order – multipolarity. Actually this idea
(duojihua) was born in China in 1986. And with the strategic cooperation with many other
countries in Africa and South America, joint efforts against western hegemony will be fruitful.
So, I think China and Russia can do a lot for a reform of the forthcoming world order.
A lot of people now want to forget their own origins and the origins of other peoples. Bavaria,
for example, was populated centuries ago by Avars from Asia (part of them still live in the
Caucasus) during the Migration Period. Groups of Turkish origin also went to lands of
contemporary Austria. So in contemporary Europe we have a lot of Asian elements. And vice
versa in Asia we have people of Aryan origin. Not only in the North of India, but also in
Tajikistan, Pakistan, Iran (arya is the self-name of the people of Iran and India). And
hybridization is continuing as we speak in Europe and in other regions. Just before Hitler's attack on the Soviet Union we had a pact with Germany and had been cooperating extensively in technologies and in the economy. And France was attacked first by Germany, but now relations between both countries are normal. I think that historical harms between Germany and Russia have been mostly forgotten. And I think that many Germans still remember that the most destructive attacks did not come from the Soviet army but from U.S. and British air forces (Dresden, Leipzig...). It was not a war, but a deliberate destruction of cities and non-armed refugees. Actually now Germans is mostly good businessmen for Russians, compared to representatives of other European nations (these facts have been confirmed by many friends who do business with Europeans).
I can not to speak with enough certainty of what happens with Russian-French relations, because I'm not very interested in this sector. During the XXth century we had many deals with France and after WWII it was the idea of Stalin to give the winner status to France. Charles de Gaulle also was pro-Soviet in a geopolitical sense. But after the legalization of the gay marriage in France, many Russians feel suspicious about this country. But every people and every country has its own specifics. We have had many interesting philosophers from France who have had influence on Russian thinkers too.
- Turning to domestic Russian problems: Russia under President Putin has been able to
make enormous progress in the social field, mainly due to energy sales during the 2000s.
Has this changed the face of Russia? Has this period come to an end or is there stagnation? How will Russia cope with its domestic problems, such as the demographic crisis, which it shares with Western Europe? Should the Siberian land mass be 're-colonized' by Russians and other Europeans, in order to make it an impregnable 'green lung fortress' for the white peoples?
The grand contribution of Mr. Putin is that he stopped liberal privatization and the process of
separatism in Russia. Persons such as Chodorkovsky were representatives of the Western
oligarchy, especially of powerful financial clans (for example, he is a personal friend of
Rothschild) and he had plans to usurp power in Russia through the corruption of parliament. We still have the rudiments of predatory liberalism such as misbalances, corruption, fifth column, degradation of traditional values, etc. For now we see in Russia efforts to build a smarter kind of economics, but it must be done very carefully. The questions that must be at the center are: how to deal with the Federal Reserve System? What about a new currency order that may be represented by BRICS? How to start mobilization? What to do with the neoliberal lobby within the government? The demographic crisis is also linked with neoliberalism and consumerism. A century ago, there was a rise of population in Russia, but two world wars have cut it. Even during Soviet times we had a good demography index. Now the government has started supporting young families and the process of human reproduction. In addition to birth programs we have an initiative dealing with the return of compatriots to Russia and all people who were born in the USSR can come to Russia very easily and get certain funding from the state. But I think that, because the Russians were the state-forming people, there must be a preference for Slavonic origin, because migrants from Asian countries (who do not speak Russian and have other traditions) will flow to Russia for economic reasons. Many Russian activists who take a critical stance on Asian people are already disappointed by this program. I think that the attraction of Byelorussians and Ukrainians can equalize this disproportion. But, strategically, the state must support a system of child-bearing with all necessary needs (fosterage, education, working place, social environmental, etc.). In some regions governors personally start up that kind of programs dealing with local and regional solidarity. First of all, Siberia is still Russian. The Siberian type of Russian is different from citizens from the central or southern regions, but till now it's still mainly Russian, not only institutionally, but also ethnically. Actually, according to our statistics, most labor migrants to Russia come from Ukraine! So, in spite of strange relations between both countries and with strong anti-Russian stances on the part of Ukrainian nationalists and pro-western "democrats", people just make their own choice. Rationally speaking, Siberia is not only interesting, because of its virgin forests and natural resources, but also because of its neighbors - and China is one of them with an emerging economy. So Siberia could serve as a hub in the future. I think that Europeans would also go to
Russia (not only to Siberia), but this migration must be done meticulously, because of the
language barrier, with a period of adaptation to different social conditions and so on. Maybe it could be useful to organize towns of compact residence and also city-hubs for foreign people who come to live in Russia, where they can live and work in new conditions. New Berlin, New Brussels, New Paris (of course translated into the Russian language) will then appear on a new Russian map.
- What is your opinion about the future of Putinist Russia? Will the government be able to
enduringly counter Western propaganda and destabilization campaigns, and come to a
'generation pact' between the older generation, born during Soviet times, and the younger
generation, born after 1991? What will be President Putin's fundamental heritage for
Russian history?
The key problem for Russia is a neoliberal group inside the Kremlin. Putin has the support of
people who want more radical actions against corruption, western agents and so on. But a
"colored revolution" in Russia is impossible, because the masses do not believe in the prowestern opposition. Ideas of democracy and human rights promoted by West have been
discredited worldwide and our people understand well what liberalization, privatization and such kind of activities in the interest of global oligarchy mean. And because of the announcement of the Eurasian Customs Union Russia must work hard the coming years with partners from Kazakhstan and Belarus. As for counterpropaganda, the new official doctrine of Russian foreign policy is about soft power. So Russia has all the instruments officially legalized to model its own image abroad. In some sense we do this kind of work, just as other non-governmental organizations and public initiatives. You mention a "generation pact", referring to different ideals of young and older people, especially in the context of the Soviet era. Now, you would be surprised that a figure as Stalin is very popular among young people and thinking part of the youth understands well that Soviet times were more enjoyable than contemporary semi-capitalism. As I told in my previous answer, Putin is important because he stopped the disintegration of Russia. He already is a historical figure.
- Is there a common 'metaphysical future' for the whole of Europe after the downfall of
Western Christianity (catholicism, protestantism)? Can Russian Orthodoxism be a guide?
What do you hold of the modest revival of pre-Christian religious traditions across the
continent? What about countering the influence of Islam on the European continent? Is
there a different view concerning that discussion between Russia and Western Europe?
Russian Christian Orthodoxy is not panacea, because there are also some problems. Christianity in XIIth century, XVIth century and nowadays is very different. Now many formal orthodox Christians go to church two times a year, at Easter and at Christmas. But Orthodox Christianity is also a thesaurus of wisdom where you can find ideas from ancient Greek philosophy, metaphysics, cultural heritage, transformed paganism and psychology. In this sense, Russian Christian Orthodox old believers keep this heritage alive and may be interested as well in forms (ceremonies) as in the spiritual essence with its complex ideas. Speaking about paganism, Russia is the only country in Europe that still has authentic pagan societies (Republics of Mari-El, Mordovia, Komi) with very interesting rites and traditions. Actually Finno-Ugric peoples historically were very close to Slavonic people and assimilated together, so there is a good chance to research these traditions for those who are interested in Slavonic pre-Christian culture. But the postmodern version of a restored paganism in Europe or any other region to my opinion is just a fake and there is not so much from true paganism. As for Islam, as I told before, in Russia there exist a couple of versions of traditional Islam, which are presented by several law schools (mazhabs). In the Northern Caucasus, the regional government has tried to copy the idea of multiculturalism and to implement EuroIslam as an antithesis to spreading wahhabism. But it has not worked and now more attention is paid to traditional religious culture linked with education and the social sector. But the project of multiculturalism has failed in Europe as well, so all common Euro-Russian outlooks on Islam are finished. But, to be honest, I think that Europe must learn from the Russian experience of coexistence of different religions (not forgetting paganism and shamanism – this belief is widely found in Siberia). In Europe, they use the term tolerance but we, eurasianists, prefer the term complimentarity, proposed by Lev Gumilev, meaning a subconscious sympathy between different ethnic groups. As Gumilev explained, Russia became so large because Russians, during the expansion, looked on other people as on their own and understood them. This differs from the point of view (more specifically in ethnosociology) that all ethnic groups have the idea of "We are" against "The Other", represented by another group. The imperial principle works with the idea of mosaics where every ethnos is a "We are". And our famous writer and philosopher Fjodor Dostoevsky told about all-human (all-mankind) nature (not common to all mankind) that is represented by
the Russians, because inside, you can find all radical oppositions. I think it is a good reason to turn to Russia and its people.
Thank you, Mr Savin, for this very interesting and open-hearted interview.
00:05 Publié dans Actualité, Entretiens, Eurasisme, Nouvelle Droite | Lien permanent | Commentaires (0) | Tags : russie, eurasisme, leonid savin, entretien, nouvelle droite |
|
del.icio.us |
|
Digg |
Facebook