samedi, 15 novembre 2014
The Brussels Embargo on Russia Will Hurt Europe More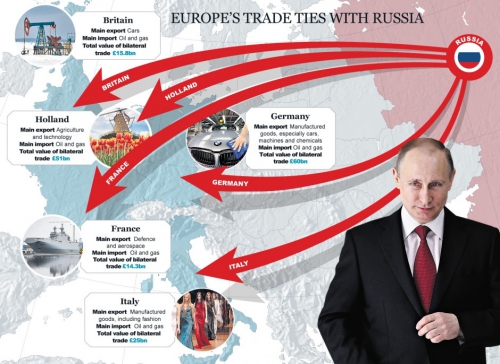 The Brussels Embargo on Russia Will Hurt Europe More
by David Kowalski
Ex: http://www.foreignpolicyjournal.com
Sanctions are all the rage nowadays in Europe's Russia policy. Wrecked by the economic crisis, Europe's priorities have been to implement low-budget solutions to counter Moscow's threats. Instead of multi-billion euro pledges to increase defense spending and play chicken with the Russians, the Union has so far relied mostly on economic sanctions to influence the Kremlin's foreign agenda. But will these tactics actually work, or will they backfire? So far, a cursory glance over the economic data and forecasts offered by leading international institutions reveals a stark reality: although sanctions are starting to take their toll on the Russian economy, Moscow isn't budging one inch from its plotted course, while the shaky European economy is poised to bear the brunt for these policies.
While sanctions are unlikely to take much of a toll on Europe this year, if the situation continues unchanged, in 2015 EU states could start to feel the burn. The Chief Executive of Italian Bank UniCredit, Federico Ghizzoni, recently stated that although the sanctions were causing problems for the Russian economy, his impression was that "they are even bigger for Europe". The Italian banks operations were so far doing well in Russia, but in the case of an economic slowdown in the country, the bank would most certainly be negatively and severely impacted.
The IMF has also expressed its concerns over the rising impact of Western sanctions on the Russian economy, stating that the economic decline of the country would affect Europe directly and indirectly. For starters, many Western banks have large operations in Russia, accounting for more than a third of yearly profits, with French, Italian, Austrian and Hungarian banks having subsidiaries in the country. Other advanced economies such as the Netherlands, Ireland and Luxembourg have over 5% of their total foreign direct investment in Russia.
Baltic states, too, are on their toes. The sanctions are already threatening to take a toll on their growth, with Estonian, Lithuanian, and Latvian exports highly dependent on their Russian neighbor, with 11%, 20% and 16% in this sector, respectively, accounted for by the Russian market. In particular, Vjaceslavs Dombrovskis, the Latvian Economy Minister has warned that sustained EU sanctions are likely to hurt ports and railways and cripple the country's economy, as 12% of GDP is tied to cargo services and dependent on movement of goods to Russia.
Even Germany, Europe's biggest economy, is a cause for concern. A leaked EU report, from May 2014, underlined that aggressive sanctions on Russia's energy and banking sectors would likely have a large impact on the country, and could cut growth in the economy by almost 1%, pushing Europe's giant into an economic downturn with severe implications for the rest of the Eurozone.
Meanwhile, in Russia
"The World Order: New Rules or No Rules", was the theme of this year's Valdai Club conference, an annual forum held for foreign journalists and academics to mingle with their Russian counterparts and various other government officials. The highlight of the eventThe main event was a speech given by Russian President Vladimir Putin, widely picked up by international media as yet another example of Russian saber rattling. He claimed that the West, and in particular the US, have behaved in a unilateral manner, violating international rules through military action on a global scale, citing as examples operations in Libya, Afghanistan and Iraq. This narrative has been constantly aired and reinforced throughout the year, as Moscow pushes to discredit the West at home.
In spite of several rounds of sanctions enforced by the US and EU, intended to deal a blow to the Russian economy and Putin's close circle with the hope of changing the President's course, little transformation in his position can be found. For their part, Moscow officials continue to contend that Western sanctions are counterproductive, a view that so far has proven fairly accurate.
Even US experts present at the Sochi-held forum voiced their concern over the overall usefulness of the financial restrictions placed on Moscow, which they claimed had been "drawn up hastily by a small group, with unclear aims and questionable results". Clifford Gaddy, a Russia economy analyst from the Brookings Institute, even went as far as to say that while Russia's state economic structure will allow it to survive, sanctions will most likely "hit the most modern, western-integrated parts of the economy, and their owners".
Indeed, not only have sanctions targeted the core of Russia's economy, its energy and banking sectors, but they have also aimed to single out Putin's main political allies and their businesses, in the hope that the disgruntled wealthy will turn their back on the Russian strongman. However, the results of these efforts have certainly been debatable. Arkady Rotenberg, a Russian businessman placed under the sanctions regime, has recently filed a suit with the European Court of Justice against the EU Council.
Rotenberg's lawyers contend that the EU has failed to provide concrete evidence for imposing the asset ban and travel restrictions on Rotenberg. As Matthew Turner pointed out in an EU Observer article last month, "European secrecy in imposing sanctions makes it impossible to determine if the persons accused are indeed guilty of the crimes they are charged with". Due to the Council's vague reasoning, which it has failed to clarify, Rotenberg's lawyers argue that the sanctions have caused disproportionate and serious damage to his business activities. At the same time, Rotenberg has publically stated that with regards to his personal life, the sanctions do not have the "dramatic impact" they had intended by the West. Rotenberg, hoping for a "moral victory", along with state owned Rosneft and Sberbank, are now determined to bring the battle to the EU court, rather than placing pressure on Putin to change his ways, dealing a blow to Brussels' logic of weakening the President from within.
As reports of Russia's ailing economy and falling ruble start to become louder, this does not change the reality that a weak Russian economy will have far ranging consequences for the EU. As things stand now, the two highly polarized blocs seem to be on a collision course that could only result in a pyrrhic victory and a marked worsening in the standards of living of both East and West. Unlike the stalwart Russian state, Europe is suffering from profound internal convulsions hyped by a pervasive sense of Brussels' mission creep. Why should European farmers suffer, goes an oft repeated argument, because of Europe's lofty foreign policy ideals? Meanwhile, Putin, who has made clear that he would rather be "a global pariah than Mikhail Gorbachev" and bow to the West, has seen his approval rating soar month after month, as Russians seem so far unfazed by declining economic stats and global oil prices. The outcome of this cold confrontation will undoubtedly shape the future of continental relations for years to come.
00:05 Publié dans Actualité, Affaires européennes, Géopolitique | Lien permanent | Commentaires (0) | Tags : russie, europe, sanctions contre la russie, géopolitique, politique internationale, affaires européennes, union européenne |
|
del.icio.us |
|
Digg |
Facebook