mardi, 30 septembre 2014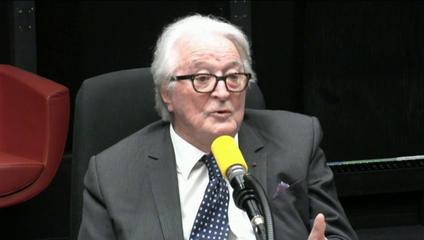 Will France and Germany challenge NATO?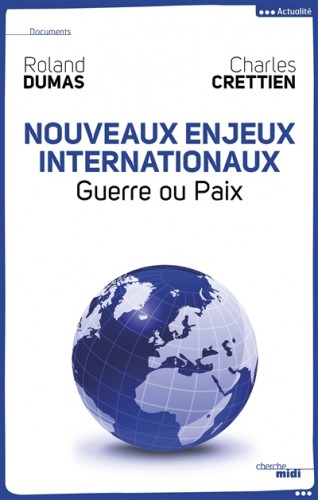 Roland Dumas, born in 1922, belongs to the last generation of great French Statesman who experienced the French – German war that prompted the creation of NATO. Can France and Germany overcome their grievances and lead a new, continental European diplomacy for peace and prosperity for Europe and beyond? The question is tabled by a German who belongs to the first generation of continental Europeans who have not experienced a major conflict on the continent; not yet. The article suggests problems and possible solutions for a French – German initiated partnership for peace in Europe, the Middle East, Africa, and beyond. It is a bold proposal that necessarily has to deal with "red herrings" and touch keystones which would have to be put in place by a new diplomacy of fellow travelers for peace.
The Middle East – Ukraine and NATO. Two Key Statements by Dumas.
Roland Dumas is not without controversy, which is exactly what one would expect from a senior statesman who has escaped the pressures of running for and holding office; who has more time to reflect and reason. In June 2013, Dumas floated a message in a bottle when he "outed" British interests behind the war in Syria, and now Iraq. Appearing on the French TV channel LPC, Dumas said:
"I am going to tell you something. I was in England two years before the violence in Syria on other business. I met with top British officials, who confessed to me, that they were preparing something in Syria. … This was in Britain not in America. Britain was organizing an invasion of rebels into Syria. They even asked me, although I was no longer Minister of Foreign Affairs, if I would like to participate. Naturally, I refused, I said I am French, that does not interest me. … This operation goes way back. It was prepared, preconceived and planned… in the region it is important to know that this Syrian regime has a very anti-Israeli stance. … Consequently, everything that moves in the region…- and I have this from a former Israeli Prime Minister who told me ?we will try to get on with our neighbors but those who don?t agree with us will be destroyed. It is a type of politics, a view of history, why not after all. But one should know about it".
Dumas' decision was bold, even though he stopped short of naming the names of those "British officials". Dumas wasn't any longer holding office at that time but he is, understandably, subject to the limitations which are implied in politics and diplomacy. What would be more important, anyway, would be to identify those "stakeholders" behind the approach.
On September 5, during NATO's summit in Newport, Wales, Dumas prompted controversy again, when he described France as having become "the vanguard dog of NATO". Speaking with a journalist from the French l'Humanite.fr, Dumas commented on the summit that focused on the current Ukrainian regime's plans to accede into the Alliance. Dumas shared his concerns about the direction of the current NATO policy and its impact on French diplomacy. Asked whether NATO still has a purpose, he replied:
"It may, for those who manage it! Historically, the Atlantic Alliance was a military alliance which had very limited geographical jurisdiction, the North Atlantic, and one goal: to end the war against Germany".
After a peace with Germany had been reached, Dumas noted, we decided to expand the scope to include the removal of the two covenants: the Atlantic Alliance and the Warsaw Pact. Dumas stressed that NATO instead had expanded and evolved into an instrument for warfare instead, saying:
"The Warsaw Pact has been dissolved but NATO, no …it has even expanded and reinforced. Just listen to Mr. Rasmussen, the secretary-general, to realize that NATO has become an instrument for warfare".
The Essence of a European and Global Peace vs. NATO's obsessive eastward Expansion
Dumas commented on NATO's interventionism and stressed a continental European perspective when he warned against using a politico-military instrument that was created to end a war with Germany and with jurisdiction over the Atlantic, for something as important as the situation in Ukraine. Dumas recalled disarmament negotiations with his former Soviet counterpart who insisted that NATO would not arm any of the countries which had formerly been part of the Warsaw Pact. He stressed that
"This was the essence of peace. Everyone was in agreement… Well, the Americans do not heed. They transported weapons to the Baltic countries and Poland. Hence the controversy when Putin came to power".
Dumas quoted Putin as noting that NATO hadn't kept its word and noted that there really is no point in waving a red flag in front of the nose of the Russians which will scare them or cause them to stall. He stressed that Russia didn't pose any threat to Europe, and that this was no way to treat a great power, which was, alongside the Americans, one of the victors of WWII. Dumas added that the balance that had been established has been broken but noted that those who opposed this NATO policy had been diminished to dwarfs. It is necessary at this point, to interject that today's U.S. and NATO policy is dominated by grand policy architects like Obama administration adviser Zbigniev Brzezinski. "Z-Big" as Brzezinski loves to be referred to, is literally, and in the opinion of several professional psychologists "clinically obsessed" with encircling Russia, dividing Russia into six or more, smaller states, to then force Moscow into a U.S/U.K.-dominated hegemony. Reading Z-Big's latest book "Strategic Vision" will put Dumas' warning that "this is no way to treat a great power" , his concern about "waving red flags", and his warning that NATO is not the appropriate instrument for solving as important a problem into an appropriate context.
The book is essential literature for anyone who has not fully comprehended this new scope of NATO's policy and the fact that it aims at establishing a U.S./U.K. hegemony over continental Europe, Eurasia and the Middle East. This necessarily implies that continental European powers, including France, Germany and Russia have to be subjugated by this U.S./U.K.-dominated hegemony. It also implies that geopolitical instruments will be applied to achieve the objective.
Note that "geopolitics" suggests: If you are the second-largest power, for example, play the first and the third-largest powers against each other to be become the "tertius gaudens". The laughing third, who will laugh with unalloyed joy. For the U.S./U.K or Atlantic Axis, this implies playing China against Russia as much as this implies playing France and Germany against each other in NATO, the EU, and so forth. Transnational, non-state and deep-state-actors are of course both mitigating and adding complexity.
In terms of "Realpolitik" note: The U.S./U.K . as well as largely U.K.-aligned E.U.-actors are the primary powers behind the engineering of the crisis in Ukraine. Note that there is a massive amount of evidence that suggests that NATO's Gladio networks have been let loose on/in Ukraine. Note that a substantially weakened, economically unfeasible, IMF indebted Ukraine is loaded upon the European Union in a Faustian Pact, using NATO as politico-military instrument. Meanwhile, U.K. Prime Minister David Cameron announces preparations for the U.K. to possibly leave the European Union. Cameron prepares the U.K. for its unalloyed joy while it continues to succeed at playing France, Germany and others in continental Europe, including Turkey, against each other.
On the point of the French re-entry into NATO as full member, Dumas noted that Chirac already wanted to re-enter NATO but he demanded compensations. "The Americans laughed at him" Dumas added, saying:
"Then Sarkozy followed suit, but this time without asking for compensation! As for Hollande, he has not challenged this decision, and to my dismay".
Many key members of the French Socialist Party were dismayed about Hollande and not only about NATO, but also with regard to French Africa policy, for example with regard to the case of Ivory Coast and former Ivorian President Laurent Gbagbo. In part the dismay was shared by key German power-brokers in Germany's Conservative, Socialist, and Liberal parties alike as well as by German EU politicians. Dumas notes that the French voice, today, has been totally obscured. He added:
"We follow American diplomacy while trying to give the illusion that we exist in the international arena. …. France became the vanguard dog of the Alliance at the risk at appearing as a war-faring nation. We have totally turned our backs on the ?traditional`position adopted soon after the war (WWII). Whenever I went to NATO, President Mitterrand told me …??Especially Dumas, remember we are not part of the integrated command. Understand: Do not obey all decisions that will be taken! (Not) Before the voice of France has been heard, and she was often heard".
Asked whether he thought that France still could get out of NATO, Dumas stressed that he though "yes, it can". However, he added two necessary preconditions which are; a French leader of unquestionable world authority of the caliber like a Charles De Gaulle; Circumstances that would make everyone understand the decision. We will return to these "circumstances" and the question of "leadership" below.
Developing a French – German Perspective a Question of Sovereignty, Survival, Peace and Prosperity.
Considering the current crisis in the Middle East and Ukraine, let us explore the hypothesis that the development of a French – German and a continental European perspective is a prerequisite for maintaining national sovereignty and for preventing a third European war of global reach. This perspective necessarily implies considerations about the Middle East and Africa. Any French or German will realize that both France and Germany will table non-issues, red herrings and issues, which are tied to decades, in fact centuries of distrust and disaster.
A brief Assessment of the Middle East: As Dumas stated, top-British officials approached him in 2009, years before the first protests in Libya and Syria, asking him whether he wanted to subvert Syria with "rebels". We know now that the "project" to subvert a number of nations with the help of the Muslim Brotherhood, Al-Qaeda and similar brigades was launched in 2007. The key factors behind the decision were:
The discovery of the largest-known natural gas reserves in the Persian Gulf, shared by Qatar and Iran, in 2007 and new surveys which revealed that the Eastern Mediterranean gas fields contained about 70% more gas than had been previously known. The completion of a pipeline from Iran, via Iraq and Syria alone could have secured Europe's gas requirements for 100 – 110 years. Between 50% – 70 % of Europe's gas requirements could be covered by Iranian and Russian gas, if not more. This development would be unacceptable for Israel, considering the arguably increased Iranian influence with regard to the EU's Middle East policy in general and Palestine in particular. The development would not only render large U.S. and British energy projects like the Nabucco project unprofitable or obsolete, it threatens declared ambitions to establish the U.S./U.K.-hegemony in Europe with all what that implies.
The development would also threaten the position of the U.S. dollar, weaken it, and ultimately accelerate its collapse. Needless to say that the U.S. will do anything it needs to prevent the collapse as long as possible. The problem is that it does so by usurping others instead of adjusting a flawd system. The E.U. has, arguably, been co-opted or forced into playing along by e.g. importing oil from "rebel-held territories" in Syria. The primary actors behind the "Balkanization" of Syria, however, are the U.S/U.K. via e.g. the Atlantic Council. The far-reaching implications, and how "Realpolitik" coincides with e.g. Brzezinski's "Strategic Vision" becomes evident when one reads the words Atlantic Council President Frederick Kempe said prior to the Atlantic Council's Energy Summit in Turkey, in November 2013:
"We view the current period as a turning point, just like 1918 and 1945. Turkey is in every way a central country, as a creator of regional stability. However much the USA and Turkey can work in unison, that is how effective they will be."
One should not forget that reaching the 1918 and 1945 turning points requires the beginning of the wars in 1914 and 1939 first. Understandably, this form of political thinking does not render many possibilities for making the French or the German, the Czech, the Slovakian, and other's opinions count. Earlier this year a person from the inner circle around the former Lebanese PM Saad Hariri, who was seriously concerned about the threat of a wider war, noted that the final decision to launch the attack on Iraq via ISIL/ISIS/IS fell on the sidelines of the Atlantic Council's Energy Summit in Istanbul, November 22-23, 2013. The "sovereignty" of the people of France, Germany, and other continental European nations with regard to Iraq has, in other words, been reduced to the possibility to respond to policy that is being implemented by rogue networks who are embedded within both foreign governments, their own governments, the E.U. and NATO. Note that this statement is consistent with the words of Dumas, who noted that the French voice is not heard any more and that it has been reduced to a dwarf.
A brief Assessment of the Situation in Africa and French – German Differences in Opinion.
Dumas noted that Sarkozy went along with NATO and that Hollande, much to his and many French Socialists dismay, followed suit. French – German differences in opinion with regard to French Africa policy may indeed have been part of Sarkozy's deliberations. In 2010 France was instrumental in ousting the Ivorian President Laurent Gbagbo. Gbagbo and the Libyan head of State Muammar Qaddafi were actively and successfully lobbying for the creation of a gold-backed, pan-African currency. The Sarkozy administration was also instrumental in the implementation of the "Arab Spring" in Libya in 2011. A compendium of articles which are a good starting point for further studies on French involvement is the book "The Illegal War on Libya", edited by the former U.S. Congresswoman Cynthia McKinney. One can conclude that Sarkozy went along with Libya because he was a) given U.S./U.K cover for Ivory Coast, b) because France has Mediterranean ambitions which were compatible with ousting Qaddafi. What is interesting with regard to this discussion is the question "why" there are French – German differences in opinion, and why France, almost like a knee-jerk response felt that it "had to" get both Gbagbo and Qaddafi out of the equation.
French Africa Policy and French – German Differences in Opinion. Analyzing the situation from Ivory Coast over Libya to Syria and Iraq shows that France, in so many words, went along with a war on Syria and Iraq even though they could be potentially catastrophic for European energy-security. In exchange, France received the support of the U.S./U.K. in Ivory Coast and Libya. So far, the failed project in Syria caused the crisis in Ukraine. The following will demonstrate how a more functional French – African cooperation could have mitigated many of the risks which Europe currently faces. To understand why, it is necessary to understand French Africa policy, and the fact that it would not take much lobbying in Germany and at the European Council for them to go along with a radical and bold course change, – if only France dared.
France succeeded at maintaining virtually absolute control over the national economies of its former colonies in Africa when these colonies gained their "independence". One touchy point in French – German discussions is that Charles De Gaulle, whom Dumas described as man with unquestionable world authority, literally copied the blueprint for usurpation that Germany used to usurp the economies of German occupied France and other German occupied nations during WWII.
The former French Africa colonies are Benin, Burkina Faso, Cameroon, Central African Republic, Chad, Equatorial Guinea, Ivory Coast, Gabon, Guinea-Bissau, Mali, Niger, the Republic of Congo, Senegal and Togo. Their money, the CFA Franc, is printed by the French National Bank in Chemalier, France. The 15 former colonies, plus France formed the Monetary and Economic Union of West Africa (U.M.E.O.A.).
The Council of Presidents of the fifteen U.M.O.A. member states constitutes the highest authority of the union. Decisions of the Presidential Council are made unanimously. The Ministerial Council of the U.M.O.A. defines the monetary and credit policy of the union and it is responsible for the economic development of the region. According to the constitutions of all fifteen member states the creation of their currency, the regulation of its value, as well as the regulation of parities and modalities, is the exclusive privilege of the nation and its people and decisions about it are made by the parliament. That much to nominal independence. The placement of French commissars within the heart of the nations and the union's banking system creates an obvious dichotomy between the nominal sovereignty of the union, its constituents, and the direct control of their national and regional economies by the former colonial power.
The region has three central banks. Three of the thirteen of the Directors of the B.E.A.C. are French and four of the eight Directors of the B.C.C. are French. The Board of Directors of the B.C.E.A.O. is constituted by sixteen Directors; two from each country plus two additional Directors from France who take part in the management of the bank under the same conditions and with the same privileges as the other Directors. The number and placement of the commissars gives them a Veto right at the board of each of the Central Banks. No decision can be made without their approval. France can enforce its policy by threatening to deadlock the economies unless decisions are made in compliance with French suggestions. The veto right also extends to the nomination of the Governor of the B.E.A.C.. The Governor is elected with the unanimous vote of the Board of Directors, on suggestion of the government of Gabon, and after the approval of the other member states as well as France. This Central Bank does not only have the privilege to create the currency. It also has the privilege to grant credit for the current accounts of the national treasuries at its discount rate. The Board of Directors is making the decisions about the temporalities and about the total amount that is granted for financing the economies of each of the member states.
Sixty-five percent of the U.M.E.O.A. members' foreign currency reserves as well as all of their gold reserves have to be placed at the French National Bank at zero interest. In return, France guarantees the value of the CFA Franc, which it devalues at leisure. On 3 Mai 2010 the website of Jeune Afrique quotes the former French Minister of Finance and Commerce, now IMF Director Christine Lagarde: "The Bank of the States of Central Africa, for instance, places an almost 90 per cent of their reserves in the French National Bank". In an interview for Le Liberation in 1996 the late President of Gabon, Omar Bongo said:
"We are in the Franc Zone. Our operations accounts are managed by the French National Bank in Paris. Who profits from the interests that our money generates ? France."
Large parts of the French national economy are literally based on this usurpation. French economists, generally agree that the French national economy would collapse without this "infusion" while many also are aware that the usurpation with the help of oppression is an extreme security gamble. France enforces its position with a destructive policy that has left the region shattered by coup d'etat, instability and war. To mention some; In January 1963 the President of Togo, the late Sylvanus Olympio was murdered three days before the issuing of a new currency. On 19. November 1968 the late President of Mali Modibo Keita was ousted in a coup and arrested. In 1977 Modibo Keita died in prison. Keita was poisoned. On 27. January 1996 the President of Mali was ousted in a military coup d?etat. On 15. March 2003 the late President of the Central African Republic Ange Felix Patasse was ousted by the "rebel leader" Francois Bozize. In 2010 the Ivorian President Laurent Gbagbo was ousted in a coup d'etat. Gbagbo was imprisoned at the ICC. The UN still has all ballot boxes which could prove whether the alleged election fraud had taken place or not, but the UN has so far failed to investigate appropriately. In all cases the monetary union and France have played a role.
The result is that one of the richest and most productive region is hopelessly impoverished, indebted and lagging behind in even basic development indexes. Naturally, the development of a stable middle class which could give the region a lift is impossible. It goes without saying; the development of the region as potential trading partner for a European market, a market that could yield far greater economic and humanitarian potential than the one that one could achieve by oppression and usurpation is made impossible too. Hence France is keeping on "fixing" Africa problems to barely hang on to a Nazi method of usurpation.
The French – German differences in opinion about Africa, German Sovereignty, and distrust between France and Germany can be reduced to this.
France has a knee jerk reaction every time the European Council or German lobbyists challenge France to redirect its Africa policy. A German analyst and Africa expert once said to the author that France reminds him of a man who stands at an abyss. He is so transfixed by staring into that abyss that he cannot even conceive of the idea that he could turn around to look whether there is terra firma behind him. When German lobbyists approach France, they are often trying to calmly call on France and to reach out with a helping hand so France could take a step back and reassess its situation. One must add to this, that France and Germany share the fate of literally centuries of wars against each other. One should note that Germany was the aggressor in the last two wars. In fairness and to understand the dynamics, one must admit that there often was a tertium gaudens, a laughing third who could laugh with unalloyed joy, who played a role in French – German confrontations.
French policy makers will recall French President Mitterrand's knee jerk situation and united British – French lobbying against the reunification of Germany. The result is that: Germany may be nominally "reunited" but that the 2+4 treaty is no peace treaty; That Germany still is classified as enemy state to the United Nations; That Germany still has no constitution and cannot adopt a constitution before it has a peace treaty; That its basic law has no territory on which it is valid; That Germany according to the analysis of qualified historians like Peter Feist still is subject to a "letter of submission to Washington" signed by former German Chancellor Willy Brand; That Brandt only signed because Washington threatened to sabotage the inner-German dialog; And that Germany, politically, economically, as well as militarily remains under the direct control of the Supreme Headquarters of the Allied Command Europe (SHAPE).
German governments and media attempt to suppress these facts for the simple reason that they are aware how "explosive" this information would become if a German government, a major opposition party, or the major German media ever would make "an issue" out of them. The consequences could be disastrous, if the people of Germany ever would realize how badly they have been deceived before there was established a secure way of turning this frustration into a positive development. Many analysts suggest that German governments, for their part, are in a similar situation to that of France.
They are standing at the abyss, fearing that the German populace discovers the deception. To compensate, German governments are pushing for a seat at the U.N. Security Council, trying to force the hands of those who still capture German sovereignty as enemy state to the U.N.. Germany's problem is, that France so far only has whispered slight whispers which were insufficient to wake up Germany. Germany is waiting to see the hand of France, not pushing it into the abyss but to offer its hand for a partnership that aims at a new, continental European consensus for national sovereignty, peace and prosperity. Consequently, both the government of Hollande and the government of Merkel are staring into the abyss while a laughing third is about to unleash the terrors of yet another great war on the European continent.
Former French Foreign Minister Roland Dumas stressed that a French break with NATO would not only require a statesman at the helm but a situation that would allow others to understand why – France needs a good explanation if you will. The same could be said about Germany. It would require a situation that could help Germany's partners to understand that keeping Germany as a "colony" in a Brzezinskian hegemony is unacceptable. Considering that both France and Germany still are, at least nominally, and to some degree functional democracies, the operand question is whether Hollande and Merkel would dare to exercise the sovereignty of the French and German people. Arguably, it is more a question of - good management – than a question about "one glorious statesman". Dumas, and others in France and Germany who are lobbying for greater sovereignty, and in particular Socialists should recognize that a great statesman can only be born out of a political moment, which can be created by intense campaigning from the base. So, would Hollande and Merkel live up to their challenges? The answer is that nobody, probably not even Hollande nor Merkel know. What is certain is, that the political moment is possible, because the potential for it exists within the continental European, especially in the French and German populations.
Indicators in favor of a Continental European Consensus for Sovereignty, Prosperity and Peace.
A 2014 survey in Germany shows that the majority of Germans is against the presence of NATO troops in eastern Europe. The survey, conducted by Deutschlandpoll, also suggested that 49 percent of Germans would rather see Germany take a position of a bridge between the East and the West. Only 45 percent of those who were polled considered Germany as a solidly anchored part of the West. It is noteworthy that this poll was conducted in the presence of a relentless, anti-Russian campaign in most, if not all German mainstream media.
In May 2014, Hollande and Merkel held a joint press conference in Berlin. The two statesmen called for a prompt and full investigation into the massacre in Odessa, where some 150 protesters who had sought refuge in a Trade Union House were murdered in cold blood. A detailed photo study of the massacre shows that the massacre was pre-meditated mass murder, involving Ukraine's Pravy Sector which is known for its ties to NATO's Gladio network. Besides that, Hollande and Merkel jointly criticized Kiev's unbridled use of military force against Ukrainian citizens, stressing that any use of military force in Ukraine is allowed exclusively for the protection of human lives and infrastructure. The two added that even then, it must be used with proportionality. They urged Kiev to begin a dialog with the rebelling regions before elections and to cease armed hostilities.
In respectively June and July 2014, the governments of the Czech Republic and Slovakia stressed that they did not want to accept NATO troops in their countries and saw no need for any NATO bases in their countries either. The rejection came in response to direct "proposals" from U.S. President Barack Obama. The proposals came after Poland, in April, called on the U.S. to deploy additional troops to Poland. It is noteworthy that historical research documents that Poland played the role of provocateur against Germany up to WWII, in collusion with the government of the U.K., the laughing third.
In September 2014, after U.K. PM David Cameron outed the possibility that the UK may reconsider its EU-membership, a French survey showed that over 50 percent of the polled Frenchmen opted for "letting them leave" and do what they want. Understandably, only a minority in France and Germany would want to be helpful with regard to the U.K.'s dilemma about Scottish independence. There are literally hundreds of other, political, social, and economic indicators which suggest that there is a growing continental European consensus against the Atlantic Alliance and against bellicose Atlantic Axis-launched wars from Africa over Syria and Iraq to Ukraine. It would be beyond the scope of this article to analyze them all. The one that tells most is that it was negotiations without the presence of the U.S. and U.K. that led to a dialog and a ceasefire in Ukraine.
In conclusion, the voice of France with regard to NATO can be heard and a break with NATO is possible; A Germany that regains its sovereignty and assumes a role as bridge between the East and the West, which it already has geographically, culturally and economically is possible; A continental European consensus for peace in Africa, the Middle East and in Europe, opposed to an Atlantic Axis fire starter policy is possible and would lead to greater prosperity on a global scale. None of the above, however, would be possible as long as France and Germany perceive each others hands as threats, fearing to be plunged into the abyss. Who is the tertuim gaudens, who laughs with unalloyed joy? What would it take for a Hollande or for a Merkel to take one step back from the abyss? The answer is: I don't know. Merkel probably doesn't know it either, and neither does Hollande. What is certain, is that they probably have more support for a continental European peace and partnership with Russia from the people of France and Germany than they would dare to hope for. It is the question whether or not one lives up to the moment that makes the difference between a politician and a statesman, between war and peace.
00:05 Publié dans Actualité, Affaires européennes, Géopolitique | Lien permanent | Commentaires (0) | Tags : géopolitique, politique internationale, roland dumas, france, allemagne, europe, affaires européennes, pôle franco-allemand, axe franco-allemand |
|
del.icio.us |
|
Digg |
Facebook