dimanche, 27 avril 2014
Islamist Fifth Column in Gaza based on Gulf and Western Strings: Egypt and Syria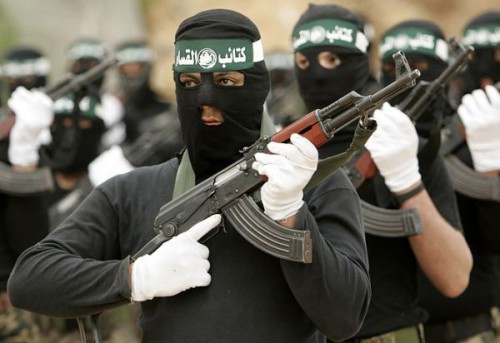 Islamist Fifth Column in Gaza based on Gulf and Western Strings: Egypt and Syria
Boutros Hussein and Lee Jay Walker
Modern Tokyo Times
If individuals want to see the dead end path of radical Takfiri Islam then look no further than the mantra of hatred and discord in Gaza because this estranged reality says everything about the international reality of this brand of Islam. Takfiri Islamism cares little about issues related to national identity therefore killing fellow nationals is part of the course alongside destroying respective civilizations. This reality means that nations like America, France, Israel, Qatar, Turkey, Saudi Arabia, and the United Kingdom, can pull the strings by manipulating various agendas. The upshot of this is that "international jihadists" can be manipulated in the short term while "internal jihadists" become a fifth column and this can be seen in Afghanistan, Egypt, Iraq, Libya, Nigeria, Pakistan and Syria.
In Egypt and Syria both internal militant Islamists view killing fellow Egyptians and Syrians with glee because in their schizophrenic world view they are serving Takfiri and Muslim Brotherhood indoctrination. It would have been unthinkable in the past that Palestinians would desire jihad against Egypt and Syria rather than being focused on the Palestinian issue. However, the petrodollars of the Gulf and the spread of militant Salafi ideology have altered the religious and political landscape.
Of course, militant Islamists in Gaza are not powerful enough to change events on the ground in either Egypt or Syria. Despite this, it is clear that Islamists in Gaza can cause mayhem in the Sinai region and in Syria based on supplying arms and partaking in terrorism. Similarly, if Islamists don't abide by the tune then new pied pipers will emerge in order to sow the seeds of more division. Alas, in modern day Syria various Takfiri Islamist terrorist groups in 2014 are now butchering each other and this reality is replicated in Afghanistan and in other nations where this virus is let loose.
Gulf petrodollars are sowing the seeds of crushing indigenous Sunni Islam, creating destabilization, spreading sectarianism, empowering terrorism and targeting non-Muslim minorities. America, France, Israel, Turkey and the United Kingdom are "riding this Islamist ticket" in order to destabilize nations they want to crush. Of course, Afghanistan was the springboard in the 1980s and early 1990s but the evolution and spread of Salafism is much more potent in the modern world.
In Libya the power of NATO was needed in order to bomb from the skies and of course covert operatives were involved on the ground whereby they were allies of various militias and al-Qaeda affiliated groups. Similarly, in Syria it is clear that al-Qaeda affiliates, various terrorist groups and Salafi ideologues are working hand-in-hand with Gulf and NATO powers. Therefore, in Libya and Syria it is mainly fellow Arabs alongside international jihadists who are doing the bidding of America, France, Israel, Qatar, Saudi Arabia, Turkey and the United Kingdom.
Colonel Gaddafi in Libya never envisaged that fellow Libyans would openly work hand-in-hand with NATO forces and that international jihadists would deem him to be an apostate. Yet, Libya was crushed based on the manipulation of internal discontent which was manipulated by outside nations, the role of NATO and Gulf powers – and the third trinity, the role of international jihadists and Salafi preachers which incite hatred. Syria is witnessing the same trinity despite events on the ground being very different based on the persistence of the armed forces of Syria and because of other important factors.
It is interesting to note that while mayhem and chaos abounds in many nations because of the so-called "Arab Spring," which really should be named the "Western and Gulf ticket;" the nations of Israel and Saudi Arabia have emerged unscathed. Also, while international jihadists and internal militants in Syria are busy fighting and killing in the name of Allah; it is apparent that they aren't concerned about Israel in the south and NATO Turkey in the north. Indeed, on several occasions Israel bombed Syria and this mustered no real mass demonstrations nor created political convulsions within the Middle East. Likewise, it is noticeable that al-Qaeda affiliate groups are notably strong in northern Syria whereby they can utilize the terrain of NATO Turkey and the supply lines for military arms.
In a video speech which was played to militants in Gaza the Islamist Sheikh Ahmad Oweida is inciting hatred towards Syria. He reportedly states "the time is for blood and destruction. The time is for invasions. The time is for battles." Other comments in the video and during the demonstration in Gaza are aimed at Egypt and Syria. Suddenly, the role of NATO and Israel appears a very distant second and clearly for power brokers in the Gulf and West then this is a remarkable achievement. After all, it implies that militant Islam can be used like "a Trojan horse" in order to cause internal destabilization. Therefore, when the times are right international jihadists can do the bidding of Gulf and Western powers.
Oweida stated about Egypt that the "spear of Islam in the chest of despicable secularism….You are our hope that Shariah returns to what it was before."
The Investigative Project on Terrorism reports that "Posters on jihadist bulletin boards have suggested that now was the time for jihadists to go to Egypt to exact revenge against the Egyptian military."
"It is no longer possible to turn a blind eye to the obvious fact that they [secularists and the idolatrous disbelievers] are hostile to Islam and they wage war against it and they hate it," Abdullah Muhammad Mahmoud of the jihadi group Dawa'at al-Haq Foundation for Studies and Research wrote in a jihad forum, the Long War Journal reported. "If jihad isn't declared today to defend the religion, then when will it be declared?!" He continued: "Will Muslims wait until they are prevented from praying in mosques?! Will they wait until the beard becomes a charge that is punishable by imprisonment?! Will they wait until their sons enter prisons in the tens of thousands to be tortured and spend tens of years of their lives in their depths?!"
"O Muslims of Egypt, if you don't do jihad today, then only blame yourselves tomorrow."
Egypt is much more complex because while Gulf and Western powers are all anti-Syrian government the same doesn't apply to this nation. Therefore, Saudi Arabia and other Gulf nations (apart from Qatar which is pro-Muslim Brotherhood and terrorism) are supporting Egypt financially and in other ways because they fear losing their internal powerbases. Indeed, Saudi Arabia even turned against the pro-Muslim Brotherhood agenda of the Obama administration which resulted in a rare clash between Riyadh and Washington. However, the issue of spreading Salafism is a real problem for Egypt and other nations like Tunisia. Therefore, Gulf petrodollars need to cease when it comes to spreading Islamist ideology. In other words, indigenous Muslim clerics need to tend to spiritual matters. Issues related to the Muslim Brotherhood also need to be resolved because this Islamist movement desires to enforce its ideology on all the people of Egypt.
Al Ahram Weekly reported during a pivotal period last year that: "Mohamed Gomaa, a specialist on Palestinian affairs at Al-Ahram Centre for Political and Strategic Studies, says that while the "organic relationship" between Hamas and the Muslim Brotherhood has long been common knowledge, Hamas is taking a risk by parading those ties in Al-Qassam Brigades' marches through Gaza. There are, Gomaa says, differences within Hamas over how to respond to developments in Egypt. Some within the movement urge restraint and the avoidance of any rhetoric that might be viewed as provocative by the Egyptian army. The appearance of Al-Qassam convoy, he argues, suggests that such voices are losing out to the zealously pro-Muslim Brotherhood contingent."
"The Hamas government viewed Sinai as its backyard," says Gomaa, "a safe corridor for arms and other strategic needs. This is why the movement supported strikes against Egypt's security forces in Sinai. It explains why so many Palestinian elements were discovered to have taken part in operations against the army."
The Syrian government meanwhile is currently fighting for its survival because of the unholy trinity being used against this nation. Likewise, Egypt faces internal political convulsions and a terrorist threat within the Sinai region and in other parts of the country.
Libya succumbed to the trinity and clearly Syria faces the same combination of forces despite the internal situations being very different. After all, Libya was just "abandoned to the wolves" but several powerful nations have stood by Syria despite their support being insufficient compared to what the enemies of Syria are doing. In other words, if powerful Gulf and Western powers collectively decide on destabilization then clearly nations in North Africa and the Middle East are very vulnerable. The one saving grace for Egypt is that most Gulf nations oppose the administration of Obama when it comes to this nation. However, Syria is not so lucky because this nation faces outside manipulation and a brutal trinity which refuses to let go.
Gaza Islamists openly celebrate killing Syrians and inciting hatred towards this secular nation. At no point do they show the same willingness to die against Israel or against NATO Turkey. Likewise, Palestinian Takfiri jihadists are involved in spreading terrorism and mayhem in the Sinai region and more recently the Shia in Lebanon are being targeted by the same forces that have abandoned the Palestinian cause. Therefore, Islamist Salafi schizophrenia is a great tool for America, France, Israel, Qatar, Turkey, Saudi Arabia and the United Kingdom in the short-term providing the above nations all share the same vision.
Islamists are now whipping up hatred in Gaza aimed mainly at Syria but also against Egypt. The Long War Journal reported last year: "the marketplace of jihad opened in Syria, the youth of Islam rose from every direction to fight" against the Assad regime. The narrator similarly boasted that "convoys of mujahideen" from Gaza have gone to Syria to fight and that some have died while there."
In other words, militant Islam is a convenient tool to be manipulated by outside forces which desire to alter the political and military landscape. Of course, if Afghanistan and Libya are viewed in the long-term – just like the destabilization of Iraq and the self-destructive policies of Pakistan – then the long term is very different unless you support failed states, terrorism, sectarianism, putting women in the shadows and crushing religious and cultural diversity.
Gaza Islamists are only one piece in a very complex jigsaw. However, if they can forsake their homeland while killing fellow Muslims and Arabs – alongside persecuting religious minorities and becoming embroiled in anti-Shia policies in Syria; then this highlights the new force being backed within Gulf and Western circles. Indeed, outside nations don't need boots on the ground like in Afghanistan and Iraq. Instead, the trinity can do everything from a distance and if extra support is needed then powerful ratlines will be increased alongside more Salafi indoctrination.
http://www.investigativeproject.org/4126/egypt-warns-hamas-over-jihadi-threats
http://weekly.ahram.org.eg/News/3904/17/Sinai—no-longer-a-proxy-battle.aspx
www.longwarjournal.org/archives/2013/09/salafi_jihadists_hol.php#ixzz2eMcmf0z9 
00:02 Publié dans Actualité, Géopolitique, Islam | Lien permanent | Commentaires (0) | Tags : gaza, islamisme, proche orient, levant, palestine, hamas, monde arabe, monde arabo-musulman, politique internationale, égypte, syrie, géopolitique, géostratégie |
|
del.icio.us |
|
Digg |
Facebook