mercredi, 11 février 2015
Arctic Resources to Boost Russia's Pivot to Asia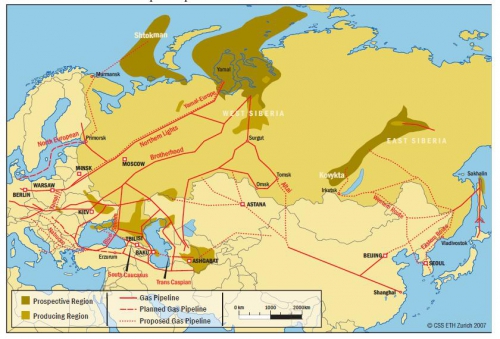 Arctic Resources to Boost Russia's Pivot to Asia
The West is not the only global player to have its eyes on Asia. Russia is looking to become a key energy supplier for the Chinese and Indian markets and will use its Arctic gas to do so.
Global energy markets in deep transition
Russia is looking at diversifying its oil and gas exports which have so far mostly targeted the European market. Additionally, the recent tensions with the West, followed by economic sanctions, and the slow-down of Europe's economy have made it necessary for the Kremlin to find new recipients for its oil and gas exports.
According to recent estimates, by 2050, emerging markets will account for 70 percent of the world trade. The Pacific pivot of the world's main economies is quietly taking shape, and the Kremlin is jumping on the bandwagon.
Russia and India together in the Arctic
Last month, Gazprom Marketing & Trading Singapore (GM&T) and Yamal Trade entered a long-term contract for liquefied natural gas (LNG) supply. And most of the gas will be delivered to India. According to Gazprom's

website

, the contract will be effective for over 20 years and provide an annual supply of 2.9 million tons of LNG. Although the price of the contract has not been announced yet, it will be determined using the formula with oil indexation, the news report says.
What is interesting in this deal is that Russia will be using its Arctic resources to supply a client for over 20 years. Beyond being another solid evidence of the «Indo-Pacific» pivot, this move teaches us two important things. First, that discussions about dropping Arctic oil and gas projects are somewhat moot and second, that long-term economic development of the Arctic is underway.
First, some context. Let's look at the actors involved in Russia's energetic pivot to Asia. GM&T is a wholly owned subsidiary of the Gazprom group. It has five offices around the world, including one in Singapore established in 2010, focusing mainly on trading LNG.
Yamal Trade, a subsidiary of Yamal LNG founded in 2006 and headquartered in Moscow, offers LNG exploration and production services, such as the engineering and designing of the Sabetta onshore LNG facility. The construction of the Sabetta port in the Yamal peninsula started in 2012, and it comes as no surprise that the port is designed to facilitate shipments of LNG to the Asia-Pacific region.
The contract signed last month did not happen overnight. The deal is the result of lengthy talks and it took years for the Russian-Indian partnership to develop and mature.
In October 2013, Indian state-owned oil company Oil and Natural Gas Corporation (ONGC) expressed its interest in partnering with Russia to explore for oil and gas in

Russia's Arctic waters

. Officials from the two countries met and discussed the possibilities for exporting Russian gas to India via pipeline.
A few months later, in January 2014, Russia's Energy Ministry unveiled a draft plan to at least double its oil and gas flows to Asia over the next 20 years. In 2013, only 16% of the total Russian oil and gas exports was sent to Asia. But by 2035, the Kremlin's goal is to raise gas exports to Asia from 6% to 31%.
Then, in May 2014, it became public that GM&T and Yamal Trade signed an

agreement

to supply up to 3 million tons of LNG, and already, India was to be the main recipient. The press release stressed that LNG would be delivered under «FOB» terms. FOB stands for «free on board», meaning that «the individual or organization buying the goods is responsible for freight costs/liability». The LNG would transit from Western Europe to Asia.
By the end of 2014, during the 20th Offshore South East Asia Conference and Exhibition (OSEA) in Singapore in December, Moscow's top oil and gas officials announced that Russia would take

Asia-Pacific countries as main partners

in the oil and gas sector and highlighted the benefits of mutual cooperation. OSEA is «Asia's leading business technology event for the oil and gas industry», explains the official website.
Russia's economic policy statement represents a landmark in its energy policy history and will have consequences that stretch far beyond the simple business relationship established between the two countries.
A few days later the same month, during Putin's visit to India, Putin

declared

he was ready to export LNG to India with the involvement of the

ONGC in Arctic projects. According to the company's website, ONGC is ranked as the t

op energy company in India, fifth in Asia and has a market value of 46.4 billion US dollars – against 99.9 billion US dollars for Gazprom in 2013.
Putin also specified that using a cross-country pipeline to export natural gas would be much more expensive than relying on shipping to sell it in its liquid form, LNG. In the end, it comes down to a "question of commercial feasibility", Putin said.
With a booming economy and population, India was the fourth-largest energy consumer in the world in 2011, the EIA notes. And although coal is still its main source of energy, New Delhi is actively trying to

reform

its energy sector.
India is expected to start receiving LNG shipments as early as in 2017, Putin indicated during his state visit.
Years of negotiations between Moscow and New Delhi paved the way for the contract signed on January 23rd by GM&T and Yamal Trade. According to the terms of the contract, an annual supply of 2.9 million tons of LNG will be shipped to Asia, most of which will end up fuelling India's fast-growing energy needs.
Implications for the future
Although some pushed for a halt in Arctic drilling, Russian Natural Resources Minister Sergey Donskoy's

statement

this week is not shocking in any way. « No one has suggested that the oil production forecast [in the Arctic] should be reduced », the minister said.
The « Russindian » deal evidently illustrates the major ongoing transformations that are happening in the energy sector: the exploitation of resources in new areas, and the need for the world's main energy suppliers to broaden their horizons in amending their export policies. To draw a parallel, one could argue that, to some extent, Russia is in a situation similar to the one of Canada. A situation where the traditional recipients for energy exports (the U.S and the E.U) no longer reflect stability and predictability, but rather waning economic partners.
SOURCE: The Arctic Monitor
00:05 Publié dans Actualité, Affaires européennes, Eurasisme, Géopolitique | Lien permanent | Commentaires (0) | Tags : géopolitique, politique internationale, arctique, russie, hydracarbures, eurasie, eurasisme, gaz, inde |
|
del.icio.us |
|
Digg |
Facebook