—————————————————————————————————————————————-
Herstel islamitische Ottomaanse Rijk en val van Europa steeds dichterbij
—————————————————————————————————————————————–
Ondanks dreigementen van het regime van de Turkse dictator Erdogan hebben Israël, Cyprus en Griekenland een overeenkomst ondertekend voor een nieuwe gaspijpleiding van Israël en Cyprus naar Griekenland. In de toekomst kan deze pijpleiding wel eens in 10% van de Europese aardgasbehoeften gaan voorzien. Ankara had juist besloten om tegen alle maritieme wetten en afspraken in de economische zone van Libië –dat de facto een 'client state' van Turkije wordt- dermate te vergroten, dat een deel van de wateren van Kreta eronder vallen. De Turken beweren nu dat ze veto recht hebben over deze nieuwe pijpleiding. De exploitatie van het aardgas in het oosten van de Middellandse Zee lijkt hiermee een almaar serieuzere trigger te worden voor een toekomstige nieuwe grote Midden Oosten oorlog.
Israël verdient miljarden met gasexport naar Griekenland, Egypte en Jordanië
Op 2 januari ondertekenden de Israëlische premier Netanyahu, de Griekse premier Mitsotakis en de Cypriotische president Anastasiades en hun ministers van energie een overeenkomst voor de aanleg van de EastMed pijplijn. Het € 6 miljard kostende project voorziet in de aanleg van een 1900 kilometer onderzeese pijpleiding die jaarlijks tot 20 miljard kubieke meter gas van de Israëlische en Cypriotische wateren via Kreta naar Griekenland gaat transporteren, en van daaruit vervolgens naar Italië en andere Zuid(oost) Europese landen.
De Griekse premier en zijn minister van Energie spraken van een 'project van vrede en samenwerking, ondanks de Turkse dreigementen'. De Cypriotische president uitte zich in vergelijkbare bewoordingen. Ondertussen is het enorme Israëlische Leviathan gasveld op 31 december 2019 begonnen met produceren. Behalve naar Griekenland stroomt Israëlische gas sinds 2 januari naar Jordanië, en binnen enkele dagen ook naar Egypte. De waarde van de gasexporten voor de Israëlische economie wordt geschat op $ 19,5 miljard, waarvan $ 14 miljard afkomstig van het Leviathan veld, en $ 5,5 miljard van het kleinere Tamar gasveld.
Turkije probeert met illegale claims pijpleiding naar Europa te blokkeren
Eind november sloten Turkije en de door de VN gesteunde Libische regering een bilateraal – feitelijk militair- verdrag waarmee beide landen de economische zone van Libië illegaal vergrootten, zodat een deel van de Griekse maritieme wateren eronder vallen. De EastMed pijplijn moet nu door deze –door niemand erkende- Turks-Libische economische zone. Volgens Erdogan 'kunnen Egypte, Griekenland en Israël nu niet zonder Turkse toestemming aardgas gaan overbrengen.'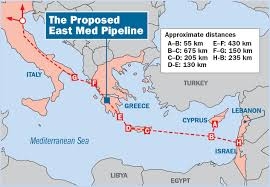 De Turken eisen dat al het toekomstige gas naar Europa via hun reeds bestaande Trans-Anatolische aardgaspijpleiding wordt vervoerd. De Europese Unie heeft deze eis afgewezen, net als de illegale Turkse claim op een deel van de wateren van Cyprus en Griekenland. Egypte, dat toch al in clinch ligt met Turkije om de controle over Libië, noemt de Turks-Libische overeenkomst 'absurd'.
De Turken houden sinds 1974 het noorden van EU-lid Cyprus bezet en eisen het grootste deel van de economische zone rond het eiland op. De VS en de EU noemen deze eis een 'grote provocatie'; in juli 2019 stelde de EU al enkele lichte economische sancties tegen Turkije in.
In oktober stuurde Ankara illegaal een boorschip naar de Cypriotische wateren, waarop de EU op 11 november enkele nieuwe sancties instelde. Personen en entiteiten die deel uitmaken van deze illegale Turkse boringen kunnen nu worden getroffen door een reisverbod en het bevriezen van hun tegoeden en bezittingen.
Maar de Turken trekken zich daar niets van aan. Op 11 december dreigde Erdogans minister van BuZa Mevlut Cavusoglu om de –maritiem volkomen legale- gasexploratie van Cyprus met militaire middelen te stoppen. Door Cyprus ingeschakelde Italiaanse en Israëlische onderzoeks- en exploratie schepen werden al eerder verjaagd door de Turkse marine.
Herstel Ottomaanse Rijk en val van Europa steeds dichterbij
Moslimdictator Erdogan begint zich hoe langer hoe meer te gedragen als de totalitaire heerser van een toekomstig imperium: het herleefde Ottomaanse Rijk, waar we al zo'n jaar of 10 regelmatig over schrijven, en waarmee volgens Erdogan en zijn AKP partij in uiterlijk 2023 – precies een eeuw na de 'dood' van het Ottomaanse Rijk- een begin moet zijn gemaakt.
Turkije stevent daarmee rechtstreeks af op een serie politieke, en uiteindelijk ook militaire confrontaties met de VS, de EU, Israël, Griekenland, Cyprus en Egypte. De vier laatst genoemde landen zijn sowieso in de imperialistische veroveringsplannen van de Turken opgenomen. De EU zal vermoedelijk niet eens militair hoeven te worden ingenomen. Een -bijna openlijk- door Duitsland gesteunde interne islamitische machtsovername van Europa door miljoenen Turken, moslim migranten en hun vele 'useful idiots' in de gevestigde Europese politieke partijen zal waarschijnlijk voldoende zijn om ons definitief door de knieën te doen gaan.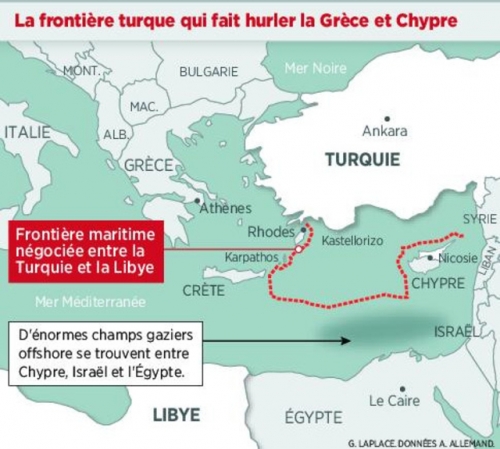 Xander
(1) The Gatestone Institute via Zero Hedge
Afbeelding: Wikimedia Commons, auteur division, CSIRO, permission http://www.scienceimage.csiro.au/pages/about/, Creative Commons Attribution 3.0 Unported license.

Zie ook o.a.:

31-12: Nederlandse analisten: In 2020 begint de systeemcrisis en Derde Wereldoorlog
21-12: Egypte stuurt tanks naar Libië om Turkse militaire interventie af te weren
16-10: Turkse minister Defensie twittert kaartje met geplande verovering Syrië, Irak, Armenië, Griekenland, Cyprus en Bulgarije
15-10: Erdogan gijzelt 50 Amerikaanse kernbommen op luchtmachtbasis Incirlik
05-09: Erdogan zegt kernwapens te willen, maar werkt daar in het geheim al jaren aan (? Nucleair bewapend Turkije zal op Ottomaanse veroveringstocht door het Midden Oosten, Centraal Azië en Noord Afrika gaan, en ook Europa inlijven)
21-07: Turkse dictator Erdogan dreigt met militaire invasie van Cyprus
10-07: Turkije wil oorlog: Tanks naar Syrische grens, boorschepen in wateren Cyprus
07-06: Staat de EU 'tweede Turkse invasie' Cyprus toe, uit angst voor 4 miljoen in Turkije wachtende migranten?