mercredi, 28 août 2013
Selective Jihad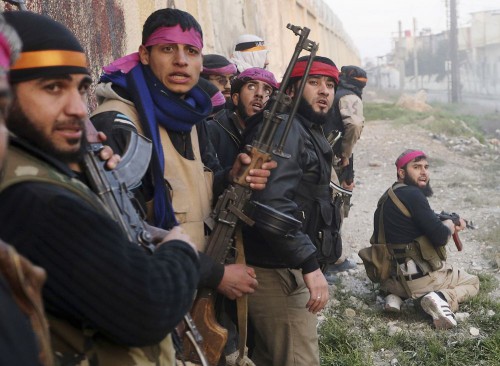 Selective Jihad
The sudden intensification of the conflict between members of two Islamic sects – Sunni and Shi'ite – in several Middle Eastern countries at once suggests that it is not a question of a spontaneous outbreak of hostility, but rather the targeted fomentation of artificially-created antagonisms.
Al-Qaeda is intentionally blowing up Shi'ite shrines in Iraq and buses full of pilgrims from Iran, provoking acts of aggression towards Sunnis (so far largely unsuccessfully). The latest large-scale acts of terrorism took place on 20 and 27 May in Baghdad and its suburbs, populated by Shi'ite Muslims, in which more than 200 people were killed and 624 injured. (1) In response, Shi'ites have started to take drastic action. This could lead to an escalation of the conflict (which is what the organisers of the provocation are hoping for) if the government of al-Maliki does not suppress the wave of violence. Nevertheless, the American Institute for the Study of War is already predicting that hostilities between the two branches of Islam may plunge the whole region into bloody chaos (2).
In Lebanon, skirmishes are taking place between various armed groups who are carrying out attacks on government buildings. Here, Shi'ite Hezbollah has declared that Al-Qaeda is the main target of its attacks. In a recent interview, the head of the Christian Lebanese party «Levant», Rodrigue Khoury, reported that «at the call of Salafi cleric Ahmed al-Assir, who is in hiding, large numbers of Salafis are going out onto the streets of Lebanon and threatening Christians..., and according to Islamic beliefs, there is only one possible punishment for an «unbeliever» – his death». (3) According to Khoury, Salafis also want to take revenge for 2007, when Lebanese Armed Forces suppressed an uprising by Wahhabi terrorists at the Nahr El-Bared refugee camp. Lately, however, Salafi activity has been observed in Saida, where there are a large number of extremists in Palestinian refugee camps.
In Syria, the Alawite minority are being subjected to systematic attacks along with the government (the Alawites are regarded as an offshoot of Shi'ite Islam).
It is perhaps only in Iran that an atmosphere of tolerance between Muslims belonging to different Islamic sects is being maintained; there, the Sunni are able to pray quietly in Shi'ite mosques and, generally speaking, good will towards members of other religions is also being maintained.
86-year old Islamic theologian Yusuf al-Qaradawi from Qatar, who spent a long time living in the US and was a trustee of the Islamic Society of Boston, is playing a major role in fuelling the conflict between Sunni and Shi'ite. Al-Qaradawi is a spiritual leader of the Muslim Brotherhood. According to the German news magazine Der Spiegel, al-Qaradawi's TV programme «Sharia and life», which is broadcast by the TV channel «Al-Jazeera», has an audience of 60 million people. (4)
Al-Qaradawi instils the idea that Russia is an enemy of the Arabs and of all Muslims, while at the same time calling for a war against the current regime in Syria and Hezbollah in Lebanon. On 31 May 2013, speaking in Doha, al-Qaradawi declared: «Everyone who has the ability and has training to kill ... is required to go. I am calling for Muslims to go and support their brothers in Syria» (5).
Hamas, which has announced its support of Syrian rebels, regarded al-Qaradawi's visit to the Gaza Strip in May 2013 as «a hugely important and significant event», and Hamas leader Ismail Haniyeh called al-Qaradawi «the grand imam of modern Islam and the grand imam of the Arab Spring». Fatah's reaction to the imam's visit to the Gaza Strip, on the other hand, was distinctly negative, observing that he is causing a schism in the Palestinian people. Sure enough, the completely opposing reaction of the two wings of the Palestinian movement to al-Qaradawi's propaganda is one of the signs that there is such a schism.
Al-Qaradawi's intolerance when it comes to Jews is well-known: he believes that the State of Israel does not have the right to exist and refused to take part in the Inter-Religious Conference in Doha in April 2013 because Jewish delegates were also in attendance.
A characteristic detail: in 2009, al-Qaradawi published a book entitled Fiqh of Jihad in which he refused to recognise the duty of Muslims to wage jihad in Palestine, which is being occupied by Israel, as well as in Iraq and Afghanistan, which are being subjected to American occupation. At the same time, however, he is calling for a «holy war» in Syria against Bashar al-Assad's government!
In recent days, the development of events in the Sunni-Shi'ite conflict has begun to resemble a chain reaction. Shortly after al-Qaradawi's speech in the Gaza Strip, Saudi Arabia's Chief Mufti, Sheikh Abdul-Aziz, publicly supported the Qatar Sheikh's argument that «Hezbollah is the party of Satan». A week later, a group of Muslim clerics in Yemen issued a fatwa calling for «protection of the oppressed» in Syria, and then in the Grand Mosque in Mecca, Saud al-Shuraim declared that it was the duty of every believer to support Syrian rebels «by any means possible».
According to the American magazine Foreign Affairs, since the beginning of the conflict, 5,000 Sunni militants from more than 60 countries have taken part in military actions in Syria. If this figure is true, it means that Syria has become the second Muslim country after Afghanistan where such a large amount of foreign mercenaries have fought against the existing government alongside Muslims.
Returning to the activities of the Qatar cleric during his time in the US when he was a trustee of the Islamic Society of Boston, it is worth remembering that back in 1995, while speaking before a group of Arab Muslim youths in the state of Ohio, this herald of jihad declared: «We will conquer Europe, we will conquer America!»... (6)
One inevitably starts to think about the words of the famous Muslim scholar Imran Nazar Hosein (7), who visited Moscow last week and considers the outburst of violence between Muslim Sunni and Muslim Shi'ite currently being witnessed as the implementation of some master plan being put into operation by what the scholar referred to as «evil forces».
Notes:
(1) http://www.alliraqnews.com/en/index.php?option=com_content&view=category&layout=blog&id=36&Itemid=37&limitstart=130
(2) Jessica Lewis, Ahmed Ali, and Kimberly Kagan. Iraq's sectarian crisis reignites as Shi'a militias execute civilians and remobilize.//Institute for the Study of War, May 31, 2013
(3) Orthodox Christians in the Middle East - Russia's allies.// Russkiy obozrevatel, 07.07.2013 http://www.rus-obr.ru/blog/25290
(4) Alexander Smoltczyk. Islam's Spiritual 'Dear Abby': The Voice of Egypt's Muslim Brotherhood. http://www.spiegel.de/international/world/islam-s-spiritual-dear-abby-the-voice-of-egypt-s-muslim-brotherhood-a-745526.html
(5) http://www.jihadwatch.org/2013/06/qaradawi-calls-on-sunnis-to-go-to-syria-to-fight-assad-everyone-who-has-the-ability-and-has-training.html
(6) http://www.jihadwatch.org/2004/03/islamic-radical-tied-to-new-boston-mosque.html
(7) http://www.imranhosein.org/
00:05 Publié dans Actualité, Islam | Lien permanent | Commentaires (0) | Tags : proche-orient, sunnisme, chiisme, politique internationale, islam, islamisme, djihad, syrie, leonid savin |
|
del.icio.us |
|
Digg |
Facebook