"Out of a pattern of lies, art weaves the truth"
David Herbert Lawrence was born into an English working-class family on September 11, 1885. After the First World War, he went into a voluntary exile from his native England, and travelled the world with his wife. From 1922 until 1926, the Lawrences lived in the United States, wherein they resided mainly on a ranch in northern New Mexico. While in the United States, Lawrence composed most of his short, but stunning book Studies in Classic American Literature. In this all but forgotten work, Lawrence methodically marches down a line of classic American authors, and in turn, pierces the heart, bashes-in the head, rends out the soul, and furiously shakes the corpse of the unsuspecting greats.
Why is Lawrence so vicious with his literary prisoners? Because, he claims, they are liars. Benjamin Franklin lies about his ideal American citizen. Hector St. John de Crevecoeur lies about the bliss and innocence of Nature. James Fenimore Cooper lies about the Northeastern Brahmin's veneration of Democracy and Equality. Edgar Allan Poe lies about the limitless emancipatory effects of sensuousness, ecstasy, and love. Nathaniel Hawthorne lies about the truth of spiritualism, saviourism, "Selfless Love," and "Pure Consciousness."[1] Richard Henry Dana lies about man's ability to know the sea and transcend the soil. Herman Melville lies in his pursuit of harmony and the perfect relationship. Walt Whitman lies about his belief in sympathy.
Lies! Lies! Lies!
For Lawrence, they are all lying, but they aren't lying to their audiences. They are lying to themselves. They each tell their own particular lies, but they all share in the big lies. The lies that are today taken as fundamental American ideals: Freedom, Democracy, Equality, Education, Equal Opportunity, and so on. According to Lawrence, the white American puts undo importance on Knowing, self-consciousness, and the mind. The white American intellectualizes with ideals, and tries to imprison feeling and "blood-consciousness." A primary example of this characteristic is the American ideal of Freedom.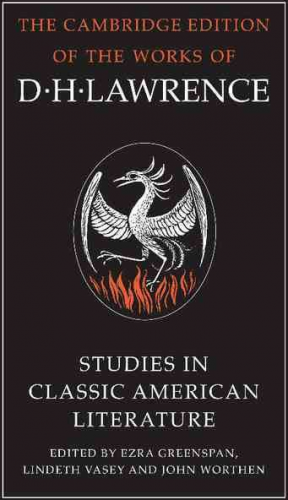 Freedom is the ultimate American ideal, and it is the ultimate self-deception. In the American conception, freedom is pure negation. It is fleeing Europe, the homeland. It is, at bottom, escape. From what are Americans escaping, though? Lawrence contends that the flight to America was due to the Pilgrim Fathers' revulsion at post-Renaissance humanism. The early American settlers fled Europe at the very moment their old masters were weakest: when "kingship and fatherhood fell."[2]
America is, as he puts it:
"A vast republic of escaped slaves. Look out, America! And a minority of earnest, self-tortured people. The masterless."[3]
All of the masterless are equal in their freedom. Like Freedom, Lawrence rejects the notion of Equality, too. Lawrence believes in a natural aristocracy, and argues that America has tried to level natural superiority and natural inferiority with the artifice of Equality.
From Lawrence, again:
"When America set out to destroy Kings and Lords and Masters and the whole paraphernalia of European superiority, it pushed a pin right through its own body, and on that pin it still flaps and buzzes and twists in misery. The pin of democratic equality. Freedom."[4]
The American is on a never-ending quest after ideals, and he destroys, and kills, everything that's in his path. The American is led around by his mind-consciousness as opposed to his blood-consciousness. These two forms of consciousness are the upper and the lower forces of Lawrence's dualism. The American has an unyielding belief in the former, and he is perpetually trying to know, understand, and reconcile his situation on the North American continent. According to Lawrence, at the center of the white American's urge to reconcile is the question of the races: the red and white races, specifically.
To quote Lawrence at length:
"There has been all the time, in the white American soul, a dual feeling about the Indian. First was Franklin's feeling, that a wise Providence no doubt intended the extirpation of these savages. Then came Crevecoeur's contradictory feeling about the Red Man and the innocent life of the wigwam. Now we hate to subscribe to Benjamin's belief in a Providence that wisely extirpates the Indian to make room for 'cultivators of the soil'. In Crevecoeur we meet a sentimental desire for the glorification of the savages. Absolutely sentimental. Hector pops over to Paris to enthuse about the wigwam. The desire to extirpate the Indian. And the contradictory desire to glorify him. Both are rampant still, to-day… I doubt if there is possible any real reconciliation, in the flesh, between the white and the red."[5]
Fenimore Cooper tries to create a reconciliation between white and red in his Leatherstocking Tales, but Lawrence regards this attempt as only a wish-fulfillment. Natty Bumppo and Chingachgook are bound together in manly, brotherly love, but neither brings forth issue, or marries. Their reconciliation in the flesh means that they are isolated together, and thus the end of their respective bloodlines. Their reconciliation is a false myth, but in the character of Natty Bumppo's earliest incarnation, Deerslayer, Lawrence finds the "true myth" of the "essential white America."[6] This "intrinsic-most American" is the "man who turns his back on white society. A man who keeps his moral integrity hard and intact. An isolate, almost selfless, stoic, enduring man, who lives by death, by killing, but who is pure white."[7]
This is surely a chilling, but heroic, image; nevertheless, the essential American who turns his back on white society certainly seems wanting in important qualities. No less chilling and foreboding is Lawrence's interpretation of the racial symbolism of Melville's Moby Dick:
"What then is Moby Dick? He is the deepest blood-being of the white race; he is our deepest blood-nature. And he is hunted, hunted, hunted by the maniacal fanaticism of our white mental consciousness. We want to hunt him down. To subject him to our will…The Pequod went down. And the Pequod was the ship of the white American soul. She sank, taking with her negro and Indian and Polynesian Asiatic and Quaker and good, businesslike Yankees and Ishmael: she sank all the lot of them."[8]
This is no doubt a bleak, but understandable, prophecy for the white man. If Melville foretold the demise of the white race in 1851, what can it possibly do to prevent its own destruction? According to Lawrence, the white American, with his sententious mind-consciousness, is fundamentally at odds with the spirit of North America. He is mocked and tormented by the ghosts of the conquered Red Indian. As already noted, Lawrence holds out little hope for reconciliation in the flesh, but he does allude vaguely towards a possible "reconciliation in the soul. Some strange atonement: expiation and oneing."[9] Beyond this cryptic offering, Lawrence provides little elaboration. Perhaps, Lawrence envisions something similar to the character of Tom Outland, in Willa Cather's novel The Professor's House, who feels a "filial piety" towards the New Mexican Blue Mesa and the ruins of the ancient pueblo people. Then again, Outland's lonely, monastic-like experience reading Virgil's Æneid atop the Blue Mesa reminds one again of the essential white American turning his back on white society.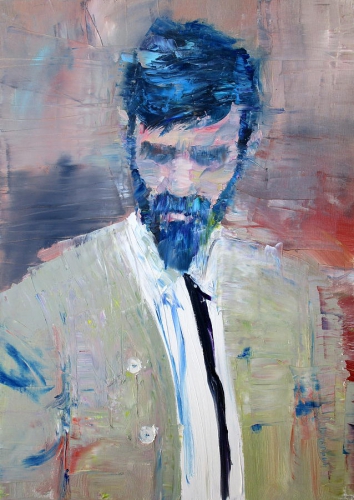 Alas, aside from strange spiritual atonements, switching over to a "blood-consciousness", or some bizarre remarks about following Walt Whitman's example "along the open road," Lawrence presents few actionable answers for the plight of the white American. However, one paragraph in the introduction of the book regarding the nature of freedom struck this reader as particularly powerful:
"Men are free when they are in a living homeland, not when they are straying and breaking away. Men are free when they are obeying some deep, inward voice of religious belief. Obeying from within. Men are free when they belong to a living, organic, believing community, active in fulfilling some unfulfilled, perhaps unrealized purpose. Not when they are escaping to some wild west. The most unfree souls go west, and shout of freedom. Men are freest when they are most unconscious of freedom. The shout is a rattling of chains, always was."[10]
Whether or not the white American will experience his freedom unconsciously in the near future is unknown. The forces pushing anarcho-tyranny seem to make the white American consciously, and vigorously cling to any freedom he once thought sacred and his birthright. But Lawrence is certainly right about one thing. The perennial flight west is not a long-term strategy for him. He will eventually have to settle, claim a space, a landscape, a community, and a mode of being that is his to defend, and not to cast away at the first sign of danger. He will have to treat the North American continent not as a giant nature space to buzz around as he's chased by those who are not his own, but as a place that contains a home, a Heimat even, where he can put down roots for his children, grandchildren, and great-grandchildren.
---
[1] D. H. Lawrence, Studies in Classic American Literature (London: Heinemann, 1924; republished in Phoenix edition, 1964), 86.
[2] Ibid., 6.
[3] Ibid., 5.
[4] Ibid., 41.
[5] Ibid., 34.
[6] Ibid., 59.
[7] Ibid., 60.
[8] Ibid., 152-153.
[9] Ibid., 35.
[10] Ibid., 6.