Hier, le Parlement européen a voté à une majorité écrasante une résolution, qui ressemble à s'y méprendre à une déclaration de guerre froide. Sans parler du fait qu'en même temps, il ne reconnaît pas les élections en Biélorussie (rappelons que la Biélorussie ne fait pas partie de l'UE), le point essentiel vient dans la seconde résolution : renforcer l'isolement de la Russie, sauf si elle change de "régime", financer les dissidents, les médias et les ONG, pour préparer la "Russie démocratique". L'excuse : Navalny. Ce qui montre bien, en passant, que toute cette affaire, regroupée en deux résolutions européennes discutées en même temps, est liée. La Biélorussie a bien servi de modèle pour préparer rien moins qu'une tentative de renversement de l'ordre constitutionnel en Russie. Et l'UE le déclare ouvertement. En tout cas, c'est finalement une excellente nouvelle, car les cartes sont baissées et les groupes néolibéraux globalistes en Russie voient l'échec cuisant de leur politique de compromis-sion. Les leçons sont à tirer et pas uniquement en discours. Avant que le spectre de février 1917 ne plane une troisième fois sur le pays.
Le 16 septembre, les députés européens ont discuté de l'impératif d'isolement de la Russie actuelle, tant qu'elle ne se pliera pas intégralement aux règles du jeu de la globalisation, qui implique pour un partage du gateau économique, une soumission politique inconditionnelle. Cette résolution, débattue sur fond de Navalny, est un pas important passé dans la confrontation, tant sur le fond que par l'écrasante majorité du vote. La résolution prévoit de renforcer les sanctions contre la Russie et d'aller plus loin dans l'isolement du pays sur la scène internationale, tout en mettant la Russie ouvertement en position de faiblesse en demandant une enquête internationale sur l'affaire Navalny, menée par l'ONU, l'UE, l'OIAC et le Conseil de l'Europe - en violation de la souveraineté du pays. Le coup de grâce est l'établissement d'une stratégie de soutien et financement des "dissidents", des médias, de l'opposition pour préparer les relations de l'UE avec la "nouvelle Russie démocratique". Une résolution en forme de déclaration de guerre, car la Russie telle que nous la connaissons aujourd'hui, selon l'UE, doit disparaître.
Ainsi, sur les 705 députés européens, 688 ont pris part au vote concernant la Russie. Sur les 688 votant, 532 ont voté pour, 84 contre et 72 se sont (courageusement) abstenus. Il est donc tout à fait logique d'en déduire que le Parlement européen, dans son écrasante majorité, est pour la tenue d'une politique agressive envers la Russie.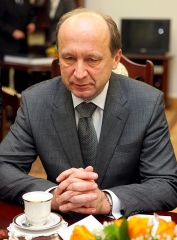 D'ailleurs, Andrius Kubilius (photo), l'ancien Premier ministre lituanien (pays, qui soutient ouvertement la révolution biélorusse) est l'un des auteurs de la résolution. Justification de l'importance de cette résolution selon ses termes :
"C'est un document important, parce qu'il ne parle pas uniquement du cas individuel de l'empoisonnement de Navalny, mais donne une image de la politique du Kremlin en général, et en particulier à l'encontre de l'opposition, de ceux qui pensent différemment et de ses voisins."
Afin de donner le ton, la présidente de la Commission européenne, Ursula von der Leyen, avait, la veille, fait une déclaration semblable :
"To those that advocate closer ties with Russia, I say that the poisoning of Alexei Navalny with an advanced chemical agent is not a one-off," said Ms von der Leyen, a former German defence minister. "We have seen the pattern in Georgia and Ukraine, Syria and Salisbury — and in election meddling around the world. This pattern is not changing."
Ainsi, la Russie est présentée comme un pays paria. Ce qui justifie le contenu surréaliste de cette résolution.
Les sanctions qui doivent être établies doivent tenir compte des personnes visées par les "enquêtes" de Navalny. Ainsi, les "enquêtes" à charge commandées remplacent la justice dans le monde post-moderne et ceux qui passent commande veulent pouvoir profiter immédiatement des "résultats" obtenus, sans prendre le risque d'une véritable étape judiciaire. Il s'agit quand même de bloquer des comptes bancaires ...
Selon les députés, l'UE doit insister pour que la Russie "mette sa législation en conformité avec le droit international", c'est-à-dire qu'elle doit annuler sa réforme constitutionnelle (puisque celle-ci réaffirme la supériorité de la Constitution nationale sur les normes internationales et décisions des organismes internationaux - conformément à la tradition juridique classique). De plus, la Russie doit mettre un terme à sa législation de contrôle des ONG financées de l'étranger et exerçant une activité politique, à savoir sa législation sur les agents étrangers (comme aux Etats-Unis, ce qui là ne pose aucun problème).
Pourquoi tant d'inquiétude ? Parce qu'il faut soutenir financièrement les "forces démocratiques". Et ça ne doit pas laisser de traces. Oui, comme en Biélorussie. C'est la suite logique, la machine est en marche, elle ne peut plus s'arrêter. Elle ne peut qu'être arrêtée.
Cette résolution va encore plus loin et prévoit la remise à plat des relations entre l'UE et la Russie sur la base de 6 principes.
1) La stratégie européenne à l'égard de la Russie va dépendre de la profondeur des "processus démocratiques" en Russie et "du respect de l'état de droit et des droits de l'homme". Autrement dit, si la Russie ne "s'aligne" pas, le combat va durer jusqu'à ce qu'elle craque. Le message est clairement envoyé aux forces globalistes, assez nombreuses dans les couloirs du Kremlin et dans les jardins, mais qui n'ont pas (encore) les mains libres - comme en février 1917 ou à la fin des années 80.
2) La préservation de "l'isolement" de la Russie sur la scène internationale, comme avec le G7. Or, la Russie est entrée de plein-pied, la fleur au fusil, dans le dédale de la globalisation, c'est un coup très bien ciblé après avoir amené le pays exactement au point voulu.
3) Le développement d'un mécanisme de sanctions sur le modèle "Magnitsky", sanctions qui soient et personnelles et sectorielles. Ici, l'on voit l'intérêt qu'a pu présenter Navalny, puisqu'il faut bien un fondement dicible, mais maîtrisable.
4) L'arrêt du projet "Nord Stream 2", ce qui souligne bien le fait que l'UE ne défend pas les intérêts des pays européens, mais, en l'occurrence, balaie le chemin pour les importations américaines. Elle n'est donc qu'un instrument de la globalisation et son existence n'a de sens qu'en cela. L'UE n'est donc pas réformable, elle doit être détruite pour que les Etats européens survivent.
5) L'UE doit développer une stratégie de soutien des dissidents, des ONG et des médias en Russie, inviter les étudiants russes à étudier en Europe et créer dans un pays européen une "Université russe en exil". Manifestement, la Biélorussie fut le modèle, pour ensuite l'appliquer à la Russie. L'on rappellera l'Université biélorusse en exil (où j'ai d'ailleurs enseigné quelque temps), qui est située à Vilnius. L'on comprend aussi pourquoi la législation contrôlant le financement des ONG doit être révisée.
6) Les députés européens doivent immédiatement commencer à établir la stratégie des "futures relations de l'UE avec la Russie démocratique". C'est l'annonce d'un coup d'Etat, sous couvert de "démocratie". Comme en Biélorussie, le pouvoir "démocratique" doit être instauré de l'extérieur.
Par cette résolution, les parlementaires européens, que nous élisons au passage, n'ont rien fait de moins qu'une déclaration de guerre froide à la Russie. C'est le plan d'une tentative de renversement du pouvoir constitutionnel en Russie, sur le modèle biélorusse amélioré. Et ici aussi, comme avec la Biélorussie, le clan globaliste américain se met en retrait et laisse faire le sale travail, tout en tirant les ficelles en sous-main.
Cette résolution marque l'échec sans appel des forces globalistes russes, qui ont fragilisé le pays et l'on conduit dans cette impasse. Des forces qui, comme en février 1917, comme à la fin des années 80 ont conduit le pays à sa perte et l'ont offert sur un plateau au monde occidental. La politique de compromis trouve ici sa limite, il va falloir prendre une décision : l'on ne négocie pas lorsqu'on vous déclare la guerre.