mardi, 23 avril 2013
How are Revolutions Born?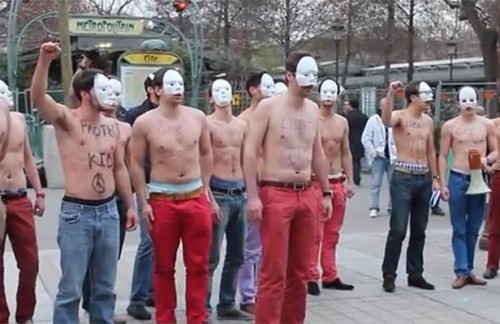 How are Revolutions Born?
By Dominique Venner
Ex: http://www.counter-currents.com/
Translated by Greg Johnson
The birth of revolutions is a fascinating, quite relevant, and little-known topic. It was studied by the sociologist Jules Monnerot (1908–1995) after the French events of May 1968 in his book Sociologie de la Révolution [Sociology of Revolution] (Paris: Fayard, 1969). A valuable work for which the author has forged a series of concepts applicable to all situations.
As a sociological study and not one in the history of ideas, Monnerot uses one term, "revolution"—without, of course, ignoring all that separates and opposes the various revolutions of the 20th century: Bolshevism, Italian Fascism, German National Socialism, the French revolutions of 1944 or 1968. Indeed, he applies the same sociological analysis to these mass phenomena while making a clear distinction between conservative revolutions and deconstructive revolutions.
To begin, Monnerot defines some concepts applicable to any revolution. Firstly, the "historical situation": it is one we'll never see twice. This is true for 1789, 1917, 1922, 1933, or 1968. Another complementary notion: the "situation of distress." It is characterized by uncontrolled disturbances. The social structure is defeated: the elements are no longer in place.
When a society is stable, we can distinguish normal ("homogeneous") and marginal ("heterogeneous") social elements. Marginal elements are marginal because they are maintained by the pressure of "homogeneous" elements. When a critical threshold of upheaval is reached, the homogeneous part begins to dissociate. Chaos then becomes contagious.
An interesting observation that applies to conservative revolutions: "the homogeneous, even in dissociation, remains homogeneous." When the upheaval is radical, "the very foundation of society mounts a demand for power." Fascism, in 1922 or 1933, for example, was a response to this demand in a highly developed society (industry, science, culture). In such a society, when order collapsed, the conservative elements (homogeneous) become temporarily revolutionary in their desire for order and demanded power.
How do we arrive at a "revolutionary situation"? Monnerot's synthetic response: deficiency at the top. A regime crisis is characterized by a "plurality of conflicts." Any exception to the authority of those in power, and disorder becomes endemic. The society "boils over."
This effervescence is not revolution. It is a phase, a time, with a beginning and an end (a cooling down) when the medium "is no longer combustible." When the excitement dies down, the same people are not in command (Robespierre was replaced by Napoleon, Trotsky by Stalin, Mussolini by Balbo).
The revolutionary and turbulent condition involves the "masses." These are momentary coagulations, troops of revolution. To lead the masses, to give them a nervous system, the Jacobins and Lenin (much more efficiently) developed the instrument of the party.
What Leninists called "the radicalization of the masses" is a tendency to politicize those hitherto conformist and little inclined to be passionate about the public good (those who above all ask the state to do the job of the state). When it enters a phase of turmoil, "society is traversed in all directions intense emotional reactions, like iron filings in a magnetic current."
Situations of distress bring to the fore violent elites: the "subversive heterogenes," the irregular and marginal that the customary barriers cannot stop. They give the movement the force to break through.
In a revolutionary situation, the painful lack and need of power can force social elements that aspire to order down the road to revolution. "A time comes when the Arditi or young Baltic lancers,[1] previously regarded as reprobates, appear more reassuring than worrisome to the most homogeneous part of the population. They seem to embody, through misfortune, the values ​​of courage, bravery, and character without which there is no great country. . . . Even those who are not supporters think they should be allowed to try." This is a good summary of exceptional historical situations. But, as Monnerot specified, the "historical situation" is that which never arises twice.
In the France of 2013, we are entering a "historical situation"? Not yet, surely. But there are signs that it may head toward such an unforeseen situation. Will it be all that it promises? It is too early to say. But nothing is impossible.
Source: http://www.dominiquevenner.fr/2013/04/comment-naissent-les-revolution/ [2]
Translator's Note
1. The Arditi were the Italian shock troops of the First World War, many of whom became Fascist Blackshirts. Baltic lancers probably refer to the German Freikorps veterans who played a similar role in the National Socialist movement. I wish to thank Robert Steuckers for clarifying the latter point. If Monnerot is alluding to a specific individual, please email me at: editor@counter-currents.com.
---
Article printed from Counter-Currents Publishing: http://www.counter-currents.com
URL to article: http://www.counter-currents.com/2013/04/how-are-revolutions-born/
URLs in this post:
[1] Image: http://www.counter-currents.com/wp-content/uploads/2013/04/franceprotest.jpg
[2] http://www.dominiquevenner.fr/2013/04/comment-naissent-les-revolution/: http://www.dominiquevenner.fr/2013/04/comment-naissent-les-revolution/
00:05 Publié dans Actualité, Affaires européennes, Nouvelle Droite | Lien permanent | Commentaires (0) | Tags : france, europe, actualité, affaires européennes, dominique venner, nouvelle droite, jules monnerot, printemps français |
|
del.icio.us |
|
Digg |
Facebook