Een nieuw verschijnsel in Duitsland: intellectuelen die openlijk zeggen 'rechts' te zijn, rechtser dan de CDU, wat tot voor kort taboe was. 'Ik voel dat echt, de ondergang van de Duitse cultuur.'
Laat het duidelijk zijn, zegt filosoof Marc Jongen, leerling van Peter Sloterdijk en over drie weken hoogstwaarschijnlijk politicus voor de AfD in het Duitse parlement: 'We bevinden ons in een cultuurstrijd, met ons eigen overleven als inzet.' Zacht, bedachtzaam spreekt de 49-jarige Jongen op dit terrasje in het rustieke Karlsruhe. Ver weg lijken de woedende leuzen die de aanhangers van zijn partij, de Duitse variant van de Nederlandse pvv en het Franse Front National, op bijeenkomsten scanderen, tegen Angela Merkel, tegen haar vluchtelingenbeleid. Maar, zegt Jongen: 'Ik voel dat echt, de ondergang van de Duitse cultuur. We kunnen er nu nog iets tegen doen.'
Het is snel gegaan. Jongen was de afgelopen jaren een onbekende docent filosofie op de Hochschule für Gestaltung, even verderop. Hij schreef zijn proefschrift bij Peter Sloterdijk, Duitslands bekendste levende filosoof en tot 2015 rector van de HfG, onder de zeer academische titel Nichtvergessenheit: Tradition und Wahrheit im transhistorischen Äon (2009). Enkele jaren was hij ook Sloterdijks assistent.
Alles werd anders in 2013, toen Jongen als reactie op Merkels Europa-beleid besloot zich bij de Alternative für Deutschland te melden. Inmiddels is hij woordvoerder van de partij in de deelstaat Baden-Württemberg en wordt hij in de Duitse media groots als de 'partijfilosoof van de AfD' betiteld. Hij werkt aan een boek, dat de cultuurfilosofische basis van zijn politieke werk moet leveren, natuurlijk over de dreigende 'ondergang van de Duitse cultuur'. Door zijn hoge plaats op de landelijke lijst denkt hij zeker te zijn van een plek in de Bondsdag. In de peilingen staat de AfD tussen de acht en tien procent. Ook diverse schandalen hebben dat niet veranderd, zoals net nog de uitspraak van partijleider Alexander Gauland over een Turks-Duitse staatssecretaris die wat hem betreft wel in 'Anatolië entsorgt kon worden', omdat ze gezegd had dat de Duitse cultuur op de taal na niet bestaat – Gaulands woordgebruik was volgens veel commentatoren ontleend aan het nazisme.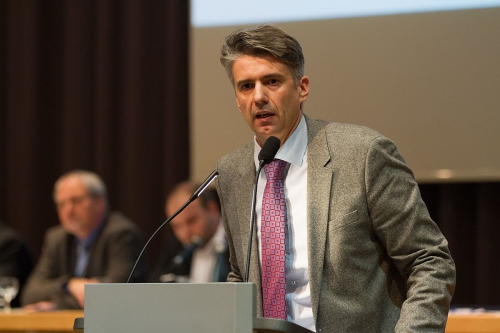 Voor Nederlandse begrippen is dat percentage niet opzienbarend, maar voor Duitsland is het een harde breuk met de strengste ongeschreven regel van het parlement sinds de oprichting in 1949: een partij 'rechts van de cdu' dient, na de ervaring met het nationaal-socialisme, boven alles vermeden te worden.
Dat het nu anders loopt, heeft direct te maken met de vluchtelingencrisis van 2015, zegt Jongen, dat 'trauma' voor de hedendaagse Duitse samenleving: 'Het binnendringen van cultuur-vreemde mensen was een psycho-politieke geweldsdaad, als in een oorlog.' Maar in plaats van dat de Duitse politiek de burgers ertegen beschermde, bespeurt hij eerder een vorm van 'resignatie'. Anderen moeten daarom de verdediging van Duitsland op zich nemen, zoals hijzelf, al is hij pas sinds 2011 Duits staatsburger. Hij is opgegroeid in Duitstalig Zuid-Tirol, was van moederszijde half Italiaans, van vaderszijde Nederlander.
Jongen past bij een nieuw fenomeen in de Duitse openbaarheid: een intellectueel die openlijk zegt 'rechts' te zijn, een bekentenis die nog geen drie jaar geleden onmogelijk zou zijn geweest. Je zou hen de Thierry Baudets van Duitsland kunnen noemen, of een vorm van Duitse alt-right, maar al deze varianten hebben zo hun eigen tradities, woordgebruik en gevoeligheden.
Een paar maanden geleden hield Jongen een lezing bij het 'Instituut voor Staatspolitiek' in het Oost-Duitse dorpje Schnellroda. Dit 'instituut' is in feite een soort huiskamerinitiatief dat afgelopen jaren is uitgegroeid tot het symbolische trefpunt van allerlei Duitse publicisten en activisten die zich 'nieuw-rechts' noemen. De bijeenkomsten worden georganiseerd door Götz Kubitschek, uitgever, publicist, officier van de Bundeswehr-reservisten, en zijn vrouw Ellen Kositza, publicist en zelfverklaard 'rechts feministe'. Hun levensstijl hebben ze volledig aan de eigen cultuurtheorie aangepast. Het zijn zelfverzorgers, ze hoeden geiten en verbouwen groenten. Ze hebben zeven kinderen, die 'oud-Germaanse namen' als Brunhilde dragen, zoals het groeiend aantal media dat over het paar bericht niet nalaat te vermelden.
Kubitschek is al vijftien jaar actief, eerst als auteur, daarna als uitgever, Pegida-spreker en AfD-ondersteuner. Maar pas deze zomer beleefde hij zijn nationale finest hour, al hielp het toeval ook een handje mee. Een Spiegel-journalist plaatste als jurylid het boek Finis Germania, 'Het einde van Duitsland', op een eerbiedwaardige landelijke lijst van 'boeken van de maand'. Het boek is geschreven door de historicus Rolf Peter Sieferle, en uitgegeven door Kubitschek.
Sieferle, die in 2016 stierf, gold tot voor kort als een gerespecteerd professor, historicus van de milieubeweging, van de 'conservatieve revolutie' in de jaren twintig, en later ook auteur over migratie. Het nagelaten Finis Germania is een verzameling notities en aforismen waarin hij de omgang van Duitsland met de eigen cultuur beklaagt, evenals de dominante positie van Auschwitz in de nationale identiteitsvorming.
Nog geen week later verwijderde de Spiegel-hoofdredactie het boek van haar eigen bestsellerlijst, waar het inmiddels op terecht was gekomen. Het zou 'rechts-radicaal, antisemitisch en revisionistisch' zijn. Ook ster-politicoloog Herfried Münkler beschuldigde Sieferle ervan Auschwitz te relativeren. De landelijke cultuurjournalistiek stortte zich erop, en door het schandaal kwam Finis Germania op Amazon Duitsland op de eerste plaats van best verkochte non-fictieboeken – en Schnellroda werd en masse door de pers opgezocht.
Duitsland is niet bereid, 'zoals het voor een cultuurnatie eigenlijk logisch zou moeten zijn, het eigene te beschermen'
Een Rittergut noemen Kubitschek en Kositza hun groot uitgevallen boerderij. De term is historisch juist, maar past vooral bij de zwaarmoedig-nostalgische boodschap over de 'naderende ondergang van de Duitse cultuur' die men hier uitdraagt. Niet toevallig heeft Kubitschek zijn uitgeverij Antaios genoemd. Antaios is de naam van een reus uit de Griekse mythologie die, voordat hij door Hercules werd verslagen, het land van de Berbers tegen de vreemdelingen beschermde. Schrijver Ernst Jünger had in de jaren vijftig zijn tijdschrift zo genoemd.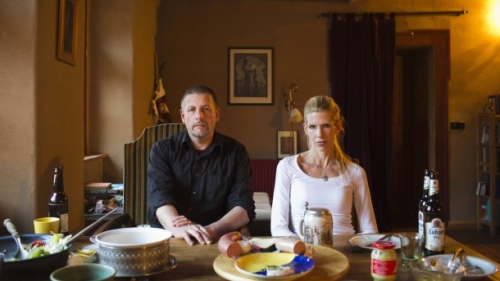 Met dergelijke verwijzingen echoot bij Kubitschek heel bewust een intellectuele traditie die in het openbare Duitse debat lang vergeten leek: de 'conservatieve revolutie' uit de jaren twintig. Hiertoe worden onder anderen auteurs als Ernst Jünger gerekend, die militarisme en een elitaire levensinstelling verheerlijkte, en Oswald Spengler met Die Untergang des Abendlandes. Ze zijn in het hedendaagse Duitsland uiterst omstreden, omdat ze de fascisten in de kaart zouden hebben gespeeld. Dit blijft nog steeds het belangrijkste argument tegen denkers die 'conservatieve posities' zeggen in te nemen.
In de 21ste eeuw was de politicus Thilo Sarrazin de eerste – en nog steeds de meest succesvolle – die bij de traditie van Duits ondergangsdenken aansloot. Hij constateerde de 'afschaffing van Duitsland' door de toename van het aantal moslims in Duitsland. Sarrazin werd in media en politiek unaniem verketterd, maar zag zichzelf als sociaal-democraat, en wees iedere band met nieuw-rechts af.
Sinds de vluchtelingencrisis is het debat echter voorzichtig losgebroken, vooral omdat het werd aangevuurd door meerdere respectabele intellectuelen. Schrijver Botho Strauß, al decennia bekennend anti-modernist, schreef een artikel over 'De laatste Duitser', waarin hij de 'steeds heerszuchtiger wordende politiek-morele conformiteiten' aanviel. Rüdiger Safranski, de gelauwerde kenner van Goethe en Schiller, keerde zich tegen het beleid van Merkel. En Peter Sloterdijk sprak van 'Überrollung' van Duitsland door de vluchtelingen en noemde de media een 'Lügenäther'.
Götz Kubitschek lijkt zichzelf als een soort activistische schakel te zien tussen de Wutbürger van Pegida en de intellectueel-conservatieve traditie in Duitsland. Hij praat al even bedachtzaam als Marc Jongen, ook met een licht zuidelijk accent (Swaabs), maar kiest nog scherpere woorden. Voor Kubitschek bevindt Duitsland zich in een 'geestelijke burgeroorlog'. De Duitsers zijn decadent geworden, schrijft hij in zijn boek Provokation (2007), ze moeten weer barbaren worden, want 'alleen barbaren kunnen zich verdedigen', zoals volgens hem Nietzsche gezegd zou hebben, die andere inspiratiebron van nieuw-rechts.
Alleen teksten zijn Kubitschek niet genoeg als remedie. Graag geziene gast in Schnellroda is Martin Sellner, de 29-jarige voorman van de Oostenrijkse Identitäre Bewegung. Sellner, student filosofie, is bedenker van inmiddels beruchte acties zoals de verstoring van een toneelstuk over vluchtelingen van Elfriede Jelinek in Wenen. Ook hij heeft bij Antaios een boek uitgegeven: Identitär! De Identitäre Bewegung is vorig jaar door de Duitse inlichtingendienst als 'extreem-rechts' ingeschaald, onder andere door haar mogelijke invloed op gewelddadige radicalen. Tot voor kort ontkenden daarom AfD'ers die nog vooruit wilden in de Duitse politiek iets te maken te hebben met het instituut van Kubitschek.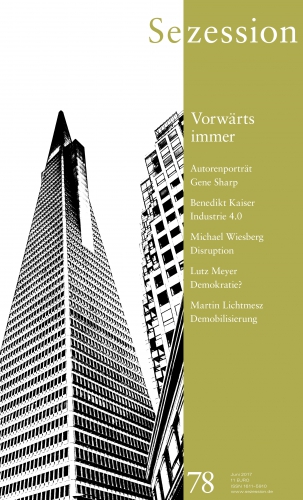 Dat is nu voorbij. AfD'ers uit de deelstaat Saksen-Anhalt laten zich openlijk door Kubitschek adviseren en Jongen trad zonder problemen op dezelfde middag in Schnellroda op als Sellner. Sellners strijdbare taal is ook bij Jongen te horen. Een 'avant-gardistisch conservatief' noemt Jongen zich. Een paradox, waarmee hij wil aangeven dat hij een 'revolutie van rechts' beoogt, niet met geweld, maar in de mentaliteit van zijn landgenoten.
Jongen wil naar een ander tafeltje. Andere gasten op het terras zijn te dichtbij komen zitten. Hij kan dan niet meer vrij praten, is zijn ervaring. Hij wijst op de posters van de AfD in Karlsruhe, die voor het merendeel verscheurd of beklad zijn. Sterker: ook hij mag zijn mening niet eens verkondigen, meerdere keren zijn openbare debatten na protesten afgezegd. Voor Jongen is dit tekenend voor het 'Merkel-regime'. Het intellectuele klimaat in Duitsland ziet hij als 'onder een dictatuur in de twintigste eeuw' – een links-liberale dominantie. Net als andere AfD-politici ziet hij dat als een gevolg van een 'door 68'ers besmet Duitsland'. De sluipende verlinksing van het land eind jaren zestig is geculmineerd in een 'conservatieve kanselier die radicaal-linkse beslissingen heeft genomen'.
Toen de AfD in 2016 op vijftien procent in de peilingen stond, klopten links-liberale bladen als Die Zeit en de Süddeutsche Zeitung toch gefascineerd bij hem aan voor uitgebreide interviews. Maar die opening is nu, vlak voor de verkiezingen, weer gesloten, meent Jongen: 'Juist omdat ik genuanceerd ben, word ik van "geraffineerde demagogie" beschuldigd. Maar men wordt slechts boos op de brenger van de slechte boodschap.' De kiezers in Duitsland leven volgens hem in een 'illusie' dat alles wel goed komt. Het land is een 'Lethargocratie' geworden, citeert hij zijn voormalige chef Sloterdijk. De shock van de vluchtelingen dringt daardoor niet in de bewuste regionen door. Over hun integratie wordt in de Duitse politiek en media niet eens meer gedebatteerd.
De stilte sterkt Jongen in zijn diagnose. Veel Duitsers lijken zelfs 'blij te zijn dat hun Duits-zijn wordt uitgewist', zegt hij. Duitsland is niet meer bereid, zegt hij, 'zoals het voor een cultuurnatie eigenlijk logisch zou moeten zijn, het eigene te beschermen en te verdedigen, veel meer stelt men in een overdreven, neurotisch humanitarisme het vreemde tegenover het eigene'.
'Multiculturalisme schept een machtsvacuüm, en dat zou betekenen dat de sterkste de macht kan grijpen: de islam'
Hij heeft er een filosofisch woord voor. Duitsland heeft naast 'logos' en 'eros' ook 'thymos' nodig. 'Thymos', ook een begrip van Sloterdijk, kun je negatief met 'woede' vertalen, maar ook met 'zelfbewustzijn' en 'trots'. Het Duitse gebrek hieraan is een gevolg van het schuldcomplex van de holocaust. Bij zijn lezing in Schnellroda stelde Jongen daarom voor dat 'het land aan een training wordt onderworpen die de thymos weer op peil brengt, die noodzakelijk is om te overleven'.
Vandaag op het terrasje zegt hij het meer politiek: Duitsland moet een 'Leitkultur' voorop stellen, in plaats van 'multiculturalisme'. 'Multiculturalisme schept een lege ruimte, een machtsvacuüm, en dat zou betekenen dat de sterkste de macht kan grijpen: de islam, die politieke religie.' Zijn voorbeelden: in sommige Duitse schoolkantines wordt geen varkensvlees meer aangeboden, vanwege islamitische leerlingen; de kerstmarkt in het multiculturele Berlijn-Kreuzberg heet geen kerstmarkt meer, maar 'wintermarkt'.
Eigenlijk had Jongen voor het gesprek over de Leitkultur een oer-Duits 'Gasthaus' voorgesteld, met Maultaschen-soep op het menu en genoemd naar een grote historische zestiende-eeuwse Duitser. Maar het Gasthaus bleek op zondag dicht, alleen de Italiaan op de hoek (met Poolse bediening) blijkt open. Geeft niet, zegt Jongen – culinaire versmelting, hard werkende migranten, dat is allemaal het probleem niet – een 'kitschige situatie' wil hij niet scheppen. Europa heeft altijd een 'fascinatie voor het exotische' gehad, hijzelf heeft dat ook, hij heeft zich in Sanskriet verdiept, hij was in India. 'Maar na de uitstapjes naar het vreemde moet je ook weer terug naar het eigene kunnen komen.' Er is een punt bereikt waar het evenwicht weg is. 'Het eigene wordt weggedrukt door te veel vreemde invloeden.'
Hoewel meerdere cdu-politici precies hetzelfde zeggen, heeft de cdu volgens Jongen alleen maar een 'verwaterde' opvatting van Leitkultur in de aanbieding. De AfD is compromislozer, vindt hij, vooral ten opzichte van de islam, die volgens hem niet, zoals Merkel vindt, 'bij Duitsland hoort'. Jongen zegt zich niet per definitie met de aanpak van Geert Wilders – of Donald Trump – verwant te voelen, maar wel wat betreft de posities tegenover de islam.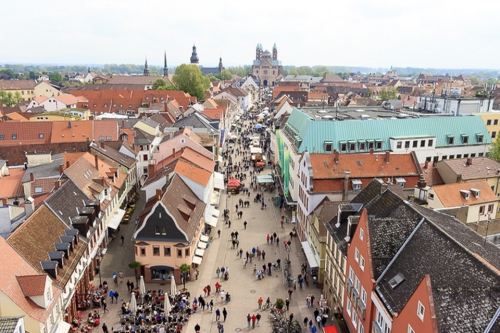 Wat die 'Duitse cultuur' dan wel precies is, blijkt minder makkelijk te formuleren. Jongen noemt westerse 'man-vrouw-verhoudingen' en 'christendom'. Maar dat is natuurlijk niet typisch Duits. 'Auschwitz is de kern van de Duitse identiteit', zei Joschka Fischer ooit. Het is dan ook precies dit heetste hangijzer van de Duitse geschiedenis dat de AfD 'ruimer' wil gaan zien. De nationale identificatie is te veel op dit ene moment blijven steken, zegt Jongen. Niet meer iedere schoolklas moet naar een concentratiekamp op bezoek. In Zuid-Tirol leerde hij op school toch ook gewoon over Auschwitz, zonder dat men zich daar zélf schuldig over hoefde te voelen? De blik op de Duitse geschiedenis moet breder worden. Met andere woorden: een positief zelfbeeld moet voorop komen te staan, 'want zonder dat is iedere integratie van migranten onmogelijk'.
Nog specifieker over de 'Duitse cultuur' werd Jongen onlangs op een lezing voor AfD-aanhangers in Karlsruhe: 'Duitsland is geen land voor iedereen, maar van het Duitse volk', zei hij daar. In het AfD-partijprogramma wordt dit concreet: niet iedereen mag van de AfD meer zomaar Duitser worden. De partij wil de soepele Duitse regeling rond het staatsburgerschap uit 2000 terugdraaien. Afstamming van Duitse ouders wordt weer bepalend of je bij het Duitse volk hoort. En, als het aan politici als Gauland ligt, kunnen burgers 'mit Migrationshintergrund' met een gebrek aan respect voor die cultuur ook het land worden uitgezet.
De theorie van nieuw-rechts steunt hiermee op oude begrippen, zoals Die Zeit onlangs schreef: 'gemeenschap' staat tegenover 'samenleving', 'natie' tegenover 'globalisering' en het diepe 'Kultur' tegenover het oppervlakkige 'Zivilisation'. Maar Jongen haast zich erbij te zeggen dat het niet, zoals bij 'oud-rechts', om 'nationalisme' gaat dat superioriteit tegenover anderen impliceert, maar om 'patriottisme'.
Met deze cultuuropvatting past de AfD goed bij andere nieuw-rechtse bewegingen. Het oorspronkelijk Franse begrip 'etnopluralisme' wordt hierbij vaak aangehaald. 'Etnopluralisme betekent dat we de culturele uitdrukking van de anderen waarderen, en niet van plan zijn op de een of andere manier missionarisch, bepalend of vormend te willen zijn', zegt Götz Kubitschek in een interview. 'Deze houding impliceert dat men hoopt dat de anderen ook etnopluralistisch zijn en ons met rust laten.' Maar al is vermenging aan de grenzen van culturen mogelijk, zegt Kubitschek, die zelf afstamt van Poolse migranten uit de negentiende eeuw, het is niet nastrevenswaardig.
De nieuw-rechtse denkers zelf menen dat er na een tijd van linkse dominantie nu een rechts tijdperk zal aanbreken. Deze herfst mag Kubitschek voor het eerst meedoen op de Frankfurter Buchmesse, dat machtige symbool van het Duitse Bildungsbürgertum. En Marc Jongen bereidt zich voor op een politiek leven in Berlijn.
Midden augustus publiceerde de linkse socioloog Thomas Wagner het boek Die Angstmacher: 1968 und die Neuen Rechten. Wagner ziet de opkomst van nieuw-rechts als een verlate reactie op de linkse revolutie van 1968. In de krochten van de nieuwe linkse debatcultuur ontstond de kiem van conservatief verzet ertegen, dat nu pas echt naar buiten is getreden. Zijn verrassing: het blijkt dat nieuw-rechts veel klassiek linkse posities en activistische vormen heeft overgenomen. Ze eisen meer directe democratie, ze zijn tegen het establishment, bekritiseren de 'Lügenpresse' met haar 'politiek-correcte leugens', ze vinden dat de vrouwenrechten te weinig verdedigd worden tegen moslimmannen. Zelfs een geheel eigen rechtse vorm van antiglobalisme speelt erin mee, waarin de regionale culturele eigenheid voorop staat, tegenover mondiaal geproduceerde eenheidsproducten. 'Echt ecologisch zijn is altijd identitair', vindt Kubitschek: 'Fairtrade kiwipasta uit Bolivia is niet ecologisch. Ecologisch is als we in onze eigen regio in de winter Kraut und Schlachtplatte eten.'
Wagners boek is in korte tijd het derde Duitstalige boek over dezelfde Duitstalige sleutelfiguren van de beweging. Maar Wagner neemt als eerste publicist een andere positie in. Hij laat diverse nieuw-rechtse denkers zelf aan het woord en neemt geheel on-Duits niet de positie van waarschuwende criticus in. Hij wordt er door recensenten opvallend om geprezen. Volgens Wagner heeft Duitsland een meer democratische debatcultuur nodig, waar niet alleen al het luisteren naar een rechtse gedachte als een 'capitulatie voor het slechte' moet worden gezien. En ondertussen blijkt het met de rechtse revolutie zo'n vaart nog niet te lopen, zegt hij.
Politiek gezien is in Duitsland bij de komende verkiezingen een Amerikaanse situatie immers ondenkbaar. De komst van de AfD in het parlement lijkt eerder een conservatieve correctie van Merkels 'linkse' koers van de afgelopen jaren dan een politieke aardverschuiving. Meedoen in het debat blijkt iets anders dan het te bepalen. Voor Marc Jongen is het niet genoeg. Duitsland moet van de basis af opnieuw gestructureerd worden, en de AfD moet de 'parlementaire steun' van de nieuwe beweging worden, met als direct doel de cdu, en daarmee het midden van Duitsland, grondig 'om te polen'. Voordat het te laat is.