vendredi, 23 septembre 2016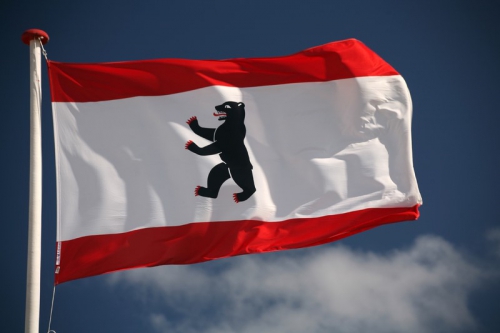 Retour sur une élection pas comme les autres à Berlin
par Thomas Ferrier
Ex: http://thomasferrier.hautetfort.com
Les résultats définitifs de l'élection pour le parlement du Land de Berlin accentuent les tendances constatées au moment du sondage sorti des urnes. Avec 21.6%, la SPD perd 6.7 points alors qu'elle était au pouvoir en coalition au niveau de la capitale. Elle paie là son alliance au niveau national avec la CDU dans le cadre de la « grande coalition ». La CDU paie la politique migratoire suicidaire d'Angela Merkel, les électeurs de son camp lui répondant « wir schaffen nicht das » (« nous n'y arriverons pas »). Avec 17.6% des voix et 5.7 points de perte, elle connaît un résultat désastreux, à peine remise de son effondrement dans le Mecklembourg-Poméranie. A eux deux réunis, la grande coalition SPD/CDU n'atteint pas 40% des voix. Cette contre-performance va certainement accentuer la crise entre la CDU et son alliée bavaroise la CSU.

Die Linke (« La gauche ») avec 15.6% des voix progresse de 3.9 points aux dépens de la SPD et en partie de la liste Piraten. Les Verts (Die Grüne) en revanche avec seulement 15.2%, bien que n'étant pas associés au gouvernement, régressent de 2.4 points. Leur laxisme migratoire légendaire a pu les pénaliser légèrement dans cette élection.

C'est l'AFD de Frauke Petry qui avec 14.2% des voix réussit une progression spectaculaire. Annoncée seulement aux alentours de 11.5% en début de soirée, elle atteint au final presque 15%, soit la tendance haute annoncée par les sondages. Berlin-Est notamment a donné à l'AFD des scores plus que significatifs alors que Berlin-Ouest reste davantage « conformiste ». L'AFD sèche tout ce qui est à sa droite, que ce soit la scission ALFA (de Bernd Lucke) qui n'obtient que 0.4% des voix ou l'extrême-droite historique, la NPD obtenant péniblement 0.6%, ayant souffert d'un fort vote utile en faveur de l'AFD, tout comme Pro Deutschland qui tombe à 0,4% des voix (-0,8).

La formation de protection du monde animal Die Partei (« Le Parti ») obtient enfin 2% et les Pirates 1.7% soit une perte sèche de 7.2 points. Après un exploit à l'élection précédente, la formation pirate retourne à son noyau d'origine. Elle a été largement marginalisée par les enjeux locaux et par la montée de l'AFD contre laquelle la gauche radicale semble s'être davantage mobilisée.
Thomas FERRIER (Le Parti des Européens)
00:05 Publié dans Actualité, Affaires européennes, Politique | Lien permanent | Commentaires (0) | Tags : berlin, europe, affaires européennes, allemagne, élections berlinoises, afd, politique, politique internationale |
|
del.icio.us |
|
Digg |
Facebook
mardi, 20 septembre 2016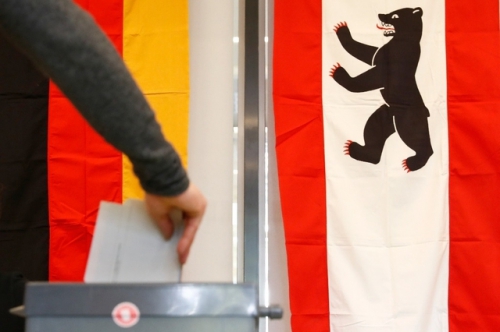 Elections régionales de Berlin: la chute de la maison CDU
par Thomas Ferrier
Ex: http://thomasferrier.hautetfort.com
Selon les données de 19h46 (en France), les élections régionales de Berlin confirment les craintes de la chancelière Angela Merkel même si l'AFD n'a pas obtenu le résultat espéré.

Avec 23,2% des voix, la SPD recule de près de cinq points et paie ainsi le prix de sa grande coalition nationale avec la CDU. Même si elle reste le premier parti du Land, elle est sévèrement remise à sa place. La CDU avec 17,9% des voix perd aussi plus de cinq points (-5.4) et n'est pas en meilleure situation. Les deux partis fondamentaux du système allemand à Berlin sont donc seulement aux alentours de 40%. La sanction est dure.

Avec 16,7% des voix, les Verts (Grünen) sont troisième avec 16,7% des voix. Ils ne perdent qu'un point environ. Ce n'est pas un grand succès pour eux, même s'ils évitent de perdre des voix, dans un contexte migratoire où leur laxisme légendaire aurait pu leur jouer des tours. Die Linke avec 16,2% progresse de 4,5 points ce qui est considérable. Les voix perdues par la SPD se sont massivement reportés en faveur du mouvement issu de l'ancien SED d'Allemagne de l'Est.

Les libéraux (FDP) avec 6,5% des voix auront également des élus, progressant de 4,7 points au détriment de la CDU. Ils remontent péniblement la pente.

L'AFD de Frauke Petry, avec 11,8% des voix, réussit une belle performance et s'impose au moins comme la 5ème force de la capitale. Quand on compare le vote AFD à Berlin avec le vote FN à Paris intra muros, on peut considérer le résultat de l'AFD, qui avait été victime ces dernières semaines d'une campagne diabolisatrice très dure, comme un succès majeur. Les autres formations politiques sont réduites aux Pirates (1,7% , -7,2) qui s'effondrent littéralement, notamment en faveur de l'AFD, et aux autres listes autour de 6% des voix.
Thomas FERRIER (Le Parti des Européens)
PS: à 20:57, les résultats provisoires sont un peu différents. 21,5% pour la SPD, 17,6% pour la CDU, 15,7% pour Die Linke, 15,2% pour les Verts, 14,1% pour l'AFD (ce qui est un bien meilleur score), 6,7% pour le FDP et sans doute 0,8% pour la NPD (non confirmé).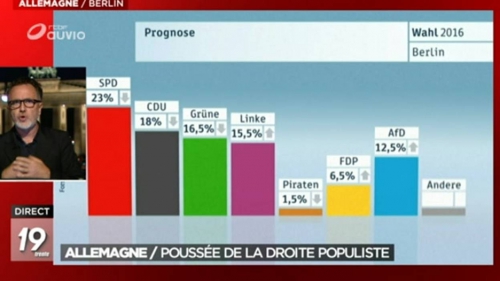 00:05 Publié dans Actualité, Affaires européennes, Politique | Lien permanent | Commentaires (0) | Tags : actualité, politique internationale, europe, affaires européennes, berlin, allemagne, politique, cdu, afd, spd |
|
del.icio.us |
|
Digg |
Facebook
mercredi, 07 septembre 2016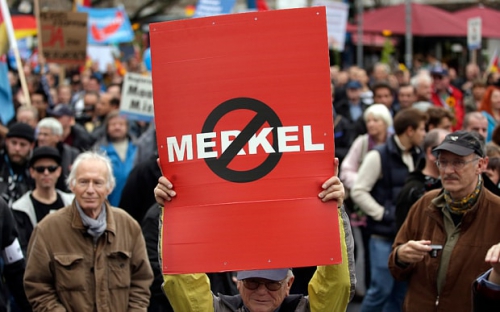 Nieuwe 'Wende' in Duitsland nu Merkels CDU verslagen is door AfD?
Ex: http://xandernieuws.punt.nl
Oud CDU coryfee Willy Wimmer: Toekomstige grote coalitie CDU/CSU, SPD en Groenen zal Duitse rechtstaat en Duitse natie afschaffen

Wimmer: 'Merkel had al in september vorig jaar moeten worden afgezet, nadat ze eigenhandig de Duitse rechtstaat ophief.'
Veel analisten in binnen- en buitenland zijn het er over eens dat de forse winst van de anti-immigratie vrijheidspartij Alternative für Deutschland gisteren bij de verkiezingen in de deelstaat Mecklenburg-Vorpommern een historisch moment is (1), en misschien zelfs wel een nieuwe 'Wende' betekent waarmee het Duitse volk opstaat tegen de heersende elite, die met massale moslimimmigratie probeert de oorspronkelijke Duitse cultuur en het Duitse volk uit te wissen. Dezelfde analisten denken overigens dat Merkel zich weinig zal aantrekken van het zware verlies in haar 'thuisstaat', en haar dictatoriale teugels over haar partij, en feitelijk over de hele politiek in Berlijn, nog strakker zal aantrekken.
De AfD schoot gisteren van 0 naar 20,8% van de stemmen, terwijl het CDU met 4% daalde naar 19%. De socialistische SPD bleef met 30,6% weliswaar de sterkste macht, maar moest wel een verlies van 5% slikken. Veruit de meeste AfD kiezers die ooit eerder stemden blijken afkomstig van de CDU van Angela Merkel (1). In de oostelijke kiesregio's van de deelstaat werd het CDU zelfs compleet weggevaagd, en kreeg AfD ruim één derde van alle stemmen (4).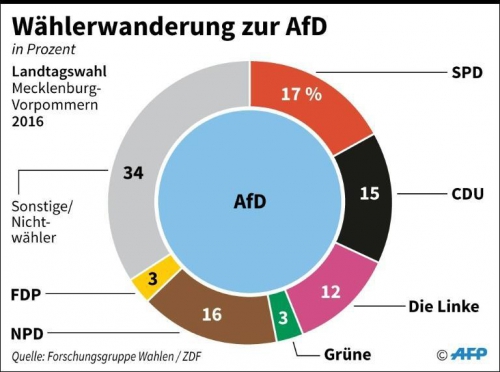 Ook werd duidelijk dat Duitsers de 'oplossingen' die door linksgroen worden aangedragen, niet meer zien zitten. Die Linke kregen met 5,2% verlies een grote klap, en hebben nog maar 13,2% van de kiezers achter zich. Voor de Groenen is de teruggang met 3,9% fataal, omdat ze met 4,8% onder de kiesdrempel belanden. Die zich, zoals zo typerend is voor 'linksgroen', vervolgens van hun ware kant lieten zien door de inwoners van Mecklenburg-Vorpommern –de armste deelstaat van het land- 'de domste' van heel Duitsland te noemen (2).
AfD: Duidelijk signaal dat massale moslim immigratie moet worden gestopt
De AfD is vanzelfsprekend zeer verheugd dat het in één klap de 2e partij is geworden, en hoopt volgend jaar bij de landelijke verkiezingen een minstens zo grote overwinning te halen. Volgens de partij is gisteren overduidelijk gebleken dat de Duitsers de door Merkel in gang gezette massale immigratie van miljoenen moslims, en de daaraan gekoppelde islamisering van Duitsland (en Europa), zat zijn, en willen terugdraaien.
AfD lijsttrekker Leif-Erik Holm reageerde dan ook dat 'wij vandaag geschiedenis hebben geschreven. Wellicht is dit het begin van het einde van het kanselierschap van Angela Merkel.'
'Grote coalitie CDU/CSU, SPD en Groenen zal Duitsland als natie afschaffen'
Oud politicus en CDU coryfee Willy Wimmer is bang dat de sterke opkomst van de AfD tot een grote coalitie van CDU/CSU, SPD en Groenen zal leiden. 'Voordat het deze coalitie lukt om de Duitse rechtstaat en Duitsland als natie af te schaffen, geven de burgers de heersers in Berlijn een duidelijk signaal vergelijkbaar met de rode kaart: wegwezen jullie. Om het met (Otto) Bismarck te zeggen: deze regering in Berlijn is het bot van één enkele soldaat uit het leger niet waard.' (3)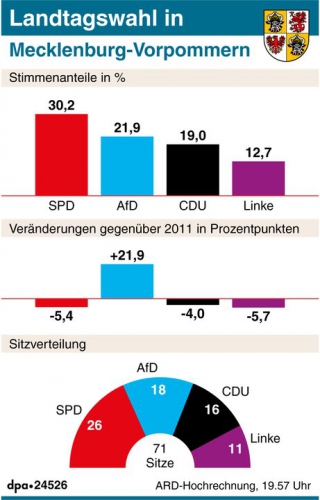 Volgens Wimmer is het CDU onder Merkel veranderd in een partij die feitelijk door de agenda van één persoon, de bondskanselier, wordt bepaald, iemand die zich overduidelijk niets aantrekt van de mening van en stemming onder het volk. Merkel oefent inmiddels totale controle over de partij uit, niet alleen in Berlijn, maar in alle onderafdelingen in Duitsland. Bij het geringste openlijke verzet tegen haar zorgt ze ervoor dat deze personen via de achterdeur worden geloosd.
'Toen de bondskanselier in september (2015) de Duitse rechtstaat eigenmachtig ophief, had politiek Berlijn per ommegaande tegen deze coup moeten optreden en deze bondskanselier moeten afzetten. Omdat dit niet is gebeurd... werd het land via deze coup in gijzeling genomen. Via de CDU partijdag in Karslruhe... werd het probleem van een regerende coalitie het probleem van Duitsland, en van de vrede in Europa.'
Instemming uit het buitenland
De AfD winst werd door andere Europese vrijheidspartijen met instemming begroet. 'De richting klopt!' zei de Oostenrijkse FPÖ chef Strache. PVV leider Geert Wilders twitterde: 'Gefeliciteerd, AfD!!' Marine Le Pen van het Front National schreef dat 'wat gisteren onmogelijk was, nu mogelijk is geworden. De patriotten van de AfD hebben de partij van mevrouw Merkel weggevaagd. Van harte gefeliciteerd!' (5)
Op Zero Hedge wordt geconcludeerd dat wat in Duitsland is gebeurd, zich straks over heel Europa zal verspreiden. Belangrijkste oorzaak is dat de Europese regeringen, geleid door Brussel, de mening en het lot van hun kiezers op bijna alle gebieden aan hun laars lappen. Door het met enorme sommen belastinggeld overeind houden van de banken en de eurozone, opgeteld bij de miljarden kosten immigratie, zullen alle gewone Europeanen straks nog armer worden dan de 'arme' inwoners van Mecklenburg-Vorpommern. (6)

Xander
(1) N24
(2) Huffington Post
(3) Ceiberweiber
(4) Epoch Times
(5) PI-News
(6) Zero Hedge
00:05 Publié dans Actualité, Affaires européennes, Politique | Lien permanent | Commentaires (0) | Tags : actualité, allemagne, afd, europe, affaires européennes, politique, mecklenburg-vorpommern, élections allemandes |
|
del.icio.us |
|
Digg |
Facebook
jeudi, 09 juin 2016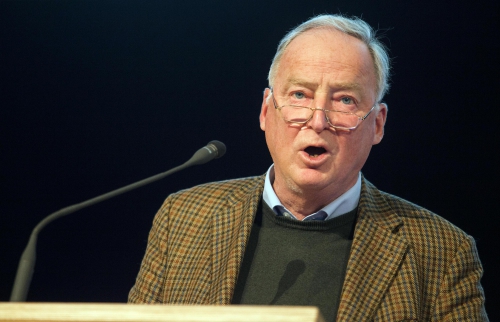 Mafia idéologique
Procédés malhonnêtes totalitaires contre Gauland de l'AfD – l'Allemagne délire
De Roger Köppel
Ex: http://www.weltwoche.ch
L'Inquisition est de retour; on assiste partout à des parodies de justice. Les membres de l'establishment tentent avec des méthodes totalitaires d'imposer leur vision du monde, leurs ambitions de pouvoir. En Allemagne, Alexander Gauland, 75 ans, vice-président du parti critique de Merkel, Alternative pour l'Allemagne (AfD), qui a le vent en poupe, en fait actuellement les frais. Les journalistes l'ont depuis longtemps dans le collimateur. Ils le guettent au tournant, ils brûlent même de démolir politiquement l'ancien secrétaire d'État, érudit et auteur de livres. Que le Frankfurter Allgemeine Sonntagszeitung (FAS), que j'apprécie, ait justement perpétré cette récente attaque montre tristement l'ampleur d'une agitation politique déconnectée de la réalité.
Que s'est-il passé? Gauland a tenu des propos en partie off-the-record avec le FAS, notamment sur l'immigration et l'islam. Au cours de cet entretien, Gauland aurait dit que Jérôme Boateng, footballeur allemand de couleur de la sélection nationale, est certes un bon joueur, mais qu'il y a des gens en Allemagne qui ne voudraient pas l'avoir comme voisin. Ce journal à la réputation de sérieux a fait de la prétendue citation de Gauland son grand titre à la une: «Gauland offense Boateng». Depuis, on assiste à une déferlante d'indignation. Gauland serait raciste. La chancelière Merkel est intervenue et a qualifié d'«abject» ce membre de l'AfD. Les inquisiteurs se sont empressés de dresser le bûcher pour brûler les hérétiques de droite.
Gauland a été écrasé par la vague. Au lieu de faire résolument front, il s'est montré hésitant. Ses premières réactions ont semblé défensives. Même la présidente du parti Petry a tiré dans le dos de son vice-président et rival. L'opinion publique fonctionne comme la loi de la jungle: un animal blessé qui recule devient la proie des charognards.
À tort, car ici le scandale ne réside pas dans ses prétendues déclarations, mais dans les méthodes journalistiques. Gauland a été piégé. Les journalistes ont abusé de sa confiance. Ils ont cité des propos confidentiels. Ils ne lui ont pas soumis ses soi-disant propos pour en autoriser la publication. Ils n'ont même pas confronté leur interlocuteur, qui ne se doutait de rien, à ses supposés dires. Alors que cela aurait été de leur devoir. Quand un homme politique de premier plan fait des déclarations éventuellement choquantes dans un domaine sensible, on doit insister, reposer la question et demander de préciser. C'est du journalisme de qualité tel que le FAZ revendique le pratiquer. Tout le reste est un tissu de ragots, voire relève de l'Inquisition, comme ici.
Par essence, l'Inquisition ne cherche pas à connaître la réalité des faits. Son objet est la dénonciation, la condamnation et l'anéantissement. C'est bien le scénario actuel. Passé le premier assaut, Gauland a riposté. Il dit n'avoir jamais fait ces déclarations sous cette forme. Les journalistes ont répondu qu'ils avaient pourtant «enregistré» les citations. À y regarder de plus près, ils ont admis penauds qu'il n'y a pas d'enregistrements électroniques ou magnétiques, mais seulement quelques gribouillis manuscrits sur leurs calepins.
Est-ce que Gauland a offensé un joueur de couleur de la sélection nationale allemande peu avant l'Euro? Absurde. Ce ne serait même pas le cas si les citations qu'on lui attribue étaient vraies. Gauland aurait dit qu'il y aurait des gens en Allemagne qui n'aimeraient pas avoir un Noir pour voisin. Une telle phrase ne serait pas un appel à la haine, mais simplement une constatation, et probablement même vraie. Il y a en Allemagne, mais aussi en France, aux États-Unis ou en Suisse, des personnes qui ne veulent pas vivre à côté de Noirs. Le dire n'est en rien le signe d'opinions criminelles. À moins que l'on tienne vraiment à incriminer celui qui les exprime.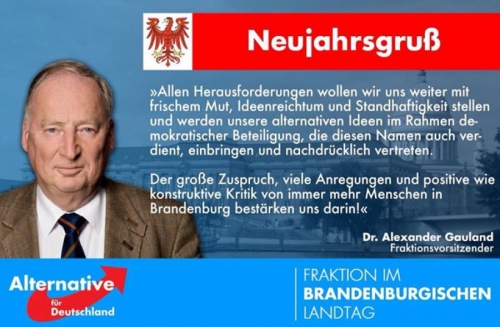 Or, il se trouve que Gauland ne l'a jamais dit ainsi. Le porte-parole adjoint de l'AfD m'a confirmé au téléphone n'avoir jamais mentionné de lui-même Boateng, mais que les journalistes lui auraient perfidement suggéré ce nom. Il ne savait pas qui était le footballeur en question, mais aurait intégré ce nom fallacieusement mentionné par les journalistes dans ses propos. Une erreur, dit-il lui-même. La citation dénaturée n'aurait jamais été autorisée si elle lui avait été présentée.
Je n'ai pas assisté à l'entretien, mais je n'ai aucune raison de douter des dires de Gauland. Les procédés journalistiques malhonnêtes parlent d'eux-mêmes. Qui plus est, je connais Gauland personnellement. J'ai collaboré avec lui en Allemagne. Il n'est ni raciste, ni extrémiste. En Suisse, il pourrait sans problème adhérer au PLR ou à l'UDC. Nous n'étions pas d'accord sur tout, je ne partage probablement pas certaines de ses positions actuelles, mais je l'admire pour la façon dont il subit les attaques de ses adversaires et continue indéfectiblement, en dépit de son âge avancé, à s'engager pour une politique plus raisonnable en Allemagne.
Cette affaire montre que l'Allemagne est encore une jeune démocratie. Il n'est pas facile de manifester des opinions différentes. Le lourd passé historique du pays est utilisé abusivement par ceux d'en haut pour marginaliser des voix impopulaires. Lorsque l'auteur à succès Thilo Sarrazin a exprimé une critique à l'encontre de la politique migratoire de Merkel, la chancelière et le président l'ont rapidement taxé de «non-personne». Maintenant la mafia idéologique veut liquider l'AfD de Gauland. Les élites se sentent menacées, et la peur vire déjà à la panique agressive. Et la Suisse dans tout cela? Le pays eurosceptique au cœur de l'Europe doit s'attendre à des attaques virulentes. Mais derrière l'arrogance des élites se cache la faiblesse. Nous ne devons pas nous laisser intimider.
00:05 Publié dans Actualité, Affaires européennes, Politique | Lien permanent | Commentaires (0) | Tags : actualité, politique internationale, europe, affaires européennes, allemagne, afd, alexander gauland, inquisition, totalitarisme, censure |
|
del.icio.us |
|
Digg |
Facebook
mardi, 24 mai 2016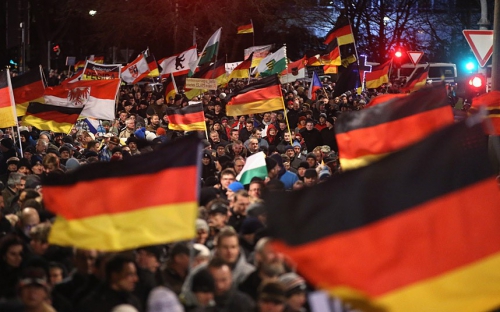 Behind the New German Right
Throughout its postwar history, Germany somehow managed to resist the temptations of right-wing populism. Not any longer. On March 13, the "Alternative for Germany" (AfD)—a party that has said it may be necessary to shoot at migrants trying to enter the country illegally and that has mooted the idea of banning mosques—scored double-digit results in elections in three German states; in one, Saxony-Anhalt, the party took almost a quarter of the vote. For some observers, the success of the AfD is just evidence of Germany's further "normalization": other major countries, such as France, have long had parties that oppose European integration and condemn the existing political establishment for failing properly to represent the people—why should Germany be an exception?
Such complacency is unjustified, for at least two reasons: the AfD has fed off and in turn encouraged a radical street movement, the "Patriotic Europeans Against the Islamization of the West," or Pegida, that has no equivalent elsewhere in Europe. And perhaps most important, the AfD's warnings about the "slow cultural extinction" of Germany that supposedly will result from Chancellor Angela Merkel's welcoming of more than a million refugees have been echoed by a number of prominent intellectuals. In fact, the conceptual underpinnings for what one AfD ideologue has called "avant-garde conservatism" can be found in the recent work of several mainstream German writers and philosophers. Never since the end of the Nazi era has a right-wing party enjoyed such broad cultural support. How did this happen?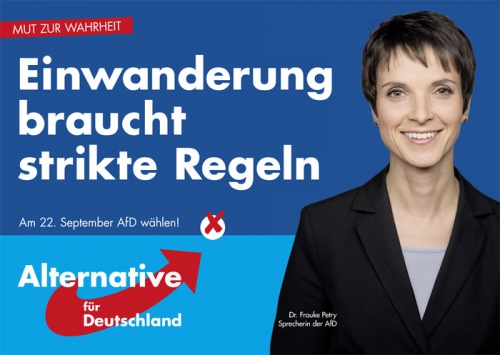 The AfD was founded in 2013 by a group of perfectly respectable, deeply uncharismatic economics professors. Its very name, Alternative for Germany, was chosen to contest Angela Merkel's claim that there was no alternative to her policies to address the eurocrisis.The professors opposed the euro, since, in their eyes, it placed excessive financial burdens on the German taxpayer and sowed discord among European states. But they did not demand the dissolution of the European Union itself in the way right-wing populists elsewhere in Europe have done. Still, Germany's mainstream parties sought to tar them as "anti-European," which reinforced among many voters the sense that the country's political establishment made discussion of certain policy choices effectively taboo. Like other new parties, the AfD attracted all kinds of political adventurers. But it also provided a home for conservatives who thought that many of Merkel's policies—ending nuclear energy and the military draft, endorsing same-sex unions, and raising the minimum wage—had moved her Christian Democratic Union (CDU) too far to the left. Since there was a mainstream conservative view opposing many of these decisions, the AfD could now occupy space to the right of the CDU without suspicion of being undemocratic or of harking back to the Nazi past.
The AfD narrowly failed to enter the German parliament in 2013, but managed to send seven deputies to Brussels after the 2014 elections to the European Parliament, where they joined an alliance of Euroskeptic parties led by Britain's conservatives. With outward success came internal strife. Young right-wingers challenged the AfD's professors with initiatives such as the "Patriotic Platform," which appeared closer to the nationalist far right than an authentically conservative CDU. In summer 2015, most of the founders of the AfD walked away; one expressed his regret about having created a "monster." The AfD seemed destined to follow the path of so many protest parties, brought down by infighting, a lack of professionalism, and the failure to nurture enough qualified personnel to do the day-to-day parliamentary politics it would have to engage in to become more than a flash in the pan.
And then the party was saved by Angela Merkel. Or so the AfD's new, far more radical leaders have been saying ever since the chancellor announced her hugely controversial refugee policy last summer. At the time, her decision was widely endorsed, but in the months since, her support has declined precipitously—while the AfD's has surged. Many fear that the German state is losing control of the situation, and blame Merkel for failing to negotiate a genuinely pan-European approach to the crisis. Alexander Gauland, a senior former CDU politician and now one of the most recognizable AfD leaders—he cultivates the appearance of a traditional British Tory, including tweed jackets and frequent references to Edmund Burke—has called the refugee crisis a "gift" for the AfD.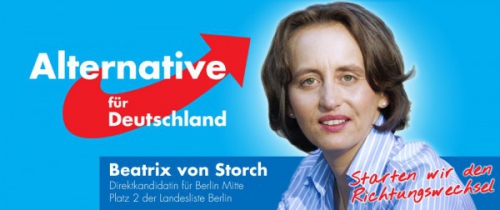 Others have gone further. Consider the statements of Beatrix von Storch, a countess from Lower Saxony who is one of the AfD's deputies to the European Parliament, where she just joined the group that includes UKIP and the far right Sweden Democrats. A promoter of both free-market ideas and Christian fundamentalism she has gone on record as saying that border guards might have to use firearms against refugees trying illegally to cross the border—including women and children. After much criticism, she conceded that children might be exempted, but not women.
Such statements are meant to exploit what the AfD sees as a broadening fear among voters that the new arrivals pose a deep threat to German culture. The AfD will present a full-fledged political program after a conference at the very end of April, but early indications are that there will be a heavy emphasis on preventing what the party views as the Islamization of Germany. A draft version of the program contains phrases such as "We are and want to remain Germans"—and the real meaning of such platitudes is then made concrete with the call to prohibit the construction of minarets. It is here that the orientation of AfD and the far more strident, anti-Islam Pegida movement most clearly overlap.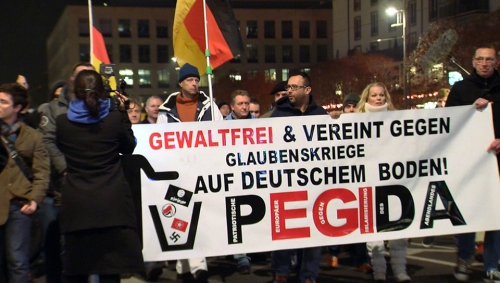 Pegida was started by right-wing activists in the fall of 2014 who invited citizens to join them for what they called "evening strolls" through Dresden and other cities to oppose "Islamization." The movement's leaders have also advocated better relations with Russia (posters have said "Putin help us!"), a call strongly echoed by AfD politicians such as Gauland. The demonstrators appropriated the slogan "We are the people," which East German citizens had famously chanted in 1989 to protest against the state socialist regime. Pegida not only lives off diffuse fears (there are hardly any Muslims in Dresden), but also questions the democratic system as such. Elected representatives in parliament—Volksvertreter—are denounced as traitors—Volksverräter. Pegida members have decried Merkel's policies of maintaining open borders as violating her oath of office to keep the German people safe.
Supporters of the movement have demanded "resistance," or at least "civil disobedience," for instance by blocking access to refugee centers. Demonstrators sometimes hold up the "Wirmer flag," which the anti-Hitler resistance around Claus von Stauffenberg had intended as the symbol of a post-Nazi Germany. In fact, many far-right groups in Germany have appropriated this symbol to signal that they consider the current state illegitimate (even though Josef Wirmer, the designer of the flag, was a Catholic democrat who was executed by the Nazis; his son has said the Wirmer family might sue Pegida demonstrators for using the banner). Pegida events have been attended by right-wing leaders from outside Germany, most prominently the Dutch right-wing anti-Islam politician Geert Wilders (who calls the Tweede Kammer, the Dutch House of Representatives in The Hague, a "fake parliament").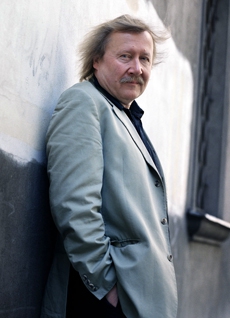 Here is where German intellectuals come into the story. Journalists and academics have had a hard time understanding why the Pegida movement emerged when it did and why it has attracted so many people in Germany; there are branches of the Pegida movement in other parts of Europe, but they have gathered only marginal support thus far. Those who suggest it is driven by "anger" and "resentment" are being descriptive at best. What is remarkable, though, is that "rage" as a political stance has received the philosophical blessing of the leading AfD intellectual, Marc Jongen, who is a former assistant of the well-known philosopher Peter Sloterdijk. Jongen has not only warned about the danger of Germany's "cultural self-annihilation"; he has also argued that, because of the cold war and the security umbrella provided by the US, Germans have been forgetful about the importance of the military, the police, warrior virtues—and, more generally, what the ancient Greeks called thymos (variously translated as spiritedness, pride, righteous indignation, a sense of what is one's own, or rage), in contrast to eros and logos, love and reason. Germany, Jongen says, is currently "undersupplied" with thymos. Only the Japanese have even less of it—presumably because they also lived through postwar pacifism. According to Jongen, Japan can afford such a shortage, because its inhabitants are not confronted with the "strong natures" of immigrants. It follows that the angry demonstrators are doing a damn good thing by helping to fire up thymos in German society.
Jongen, who is now deputy leader of the AfD in Baden-Württemberg, was virtually unknown until this spring. Not so Sloterdijk, one of Germany's most prominent philosophers (and undoubtedly the most prolific) whose work has also become well-known in the US. Sloterdijk regularly takes on controversial subjects such as genetic engineering and delights in provoking what he sees as an intellectual left lacking in humor and esprit. His books, which sell extremely well, are not so much driven by clear-cut arguments as suggestively offering philosophical, and often poetic, re-descriptions of recent history, or even the history of the West as a whole.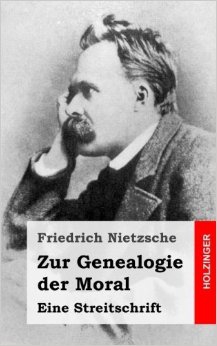 Like in Nietzsche's On the Genealogy of Morality—a continuous inspiration for Sloterdijk—these re-descriptions are supposed to jolt readers out of conventional understandings of the present. However, not much of his work lives up to Nietzsche's image of the philosopher as a "doctor of culture" who might end up giving the patient an unpleasant or outright shocking diagnosis: Sloterdijk often simply reads back to the German mainstream what it is already thinking, just sounding much deeper because of the ingenuous metaphors and analogies, cute anachronisms, and cascading neologisms that are typical of his highly mannered style.
Sloterdijk has distanced himself from Jongen's self-declared "avant-garde conservatism." But the "psycho-political" perspective Jongen adopts is one of Sloterdijk's philosophical trademarks. In his 2006 volume Rage and Time, in which he also takes his cues from Nietzsche, Sloterdijk argued that in the West thymos had been largely forgotten because of the dominance of eros in consumer capitalism, with the result that envy and resentment dominate the inner lives of citizens. He echoed Francis Fukuyama's argument in his The End of History and the Last Man that pacified liberal democracies generally fail to find a proper place for "thymotic energies," and Sloterdijk has said explicitly that, in confrontations with Islam, the West needs to rediscover the role of thymos. Just like Jongen, who criticizes the EU for being "post-thymotic," Sloterdijk longs for Europe to assert itself more forcefully on the global stage and fears that the refugee crisis will weaken the continent—to the delight, he says, of the US ("that's why Obama praises Merkel," as Sloterdijk put it in an interview published at the beginning of 2016).
Sloterdijk has also invoked the concept of "the state of exception" developed by the right-wing jurist Carl Schmitt in the Twenties. As Schmitt saw it, the sovereign could, in order to save the polity in a situation of crisis, suspend the constitution by declaring a state of exception. He added that whoever decides whether there really is an existential threat to a state is revealed as the supreme power. Today, Sloterdijk holds, it is not the state, the nominal sovereign, but the refugee who decides on the state of exception. As a result of Merkel's policy to allow the unrestricted entry of Syrians, Sloterdijk charges, Germany has waived its own sovereignty, and this "abdication" supposedly "continues day and night."
No doubt refugees themselves have faced a state of emergency and no doubt their arrival has created an exceptional challenge for Germany—but Sloterdijk's observation makes at best for a momentarily arresting aphorism, as opposed to providing any real analysis of the situation: Merkel and her parliamentary majority in fact retain decision-making power, and there is no reason to believe that Europe's most powerful state has become a plaything of dangerous foreigners. But Sloterdijk has charged that his critics are superficial intellectuals who surround his ideas as if the latter were "women at New Year's Eve"—a tasteless allusion to the attacks on females in Cologne this winter.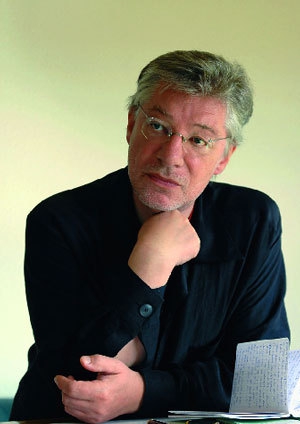 Sloterdijk is not the only prominent cultural figure who willfully reinforces a sense of Germans as helpless victims who are being "overrun" and who might eventually face "extinction." The writer Botho Strauβ recently published an essay titled "The Last German," in which he declared that he would rather be part of a dying people than one that for "predominantly economic-demographic reasons is mixed with alien peoples, and thereby rejuvenated." He feels that the national heritage "from Herder to Musil" has already been lost, and yet hopes that Muslims might teach Germans a lesson about what it means to follow a tradition—because Muslims know how to submit properly to their heritage. In fact, Strauβ, who cultivates the image of a recluse in rural East Germany, goes so far as to speculate that only if the German Volk become a minority in their own country will they be able to rediscover and assert their identity.
Such rhetoric indicates a potentially profound shift in German political culture: it is now possible to be an outspoken nationalist without being associated with—or, for that matter, without having to say anything about—the Nazi past. And it is possible to argue that Germany needs to experience a kind of 1968 in reverse: whereas back then, a grand coalition of Social and Christian Democrats meant that there was no real representation of the left in parliament, or so student activists thought, there are now a growing number of established intellectuals who are prepared to argue that there is no effective way to counter Merkel's refugee policies in the Bundestag—with the consequence that the right needs to engage in "extra-parliamentary opposition." It is one thing to oppose a government's particular policies; it is another to claim, as the AfD explicitly does in its draft program, that a self-serving political class consisting of all parties has hijacked the democratic system as a whole: an "illegitimate situation," the party says, which the Volk needs to correct.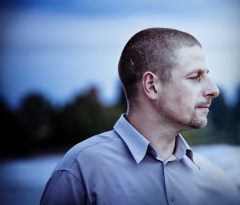 Like at least some radicals in the late Sixties, the new right-wing "avant-garde" finds the present moment not just one of apocalyptic danger, but also of exhilaration. There is for instance Götz Kubitschek, a publisher specializing in conservative nationalist or even outright reactionary authors, such as Jean Raspail and Renaud Camus, who keep warning of an "invasion" or a "great population replacement" in Europe. Kubitschek tells Pegida demonstrators that it is a pleasure (lust) to be angry. He is also known for organizing conferences at his manor in Saxony-Anhalt, including for the "Patriotic Platform." His application to join the AfD was rejected during the party's earlier, more moderate phase, but he has hosted the chairman of the AfD, Björn Höcke, in Thuringia. Höcke, a secondary school teacher by training, offered a lecture last fall about the differences in "reproduction strategies" of "the life-affirming, expansionary African type" and the place-holding European type. Invoking half-understood bits and pieces from the ecological theories of E. O. Wilson, Höcke used such seemingly scientific evidence to chastise Germans for their "decadence."
These ideas have been met with significant resistance. Some intellectuals have criticized Sloterdijk for being an armchair philosopher who offers Volk-psychology with little awareness of the reality of refugees' lives or, for that matter, of the complex political imperatives Merkel is trying to juggle. (Sloterdijk in turn has said that he is simply on the side of populism, which he understands as the "realpolitik of the less and less silent majority.") The social theorist Armin Nassehi has shrewdly pointed out that the seemingly avant-garde conservatives offer not much more than the sociologically naive view that more national homogeneity will solve all problems; and the novelist and essayist Navid Kermani, who with his much-praised reporting from the "Balkans route," has reminded Germans of the actual plight of refugees. Nassehi and Kermani are among the most thoughtful intellectual voices in Germany today. Both also happen to be second-generation immigrants whose parents came to Germany from Iran in the 1950s.
The AfD might yet fail to establish itself in the political system. Infighting continues, not least because there are deep disagreements about whether the party should enter coalition governments or remain in "fundamental opposition." It's not clear that the AfD can successfully evoke the heroism of resistance and be a home for moderate Bürger all at the same time. As the number of refugees reaching Germany has dwindled with the effective closing of the "Balkans route," the pressure on Merkel is easing. But neither conservatives nor nationalists are likely to forgive her for her stance during the refugee crisis. Three-quarters of Germans now expect the AfD to enter parliament in the national elections in 2017. And even if the party doesn't reach the required threshold, it, and its intellectual supporters, will have brought about the most dramatic change in mainstream German political discourse since the country's unification in 1990.
00:05 Publié dans Actualité, Affaires européennes, Nouvelle Droite, Philosophie, Politique, Théorie politique | Lien permanent | Commentaires (0) | Tags : actualité, politique internationale, europe, affaires européennes, allemagne, nouvelle droite, nouvelle droite allemande, conservatisme, marc jongen, pegida, afd, politique, philosophie, philosophie politique, politologie, sciences politiques |
|
del.icio.us |
|
Digg |
Facebook
lundi, 23 mai 2016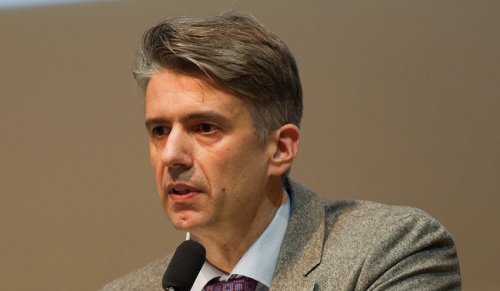 Basteln an der neuen rechten Weltanschauung
Jürg Müller-Muralt
Ex: http://infosperber.ch
Die Partei «Alternative für Deutschland» ist auf dem Vormarsch. Fortschritte macht auch der weltanschauliche Überbau.
«Klassiker der Ästhetik»: So lautet die Lehrveranstaltung des Philosophiedozenten Marc Jongen (Foto) an der Staatlichen Hochschule für Gestaltung (HfG) Karlsruhe im Wintersemester 2015/16. «Im Seminar werden klassische philosophische Texte, die für das Verständnis der Ästhetik wesentlich sind, gelesen und diskutiert», steht in der Ankündigung. Ein akademischer Feingeist? Nicht nur; er kann auch anders. Flüchtlinge sieht er als eine Art Naturkatastrophe, als «schrankenlose Überschwemmung mit Menschen, die auf die lange Dauer nicht integrierbar sind, weil sie einfach zu viele sind und zu fremd». Wer das anders sieht, den bezichtigt er wahlweise einer «überzogen humanitaristischen Moral» oder einer «Hypermoral».
Nachzulesen ist dies in einem Interview mit Marc Jongen in der «NZZ am Sonntag». Dort ruft er auch zu Wehrhaftigkeit auf: «Wir müssen, um als europäische Staaten und Völker zu überleben, deutlich nüchterner, realistischer und auch wehrhafter werden». Denn: «Wenn unsere Vorväter dieses Territorium nicht leidenschaftlich und wenn nötig auch mit Gewalt verteidigt hätten, würden wir jetzt nicht hier sitzen und uns in unserer Sprache unterhalten». So kann man deutsche Geschichte auch interpretieren, wenn man der Wahrheit nur genügend Gewalt antut.
«Thymotische Unterversorgung»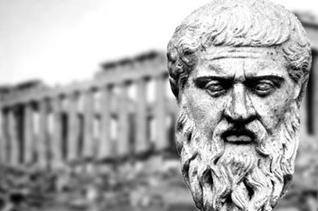 Gewalt, Wut und Zorn sind ohnehin Schlüsselbegriffe in der Welt des Marc Jongen. «Wir pflegen kaum noch die thymotischen Tugenden, die einst als die männlichen bezeichnet wurden», doziert der Philosoph, weil «unsere konsumistische Gesellschaft erotozentrisch ausgerichtet» sei. Für die in klassischer griechischer Philosophie weniger bewanderten Leserinnen und Leser: Platon unterscheidet zwischen den drei «Seelenfakultäten» Eros (Begehren), Logos (Verstand) und Thymos (Lebenskraft, Mut, mit den Affekten Wut und Zorn). Jongen spricht gelegentlich auch von einer «thymotischen Unterversorgung» in Deutschland. Es fehle dem Land an Zorn und Wut, und deshalb mangle es unserer Kultur auch an Wehrhaftigkeit gegenüber anderen Kulturen und Ideologien.
Der in der Schweiz noch wenig bekannte Marc Jongen gehört zur intellektuellen Abteilung der Rechtspartei «Alternative für Deutschland». Die AfD galt ja in ihrer Gründungszeit bis zur Parteispaltung Mitte 2015 als «Professorenpartei» und geizte auch im jüngsten Wahlkampf nicht mit akademischen Titeln auf Plakaten. Als akademischer Mitarbeiter an der Hochschule für Gestaltung Karlsruhe diente Jongen lange Jahre als Assistent des bekannten Philosophen und früheren Rektors Peter Sloterdijk, der sich allerdings mittlerweile deutlich von den politischen Ansichten seines Mitarbeiters distanziert (mehr zum Verhältnis Jongens zu Sloterdijk findet sich in einem Beitrag der Online-Plattform «Telepolis»). In der AfD ist Jongen Vize-Landesvorsitzender in Baden-Württemberg und Mitglied der AfD-Bundesprogrammkommission. Er schreibt an einem Papier, das die weltanschauliche Marschrichtung der Partei skizzieren soll.
«Gefilde abseits der Vernunft»
Der Mann hat also das Potenzial, innerhalb der seit den März-Wahlen in drei deutschen Bundesländern sehr erfolgreichen Partei eine zentrale Rolle zu spielen. Da muss es interessieren, wes Geistes Kind er ist. Jongen gehört nicht zu den Lauten in der Partei, er argumentiert lieber mit Platon und anderen philosophischen Grössen; da kennt er sich aus. Aber er war eben im vergangenen Jahr auch am Sturz von Bernd Lucke beteiligt, des verhältnismässig liberalen Parteivorsitzenden. Damit hat er den populistischen, nationalromantischen bis rechtsradikal-völkischen Kräften innerhalb der AfD zum Durchbruch verholfen.
Auffallend ist, wie stark sich Jongen mit reaktionären philosophischen Konzepten beschäftigt. Die «Frankfurter Allgemeine Zeitung» findet in einer lesenswerten Analyse, bei ihm schimmere eine Fundamentalkritik der Moderne durch: «Der Philosoph bezieht sich jedenfalls vorwiegend auf Denker, die in diesem Ruf stehen: Friedrich Nietzsche, Oswald Spengler, Martin Heidegger und einen Vordenker der 'konservativen Revolution' wie Carl Schmitt, der zunächst von seinem Schreibtisch aus die Weimarer Republik zu sabotieren suchte und dann nach der Machtergreifung ebenso wie Heidegger dienstfertig dem Nationalsozialismus zuarbeitete. Gemeinsam ist diesen Denkern, dass sie von der Vernunft und republikanischer Mässigung wenig hielten, sondern mehr von scharfen historischen Brüchen. Sie operierten vorwiegend in geistigen Gefilden abseits der Vernunft, in Ausnahmezuständen und Seinsordnungen, Freund-Feind-Schemata und dionysischen Rauschzuständen.»
Gegen Gleichstellung der Geschlechter
«Die Zeit» macht darauf aufmerksam, dass der AfD-Landesparteitag Baden-Württemberg unter der Federführung Jongens die Gleichstellung der Geschlechter mit der Begründung abgelehnt habe, man wisse sich dabei «mit den ethischen Grundsätzen der grossen Weltreligionen einig». Die dürften nicht «auf dem Altar der pseudowissenschaftlichen Gender-Ideologie» geopfert werden. Dies ist eine für einen philosophisch Gebildeten recht abenteuerliche Argumentation. Denn damit wird den Weltreligionen im Umkehrschluss eine wissenschaftliche Grundlage zugebilligt.
Die Mitgliedschaft Marc Jongens in der AfD hat, wenig erstaunlich, auch zu einigen Turbulenzen an der Hochschule für Gestaltung geführt. Der neue Rektor, Siegfried Zielinski, hat Jongen alle Leitungsfunktionen entzogen und ihn auch als Herausgeber der Schriftenreihe «HfG-Forschung» abgesetzt. Das ist demokratiepolitisch heikel und kann als Beschneidung der Meinungsäusserungsfreiheit interpretiert werden. Rektor Zielinski hat jedoch in einer bemerkenswerten Medieninformation vom 24. Februar 2016 seinen Schritt sauber begründet. Solange «die Partei, in der Jongen politisch engagiert ist, zu den legalen politischen Formationen gehört, geniesst er denselben Schutz wie alle anderen Hochschulangehörigen». Das Rektorat sei «indessen nicht für die personellen Konstellationen der Vergangenheit verantwortlich» und müsse sie deshalb nicht so belassen wie bisher.
«Wer denkt, ist nicht wütend»
Die Medieninformation wurde unter dem Titel «Wer denkt, ist nicht wütend» veröffentlicht, ein Zitat von Theodor W. Adorno. Es spielt an auf den von Jongen so oft bemühten und oben erwähnten Thymos (Wut, Zorn). Das Dokument ist auch deshalb eindrücklich, weil es präzis die Aufgabe einer Kunsthochschule beschreibt:
«Kunsthochschulen haben die Aufgabe, werdenden Intellektuellen, Künstlerinnen und Künstlern sowie Gestalterinnen und Gestaltern einen optimalen, anregenden, ihr Wissen und ihre Begabungen fördernden Freiraum zu organisieren. Das ist eine von Grund auf positive Herausforderung und Bestimmung. Eine Ideologie, die prinzipiell in der Verneinung eine Alternative sieht und aus der Perspektive der Verachtung handelt, bildet einen maximalen Gegensatz zu dieser Aufgabe.
(…)
Hass, Verbitterung, radikale Enttäuschung oder Unlust am Heterogenen vertragen sich nicht mit dem positiven Überraschungsgenerator, den eine gute Kunsthochschule der Möglichkeit nach darstellt.
(…)
Der neue Rektor folge «in seiner Arbeit einer Logik der Mannigfaltigkeit, der unbegrenzten Vielheit. (…) Als wichtigsten Impuls enthält eine Logik der Mannigfaltigkeit die uneingeschränkte Achtung vor dem Anderen, vor dem, was nicht mit uns identisch ist.»
(…)
«Die veröffentlichte Debatte um die Mitgliedschaft eines akademischen Mitarbeiters einer universitären Einrichtung des Landes Baden-Württemberg in der durch den Staat zugelassenen politischen Partei AfD schadet der HfG Karlsruhe als einer Einrichtung, die von kritischem Engagement, Gastfreundschaft, Erfindungsreichtum, Neugier und Toleranz getragen ist.»
00:05 Publié dans Actualité, Affaires européennes, Nouvelle Droite, Philosophie, Théorie politique | Lien permanent | Commentaires (0) | Tags : actualité, politique, politique internationale, europe, allemagne, affaires européennes, afd, alternative für deutschland, nouvelle droite, nouvelle droite allemande, théorie politique, politologie, philosophie, philosophie politique, sciences politiques |
|
del.icio.us |
|
Digg |
Facebook