Ex: http://www.counter-currents.com/
1. The Genealogy of Modernity
The entire corpus of D. H. Lawrence's writing is devoted to addressing the problem of life in the modern world, and his view of modernity was extraordinarily negative. Consider the following striking image Lawrence provides us with in his essay "The Novel and the Feelings":
Supposing all horses were suddenly rendered masterless, what would they do? They would run wild. But supposing they were left still shut in their fields, paddocks, corrals, stables, what would they do? They would go insane. And that is precisely man's predicament. He is tamed. There are no untamed to give the commands and the direction. Yet he is shut up within all his barbed wire fences. He can only go insane, degenerate.
According to Lawrence, we have created a human world for ourselves: a world of concrete and ideals, and have excluded nature. What does it mean to say that we have become "tamed"? It means that we have lost our wildness; our connection to the natural self, or the true unconscious. We have "corralled" ourselves; imprisoned ourselves in this tame, human, "ideal" world voluntarily. When Lawrence remarks that there are no "untamed to give the commands and the direction" he means that we have lost touch with the true unconscious, the untamed source within us, from which "natural man" draws his guidance. We can only go insane – in the sense that we lose our grip on reality, our orientation to the greater universe. We become degenerate through losing everything great in life, all aspiration, all spirit, and become instead Nietzsche's "Last Man": a creature whose concerns never rise above the level of comfort and security, and who lives from distraction to distraction, trying never to reflect upon the emptiness within him.
Though it all we reassure ourselves with the thought that "Progress" is being made. Lawrence offers the following amusing description of Modern Progress in Fantasia of the Unconscious:
"Onward, Christian soldiers, towards the great terminus where bottles of sterilized milk for the babies are delivered at the bedroom windows by noiseless aeroplanes each morn, where the science of dentistry is so perfect that teeth are implanted in a man's mouth without his knowing it, where twilight sleep is so delicious that every woman longs for her next confinement, and where nobody ever has to do anything except turn a handle now and then in a spirit of universal love–" That is the forward direction of the English-speaking race.
Much of Lawrence's critique of modernity is simply devoted to pointing out the folly of our devotion to abstract ideals. But Lawrence was not merely a gadfly – he was a (literary) revolutionary. He believed that the existing social order was not salvageable and that it would have to be utterly and completely destroyed:
It is no use trying merely to modify present forms. The whole great form of our era will have to go. And nothing will really send it down but the new shoots of life springing up and slowly bursting the foundations. And one can do nothing but fight tooth and nail to defend the new shoots of life from being crushed out, and let them grow. We can't make life. We can but fight for the life that grows in us.
In order to fully understand Lawrence's critique of modernity one must understand how he believes that modernity has come about. In a number of his works, Lawrence tries to work out a philosophy of history that would shed light on the mechanisms of historical change. In Movements in European History (1919) and elsewhere Lawrence develops a theory of history founded on a metaphysics derived from Empedocles. The twin principles that govern all of human life, and all human history are, according to Empedocles and Lawrence, Love and Strife. The forces are, respectively, attractive and repulsive. The first tends toward unity, the second toward disintegration or apartness. In the language Lawrence employs, the lives of human beings are governed by "sympathetic" and "voluntary" impulses, on both individual and global levels. In the modern West, due primarily to the influence of Christianity, there has been an overemphasis on the sympathetic, unitive, and "feminine" element. When an imbalance in the two forces occurs, whether in an individual psyche or in history, a swing to the other pole will occur. Thus, modern individuals have swung to the voluntary pole. Ironically, however, they have vented their aggressive willfulness through fanatical devotion to a secularized version of the ideals implicit in "sympathetic" Christianity: liberty, equality, fraternity, and, most pernicious of all, universal love.
In Apocalypse, much of which is devoted to a critique of Christian values, Lawrence refers to Lenin, Abraham Lincoln, and Woodrow Wilson as "evil saints." These are men who aimed to advance the "noble" ideals of modernity regardless of the cost in human lives. He tells us elsewhere that "What has ruined Europe, but especially northern Europe, is this very 'pure idea.' Would to God the 'Ideal' had never been invented. But now it's got its claws in us, and we must struggle free. The beast we have to fight and to kill is the Ideal. It is the worm, the foul serpent of our epoch, in whose coils we are strangled."
The secularization of Christian ideals, and their transformation into "isms" such as socialism, communism, liberalism, and multiculturalism is a manifestation of a deeper process, however. It is the process by which the intellect comes to usurp all else in the soul. The complex and often beautiful mythology of Judaism and Christianity, which operates on a visceral level, is replaced by the abstract ideologies of men like Hegel and Marx. This simply reflects the modern shift away from "mythopoetic thought" to a form of rationalism which seeks to do away with myth and to make everything explicit and transparent by means of "the concept." Lawrence understands this cultural shift in actual physiological terms, as a shift from a life lived in contact with the "lower centers" of the body to one which operates exclusively from the "upper centers." (He also understands the aforementioned "sympathetic" and "voluntary" forces as grounded in human physiology.)
Lawrence states in Fantasia, "We have almost poisoned the mass of humanity to death with understanding. The period of actual death and race-extermination is not far off." Yet, underneath our intellectualism and devotion to ideals, in the deeper recesses of the body, nothing has changed. Lawrence writes, "What really torments civilized people is that they are full of feelings they know nothing about; they can't realize them, they can't fulfill them, they can't live them." These feelings may be sexual. They may be moral sentiments, such as archaic stirrings of the sense of honor. Or they may be religious: an inchoate yearning for the lost gods. Modern society gives us no one way to make sense out of many of these feelings, especially the religious ones. And others it positively condemns. Yet the feelings remain, and the feelings are very often—indeed, almost always—against the ideals. In our society, these feelings stir most strongly in children. But children are soon "put right" by an educational system that forces them, as Lawrence puts it, into "mental consciousness." They are forced to suppress their heretical feelings, and are fed full of the Ideal.
We imagine that we live in a golden age of Progress, but Lawrence dismisses it as wholly false:
Everything is counterfeit: counterfeit complexion, counterfeit jewels, counterfeit elegance, counterfeit charm, counterfeit endearment, counterfeit passion, counterfeit culture, counterfeit love of Blake, or of The Bridge of San Luis Rey, or Picasso, or the latest film-star. Counterfeit sorrows and counterfeit delights, counterfeit woes and moans, counterfeit ecstasies, and, under all, a hard, hard realization that we live by money, and money alone: and a terrible luring fear of nervous collapse, collapse.
In the eyes of modern people, however, it is very often nature itself that seems counterfeit or, at least unreal. Lawrence believes that in modernity nature is essentially seen as raw material to be made over into the products of human design. This point was famously made by Heidegger in his essay "The Question Concerning Technology." Heidegger argues that in the modern period, as a result of the advancement and proliferation of technology, the being of the natural world has revealed itself to humankind in a manner that is vastly different from how it revealed itself to our ancestors. It has become for us the "standing reserve" (Bestand). Heidegger writes:
The earth now reveals itself as a coal mining district, the soil as a mineral deposit. The field that the peasant formerly cultivated and set in order appears differently than it did when to set in order meant to take care of and to maintain. The work of the peasant does not challenge the soil of the field. In the sowing of the grain it places the seed in the keeping of the forces of growth and watches over its increase. But meanwhile [in the modern period] even the cultivation of the field has come under the grip of another kind of setting-in-order, which sets upon nature. It sets upon it in the sense of challenging it. Agriculture is now the mechanized food industry. Air is now set upon to yield nitrogen, the earth to yield ore, ore to yield uranium, for example; uranium is set upon to yield atomic energy, which can be released either for destruction or for peaceful use. (Martin Heidegger, The Question Concerning Technology and Other Essays, trans. William Lovitt [New York: Harper and Row], 14–15.)
In a similar vein Lawrence writes, "To the vast public, the autumn morning is only a sort of stage background against which they can display their own mechanical importance." In his essay "Aristocracy," Lawrence speaks in general of how modern man has lost the connection to nature, and of how we have lost the connection to "Amon, the great ram" in particular. "To you, he is mutton. Your wonderful perspicacity relates you to him just that far. But any farther, he is—well, wool." (This promethean perspective on nature—the perspective that sees nature as "standing reserve"—is perfectly exemplified in the character of Gerald Crich in Lawrence's greatest novel, Women in Love.)
Nature seems unreal to moderns because to them it is unfinished: it waits upon us to put our stamp upon it; to "make it into something." Natural objects always therefore have the status of mere potentials: potentials for being made over, improved upon, or re-used or re-arranged in some fashion. At root, this is because the modern consciousness is radically future oriented. The past, for moderns, is something that has been gotten beyond, and is well lost. Only the future matters, and the future promises to carry on the march of progress; to be cleaner, faster, and smarter. Everything has its true being, therefore in the future. Everything—including ourselves—is always what it is going to be. The being of things is always promissory.
Modern people live in reaction against the past, and in anticipation of the future. What drops out is the present. Hence, the notorious inability of modern people to appreciate what is present at hand, or to recognize when enough is enough. Lawrence writes in an essay, "Why do modern people almost invariably ignore the things that are actually present to them?" He goes on to speak of an elderly tourist he encountered who left England "to find mountains, lakes, scythe-mowers, and cherry trees," and asks "Why isn't she content to be where she is?"
Lawrence's answer to all of this will be unsurprising at this point. He wants us to somehow re-connect with those primal feelings and impulses that modernity requires us to suppress. The Fall of Man had nothing to do with sex; on the contrary God was on the side of sex. When Adam and Eve ate the forbidden fruit they became creatures of the "upper centres"; self-aware and self-conscious. "Then the eyes of both of them were opened, and they realized that they were naked" (Genesis 3:6). In Lawrence's words, the Fall did not arise "till man felt himself apart, as an apart, fragmentary, unfinished thing." Somewhere along the way, we reached a point where we came to see ourselves as on the earth, but not of it. At one point, Lawrence refers to modern people as "parasites on the body of earth."
He writes in "A propos of Lady Chatterley's Lover,"
Oh, what a catastrophe for man when he cut himself off from the rhythm of the year, from his unison with the sun and the earth. . . . This is what is the matter with us. We are bleeding at the roots, because we are cut off from the earth and sun and stars, and love is a grinning mockery, because, poor blossom, we plucked it from its stem on the Tree of Life, and expected it to keep on blooming in our civilized vase on the table.
But how exactly are we to go about connecting with our primal instincts, and to the earth? This is the central problem for Lawrence, and his writings explore different ideas about how to accomplish it. Of course, one approach might be purely negative or critical. It might consist in a ruthless critique of everything that is, and everything that we are, until we get to that within us which is "natural." This is indeed one of Lawrence's approaches, and I am exploring it in this essay. It consists, in essence, of a kind of emptying or burning away. It is the alchemical nigredo, in which some lowly stuff (in this case, us) is burned and purified; made ready for transformation into something of a higher or better sort. Lawrence's approach to modernity is certainly destructive, but it is not purely destructive.
Lawrence reminds us of Nietzsche, going around philosophizing with a hammer. His attitude in Women in Love seems, at least on the surface, particularly Nietzschean (a point to which I shall return later). But Lawrence's position seems to evolve over time into a version of the nostalgia Nietzsche rejected. It is a nostalgia for something like the consciousness of the "Master" type Nietzsche discussed in On The Genealogy of Morals. At times Lawrence seems clearly to yearn for a return to something like a pre-modern pagan mentality. This element in his makeup becomes more pronounced over time, culminating in his "Mexican" works, The Plumed Serpent (1926) and Mornings in Mexico (1927).
There is a major problem with such a position, however. Doesn't our ability to understand and to critique our own history mean that we have advanced beyond the position of our ancestors? We might yearn to return to paganism, but we have lost pagan innocence. And the more we believe we have understood paganism, the further we are removed from the life of an actual pagan. In other words, Nietzsche was right. Yet the Nietzschean alternative, the literal creation of "new values" by an Overman is unnatural: it is yet another manifestation of the modern dislocation from the earth and from the body. The current values are dead all right, but Lawrence believes they were laid over top of our suppressed natural values, which must now be unearthed. But how? And how can we "go back" while preserving what we have gained in going forward, even if the going forward was into degeneration? I believe these questions get to the heart of Lawrence's concerns about modernity, and finding an answer to it.
D. H. Lawrence's Critique of Modernity,
Part 2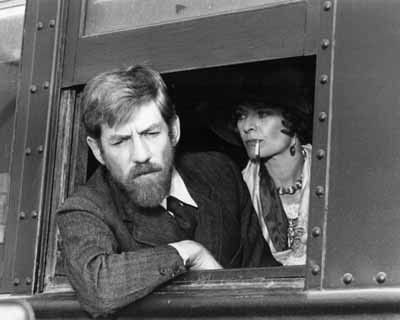 Lawrence encountered the effects of modernity—especially the Industrial Revolution—directly in his native Midlands. He saw how if affected people, generally for the worse. Again and again he sets his stories against the backdrop of the collieries. He saw the miners become increasingly dehumanized. Working in the earth, they become cut off from it and from themselves. They lived, but they did not flourish. Lawrence's remarks about the Industrial Revolution, capitalism, and the condition of the miners put him quite close to the thought of Marx and other socialist writers. In fact, it would not be at all unreasonable to claim Lawrence as a kind of socialist. However, as we shall see, few socialists would wish to do so!
Though The Rainbow can hardly be thought of as a novel about the Industrial Revolution, nevertheless that is its backdrop. The novel is the saga of several generations of an English family, the Brangwens, following them from the pre-industrial to the industrial age. A pastoral mood dominates throughout most of the work, and one feels a vivid sense of connection to nature and to place. Little of great significance really happens to the Brangwen family until one gets to the present day, and the story of Ursula Brangwen. Up to that point their lives are as cyclical and as repetitive as the seasons, but what we feel in reading about them is great peace, not boredom. As the narrative moves into the thick of the industrial age, it becomes populated with characters— Ursula among them—who have lost the sense of connection to the soil and to traditional culture that was the mainstay of their forebears' existence. Ursula and her lover, Skrebensky, are lost souls, in search of some connection somewhere. Skrebensky betrays the search, and flees from Ursula. (Ursula continues it, though we must read the novel's sequel, Women in Love, to see where it takes her.)
In his essay "Nottingham and the Mining Countryside," Lawrence writes,
In my father's generation, with the old wild England behind them, and the lack of education, the man was not beaten down. But in my generation, the boys I went to school with, colliers now, have all been beaten down, what with the din-din-dinning of Board Schools, books, cinemas, clergymen, the whole national and human consciousness hammering on the fact of material prosperity above all things.
How were these mean beaten down? Lawrence answers in the same essay that "the industrial problem arises from the base forcing of all human energy into a competition of mere acquisition." Human concerns, in other words, are narrowed to economics.
It is unsurprising to see people concerned solely with making a living if they face starvation. But, for Lawrence, what is queer about modern Europeans—including the working classes—is that actual starvation is seldom a danger for any man, yet they behave as if it is. Indeed, he begins his lengthy philosophical essay "The Education of the People" with exactly this issue: "Curious that when the toothless old sphinx croaks 'How are you going to get your living?' our knees give way beneath us. . . . The fear of penury is very curious, in our age. In really poor ages men did not fear penury. They didn't care. But we are abjectly terrified of it. Why?" Whoever has wits (and guts), Lawrence points out, doesn't starve, nor does he care about starving. But today the only thing that seems to really move people is a threat to their safety and security. We are all, it seems, Nietzsche's Last Man.
Lawrence's analysis of what has "beaten down" modern working men places him close to Karl Marx. Clearly, Lawrence believes that modern workers exist in the condition Marx referred to as "wage slavery." Under capitalism, it becomes less and less feasible to be self-sustaining or self-employed and workers must sell their labor to bosses, who pay the workers only a fraction of the profit produced by their hard work. Although workers are de jure free to leave their jobs, they are de facto enslaved because the same conditions of economic exploitation will be found on the next job, and the next. In his essay "Is England Still a Man's Country?" Lawrence writes "The insuperable difficulty to modern man is economic bondage. Slavery!" Lawrence would probably also have found Marx's theory of "alienation" under capitalism quite congenial. (That theory is to be found in the so-called "Economic and Philosophic Manuscripts" of 1844, which were not published until 1932.) Lawrence would probably have agreed with Marx's idea that capitalist relations of production alienate us from our "species being" by making it nearly impossible for us to realize ourselves and find fulfillment through work.
We know that Lawrence went through a period in his youth when he certainly thought of his himself as a socialist. In 1905, Lawrence met Alice Dax, a socialist and early feminist. Dax introduced him to a circle of socialist thinkers active in the Midlands, and also to her book collection, which included works by authors like John Ruskin, William Morris, and Edward Carpenter. Later, of course, Lawrence would make the acquaintance of an even more eminent group of "progressive" thinkers, including Bertrand Russell. On February 12, 1915 Lawrence wrote to Russell:
We must provide another standard than the pecuniary standard, to measure all daily life by. We must be free of the economic question. Economic life must be the means to actual life. . . . There must be a revolution in the state. . . . The land, the industries, the means of communication and the public amusements shall all be nationalized. Every man shall have his wage till the day of his death, whether he work or not, so long as he works when he is fit. Every woman shall have her wage till the day of her death, whether she works or not, so long as she works when she is fit—keeps her house or rears her children.
Then, and only then, shall we be able to begin living.
Throughout his career, Lawrence would again and again toy with the sort of thing he proposes here: a political solution to the problem of modernity. Ultimately, as we shall see, he came to completely reject the final assertion quoted above: that only when the right political action has been taken can we "begin living." Ultimately, Lawrence realized that politics is not the answer; that the hope lies in the very personal quest of private individuals. (But more on this later.)
Lawrence's "socialism" was always of the utopian variety, never the "scientific" sort advanced by Marxists. In so far as there are affinities with Marx's thought, they are affinities—as I have already pointed out—with the early, "humanistic" Marx, not the Marx of Das Kapital. In addition, Lawrence eventually came to combine socialist ideas with a form of elitism, and an emphasis on ties to blood and soil. This, as many others have pointed out, puts him closer to fascism and national socialism than to Marx or to the left-wing progressives of Alice Dax's circle. (However, Lawrence's occasional flashes of Luddism and his vigorous critique of modern science distance him from both the Communists and the Nazis.)
Lawrence agrees with the Marxists in deploring the perniciousness of class warfare under capitalism. However, he rejects the Marxist (and, for that matter, national socialist) ideal of the "classless society." For Lawrence, the problem with modern, industrial civilization is not that it has classes, but that the classes have lost the ability to relate to each other in a healthy way. In "A Propos of Lady Chatterley's Lover" he writes, "Class-hate and class-consciousness are only a sign that the old togetherness, the old blood-warmth has collapsed, and every man is really aware of himself in apartness. Then we have these hostile groupings of men for the sake of opposition, strife. Civil strife becomes a necessary condition of self-assertion." For Lawrence, true community depends upon shared blood ties, shared history, and closeness to the soil. In traditional, aristocratic societies relations between the classes were never so bad as they are under capitalism, for all individuals felt a kinship for one another based on an intuition of ethnic and cultural ties. But in the modern period, our awareness of these ties has been destroyed by what Lawrence calls in the same essay "individualism," by which he means something like "atomization." People have lost the common tie to the earth; they have forgotten their history and their folk culture. They exist in a state of apartness and mutual distrust. Industrialization and wage slavery have exacerbated this condition, pitting the new classes of bosses and workers, bourgeoisie and proletariat, against each other. The irresponsible exploitation of the earth, and of human beings, by business is only possible because these ties have been broken. This breakdown was furthered by industrialization and capitalism, but the deeper cause is what we have seen Lawrence denouncing as "idealism": the tendency to live according to mental conceptions, ideals, and grand designs, rather than according to our "natural" and intuitive blood-consciousness, and blood-warmth.
In a late essay, "Men Must Work and Women as Well," Lawrence writes,
Now we see the trend of our civilization, in terms of human feeing and human relation. It is, and there is no denying it, towards a greater and greater abstraction from the physical, towards a further and further physical separateness between men and women, and between individual and individual. . . . Recoil, recoil, recoil. Revulsion, revulsion, revulsion. Repulsion, repulsion, repulsion. This is the rhythm that underlies our social activity, everywhere, with regard to physical existence.
Lawrence rejects the ideal of the classless society, but he also rejects class division as it has been hitherto established in history. And he rejects traditional, hereditary aristocracy in favor of a quasi-Nietzschean "aristocracy of the spirit." However, like much else in his social thought, Lawrence leaves it completely vague how such an aristocracy could be established and maintained. He certainly objects to the plight of the proletarians, but unlike the Marxists he does not romanticize them. In fact, Lawrence argues that in modern society virtually everyone has become "proletarian," or proletarianized. In John Thomas and Lady Jane (the second of three versions of the novel that would become Lady Chatterley's Lover) Connie Chatterley hears the following from the musician Archie Blood:
The proletariat is a state of mind, it's not really a class at all. You're proletarian when you are cold like a crab, greedy like a crab, lustful with the rickety egoism of a crab, and shambling like a crab. The people in this house are all proletarian. The Duchess of Toadstool is an arch proletarian. . . . The proletarian haves against the proletarian have-nots will destroy the human world entirely.
In other words, capitalism has turned us all into people whose lives revolve around work and money, through which we hope to gain greater security and greater buying power. When not working, we engage in various forms of mindless indulgence. It is the sort of life which (via the character of "Walter Morel") he depicts his father living in Sons and Lovers: a day spent in the pit, followed by an evening getting drunk and stumbling home.
Essentially, the aim of communism is to do precisely what capitalism has already accomplished in a much more sinister way: to make everyone proletarian. The communists just sought to erase the distinction between the proletarian haves and have-nots. And this brings us back to Heidegger. One of Heidegger's more notorious claims was that capitalist and communist societies were "metaphysically identical." In Introduction to Metaphysics Heidegger states, "Europe lies in the pincers between Russia and America, which are metaphysically the same, namely in regard to their world-character and their relation to the spirit." Both are fundamentally materialist in their orientation: in both social systems human concerns do not rise, and are not supposed to rise, above the level of material comfort and security. Both deny the higher needs of the human spirit: communism explicitly, capitalism implicitly (and far more insidiously). In his essay "Democracy" Lawrence speaks of how in modern, democratic societies the "Average Man" is exalted above all: "Please keep out all Spiritual and Mystical needs. They have nothing to do with the average."
Early in life, Lawrence had half-idealized the "working men" (or the miners, at least) as more in touch with their chthonic, primal feelings. Lawrence came to realize that this was an illusion. In "Democracy" he asserts that the working men are "even more grossly abstracted" from the physical. But why? Here we encounter an aspect of Lawrence's socialism that situates him far away from Marx, but close to William Morris and the socialists of the "arts and crafts movement." The working man is abstracted from the physical because he has been beaten down by ugliness.
Now though perhaps nobody knew it, it was ugliness which really betrayed the spirit of man, in the nineteenth century. The great crime which the moneyed classes and promoters of industry committed in the palmy Victorian days was the condemning of the workers to ugliness, ugliness, ugliness: meanness and formless and ugly surroundings, ugly ideals, ugly religion, ugly hope, ugly love, ugly clothes, ugly furniture, ugly houses, ugly relationship between workers and employers. The human soul needs actual beauty even more than bread.
How does one square this thesis about the debilitating effects of ugliness with Lawrence's claim that it is "idealism" that is the culprit here, "beating down" the working man and everyone else? The two claims are not mutually exclusive. Ugliness is a consequence of idealism: where the Ideal is all important, "aesthetic concerns" will be denigrated. This was very obviously a feature of communist societies such as the Soviet Union, where Lenin explicitly declared such concerns "momentary interests." Westerners living in capitalist societies were always quick to point out the ugly, utilitarian quality of Soviet life—while being generally blind to it in their own countries. The typical American capitalist attitude is that unless something makes a profit it is valueless. What good is beauty, poetry, or good food—unless they can be sold on a mass scale? Since human life cannot be entirely free of these things, capitalism finds an indirect way of justifying them. The sight of beauty "relaxes" us. Reading poetry "lowers the heart rate." Good food is a "reward for a hard day's work." In short, the fine and noble is not beautiful and useless at all—because it can make better, healthier, longer-lived workers of us! But the claim that the fine and noble could have any intrinsic value apart from its relation to work simply doesn't get a hearing.
American education reflects this prejudice and students follow along like good proletarians in training, objecting to "useless" classes on literature, history, and art. All of this may make it seem like the capitalist attitude is not idealistic at all but cynically "practical." This is not the case, however, for the ugliness and barrenness of life under capitalism is seen as part of the march of Progress. Like a disciple of the Arts and Crafts Movement, Lawrence suggests that beauty is the key to solving the "industrial problem":
If they had made big, substantial houses, in apartments of five or six rooms, and with handsome entrances. If above all, they had encouraged song and dancing—for the miners still sang and danced—and provided handsome space for these. If only they had encouraged some form of beauty in dress, some form of beauty in interior life—furniture, decoration. If they had given prizes for the handsomest chair or table, the loveliest scarf, the most charming room that men or women could make! If only they had done this, there would never have been an industrial problem. The industrial problem arises from the base forcing of all human energy into a competition of mere acquisition.
In the essay "Red Trousers" he playfully suggests that "If a dozen men would stroll down the Strand and Piccadilly tomorrow, wearing tight scarlet trousers fitting the leg, gay little orange-brown jackets and bright green hats, then the revolution against dullness which we need so much would have begun."
Of course, such suggestions may seem highly romantic, and unrealistic, but there is nevertheless a great deal that is right about them. The essays from which the above two quotes were taken were written in the period 1928–1930. They reflect the fact that Lawrence never entirely gave up on his early "utopian socialist" sentiments. He simply became a good deal wiser about the prospects for translating them into reality. His early naïveté is perfectly reflected in the finale of The Rainbow, in which Ursula Brangwen looks down upon the ugliness of the mining countryside, only to see a rainbow rising above it: "She saw in the rainbow the earth's new architecture, the old, brittle corruption of houses and factories swept away, the world built up in a living fabric of Truth, fitting to the over-arching heaven." The First World War destroyed Lawrence's naïve hopes that the modern world might be cleansed and redeemed, at least through some kind of social reform. His next novel, Women in Love, would be a complete repudiation of the optimism with which The Rainbow ends. My next essay will be devoted to an analysis of Women in Love as anti-modern novel.