Vom Begründer der Homöopathie Samuel Hahnemann stammt der Behandlungsgrundsatz: Ähnliches möge mit Ähnlichem geheilt werden.
Es muss allerdings präzisiert werden, dass der Behandlungserfolg nach Hahnemann ganz wesentlich auf der richtigen Dosis der sonst krankmachenden Wirkstoffe beruht. Die Selbstheilungskräfte des Körpers und der Seele werden durch die winzige Dosierung dieser Stoffe herausgefordert, mit Energie beliefert und für die Heilung aktiviert.
Wie ist es um die Selbstheilungskräfte eines Volks- und Kulturorganismus bestellt? Die Krankheitskeime sind in Form eines faschistoiden Fremd-Nationalismus und einer ebenso totalitären wie übergriffigen Fremdreligion ja längst eingedrungen, auch wenn der Patient sich nur phasenweise richtig elend fühlt, sich ansonsten aber des Lebens erfreut und von Arzneien nicht wirklich etwas wissen will.
Je wirksamer die Erreger, desto wirksamer wird die Therapie ausfallen müssen. Die Faschismus-Keule wird dann nicht mehr nur vom politischen Gegner so ausgiebig wie blindlings verabreicht, sondern von allen, die gesunden wollen, entschlossen ergriffen werden. Die Keule wird aber nirgendwo eine Swastika oder die SS-Runen aufweisen, denn dieser Faschismus wird nicht mehr der historische, vermeintlich so allbekannte sein. Einer der letzten Figuren des europäischen Faschismus der dreißiger Jahre des letzten Jahrhunderts, der ebenso exzentrische wie unbeirrte Oswald Mosley, hat sich genau darüber Gedanken gemacht und wurde so zu einem Vordenker der Neuen Rechten.
Ein Wanderer aus dem Nichts
Niemand hat auf der politischen Bühne Großbritanniens seine Karriere so gründlich ruiniert wie Sir Oswald Mosley (1896-1980). Spross einer Adelssippe niederen Ranges, im Ersten Weltkrieg schwer verwundet und später durch zwei Eheschließungen, etwa mit einer der Schwestern Unity Mitfords, gut vernetzt, blieb er stets "der kommende Mann, der niemals ankam", wie Zeitzeugen urteilten. In keiner Partei hielt es der notorische Womanizer lange aus, ging von den Konservativen zum linken Rand von Labour, von dort in die Parteilosigkeit, um schließlich die New Party zu gründen, die sich schon bald als Totgeburt herausstellte. Ein Ausflug auf einen Ministersessel brachte ihn mit den sozialen Problemen der späten zwanziger Jahre in Berührung, die nicht mehr von seiner politischen Agenda weichen sollten. Sehr spät erst, am 1. Oktober 1932, gründete er mit der British Union of Fascists (BUF) eine Sammelbewegung für die bereits existierenden, bis dato unbedeutenden faschistischen Gruppierungen in England.
In vielen Punkten kopierte er nun seine Vorbilder aus Italien und Deutschland, ordnete eine Parteiuniform an, die seinen Anhängern zum Namen Blackshirts verhalf, baute einen schlagkräftigen Saalschutz auf (von einem jüdischen Boxer trainiert) und imitierte in seinen Redeauftritten die exaltierten Posen seiner Idole. Für die feine englische Art war der faschistische Mosley eine bizarre Erscheinung, "a figure of fun rather than fear", wie manch bissige Kommentatoren bemerkten.
Inhaltlich zeichnete sich sein Faschismus allerdings durch eine starke Betonung des gesellschaftlichen Korporatismus ("no player has the "liberty" to play his own game") und der wirtschaftlichen Abschottung des Inselreichs aus. Überhaupt ist die Programmatik der BUF sehr stark von linken Befindlichkeiten durchsetzt, schlägt einen revolutionären Ton an und verzichtet weitgehend auf einen rassischen Antisemitismus. Dennoch blieb Mosleys Bewegung angesichts der politischen Großwetterlage am Vorabend des Zweiten Weltkrieges der durchschlagende Erfolg versagt. Einst als politisches Talent mit Zeug zum Premierminister gehandelt, verspielte er nach kurzlebigen Achtungserfolgen den Rest an Renommee, um 1939 als "Bandenführer" (Ernst Nolte) im East End Londons zu enden. Am 22. Mai 1940 wurden Mosley sowie 813 führende Aktivisten der BUF auf der Grundlage der Defence Regulations 18 B/ 18AA für die Dauer des Krieges interniert. Der britische Faschismus schien somit vollständig erledigt.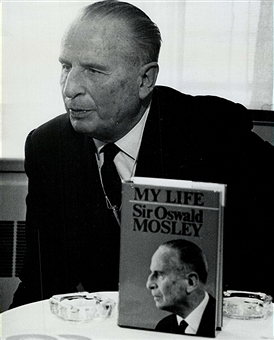 Europa als dritte Kraft
Und doch erschallten am 15. November 1945 vor dem Royal Hotel in London "Mosley, Mosley"- Rufe aus einer 800 bis 1000-köpfigen Menge, die auf ihr Idol wartete. Die Internierung und soziale Ächtung vieler Mitglieder der BUF hatte die Gruppe zusammengeschweißt und noch fester an den einstigen "Führer" gebunden, dessen Verehrung beinahe kultische Ausmaße annahm. Der so Gefeierte zog sich zunächst zurück und formulierte 1947 seine geopolitischen Gedanken, die Europa zwischen den USA (Stichwort money) und Sowjetrussland (Stichwort mob) als eigenständige Dritte Kraft verorteten.
Viele seiner Mitstreiter, die noch den alten "Britain first"-Slogan im Ohr hatten, konnten oder wollten ihm darin jedoch nicht folgen. Und so kam es, dass der in Europa einmalige Versuch, mit einem prominenten Vertreter des Vorkriegs-Faschismus unmittelbar nach Kriegsende eine neue faschistische Kraft zu entfalten, misslang. Die 1948 gegründete Partei Union Movement (UM) fiel bei den Wahlen durch und wurde überdies auf ihren Veranstaltungen regelmäßig Ziel gewaltsamer Attacken anti-faschistischer Gruppen, die den Wahlausgang gar nicht erst abwarten wollten.
Für Uneinigkeit und Irritationen sorgten überdies Einzelinitiativen ehemaliger BUF-Kader, die sich dem Revisionismus verschrieben, die versuchten, Gewerkschaften, Sportclubs etc. zu infiltrieren, für die sogenannte Stille Hilfe ehemaliger SS-Angehöriger zu werben oder eine rechte Öko-Landwirtschaft aufzubauen. Oswald Mosley hingegen zog es nach den Wahlschlappen und allerlei internen Querelen zunehmend ins Ausland, wo er von nun an bestrebt war, den englischen Nationalismus zu internationalisieren und auf eine breitere, pan-europäische Grundlage zu stellen.
Englands letzter (erster) Europäer
Wie schon zu Beginn der dreißiger Jahre, als Oswald Mosley die faschistischen Bewegungen aus erster Hand studieren wollte, zog es auch den späten Mosley ins Ausland. Diesmal, um Bundesgenossen für seine Vorstellung einer geeinten europäischen Kultur unterschiedlicher Nationalismen, die unter dem Motto Europe-A-Nation stand, zu finden. Einer der ersten und umstrittensten Kontakte ergab sich im Nachkriegsdeutschland, wo Mosleys Gedanken in der Deutschen Reichspartei (DRP) sowie in deren Nachfolgeorganisation, der 1952 verbotenen, Sozialistischen Deutschen Reichspartei (SRP) zirkulierten.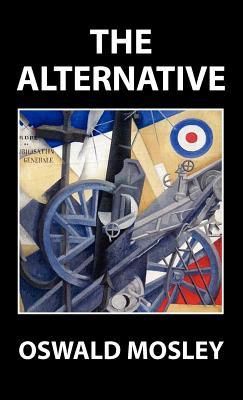 Dies geschah mithilfe der deutschen Edition seines Werkes The Alternative, das auch in anderen Sprachen erhältlich war und sogar das Lob General Francos in Spanien gefunden hatte. Mosley pflegte Umgang mit der Familie Otto Skorzenys, des Mussolini-Befreiers und vertrat die Auffassung, die internationalen Formationen der Waffen SS gegen Ende des Krieges hätten seine Idee eines gesamteuropäischen, antikommunistischen Nationalismus vorweggenommen. Persönlich reiste Mosley nach Spanien, Portugal, Italien sowie nach Südamerika, stets unter dem wachsamen Auge des britischen Geheimdienstes MI6.
Europäische Soziale Bewegung
Auch, wenn viele Regierungen dieser Länder von der Aufwartung Mosleys in nicht geringe diplomatische Verlegenheit gebracht wurden, waren die Reisen für sein Vorhaben nicht ganz fruchtlos. Immerhin konnten sich an die hundert Delegierte aller neo-faschistischen Parteien Europas 1951 im schwedischen Malmö zu einem Kongress treffen, an dessen Ende die Europäische Soziale Bewegung (ESB) als Dachorganisation gegründet wurde.
Sie sollte alle europäischen Idealisten zur gemeinsamen Verteidigung Europas gegen den damals noch herrschenden Kommunismus aufrufen und zusammenbringen. Diese Art einer neo-faschistischen "Ökumene", in die sich auch Intellektuelle, wie der Franzose Maurice Bardèche einbrachten, scheiterte letztlich an den kleingeistigen nationalen Ressentiments, vor allem gegenüber Deutschland. Die Wunden des Krieges waren noch zu frisch. Auch die nationalen Parteien standen damals unter einem enormen Rechtfertigungsdruck von Seiten der heimischen Bevölkerung.
Ein Gespenst geht um in Europa
Der berühmte Eingangssatz aus dem Kommunistischen Manifest ließe sich auch auf die heutige Situation übertragen. Das Gespenst, zu dessen "heiligen Hetzjagd" heute aufgerufen wird, ist allerdings der Rechtspopulismus, den man, so unscharf wie möglich, als Neo-Faschismus klassifiziert. Dabei ist eine Rehabilitierung des faschistischen Grundgedankens, den Mosley in Anlehnung an Mussolini im Symbol des Liktorenbündels konzentriert sah, gerade in der heutigen Situation zumindest bedenkenswert. Dieses altrömische Amtssymbol verdeutlicht, wie sehr eine einzelne Rute schwach und zerbrechlich, alle "Fasces" zusammen aber hart und nicht zu brechen sind. Schon der Rechts-Esoteriker Julius Evola sprach sich in den 60iger Jahren für solch eine Rehabilitierung aus, die darauf abzielte, auch diesem historischen Phänomen Gerechtigkeit widerfahren zu lassen, wie man gegenüber dem Kommunismus zu tun bereit war.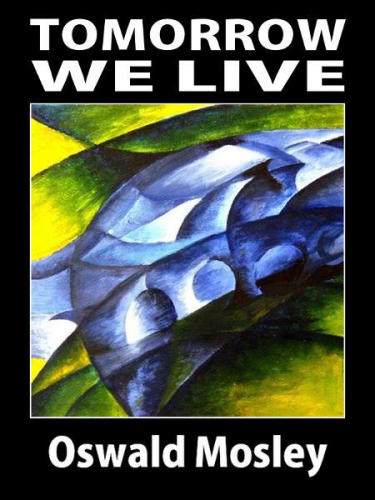 Mosley wie Evola konnten über die Verbrechen des Faschismus und seiner extremen Ableitung des Nationalsozialismus schwerlich hinwegsehen. Oswald Mosley verfiel in dieser Frage in eine dunkle Erlösungs-Mystik, die er sowohl bei Nietzsche fand, als auch seiner Lektüre von Goethes Faust zu verdanken hatte. Das Böse sei für den faustischen Menschen, zu dessen Gattung die Deutschen nun einmal gehörten, die unvermeidliche Finsternis auf dem langen Weg zum Licht. Ganz gleich, ob man sich zu solcherlei esoterischen Spekulationen hingezogen fühlt oder nicht, beide Autoren kamen nicht umhin, die Verbrechen anzuerkennen, sie aber zugleich vom Ur-Faschismus zu trennen. Nur so glaubten sie, den lähmenden Schuldkomplex überwinden zu können. Denn an die Mobilisierungs-Energie dieses frühen Faschismus sollten auch zukünftige Generationen wieder andocken dürfen.
"Faschismus reloaded" ein Ding der Unmöglichkeit
In der Tat wäre angesichts der eingangs genannten exponentiellen Bedrohungen der europäischen Gesellschaften ein Mobilisierungspotenzial vonnöten, das kaum andere historische Vorbilder hätte. Trotzdem hätte man es mit einem Modell zu tun, das mitnichten ein "Faschismus reloaded" wäre. Es bräuchte nämlich keinen Hitler- oder römischen Gruß, keine offensive Gewaltanwendung, keinen Antisemitismus, keinen Revisionismus, keinen engstirnigen Nationalismus, nicht einmal eine einzige überragende Führergestalt.
Was es hingegen bräuchte, wäre ein Korpsgeist, der alle Beteiligten beseelen würde, eine paramilitärische Phalanx und einen Gleichschritt, der die fatale Vereinzelung aufheben und die Kraft einer entschlossenen Gemeinschaft fühlbar machen würde. Es bräuchte den Geist der Selbstbehauptung und Würde, der klassenübergreifend zu gelten hätte und der den Einzelnen wieder an seine Wurzeln heranführte, um ihn der Automatisierung, der Ohnmacht und der Apathie zu entreißen. Letztlich bräuchte es den Mut zum Tabubruch, gleichsam zur Pubertät, um der überreifen Fäulnis vergreisender Gesellschaften eine kühne Dynamik entgegenzusetzen. Und alles dies europaweit. Die Frage bleibt, ob es offen und für alle sichtbar geschehen kann oder ob dies nur noch im Untergrund möglich sein wird. Dort sind die Reihen bekanntlich geschlossener.