mercredi, 27 mars 2013
Postmodernism, Hedonism, & Death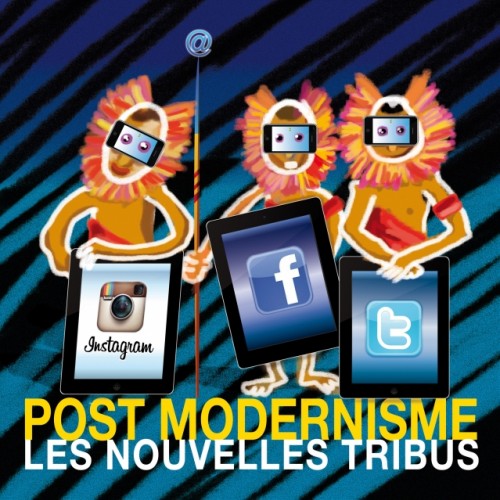 Postmodernism, Hedonism, & Death
By Greg Johnson
Ex: http://www.counter-currents.com/
"Postmodernism" is one of those academically fashionable weasel words like "paradigm" that have now seeped into middlebrow and even lowbrow discourse. Those of us who have fundamental and principled critiques of modernity quickly learned that postmodernism is not nearly postmodern enough. Indeed, in most ways, it is just an intensification of the worst features of modernity.
I wish to argue two philosophical theses: (1) there is an inner identity between postmodern culture and hedonism, and (2) hedonism, taken to an extreme, can lead to its self-overcoming by arranging an encounter with death—an encounter which, if survived, can expand one's awareness of one's self and the world to embrace non-hedonistic motives and actions.
For my purposes, postmodernity is an attitude toward culture characterized by (1) eclecticism or bricolage, meaning the mixing of different cultures and traditions, i.e., multiculturalism, and (2) irony, detachment, and playfulness toward culture, which is what allows us to mix and manipulate cultures in the first place. The opposite of multiculturalism is cultural integrity and exclusivity. The opposite of irony is earnestness. The opposite of detachment is identification. The opposite of playfulness is seriousness.
The core of a genuine culture is a worldview, an interpretation of existence and our place in it, as well as of our nature and the best form of life for us. These are serious matters. Because of the fundamental seriousness of a living culture, each one is characterized by a unity of style, the other side of which is an exclusion of foreign cultural forms. After all, if one takes one's own worldview seriously, one cannot take incompatible worldviews with equal seriousness. (Yes, cultures do borrow from one another, but a serious culture only borrows what it can assimilate to its own worldview and use for its greater glory.)
The core of a living culture is not primarily a set of ideas, but of ideals. Ideals are ideas that make normative claims upon us. They don't just tell us what is, but what ought to be. Like Rilke's "Archaic Torso of Apollo," ideals demand that we change our lives. The core of a living culture is a pantheon of ideals that is experienced as numinous and enthralling. An individual formed by a living culture has a fundamental sense of identification with and participation in his culture. He cannot separate himself from it, and since it is the source of his ideas of his nature, the good life, the cosmos, and his place in it, his attitude toward culture is fundamentally earnest and serious, even pious. In a very deep sense, he does not own his culture, he is owned by it.
In terms of their relationship to culture, human beings fall into two basic categories: healthy and unhealthy. Healthy human beings experience the ideals that define a culture as a challenge, as a tonic. The gap between the ideal and the real is bridged by a longing of the soul for perfection. This longing is a tension, like the tension of the bowstring or the lyre, that makes human greatness possible. Culture forms human beings not merely by evoking idealistic longings, but also by suppressing, shaping, stylizing, and sublimating our natural desires. Culture has an element of mortification. But healthy organisms embrace this ascetic dimension as a pathway to ennoblement through self-transcendence.
Unhealthy organisms experience culture in a radically different way. Ideals are not experienced as a challenge to quicken and mobilize the life force. Instead, they are experienced as a threat, an insult, an external imposition, a gnawing thorn in the flesh. The unhealthy organism wishes to free itself from the tension created by ideals—which it experiences as nothing more than unreasonable expectations (unreasonable by the standards of an immanentized reason, a mere hedonistic calculus). The unhealthy organism does not wish to suppress and sublimate his natural desires. He wishes to validate them as good enough and then express them. He wants to give them free reign, not pull back on the bit.
Unfortunately, the decadent have Will to Power too. Thus they have been able to free themselves and their desires from the tyranny of normative culture and institute a decadent counter-culture in its place. This is the true meaning of "postmodernism." Postmodernism replaces participation with detachment, earnestness with irony, seriousness with playfulness, enthrallment with emancipation. Such attitudes demythologize and profane the pantheon of numinous ideals that is the beating heart of a living culture.
Culture henceforth becomes merely a wax museum: a realm of dead, decontextualized artifacts and ideas. When a culture is eviscerated of its defining worldview, all integrity, all unity of style is lost. Cultural integrity gives way to multiculturalism, which is merely a pretentious way of describing a shopping mall where artifacts are bought and sold, mixed and matched to satisfy emancipated consumer desires: a wax museum jumping to the pulse of commerce.
Yet, even when desire becomes emancipated and sovereign, it has a tendency to dialectically overcome itself, for the reckless pursuit of pleasure often leads to brushes with death, which can cause a fundamental re-evaluation of one's life and priorities. As William Blake said, "The fool who persists in his folly will become wise."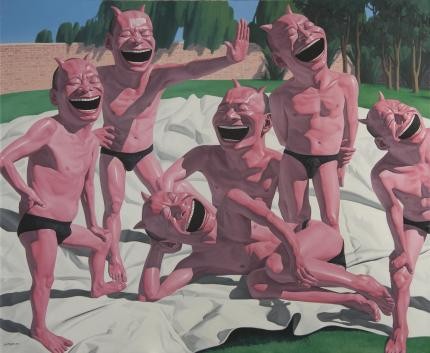 Furthermore, as much as hedonists wish to become mere happy animals, they remain botched human beings. The human soul still contains longings for something more than mere satiation of natural desires. These longings, moreover, are closely intertwined with these desires. For instance, merely natural desires are few and easily satisfied. But the human imagination can multiply desires to infinity. Most of these artificial desires, moreover, are for objects that satisfy a need for honor, recognition, status, not mere natural creature comforts. Hedonism is not an animal existence, but merely a perverted and profaned human existence.
Thus there will always be a "surplus" of humanity over and above what can be satisfied by natural desires. This surplus demands satisfaction too, causing a deep dissatisfaction and restlessness in every hedonist. This restlessness can also lead, ultimately, to a transformative encounter with death.
If animal life is all about contentment, plenitude, fullness—the fulfillment of our natural desires—then a distinctly human mode of existence emerges when hominids mortify the flesh in the name of something higher.
Hegel believed that the perforation of the flesh was the first expression of human spirit in animal existence. This throws an interesting light on the popularity of body piercing and tattooing in the context of postmodern culture, which is the subject of my next piece.
For Hegel, however, the truly anthropogenetic encounter with death is not the "little death" of self-mortification, but rather an intentionally undertaken battle to the death over honor, which is the subject of a future article as well.
Note
This is the first of several pieces which I am transposing and adapting from various film reviews [2] into stand-alone articles in order to encourage broader dissemination and discussion.
---
Article printed from Counter-Currents Publishing: http://www.counter-currents.com
URL to article: http://www.counter-currents.com/2013/03/postmodernism-hedonism-and-death/
URLs in this post:
[1] Image: http://www.counter-currents.com/wp-content/uploads/2013/03/Bosch_Hieronymus_-_The_Garden_of_Earthly_Delights_right_panel_-_Detail-_Rabbit.jpg
[2] various film reviews: http://www.counter-currents.com/2011/06/pulp-fiction-part-1/
00:05 Publié dans Philosophie | Lien permanent | Commentaires (0) | Tags : philosophie, postmodernité, postmodernisme, hédonisme, déclin, décadence |
|
del.icio.us |
|
Digg |
Facebook