By Samer Hussein
Ex: http://balkanspost.com
One of the many examples of how far the multinationalist establishment is ready to go, is perfectly demonstrated in the case of so-called "Turanism".
Initially coined by the heads of some nationalist-minded high-ranking Ottoman military officials during their stay in the former German Empire (which in the second half of 19th century witnessed a rise of German nationalism), the concept and idea were later picked up by Western intelligence, and in particular by the British, who became aware of Turanism after making contact with Arminius Vambery, a Hungarian philologist who at the time served as an advisor of the Ottoman Sultan Abdülmecid I and who would later become an associate of Lord Palmerston. In Turanism, British intelligence saw an excellent opportunity that would help to cause provocations and destabilization in Iran, the Russian empire and China (mainly due to fact that all these nations had certain Turkic-speaking populations that often professed other faiths), as well as to counter certain ideological movements that they considered dangerous for their interests, namely pan-Syrianism and Pan-Iranism.
Since then, Turanism has been used as a tool of manipulation and destabilization in a large number of conflicts throughout the Eurasian basin (Chechnya, Karabagh, Syria, Xinjiang, etc..). It has also become an internet phenomenon among uneducated youths living in particular countries who often do not have a basic knowledge and understanding of history, geopolitics, linguistics, ethnology, genetics and anthropology. The adherents of the Turanic school of geopolitical nonsense are, for example, unable to understand the simple fact that the Japanese language and Altaic languages do not belong in the same group as they are not related. Even though there are indeed some words in Japanese language whose origin most likely is Altaic, this is all as relevant as is the fact that there are at least couple of hundred Arabic words in English. Obeying the logic of the Turanists it would also make sense to create an Anglo-Arab fraternal union.
Although Turanism might seem like a dangerous, chauvinist ideological movement at first, one quickly realizes that reading its basic principles and core tenets can be a cheap and very effective natural alternative to PROZAC (without any visible side-effects in people whose IQ can at least barely stand on two digits).
Turanism seeks a fraternal brotherhood and unity between Hungarians, Turks, Finns, Mongolians, Koreans, Estonians, Kazakhs, Uzbeks, Azeris, Turkmens, Tatars and the Japanese (even Native Americans in some recent incarnations).
So, Native Americans, Estonians, Koreans, Turks and Japanese. Onions, Strawberries, Eggplants, Olives and Pineapples. An eclectic mixture that would certainly assure spending the rest of the day in a bathroom when consumed due to the "conflicting nature" of the ingredients included.
Let's not kid ourselves: what exactly do the Estonian Protestant Christian, Turkish Sunni Muslim, Tuvan Shamanist and Japanese Shintoist have in common? Apart from the fact that they are all humans and live on the same planet, definitely not much. For comparison: Italy and Syria are considerably more connected to each other than Hungary and Turkey. Both Italy and Syria go all the way back to Antiquity. Once, the coastal Levantine Syrians known as the Phoenicians briefly colonized the Southern Italian shores. To this day, a considerable number of Southern Italians are carrying the Phoenician DNA.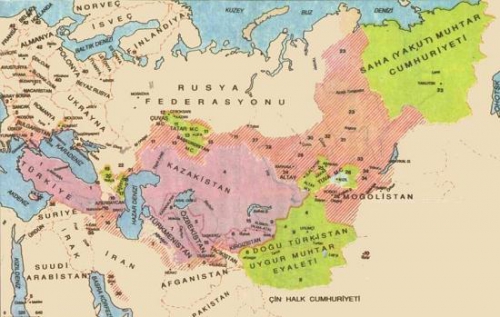 Centuries later, Romans conquered Syria. Not only did Syria become the main supplier of grain in the whole Roman empire, it was also an important political and judicial center. Despite this and the fact that Syria is the cradle of Christianity (which is nowadays the dominant religion in Italy) and the fact that it still has a seizable Christian minority, not much has been done to create a form of ethno-cultural fraternal union. Why? Because despite the fact that certain ties indeed do exist (and which are stronger than those between the traditionally Catholic Hungary and the predominantly Sunni Muslim Turkey, that is slowly turning itself into a totalitarian Sharia state and whose predecessor, the Ottoman Empire, was a bitter political foe of Hungary for many centuries), they are not strong enough to allow the creation of such union. But, if influental political powers were behind its introduction to the general public, then this would be an entirely different story. And this is exactly what happened in the case of Turanism. It was politics and its tools that helped to shape it and introduce it into mainstream. After years and years of propaganda, brainwashing and manipulation, people eventually start believing tales about things they previously had no clue about or would never have accepted. The people who pulled the strings in that case were not some curious, misled, deluded or uneducated people that were just trying to experiment. Rather, they were well-informed and did everything with particular purpose in order to achieve the goals which I already mentioned earlier.
As said before, Turanism is one of many tools used by Western intelligence agencies to achieve their goals. And indeed the Turanist groups play a certain role on the side favoured by Western intelligence. The most widely used Turanist assets are, without a single shred of doubt, the Turkish Grey Wolves. They are an ultra-nationalist terrorist group that was first formed by the Turkish colonel Alparslan Turkes in the late 1960s and acted as the armed wing of the extremist nationalist political party MHP. They are perhaps best remembered for their failed assassination attempt against the late Pope John Paul ll. The group's goal is to unite all Turkic people under one banner, using any means at its disposal. Presently their ideology is an obscure mix of radical pan-Turkist oriented Turkish nationalism and Sunni muslim fundamentalism, including Salafism and Wahhabism in some. In the last few decades the group has been active in several global conflicts, including the 1974 Cyprus crisis, the Karabagh war (present-day escalations including), the Chechnya war and more recently the Syrian war where the group is aiding Syrian Turkmen, Uyghur and other Turkic Islamist terrorist groups in their fight against the Syrian army.
It is estimated that, since 2011, more than 360,000 foreign terrorists have entered Syria. Although most of these have come from the surrounding Arab countries, there is also a significant presence of certain Turanist groups, namely the Turkish Grey Wolves and the Uyghur East Turkestan Islamist Movement. Both groups are currently active in Aleppo, Idleb and the Lattakia countryside. In December 2015 there were fierce clashes between the Syrian Army and the Turkish Grey Wolves in the Lattakia countryside, which gradually stopped in February 2016 after Syrian forces managed to liberate pretty much all areas that were formerly under the occupation of Turkmen gangs (and in which the Grey Wolves were stationed). At this very moment, the Grey Wolves are very much active in the outskirts of Aleppo where they engage in fierce clashes with the Syrian military on an almost daily basis. The East Turkestan Islamist movement also has a visible presence in Syria, especially in the province of Idleb. In the town of Jisr Al Shoghour there is a colony of more than 3500 Uyghur terrorists and their families, including elderly, who violently took over the homes of former Syrian locals. As a result, the former Syrian residents of the town were forced to flee the area and thus became refugees.
Without a single shred of doubt, the Syrian conflict is so far the first global conflict to have witnessed the widespread participation of the Turanist groups as combatants on such a scale; and the results have been less than stellar.
Turanism just doesn't seem to have as great a following as some might expect. When it comes to daily politics, of all the countries that are supposed to be affected by this particular ideological nonsense, there is only some following in Hungary (Jobbik) and Turkey (MHP) and far from majority-public opinion. Various groups of Turanists also have different opinions and beliefs when it comes to certain things. For example, some Hungarian Turanists openly detest Islam and many are displeased with the presence of the Turkish Grey Wolves, especially because the latter are known for their proximity to Radical Islamism as well as the fact that some of the revenue of that group is being made from drug smuggling and the human trafficking business, not to mention the traditional anti-Christian and anti-European attitude that the Grey Wolves have (Jobbik stand for preserving the values of Christian Europe).
The most alarming thing about Turanism are terrorist groups who associate themselves with its ideology. They have played an extremely destructive role in pretty much all the conflicts that they have been involved in so far (especially in Syria). Luckly they always get involved fighting on a side that loses or is about to lose.