lundi, 09 janvier 2012
When Fascism Was On the Left
When Fascism Was On the Left
by Keith Preston
Ex: http://www.alternativeright.com/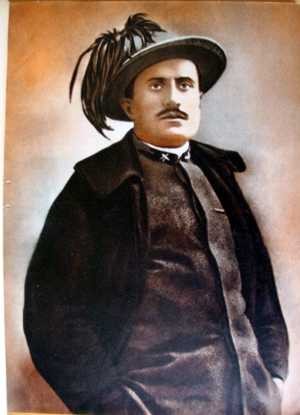 The conventional left/right model of the political spectrum holds Fascism and Marxism to be polar opposites of one another. Marxism is regarded as an ideology of the extreme Left while Fascism supposedly represents an outlook that is about as far to the Right as one can go. A title recently translated into English by Portugal's Finis Mundi Press, Eric Norling's Revolutionary Fascism, does much to call the perception of Fascism, conceived of as it was by Mussolini and his cohorts, as an ideology of the extreme Right into question.
This work was originally published in 2001 and author Norling, a historian and lawyer, is a native Swede who now resides in Spain. Norling observes that throughout the entirety of his early life, from childhood until World War One, Mussolini was every bit as much as man of the Left as contemporaries such as Eugene V. Debs. He was what would later come to be known as a "red diaper baby" (meaning the child of revolutionary socialist parents). As a young man, Mussolini himself was a Marxist, fervently anticlerical, went to Switzerland to evade compulsory military service, and was arrested and imprisoned for inciting militant strikes. Eventually, he became a leader in Italy's Socialist Party and he was imprisoned once again in 1911 for his antiwar activities related to Italy's invasion of Libya. Mussolini was so prominent a socialist at this point in his career that he won the praise of Lenin who considered him to be the rightful head of a future Italian socialist state.
When World War One began in 1914, Mussolini initially held to the Italian Socialist Party's antiwar position, but in the ensuing months switched to a pro-war position which earned him an expulsion from the party. He then enlisted in the Italian army and was wounded in combat. The reasons for Mussolini's shift to a pro-war position are essential to understanding the true origins and nature of fascism and its place within the context of twentieth century political and intellectual history. Mussolini came to see the war as an anti-imperialist struggle against the Hapsburg dynasty of Austria-Hungary. Further, he regarded the war as an anti-monarchist struggle against conservative forces such as the Hapsburgs, the Ottoman Turks, and the Hohenzollern's of Germany and attacked these regimes as reactionary enemies who had repressed socialism. Mussolini also prophetically believed that Russia's participation in the war would weaken that nation to the point where it was susceptible to socialist revolution (which is precisely what happened). In other words, Mussolini regarded the war as an opportunity to advance leftist revolutionary struggles in Italy and elsewhere.
When the Italian Fascist movement was founded in 1919, most of its leaders and theoreticians were, like Mussolini himself, former Marxists and other radical leftists such as proponents of the revolutionary syndicalist doctrines of Georges Sorel. The official programs issued by the Fascists, translations of which are included in Norling's book, reflected a standard mixture of republican and socialist ideas that would have been common to any European leftist group of the era. If indeed the evidence is overwhelming that Fascism has its roots on the far Left, then from where does Fascism's reputation as a rightist ideology originate?
The answer appears to be a combination of three primary factors: Marxist propaganda that has regrettably found its way into the mainstream historiography, the revision of leftist revolutionary doctrine itself by Fascist leaders, and the inevitable compromises and accommodations made by Fascism upon the achievement of actual state power. Regarding the first these, David Ramsay Steele described the standard Marxist interpretation of Fascism in an important article on Fascism's history:
In the 1930s, the perception of "fascism"in the English-speaking world morphed from an exotic, even chic, Italian novelty into an all-purpose symbol of evil. Under the influence of leftist writers, a view of fascism was disseminated which has remained dominant among intellectuals until today. It goes as follows:

Fascism is capitalism with the mask off. It's a tool of Big Business, which rules through democracy until it feels mortally threatened, then unleashes fascism. Mussolini and Hitler were put into power by Big Business, because Big Business was challenged by the revolutionary working class. We naturally have to explain, then, how fascism can be a mass movement, and one that is neither led nor organized by Big Business. The explanation is that Fascism does it by fiendishly clever use of ritual and symbol. Fascism as an intellectual doctrine is empty of serious content, or alternatively, its content is an incoherent hodge-podge. Fascism's appeal is a matter of emotions rather than ideas. It relies on hymn-singing, flag-waving, and other mummery, which are nothing more than irrational devices employed by the Fascist leaders who have been paid by Big Business to manipulate the masses.
This perception continues to be the standard leftist "analysis" of Fascism even in present times, and goes a long way towards explaining why, for instance, American political movements or figures that have absolutely nothing to do with historic Fascism, such as the Tea Party or the neocon mouthpieces of FOX News or "conservative" talk radio, continue to be recipients of the "fascist" label by atavistic liberals and leftists.
The reality of Fascism's origins was quite different. Its creators were an assortment of leftist intellectuals and political figures whose common reference point was their realization that Marxism was a failed ideology. As Steele observed:
Fascism began as a revision of Marxism by Marxists, a revision which developed in successive stages, so that these Marxists gradually stopped thinking of themselves as Marxists, and eventually stopped thinking of themselves as socialists. They never stopped thinking of themselves as anti-liberal revolutionaries.

The Crisis of Marxism occurred in the 1890s. Marxist intellectuals could claim to speak for mass socialist movements across continental Europe, yet it became clear in those years that Marxism had survived into a world which Marx had believed could not possibly exist. The workers were becoming richer, the working class was fragmented into sections with different interests, technological advance was accelerating rather than meeting a roadblock, the "rate of profit" was not falling, the number of wealthy investors ("magnates of capital") was not falling but increasing, industrial concentration was not increasing, and in all countries the workers were putting their country above their class.
The early Fascists were former Marxists who had come to doubt the revolutionary potential of class struggle, but had simultaneously come to regard revolutionary nationalism as showing considerable promise. As Mussolini remarked in a speech on December 5, 1914:
The nation has not disappeared. We used to believe that the concept was totally without substance. Instead we see the nation arise as a palpitating reality before us!...Class cannot destroy the nation. Class reveals itself as a collection of interests—but the nation is a history of sentiments, traditions, language, culture, and race. Class can become an integral part of the nation, but the one cannot eclipse the other. The class struggle is a vain formula, with effect and consequence wherever one finds a people that has not integrated itself into its proper linguistic and racial confines—where the national problem has not been definitely resolved. In such circumstances the class movement finds itself impaired by an inauspicious historic climate.
Fascism subsequently abandoned class struggle for a revolutionary nationalist outlook that stood for class collaboration under the leadership of a strong state that was capable of unifying the nation and accelerating industrial development. Indeed, Steele made an interesting observation concerning the similarities between Italian and Third World Marxist "national liberation" movements of the second half of the twentieth century:
The logic underlying their shifting position was that there was unfortunately going to be no working-class revolution, either in the advanced countries, or in less developed countries like Italy. Italy was on its own, and Italy's problem was low industrial output. Italy was an exploited proletarian nation, while the richer countries were bloated bourgeois nations. The nation was the myth which could unite the productive classes behind a drive to expand output. These ideas foreshadowed the Third World propaganda of the 1950s and 1960s, in which aspiring elites in economically backward countries represented their own less than scrupulously humane rule as "progressive" because it would accelerate Third World development. From Nkrumah to Castro, Third World dictators would walk in Mussolini's footsteps. Fascism was a full dress rehearsal for post-war Third Worldism.
During its twenty-three years in power, Mussolini's regime certainly made considerable concessions to traditionally conservative interests such as the monarchy, big business, and the Catholic Church. These pragmatic accommodations borne of political necessity are among the evidences typically offered by leftists as indications of Fascism's rightist nature. Yet there is abundant evidence that Mussolini essentially remained a socialist throughout the entirety of his political life. By 1935, thirteen years after Mussolini seized power in the March on Rome, seventy-five percent of Italian industry had either been nationalized outright or brought under intensive state control. Indeed, it was towards the end of both his life and the life of his regime that Mussolini's economic policies were at their most leftist.
After briefly losing power for a couple of months during the summer of 1943, Mussolini returned as Italy's head of state with German assistance and set up what came to be called the Italian Social Republic. The regime subsequently nationalized all companies employing more than a hundred workers, redistributed housing that was formerly privately owned to its worker occupants, engaged in land redistribution, and witnessed a number of prominent Marxists joining the Mussolini government, including Nicola Bombacci, the founder of the Italian Communist Party and a personal friend of Lenin. These events are described in considerable detail in Norling's work.
It would appear that the historic bitter rivalry between Marxists and Fascists is less a conflict between the Left and the Right, and more of a conflict between erstwhile siblings on the Left. This should come as no particular surprise given the penchant of radical leftist groupings for sectarian blood feuds. Indeed, it might be plausibly argued that leftist "anti-fascism" is rooted in jealously of a more successful relative as much as anything else. As Steele noted:
Mussolini believed that Fascism was an international movement. He expected that both decadent bourgeois democracy and dogmatic Marxism-Leninism would everywhere give way to Fascism, that the twentieth century would be a century of Fascism. Like his leftist contemporaries, he underestimated the resilience of both democracy and free-market liberalism. But in substance Mussolini's prediction was fulfilled: most of the world's people in the second half of the twentieth century were ruled by governments which were closer in practice to Fascism than they were either to liberalism or to Marxism-Leninism. The twentieth century was indeed the Fascist century.
00:05 Publié dans Histoire | Lien permanent | Commentaires (1) | Tags : histoire, fascisme, gauche, socialisme, italie, 20ème siècle |
|
del.icio.us |
|
Digg |
Facebook