Speaking in Libya on Saturday, Turkish Prime Minister Recep Tayyip Erdoğan urged France to face its own history before judging the history of others, the Turkish press reports.
Erdoğan's strong reaction came in response to a vote by the French Senate to criminalise denial in France of the so-called Armenian genocide of 1915 and make it punishable by a maximum one-year prison sentence and a €45,000 fine – a punishment that would bring denial of the alleged genocide up to par with denial of the Holocaust.
"Today, nobody talks about the 45,000 Algerian deaths in 1945 or the role of France in the massacre of 800,000 people in Rwanda in 1994," Erdoğan said.
Turkish officials have warned France of grave consequences should the bill be passed by the French Senate. Erdoğan sent a letter to the French President Nicolas Sarkozy on Friday, warning him of the damage the bill would cause to bilateral relations.
"This bill directly targets the state of the Turkish Republic, the Turkish nation and the Turkish community in France and is seen as hostile," Erdoğan was quoted as saying in the letter, seen by the Anatolia news agency.
Speaking in a joint press conference with Mustafa Abdul-Jalil, chairman of the Libyan National Transitional Council (NTC), Erdoğan repeated Turkey's official stance regarding the Armenian deaths of 1915 as an historical matter that calls for the judgement of historians and academics rather than as a matter of politics to be voted on in parliaments.
French election strategies?
Ankara has also raised doubts regarding Sarkozy's motives in changing his stance regarding the Turkish-Armenian conflict, speculating that the French president might be seeking votes from the strong Armenian community in France to gain an advantage over his Socialist Party rival, François Hollande.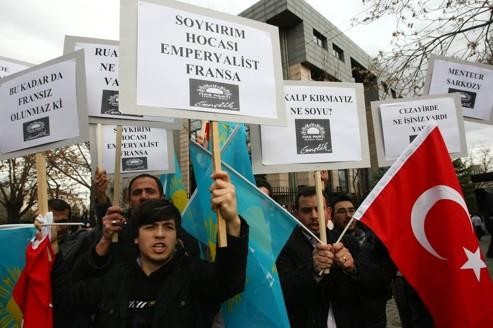 The Socialist candidate is also a known defender of the "Armenian genocide" and said that he would support a law to make genocide denial punishable by French courts.
"The bill is completely against common sense. The toll [in the case the bill passes into law] will be on French firms conducting business in Turkey," Turkey's EU Affairs Minister Egemen Bağış said on Saturday (17 December).
Business to suffer
Two days before, Turkish Foreign Minister Ahmet Davutoğlu had invited executives from French firms in Turkey to his ministry to discuss the possible results of such a law for French investment in the country.
Apparently unmoved by Ankara's warnings, Sarkozy's ruling party reaffirmed its faith in the bill, expressing support for its passage. Lawmakers interviewed by AFP said that they were "determined at this time" that the bill should not return from the Senate, as it did back in 2006 during a first attempt.
France had previously brought the same bill to the agenda five years ago, but the French Senate refused to discuss it even though France recognised the Armenian deaths of 1915 as genocide in 2001.