samedi, 05 avril 2014
Obama tells Saudi Arabia that US values Riyadh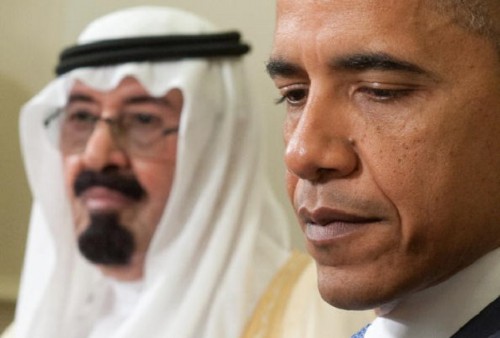 Obama tells Saudi Arabia that US values Riyadh: Sharia law and Exporting Hatred
Ramazan Khalidov and Lee Jay Walker
Modern Tokyo Times
Ex: http://www.moderntokyotimes.com

If you want to visit a nation state that supports apartheid law to the absolute, then welcome to Saudi Arabia. Yes, in the land of Saudi Arabia not one single Buddhist temple, Christian church, Hindu temple, and other non-Muslim faiths, are tolerated. However, while America, France, the United Kingdom, and other Western states, support multi-cultural values at home; they don't mind doing business with a nation that bans all non-Muslim faiths, supports apartheid Islamic Sharia laws and child marriage to the tilt.
Of course, Saudi Arabia is not alone in supporting apartheid Islamic Sharia law but to make matters worse, this nation is exporting terrorism, Islamist Salafi indoctrination and funding educational institutions that sprout hatred. Despite this, with the West being in self-destruct mode then Gulf petrodollars are allowed to spread indoctrination and a fifth column in many societies. Therefore, Saudi Arabia spends vast sums on spreading Salafi Islam and buying powerful Western institutions with money in order to make up a false history. This blatant hypocrisy is tolerated because of the power of energy and the ineptness of major Christian churches and international politicians that are too silent.
In the twenty first century, just like in the late seventh century, apostates in the land of Arabia face death. Meanwhile, in nations like Saudi Arabia and Somalia, if non-Muslim males desire to marry a Muslim female based on "genuine love," then this may lead to either prison or death. However, white anti-racists, the trendy left and rampant capitalists don't appear to worry too much about this – in other words, Islamic Sharia law states are allowed to treat non-Muslims with utter contempt when it comes to law.
Can you imagine what would happen if one modern European nation introduced a law whereby Muslim males faced prison or death for marrying non-Muslims? Yes, this would be on the news night and day but of course the West is intent on silencing all critics of this reality by playing the "Islamophobia card." Strange, because in Somalia the al-Shabaab is beheading all apostates to Christianity that they can find. In other words, this isn't a phobia because it is a reality in many parts of the world irrespective if by terrorist forces or by state institutions like Saudi Arabia.
Discrimination is a reality in all nations, of course the degrees will vary, but in nation states that support Islamic Sharia law then non-Muslims and minority Muslim sects are deemed second-class citizens based on law. Indeed, when certain nations support killing apostates then obviously the term second-class citizen is too polite. After all, Islamic Sharia law is saying that non-Muslim males are subhuman and worthy of killing based on a legal code that maintains power mechanisms in order enforce dhimmitude and conversions based on fear.
Not all nations enforce the draconian reality of Islamic Sharia law to the full – after all stoning to death for adultery, killing apostates, allowing little girls to marry old men, and so forth, isn't progressive. Therefore, some Muslim majority nations adopt Islamic Sharia piecemeal in order to appease clerics at home, while trying to transform society at the same time. Leaders like Ataturk, Nasser and many others have tried to transform society based on modernism. However, with Gulf petrodollars fueling radical Islamic conservatism then even Turkey is under threat. This counter-Islamist revolution is threatening progressive forces in Bangladesh, Egypt, Indonesia, Iraq, Pakistan, Syria, Turkey, and other nations – and shockingly, major Western powers are often siding with the Saudi Arabia and Gulf agenda against secular forces in nations like Syria.
Internationally you have many convulsions whereby Muslims face enormous discrimination along with Christians in Myanmar (Burma). It should be remembered that more Christians in Myanmar have been killed over many decades because of central forces in Myanmar fighting the mainly Christian ethnic groups of the Karen, Shan, and Chin. Despite this, some radical Buddhists in Myanmar are singling out Muslims based on the eradication and persecution of Buddhists in the Chittagong Hill Tracts in Bangladesh and in Southern Thailand. In other words, Buddhist radicals fear the Saudi Arabian and Gulf venture of funding forces that seek to eradicate non-Muslims and minority Shia Muslims in the long run. Despite this, militant Buddhists in Myanmar must not follow the Islamic Sharia law mode of thinking by replicating this with equal laws based on anti-Muslim discrimination.
However, while Myanmar may be an anomaly it is clear that Saudi Arabia and other Sharia Islamic law states that support apartheid laws are numerous. Internally, this is a huge threat to non-Muslims, women that seek equal rights and minority Muslim sects that suffer from open discrimination. However, externally Saudi Arabia and other nations like Qatar and Pakistan are openly exporting terrorist and Takfiri Islamist forces to an array of different nations. In other words, Saudi Arabia, Pakistan and Qatar, and a few others, are dangerous because they are undermining many nation states alongside destroying indigenous Islam in Libya, Indonesia, Syria and in other nations like Bangladesh.
President Obama and other American presidents before him have all sold their collective souls by turning a blind eye to the brutal reality of Saudi Arabia. Of course, other leading Western nations have done the same and in Japan this reality also persists. Yet it is clear that Saudi Arabia and Gulf petrodollars are spreading a dangerous ideology far and wide therefore silence is tainting democracy and multi cultural values at home.
It is time to put real pressure on Saudi Arabia for supporting apartheid laws and exporting radical Salafi Islam. At the same time, it is time to differentiate between the indigenous Islam of Syria and the Levant – progressive Islam in Indonesia – the Alevis and so forth. Indeed, it is progressive Muslim forces that are on the frontline of Gulf petrodollars that seek to crush all moderate forces within "the diverse Muslim world." Therefore, radical Takfiris are destroying Sufi shrines, Shia mosques, Ahmadiyya mosques, killing indigenous Sunni Muslim clerics in Syria and espousing hatred towards Alawites – and other brutal realities. If this Islam is lost then all hope of co-existence will disappear and wider gulfs will emerge internationally. This reality needs to be acknowledged and then tackled but currently America and other major Western nations are siding with the forces of Gulf petrodollars. Until this ends, then nothing will change therefore a new order needs to emerge in order to break the chains. If not, then democratic nations are sowing the seeds of more hatred, destabilization, and growing sectarianism, based on the whims of Saudi Arabia and other Gulf powers.
00:05 Publié dans Actualité | Lien permanent | Commentaires (0) | Tags : actualité, états-unis, obama, arabie saoudite, politique internationale, géopolitique, moyen orient, monde arabe, monde arabo-musulman |
|
del.icio.us |
|
Digg |
Facebook