dimanche, 07 février 2016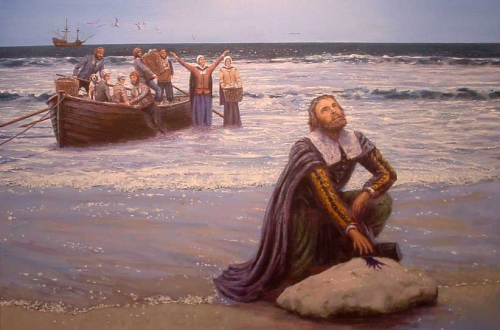 Calvinism: The Spiritual Foundation of America
Calvinism caught on like wild fire in North America (even among the White masses), where an austere spiritual-cultural-political-economic worldview was needed in order to: (1) inspire endless thrift and hard work among the masses, (2) tame the vast American wilderness (considered by settlers to be the biblical "Promised Land" or "Canaan"), and (3) subjugate the "heathen" Indians (also considered by settlers to be immoral "Canaanites").
To comprehensively understand any of the world's nations it is imperative to first understand a nation's spiritual foundation or "Soul." Without this basic understanding it is impossible to even begin to seriously form opinions about a nation and the broader civilization to which it is bound by culture and history – it would also be impossible to accurately compare and contrast the development of a particular nation with other countries and civilizations.What differentiates the United States culturally and historically from all other nations (even its closest European allies) is its unequivocal Calvinist spiritual foundation, which at some point – while North America was still only a series of colonies of the British Crown – organically morphed into the well-known "Protestant" or "Puritan" Ethic.This ideological transmutation signaled the arrival of Calvinist extremism in the New World – a development championed by the Anglo-Saxon elites of New England.
This religious-based ideology was originally developed in Europe by the Frenchman John Calvin (born Jehan Cauvin) during the Protestant Reformation. Eventually Calvinism made its way to the New World with the Puritans, and would greatly influence the development of the Enlightenment and the Industrial Revolution in both Western Europe and North America. To this day, Calvinism remains a "founding" ideological influence in the religious and secular worldviews of America's political, economic, and cultural elites. Before we continue, however, it is important to understand a little bit about John Calvin and the historical context of his time.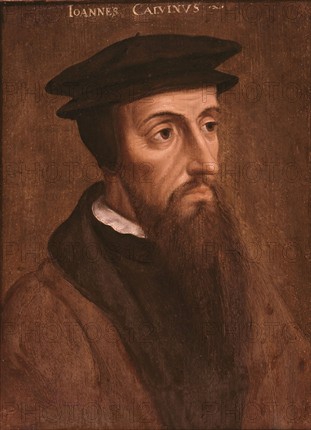 John Calvin (1509-1564) appeared as a player on the historical stage during an intense developmental period for Western civilization. The Roman Catholic Church had wielded power in the West for over a millennium, and during that time it had become increasingly corrupt as an institution – so much so that by the 16th century the Church hierarchy was funded (to a large degree) by a direct marketing scheme known as "indulgences." How the indulgences worked were as follows: No matter how grievously someone might have "sinned," one could buy a piece of paper signed by either a Bishop or a Cardinal, which guaranteed a place in heaven for that particular person or a loved one of the person's own choosing. These "get-out-of-hell-free" cards were sold by members of the clergy through franchises granted by the Church hierarchy. The typical indulgence erased one's previous sins, but for a larger fee there was a twisted kind of"super"indulgence which erased any future sins one might commit as well, no matter how great or blasphemous.
Much of the proceeds from this religiously based corporate swindle went straight to Rome and financed the wars waged by Papal armies, the sexual orgies of the clergy, the sadism of Grand Inquisitors, the genocide of non-Europeans, and other earthly "indulgences." Theselling of indulgences is precisely what the most famous of all 16th century "whistle blowers," Martin Luther, railed against and exposed in his 95 Theses – one of the first works published (alongside the Bible) using Guttenberg's new movable type printing press technology.
As one of the 16th century's most important Protestant reformers (second only to Luther), Calvin established himself as a minister in Basel and then later in Geneva. It was in these Swiss cities that he preached his distinctive brand of "reformed" Christianity, which advanced the premise that all human beings were innately depraved and totally undeserving of God's salvation. Such total pessimism was tempered by Calvin's belief that the Deity did happen to nevertheless hand-pick a minority of people, by means of his loving grace, to be the beneficiaries of eternal salvation. Calvin's unique spin on all this was that none of the lucky beneficiaries (or the "elect") deserved to go to heaven, no matter how profound their piety or copious their good works. In other words, no amount of good faith or good deeds could compensate for mankind's utterly irredeemable nature. If one was "chosen" by God it was not due to that person's own individual merits, it was merely an act of divine grace.
This dismal view of both God and humanity not only caught on in Europe and North America, but it became one of the key ideological underpinnings of post-feudal Europe, influencing every facet of revolutionary change, from the Enlightenment and the Industrial Revolution to the development of Capitalism and the exploitation of the entire planet by European imperialists. In time, it was essentially the countries of the Anglosphere – specifically Britain and its bastard offspring the United States – which embraced and promoted the Calvinist attitude most passionately.
It was precisely Calvinism that was needed in order to further advance the geopolitical and cultural interests of the Anglosphere. In order to employ large sums of money for the construction and staffing of industrial factories in Europe and in order to explore and commercially exploit the rest of the non-European world, a very specific ideology was needed; one which could re-legitimize the institution of usury (which the prior Medieval order adamantly opposed), and one which could legitimize unbridled avarice and exploitation – i.e. the accumulation of great wealth amidst even greater misery – and all within a preordained religious context. Calvinism, or a somewhat modified secular form of Calvinism, was a perfect fit.
For if it is true that the innate depravity of man is universal and no one deserves salvation, then it necessarily follows that the genocide of non-Europeans, the oppression of marginalized groups, the impoverishment of the working class and the annihilation of human life in ever bloodier conflicts are all nothing more than "natural" off shoots of man's incorrigible depravity. It does not matter, then, how many "Red savages" one kills in extending God's plan of Manifest Destiny for his cherished elect, nor does it matter how many paupers, workers, "infidels" or even common people are sacrificed in carrying out the absolute INSANITY of the Calvinist God's decrees.
In this context it is easy to see how the new Calvinist mercantile class in Europe and North America utilized their beliefs to justify their growing brutality against all classes, races and religious denominations which represented the "Other." Indeed, this new class of religiously motivated entrepreneurs totally believed that they were God's chosen people and the fortunate (though undeserving) recipients of His limited atonement. The pessimistic attitude the Calvinists held about their own good fortune – i.e. that they did not deserve it – helped keep them somewhat humble (at least outwardly) and fixated on their business matters. Thus, "Calvinist pessimism" was a useful ideological tool for those who would become known as the "Pilgrims" and "Puritans" in North America (those comprising the White Anglo-Saxon Protestant elite) to exploit, enslave and annihilate ever greater numbers of people, to accrue even more undeserved wealth for the "glory of God," so long as they did not (paradoxically) squander their holdings on "sinful" endeavors. And if they did succumb to any amount of sinful degradation (as they most certainly did) – oh well! That was merely the natural result of mankind's innate depravity. One could simply confess one's sins and commit oneself to doing better, since God's grace isinevitable in the end.
Needless to say, Calvinism caught on like wild fire in North America (even among the White masses), where an austere spiritual-cultural-political-economic worldview was needed in order to: (1) inspire endless thrift and hard work among the masses, (2) tame the vast American wilderness (considered by settlers to be the biblical "Promised Land" or "Canaan"), and (3) subjugate the "heathen" Indians (also considered by settlers to be immoral "Canaanites").
With the exception of a handful of Catholics in Maryland, the vast majority of European-American colonists subscribed to an ever increasing variety of Protestant sects which had their fundamental ideological roots in the reformist ideas of John Calvin and Martin Luther. Both commoners and elites thus embraced the intertwined religious and secular manifestations of the Calvinist ethos – a philosophy defined by the idea that, instead of merely working for one's living (in order to survive), one must "live to work."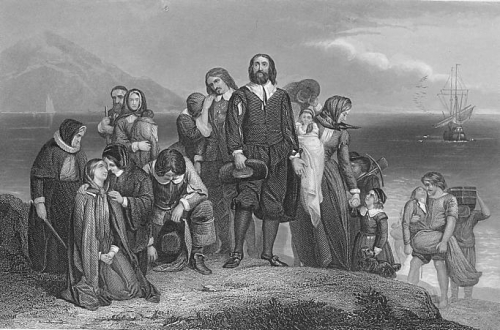 By the time of the American War of Independence, the Calvinist ethos had been firmly planted in the minds of the majority of colonists for a period of no less than a century and a half. In order to galvanize support for a successful war of secession against England – and, more to the point, against England's perceived anti-American mercantile policies – the American elites manipulated popular Puritan religious zeal for their own political and economic objectives.
Specifically, the landowning White American upper classes wanted to replace the British nobility as the sole rulers and exploiters of the North American continent. And so, a large-scale anti-British propaganda campaign was initiated.
Thomas Paine and other pro-American agitators of the time portrayed America as nothing other than "God's kingdom" and (long before Reagan) as a "shining city upon a hill" – in other words, as a place that was worth fighting for in the name of God. At the same time, Paine and his cohorts painted King George III in the most negative of lights – as a "Papist" and a bloodthirsty tyrant (patently false accusations).
And although the colonial smear campaign was obviously initiated in order to provide the majority Protestant colonists (the "useful idiots" as it were) with a common villain whom they could all rally against, the small farming class (which comprised the majority of all colonists) did not support the so-called "Revolution" (i.e. elite bourgeois uprising).The majority waseither disinterested in political decisions that did not directly affect themselves and their families, or they were (as many modern historians believe) "under the radar" loyalists who still considered themselves proud "Britons," regardless of religious affiliation. Nevertheless, the pro-independence faction won the day, and this was due, in no small way, to successful Calvinist propaganda among the town and city based American bourgeoisie – a demographic which was also very tied to the growing Freemasonic movement.
The defeat of the British in North America was a profound moment in American and indeed world history. More than a mere military/political victory for the colonists, the defeat of the British symbolized the defeat of the traditionalism of the Old World and the cultural and political ascendancy of liberalism in the New World – an outcome which owed a great deal to the powerful underlying influence of Calvinism, with its ideological conception of innate depravity and "chosenness," its self-righteous exploitation of man and nature, and its "live to work" ethos. In time, these concepts would be coopted by the 19th century's triumphant liberal bourgeois capitalist spirit, which replaced religion (as the dominant force in people's lives) with secular humanism – an ideology which is no less draconian in its "all or nothing" quest to control the planet.
A secular "civil religion" evolve dafter the separation from Britain, which promoted the United States as God's chosen nation – one which is historically unique, preeminent in world affairs and deserving of a special (almost "divine") status; hence, the corresponding offshoot beliefs of Manifest Destiny and American exceptionalism. The view that it is somehow virtuous to spend long, grueling hours at work beyond the need of economic survival – as opposed to leading a more balanced, healthier lifestyle – is yet another facet of Calvinism which was coopted by secular liberalism.
To conclude, it is accurate to say that extreme religious Calvinism constitutes the spiritual foundation of the United States. Certainly, Freemasonry is another part of the ideological substructure on which the U.S. was founded, and indeed much has been written on this topic and the injurious influence Freemasonry has had on traditional society, particularly with its rabid promotion of liberalism in all faces of human life. However, when one considers the role of Calvinism as it is – as being the spiritual catalyst of liberal American and/or "Freemasonic" values – one is forced to conclude that Calvinism (this great bastardization of genuine Christianity) is chiefly responsible for the creation and widespread acceptanceamong U.S. citizens of the dogma of American exceptionalism. And this latter represents, by far, the greatest ideological threat to the future welfare of all mankind.
13:14 Publié dans Histoire | Lien permanent | Commentaires (1) | Tags : histoire, calvinisme, puritanisme, pèlerins du mayflower, mayflower, états-unis, américanisme, religion |
|
del.icio.us |
|
Digg |
Facebook