lundi, 31 juillet 2017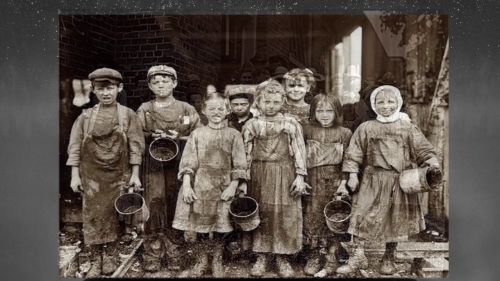 The Forgotten History of Britain's White Slaves in America
Slavery in America, typically associated with blacks from Africa, was an enterprise that began with the shipping of more than 300,000 white Britons to the colonies. This little known history is fascinatingly recounted in White Cargo (New York University Press, 2007). Drawing on letters, diaries, ship manifests, court documents, and government archives, authors Don Jordan and Michael Walsh detail how thousands of whites endured the hardships of tobacco farming and lived and died in bondage in the New World.
Following the cultivation in 1613 of an acceptable tobacco crop in Virginia, the need for labor accelerated. Slavery was viewed as the cheapest and most expedient way of providing the necessary work force. Due to harsh working conditions, beatings, starvation, and disease, survival rates for slaves rarely exceeded two years. Thus, the high level of demand was sustained by a continuous flow of white slaves from England, Ireland, and Scotland from 1618 to 1775, who were imported to serve America's colonial masters.
These white slaves in the New World consisted of street children plucked from London's back alleys, prostitutes, and impoverished migrants searching for a brighter future and willing to sign up for indentured servitude. Convicts were also persuaded to avoid lengthy sentences and executions on their home soil by enslavement in the British colonies. The much maligned Irish, viewed as savages worthy of ethnic cleansing and despised for their rejection of Protestantism, also made up a portion of America's first slave population, as did Quakers, Cavaliers, Puritans, Jesuits, and others.
Around 1618 at the start of their colonial slave trade, the English began by seizing and shipping to Virginia impoverished children, even toddlers, from London slums. Some impoverished parents sought a better life for their offspring and agreed to send them, but most often, the children were sent despite their own protests and those of their families. At the time, the London authorities represented their actions as an act of charity, a chance for a poor youth to apprentice in America, learn a trade, and avoid starvation at home. Tragically, once these unfortunate youngsters arrived, 50% of them were dead within a year after being sold to farmers to work the fields.
A few months after the first shipment of children, the first African slaves were shipped to Virginia. Interestingly, no American market existed for African slaves until late in the 17th century. Until then, black slave traders typically took their cargo to Bermuda. England's poor were the colonies' preferred source of slave labor, even though Europeans were more likely than Africans to die an early death in the fields. Slave owners had a greater interest in keeping African slaves alive because they represented a more significant investment. Black slaves received better treatment than Europeans on plantations, as they were viewed as valuable, lifelong property rather than indentured servants with a specific term of service.
These indentured servants represented the next wave of laborers. They were promised land after a period of servitude, but most worked unpaid for up to15 years with few ever owning any land. Mortality rates were high. Of the 1,200 who arrived in 1619, more than two thirds perished in the first year from disease, working to death, or Indian raid killings. In Maryland, out of 5,000 indentured servants who entered the colony between 1670 and 1680, 1,250 died in bondage, 1,300 gained their right to freedom, and only 241 ever became landowners.
Early in the 17th century, the headright system, a land allocation program to attract new colonists, began in Jamestown, Virginia as an attempt to solve labor shortages. The program provided acreage to heads of households that funded travel to the colony for destitute individuals to work the land. It led to the sharp growth of indentured servitude and slavery because the more slaves imported by a colonist, the larger the tracts of land received. Promises of prosperity and land were used to lure the poor, who were typically enslaved for three to 15 years. All the while, agents profited handsomely by augmenting their land holdings. Corruption was rampant in the headright system and included double-counting of individual slaves, land allocations for servants who were dead upon arrival, and per head fees given for those kidnapped off English streets.
Purveyors of slaves often worked in teams of spirits, captains, and office-keepers to kidnap people from English ports for sale in the American labor market. Spirits lured or kidnapped potential servants and arranged for their transport with ship captains. Office-keepers maintained a base to run the operation. They would entertain their prey and get them to sign papers until an awaiting ship became available. Spirits and their accomplices were occasionally put on trial, but court records show that they got off easily and that the practice was tolerated because it was so profitable.
The indentured servant system of people who voluntarily mortgaged their freedom evolved into slavery. England essentially dumped its unwanted in the American colonies, where they were treated no better than livestock. Servants were regularly battered, whipped, and humiliated. Disease was rampant, food was in short supply, and working and living conditions were grim. War with local native Indian tribes was common. Severe punishment made escape unrealistic. Initially, running away was considered a capital crime, with clemency granted in exchange for an agreement to increase the period of servitude.
In the 1640s, the transportation of the Irish began. Britain's goal was to obliterate Ireland's Catholics to make room for English planters. Catholics who refused to attend a Protestant church could be fined. If they were unable to pay, they could be sold as slaves. Following the end of the English Civil Wars in 1651, English military and political leader Oliver Cromwell focused his attention on Ireland, where the people had allied with the defeated royalists during the conflict. Famine was created by the intentional destruction of food stocks. Those implicated in the rebellion had their land confiscated and were sold into slavery. Anyone refusing to relocate was threatened with death, including children.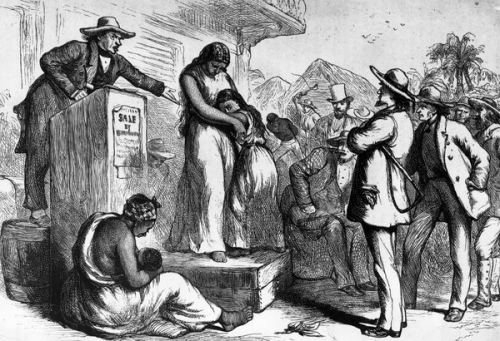 Scots were also subjected to transportation to the British colonies for religious differences, as England imposed Anglican disciplines on the Church of Scotland as well. The English army was deployed to break up illegal church assemblies and imprison or deport religious protesters.
Cruelty to servants was rampant. Beatings were common, and the perpetrators, buttressed by juries made up of fellow landowners, were rarely punished for abuse or even murder. In time, efforts were made to improve the lot of servants. Legislation in 1662 provided for a "competent diet, clothing and lodging" and disciplinary measures not to "exceed the bounds of moderation." Servants were granted the right to complain, but the cruelty continued.
Infanticide by unmarried women was common, as they could be severely punished for "fornication." The mother faced a whipping, fines, and extra years added to her servitude. Her offspring faced time in bondage as well. If the mother was the victim of a rape by the master, he faced a fine and the loss of a servant but wasn't subjected to whipping.
Several uprisings in the American colonies awakened slave owners to problems, exposing their vulnerability within the caste-like master-servant social system they had created. In 1676, Nathaniel Bacon, an aristocrat from England who became a Virginia colonist, instigated an insurrection, referred to as Bacon's Rebellion, that changed the course of white slavery.
Prior to Bacon's Rebellion, much discontentment existed among servants over seemingly empty promises of land following their periods of indenture. When they were finally freed of their obligations, many found that they couldn't afford the required land surveying fees and the exorbitant poll taxes.
In 1675, when war broke out with some of the native tribes, Bacon joined the side of the warring settlers and offered freedom to every slave and servant who deserted his master and joined Bacon in battle. Hundreds enthusiastically joined him in the insurgency. When Bacon died suddenly, his supporters fled or surrendered; some were recaptured, put in chains, and beaten or hanged. However, because of the revolt, whites gained rights. Whippings were forbidden without a formal judicial order.
By the early 1770s, the convict trade was big business, more profitable than the black slave trade because criminals were cheap. They could be sold for one third the price of indentured servants. England's jails were being emptied into America on a significant scale. Additionally, merchants who traded in convicts from England and Ireland received a subsidy for every miscreant transported to America. Up to a third of incoming convicts died from dysentery, smallpox, typhoid, and freezing temperatures. Upon arrival, they were advertised for sale, inspected, and taken away in chains by new masters.
Following the Revolutionary War, the British continued to ship convict labor as "indentured servants" to America. During that time, seven ships filled with prisoners made the journey, and two successfully landed. In 1789, convict importation was legally banned across the U.S. America would no longer be the dumping ground for British criminals. It took another 30 years before the indentured servant trade ended completely.
A well written and well researched historical narrative, White Cargo does an excellent job of elucidating a forgotten part of our colonial past by telling the story of thousands of Britons who lived and died in bondage before African slaves were transported to the New World.
00:52 Publié dans Histoire | Lien permanent | Commentaires (0) | Tags : histoire, irlande, états-unis, esclavage, servitude, esclaces irlandais, esclaves blancs, esclavagisme |
|
del.icio.us |
|
Digg |
Facebook
mardi, 02 décembre 2014
ATLANTIC JIHAD : The Untold Story of White Slavery

Whilst the Arabs have been acknowledged as a prime force in the early usage of slaves from Africa, very little has been written about their usage of White slaves, whether they were part of the Russian slave trade or those kidnapped by Arab pirates. However, in recent years, the research of some authors has been bringing this issue to light.

The origins of African slavery in the New World cannot be understood without some knowledge of the millennium of warfare between Christians and Muslims that took place in the Mediterranean and Atlantic and the piracy and kidnapping that went along with it. In 1627 pirates from the Barbary Coast of North Africa raided distant Iceland and enslaved nearly four hundred astonished residents. In 1617 Muslim pirates, having long enslaved Christians along the coasts of Spain, France, Italy, and even Ireland, captured 1,200 men and women in Portuguese Madeira. Down to the 1640s, there were many more English slaves in Muslim North Africa than African slaves under English control in the Caribbean. Indeed, a 1624 parliamentary proclamation estimated that the Barbary states held at least 1,500 English slaves, mostly sailors captured in the Mediterranean or Atlantic. Millions European Christians were kidnapped and enslaved by Muslims in North Africa between 1530 and 1780 -- a far greater number than had ever been estimated before. Professor Robert Davis, in his book Christian Slaves, Muslim Masters: White Slavery in the Mediterranean, the Barbary Coast, and Italy, 1500-1800, estimated that 1 million to 1.25 million White people were enslaved by North African pirates between 1530 and 1780.

One of the things that both the public and many scholars have tended to take as given is that slavery was always racial in nature -- that only blacks have been slaves. But that is not true, We cannot think of slavery as something that only white people did to black people. Slavery in North Africa has been ignored and minimized, in large part because it is on no one's agenda to discuss what happened. The enslavement of Europeans doesn't fit the general theme of European world conquest and colonialism that is central to scholarship on the early modern era, he said. Many of the countries that were victims of slavery, such as France and Spain, would later conquer and colonize the areas of North Africa where their citizens were once held as slaves. Maybe because of this history, Western scholars have thought of the Europeans primarily as "evil colonialists" and not as the victims they sometimes were. Between 1580 and 1680. That meant about 8,500 new slaves had to be captured each year. Overall, this suggests nearly a million slaves would have been taken captive during this period. Using the same methodology, Davis has estimated as many as 475,000 additional slaves were taken in the previous and following centuries.

The result is that between 1530 and 1780 there were almost certainly 1 million and quite possibly as many as 1.25 million white, European Christians enslaved by the Muslims of the Barbary Coast. Enslavement was a very real possibility for anyone who traveled in the Mediterranean, or who lived along the shores in places like Italy, France, Spain and Portugal, and even as far north as England and Iceland.from 1500 to 1650, when trans-Atlantic slaving was still in its infancy, more white Christian slaves were probably taken to Barbary than black African slaves to the Americas,
Pirates (called corsairs) from cities along the Barbary Coast in north Africa -- cities such as Tunis and Algiers -- would raid ships in the Mediterranean and Atlantic, as well as seaside villages to capture men, women and children.

The impact of these attacks were devastating -- France, England, and Spain each lost thousands of ships, and long stretches of the Spanish and Italian coasts were almost completely abandoned by their inhabitants. At its peak, the destruction and depopulation of some areas probably exceeded what European slavers would later inflict on the African interior.

We have lost the sense of how large enslavement could loom for those who lived around the Mediterranean and the threat they were under," he said. "Slaves were still slaves, whether they are black or white, and whether they suffered in America or North Africa.
00:05 Publié dans Histoire | Lien permanent | Commentaires (0) | Tags : histoire, esclavage, condition servile, maroc, esclaves blancs, piraterie, piraterie barbaresque |
|
del.icio.us |
|
Digg |
Facebook