If the "Islamic State" would have managed to quickly capture the territories controlled by Afghan-Pakistani Taliban and make these territories a part of their proclaimed "caliphate", the threat of destabilization would be right on China's doorstep
The latest months showed how deeply Turkey is absorbed by everything that has to do with ISIL. Turkey was behind the stage of the events developing around the "Islamic State" for a long time, aiding its activities only indirectly or unofficially. However, an official statement was made in autumn 2015 in Istanbul, which could be viewed as a sort of Turkish declaration regarding the "Islamic State".
The statement was made by the head of National Intelligence Organization of Turkey Hakan Fidan, who usually doesn't make public appearances. Fidan stated: " 'Islamic State' is a reality. We must acknowledge that we can't eradicate such a well-organized and popular organization such as the "Islamic State". Which is why I urge our Western partners to reconsider their former notions of the political branches of Islam and put aside their cynical mindset, and together frustrate the plans of Vladimir Putin to suppress the Islamic revolution in Syria."
Based on the reasoning above, Hakan Fidan makes the following conclusion: it is necessary to open an office or a permanent embassy of ISIL in Istanbul — "Turkey strongly believes in this".
The story with the date of the statement of National Intelligence Organization head is a curious one. First it appeared in online media on October 18, 2015, but didn't get much attention back then. The statement of Hakan Fidan became famous after it got republished on the websites of news agencies on November 13 — on the eve of Paris terror attacks, which happened on the night between November 13 and November 14.
It so happened that Turkey urged the West to recognized a quasi-state, which, on its part, refuses to recognize the right of other states for existence. In essence, we see a call to accept the demands of ISIL as a global terrorist. Its demand is well-known — an oath of allegiance to it as the new caliphate.
What does the live participation of Turkey in the life of the "Islamic State" promise to the Islamic world and its neighbors (including Russia)? This question becomes more important in this very moment, after thousands of refugees were transported not without Turkey's participation from the Middle East to Europe, after the incident with the Russian plane, which was bombing ISIL, downed by Turkey, after the far-reaching claims of Turkish officials. In this regard it is worth to recall another important aspect of Middle Eastern politics.
The fall of Mubarak's regime in Egypt and the destruction of Gaddafi's state in Libya in the beginning of the "Arab Spring" almost collapsed the economic communication of these countries with China. China's economic presence in these countries was rapidly growing. This way, it is understandable that the events of the "Arab Spring" created a barrier for the Chinese economic expansion to Middle East and Africa, which threatened the United States. In other words, "Arab Spring" was also an effective tool in the hands of the USA in its global competition with People's Republic of China.
Now, studying the connections between Turkey and ISIL, it is necessary to discuss what the expansion of the "Islamic State" means for China.
In autumn 2015 media reported that Turkish intelligence agencies are preparing terrorists among Chinese Uighurs. One could think that the reason here is the traditionally strong ties between Turkic peoples, as well that Turkey is interested in strengthening its influence over the Easternmost part of the Turkic world – Turkestan. All of this is, of course, true. But this isn't everything that this is about. It is also about Uighur groups being trained and becoming battle-hardened in the ranks of ISIL. There is more and more evidence of the presence of such groups in Syria.
Therefore, ISIL is a new tool, improved after the "Arab Spring", capable of destabilizing the primary competitor of the USA — China. If the "Islamic State" would have managed to quickly capture the territories controlled by Afghan-Pakistani Taliban and make these territories a part of their proclaimed "caliphate", the threat of destabilization would be right on China's doorstep. The capabilities of the caliphatist organization which would have appeared this way — with the prospect of Uighurs joining it — would have made such destabilization inevitable.
However, ISIL failed to quickly advance into the Afghan-Pakistan area. Recall what The Daily Beast newspaper wrote in October 2015 in an article titled "A Taliban-Russia Team-Up Against ISIS?" The newspaper wrote that the representatives of Taliban went to China several times to discuss the problem of Xinjiang Uighurs living in southern Afghanistan. The Daily Beast quoted one of Taliban representatives: "We told them they (to Uyghurs – Author) are in Afghanistan, and we could stop them from making anti-Chinese activities".
Experts insist that Pakistan (the intelligence agencies of which played a decisive part in creating Taliban) significantly reorients from USA to China. Because the prospects of surrendering its own and Afghani Pashtun areas to the "Islamic State", which won't stop at that, is unacceptable for Pakistan. This is what, obviously, caused the turn of Pakistan towards China. And this turn was so drastic that its consequences create a new threat to the USA of expanding China's influence.
During the Xiangshan Security Forum, which took place in October 2015, Pakistani Minister of Defense, Water and Power Khawaja Muhammad Asif announced the banishment of Uighur militants of the "East Turkestan Islamic Movement". He said: "I think there (were) a small number in tribal areas, they're all gone or eliminated. There are no more there." Asif added to this that Pakistan is ready to fight against the "East Turkestan Islamic Movement", because this is not only in the interests of China, but in Pakistan's own interests.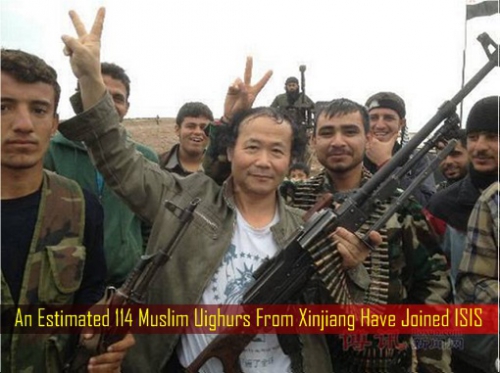 Next, in the first half of November 2015, Chinese newspaper China Daily announced that the Chinese state company China Overseas Port Holding received 152 hectares of land on lease in Gwadar port from Pakistani government for 43 years (!). Perhaps it is time to admit that China has almost reached the Arabian sea through the strategically important Pakistani region Balochistan (that is where Gwadar is) and that the planned expansion of ISIL to the east didn't make it in time to prevent this? It is obvious that the struggle of the USA against China will continue on this direction, which is why China hurries to secure the reached results and create its own economic zone near the Strait of Hormuz.
China Daily wrote: "As part of the agreement, the Chinese company, based in Hong Kong, will be in full charge of Gwadar Port, the third-largest port in Pakistan."
There is a noteworthy detail in this story: Gwadar is considered to be the southern tip of the large Chinese-Pakistani economic corridor. This corridor starts in the Xinjiang Uyghur Autonomous Region of People's Republic of China. This means that the necessity to destabilize China from there becomes more acute for its competitors.
Since Pakistan and Talibs refuse to radicalize Chinese Uighurs (more than 9 million of whom live in China), this role goes to, on the one hand, Turkey as the Turkic patron of Uighurs, one the other hand — to ISIL as Islamist ultra-radicals. Next, if this Afghan-Pakistani corridor for supplying radical groups to China is blocked for now, it means there is a need for another one. Which one? Obviously, the Turkic world — from Turkey to Turkic countries of Central Asia and Chinese Uighurs. It is more than likely that Russian Volga region and North Caucasus will have to be made a part of the corridor which Turkey and ISIL need to communicate with Uighurs.
Chinese media point out to this since the end of 2014. Back then the news website Want China Times published an article titled " 'East Turkestan' separatists get trained in ISIL and dream of returning to China". The website referred to the data already published by the Chinese news outlet Global Times. According to this data, Ethnic Uighur radicals flee from the country to join ISIL, receive training and fight in Iraq and Syria. Their goals are to win wide acknowledgement among international terrorist groups, establish contact channels and acquire real combat experience before bringing their knowledge back to China.
Global Times reported, citing Chinese experts, that Xinjiang Uighurs join ISIL either in Syria and Iraq, or in the divisions of ISIL in South-East Asian countries. Next the publication informed that, since the international community launched the anti-terrorist campaign, ISIL now avoids recruiting new members right on its "base", preferring to separate them by sending to smaller cells in Syria, Turkey, Indonesia and Kyrgyzstan.
The Uighur problem caused the complication in the Turkish-Chinese relations in summer 2015.
Everything started in Thailand. The authorities made the decision to deport over 100 Uighurs to China. On the night between July 8 and July 9, Turkish Uighurs attacked Chinese embassy in Istanbul, protesting against this decision.
In response, Thailand authorities changed their position and declared that Uighur emigrants will not be deported to China without evidence pointing to their criminal activity. Instead… they will be deported directly to Turkey! This wasn't a novel decision, deportations of Uighurs to Turkey happened before. A total of 60 thousand Uighurs live in Turkey. This means that we are not talking about separate cases of deportation here, but about consistent concentration of Uighur groups scattered around Asian countries in Turkey.
In July the Arab news website "Al-Qanoon" quoted Tong Bichan, a high-ranking China's Public Security Ministry official. He said: "The Turkish diplomats in Southeast Asia have given Turkish ID cards to Uyghur citizens of Xinjiang province and then they have sent them to Turkey to prepare for war against the Syrian government alongside ISIL."
Finally, only recently the propagandist resource of the "Islamic State" posted a song in Chinese language. The song contains the call to wake up, adressed to Chinese Muslim brothers. Such calls are a part of the anti-Chinese campaign launched by ISIL. Another video of caliphatists features an 80-year old Muslim priest from Xinjiang urging his Muslim compatriots to join ISIL. The video then shows a classroom of Uighur boys, one of whom promises to raise the flag of ISIL in Turkestan.
All of this leads to the conclusion that among the goals ISIL tries to reach in cooperation with Turkey is the warming up and launching of the "Chinese Spring" in quite observable terms. Such a goal demands "cooperators" to use the territories near China — first and foremost, Turkic states of Central Asia. For example, Kyrgyzstan in this regard is clearly supposed to become the place of accumulation and training of radical groups.
The large world-rebuilding Middle Eastern war is seeking its way towards East, in the direction of China. Which means that new large phases of this war are not too far ahead.
Source (for copy): http://eu.eot.su/?p=5441
This is the translation of an article (first published in "Essence of Time" newspaper issue 160 on December 30, 2015) by Maria Podkopayeva of a series on rebuilding of Middle East and Africa by the West. This rebuilding was launched to give rise to the most violent and bloody regime, such as IS "caliphate", which is supposed to eventually attack and conquer Russia, China and Europe.
We encourage republishing of our translations and articles, but ONLY with mentioning the original article page at eu.eot.su (link above).