Sie war ein Engel der Europäer, schwebte über allen Zweifeln. Sie wurde auf die fast schon göttliche Ebene von Mahatma Gandhi, Nelson Mandela und Martin Luther King erhoben. Sie wurde 1990 vom Europäischen Parlament mit dem Sacharow-Preis geehrt. Sie erhielt 1991 den Friedensnobelpreis. US-Präsident Bill Clinton verlieh ihr 2000 "The Presidential Medal of Freedom", Paul David Hewson alias Bono widmete ihr im Folgejahr mit seiner irischen Erfolgscombo U2 mit der Hymne "Walk On" ein musikalisches Denkmal.
Die europäischen Romantiker der Glückseligkeit lagen ihr zu Füßen, war sie doch der Inbegriff dessen, was ihnen ihr eigener Rassismus als Inkarnation des von Natur aus unschuldigen Opfers nicht nur des Kolonialismus, sondern nun auch noch des Militarismus eingab.
Ach, wäre sie doch nur rechtzeitig gestorben! Hätte sie ihr Leben doch so heldenhaft abgeschlossen, wie sie es gelebt hatte! Man hätte ihr mehr als nur musikalische Denkmale errichtet, Schulen nach ihr benannt, Heiligenbücher über sie geschrieben, ihr Leben zu einem abendfüllenden Kinofilm gemacht. Sie wäre unsterblich geworden – eine Ikone der Menschheit, eine Heroin des Guten.
Aber das Schicksal meinte es nicht gut mit ihr. Es wollte ihr die Unsterblichkeit nicht gönnen. Deshalb ließ es sie ihren Traum erleben – ihr armes Land wurde von den Fesseln der Diktatur gelöst, sie selbst zur wichtigsten Politikerin ihres Landes. Und dann geschah es. Aus der Ikone wurde eine Realpolitikerin, die ihr Land schützen wollte gegen die Unterwanderung durch kulturfremde Zuwanderer. Sie wollte es schützen vor den Ideologen einer weltweit agierenden Gruppe von Fanatikern, welche angesetzt hatten, sich einen Teil ihres Landes herauszuschneiden. Sie wollte es schützen gegen gewaltsam betriebene Bestrebungen, aus einer Provinz ihres buddhistischen Landes einen radikalislamischen Staat zu machen.
Doch die mangelnde Bereitschaft, sich als weiteres Opfer in einem seit 1.400 Jahren andauernden Kampf arabisch inspirierter, rassistischer Imperialisten gegen die indigenen Völker Südostasiens bereitwillig herzugeben, ließ den Engel stürzen.
In der Tradition der Kämpfer
Die Rede ist von Aung San Suu Kyi, Außenministerin und de-facto-Chefin des heutigen Myanmar, vielen Europäern immer noch besser bekannt als Burma oder Birma.
Suu Kyi kam am 19. Juni 1945 als Tochter des burmesischen Nationalhelden Aung San in der Hafenstadt Rangun/Yangon zur Welt. Damals gehörten Stadt und Land offiziell zum britischen Empire, doch seit 1942 war das Land japanisch besetzt. Vater Aung San, zu Studentenzeiten 1939 nach einem Besuch bei Chinas Mao Gründer der Kommunistischen Partei Birmas, hatte sich in Japan militärisch ausbilden lassen, kämpfte im Weltkrieg erst an der Seite der Japaner gegen die Europäer. Als ihm bewusst wurde, dass die 1943 gemachte Zusage der Japaner, Burma in die Unabhängigkeit zu entlassen, nicht eingehalten wurde, sagte er sich 1945 von den mittlerweile taumelnden, asiatischen Inselimperialisten los und erklärte Nippon den Krieg. Nach dessen Kapitulation rief er die "Antifaschistische Volksbefreiungsliga" (AFPFL) ins Leben und erfreute sich bei seinem Bestreben nach Unabhängigkeit der Unterstützung des letzten britischen Vizekönigs von England. Diesem Louis Francis Albert Victor Nicholas Mountbatten aus dem hessischen Adelsgeschlecht der Battenberg, Onkel des Prinzgemahls von Queen Elisabeth 2, war die Aufgabe übertragen, die fernöstlichen Kolonien geregelt in die Unabhängigkeit zu entlassen.
Aung San handelte mit Mountbatten maßgeblich jene Verträge aus, die am 4. Januar 1948 zur Unabhängigkeit des Vielvölkerstaates Birma führten. Selbst allerdings sollte Aung San diesen Tag nicht mehr erleben: Am 19. Juli 1947 fiel er einem Attentat politischer Konkurrenten zum Opfer. Suu Kyi, die damit faktisch vaterlos aufwuchs, ließ sich jedoch vom Leben ihres Vaters inspirieren. Nach langem Auslandsaufenthalt mit Tätigkeiten unter anderem bei den Vereinten Nationen kehrte sie 1988 zurück in ihre Heimat. Dort nahm sie den friedlichen Kampf gegen eine Militärdiktatur auf, die sie wiederholt mit Politikverbot und Hausarrest belegte. So wurde sie zu einer Heldin aller Pazifisten, Antifaschisten und all jener, die von einer besseren Welt träumen, in der der Mensch sich und seine ihm innewohnenden, aggressiven Anlagen selbst überwindet und allumfassender Weltfriede der allgemeinen Glückseligkeit herrscht.
Nach langen Jahren der Diktatur lockerten dann die Militärs behutsam ihre totalitären Fesseln. Birma fand den behutsamen Weg zu Demokratie, Suu Kyi wurde in aller Welt gefeierte Führerin ihres Landes auf dem Weg in die Demokratie.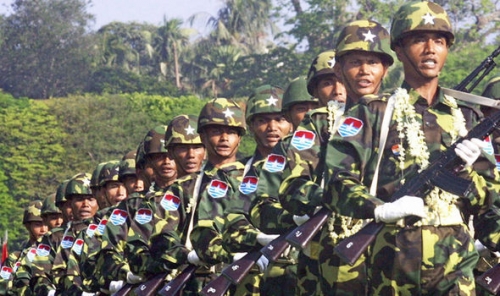 Rassistische Übergriffe gegen Buddhisten
Dann aber geschah etwas, das ihre weltumspannende Anhängerschaft in tiefe Verzweiflung warf. Aus dem Engel wurde ein Realpolitiker, der seine Aufgabe, für sein Land und dessen Volk zu kämpfen, nicht nur als Lippenbekenntnis betrachtete, sondern bereit war, dafür konsequent einzutreten.
Der Hintergrund des Absturzes dieses Engels fand sich im Westen ihres buddhistisch geprägten Landes, in einer am Indischen Ozean gelegenen Provinz namens Rakhaing/Arakan. Diese an Bangladesh angrenzende Provinz war seit der britischen Kolonialzeit Ziel islamischer Auswanderer aus den überbevölkerten Regionen Bengalens gewesen. Eine Volkszählung der Briten aus dem Jahr 1891 hatte bei einer Gesamtbevölkerung von rund 672.000 Menschen bereits einen Anteil von 126.600 muslimischen Bengalen und 443.000 Buddhisten ergeben. Konnten die Birmesen in der Kolonialzeit nichts gegen die Einwanderung tun, so verweigerten sie den Bengalen und ihren Nachkommen jedoch seit der Unabhängigkeit Myanmars die Anerkennung als Staatsbürger – und da auch das überbevölkerte Bangladesh die Verantwortung für seine verlorenen Kinder verweigerte, gelten diese Muslime heute als staatenlos.
Clash of Cultures
Palästinenser, Rohingya und die Kurden – der Export religiöser Konflikte
Als nun 2010 das Militärregime seinen harten Griff auf das Land lockerte, Islam-Aktivisten ihre Stunde gekommen. Mit Übergriffen gegen die buddhistische Mehrheitsbevölkerung in Arakan bis hin zu Überfällen auf Polizeistationen provozierten die im arabischen Ausland geschulten Kämpfer Mohameds jene Situation der muslimischen Opferrolle, mittels derer sie bereits in Thailand und auf den Philippinen das Ziel ihrer islamischen Machterweiterung in die Wege zu leiten suchten. Aus den muslimischen Bengalen wurde das Kunstvolk der Rohingya geschaffen. Die rassistisch motivierten Provokationen der Islamaktivisten gegen die Buddhisten mit dem deklarierten Ziel eines unabhängigen islamischen Staates auf dem Boden der noch zu Birma gehörenden Provinz riefen nun jedoch das Militär auf den Plan, welches zwar zugelassen hatte, dass Myanmar sich demokratischen Ideen öffnete, nicht aber bereit war, darüber die staatliche Integrität in die Brüche gehen zu sehen.
Die militärische Reaktion auf den islamischen Versuch der Ausdehnung nach Osten wurde propagandistisch von den Islamaktivisten zu einem Gräuelfeldzug des Militärs hochgefahren; die birmanisch-bengalische Bevölkerung zum Instrument der weltweiten Empörungsmaschinerie, mit der die Anhänger des arabischen Imperialisten aus dem siebten Jahrhundert regelmäßig agieren, wenn ihre Eroberungspläne auf Widerstand stoßen. Die Bengalen reagierten wie erwartet: Sie flohen vor den bis heute durch keine neutrale Stelle bestätigten Gräueltaten, die dem Militär angelastet wurden. Auf über 800.000 Menschen wird ihre Zahl bis heute geschätzt – und sie werden von ihrer Regierung in Dhaka wie einst jene Araber, die bei Gründung des Staates Israel dem Aufruf des islamischen Großmufti von Jerusalem folgten und ihre Wohnungen verließen, in Lager gepfercht, statt wie beispielsweise einst die deutschen Flüchtlinge aus Osteuropa in die Heimatgesellschaften integriert.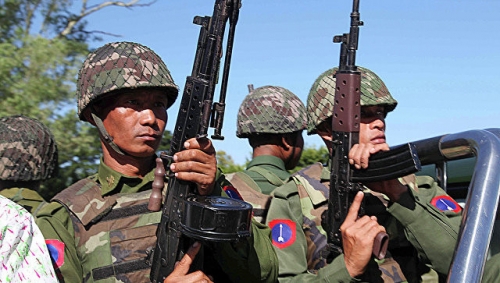 Ein Engel stürzt
Das Vorgehen der Islamaktivisten in Myanmar wie der Regierenden in Bangladesh verfehlte seine Wirkung nicht. Die Träumer der Glückseligkeit rund um den Globus wandten sich nun an ihren Engel Suu Kyi. Möge sie doch bitte umgehend und bedingungslos als faktische Staatspräsidentin des bösen Staates Myanmar, der dieses angebliche Rohingya-Volk vertrieb, ihr Militär an die Kette legen und die Rückkehr der nach Bangladesh Heimgekehrten zulassen. Schnell waren auch Forderungen im Raum, die bislang erfolgte Unterstützung der demokratischen Regierung von Suu Kyi einzustellen und das Land bis zum Gehorsam mit Sanktionen zu belegen. Jene Aktivitäten der Islamaktivisten, die bereits 2012 das Auswärtige Amt der Bundesrepublik erstmals zu einer Reisewarnung veranlasst hatte, hatten Erfolg: Destabilisierung der jungen, noch labilen Demokratie, um aus dem wankenden Land ein weiteres Stück herauszureißen und dem dikatorisch geführten, sunnitischen Weltreich der islamischen Gemeinschaft anzugliedern.
So begann nun der Engel der Glückseligen im Eiltempo zu stürzen. Denn Suu Kyi blieb sich und der von ihr empfundenen Verantwortung für ihr buddhistisch geprägtes, sino-tibetisches Volk treu und verweigerte die Unterwerfung unter den postkolonialistischen Anspruch der Europäer und der Migrationsexperten der Vereinten Nationen darauf, dass jeder Mensch das uneingeschränkte Recht habe, dort zu siedeln, wo immer ihm der Sinn danach stehe.
"Ethnische Säuberung" und Rassismus
Man kann das, was in Myanmar derzeit geschieht, als "ethnische Säuberung" bezeichnen. Denn tatsächlich ist die gegenwärtige Situation derart, dass die Nachkommen der illegalen, bengalischen Einwanderer zurück in ihr Herkunftsland ziehen. Doch man darf dabei zweierlei eben nicht vergessen: Die von der indigenen Bevölkerung nicht gewünschte Landnahme seit über 100 Jahren, und die gezielte Provokation des Konflikts durch die geschulten Aktivisten der islamischen Expansion.
Und insofern kann man die Situation auch gänzlich anders betrachten. Denn nicht nur die Geschichte, sondern auch das Vorgehen islamischer Aktivisten andernorts belegt, dass es sich dabei um das erprobte Vorgehen einer rassistischen Vereinigung handelt, die es gezielt darauf anlegt, vorhandene, indigene Kulturen zu zerstören und durch ein eigenes, kollektivistisches Kulturverständnis zu ersetzen. Denn genau das haben die Krieger des Mohamed seit bald eineinhalb Jahrtausenden überall getan, wo sie mit Gewalt oder mit Tücke die Macht an sich gerissen hatten: Auf der arabischen Halbinsel, in den christlichen und jüdischen Gemeinden rund um das südliche Mittelmeer, im zoroastrischen Persien wie im christlichen Kleinasien und Südosteuropa, in Indien und auf den Inseln des Indonesischen Archipels.
Rassisten im Namen Mohameds
"Rassistisch"? Können das nicht nur weiße Europäer sein? Ja – so wollen es alle Nicht-Europäer und so sollen es alle Europäer glauben. Der böse, weiße Mann, der den armen unterdrückten Völkern ihre Identität stiehlt, sie versklavt und ausbeutet!
Doch nicht nur die Vereinten Nationen sehen das anders. In der am 27. November 1978 durch die 20. Generalkonferenz der UNESCO verabschiedeten Erklärung ist in Artikel 3 zu lesen:
"Jede auf der Rasse, der Hautfarbe, dem Volkstum, dem nationalen Ursprung oder der von rassistischen Überlegungen getragenen religiösen Intoleranz beruhende Unterscheidung, Ausschließung, Beschränkung oder Bevorzugung, welche die souveräne Gleichheit der Staaten und das Recht der Völker auf Selbstbestimmung beseitigt oder gefährdet oder welche das Recht jedes Menschen und jeder Gruppe auf volle Entfaltung in willkürlicher und diskriminierender Weise begrenzt, ist mit den Erfordernissen einer gerechten, die Achtung der Menschenrechte garantierenden Weltordnung unvereinbar; das Recht auf volle Entfaltung beinhaltet den gleichberechtigten Zugang zu den Mitteln der persönlichen und gemeinschaftlichen Entwicklung und Erfüllung in einem Klima der Achtung für die Werte der Zivilisation und Kulturen, sowohl national als auch weltweit."
Bereits 1948 definierte die Generalversammlung der Vereinten Nationen in der "Convention on the Prevention and Punishment of the Crime of Genocide" den Tatbestand des Völkermordes als "acts committed with intent to destroy, in whole or in part, a national, ethnical, racial or religious group".
KEIN ENDE DER KONFLIKTE IN BURMA
Nichts anderes als jene "mit den Erfordernissen einer gerechten … Weltordnung" unvereinbaren Handlungen gegen religiös Andersdenkende sind das Grundkonzept des seit 1.400 Jahren schriftlich nachzulesenden Welteroberungsplanes des Mohamed – und dieser wird nach wie vor überall dort exekutiert, wo der Islam die staatliche Gewalt hat. Wo immer der Islam, ob mit Gewalt oder durch Unterwanderung, die Macht an sich riss, zielte er in der festen, rassistischen Überzeugung, dass nur derjenige ein Mensch sein könne, wer gleichzeitig Muslim ist, darauf ab, "nationale, ethnische, rassische oder religiöse Gruppen" zu zerstören und deren nationale Kultur durch die des Islam zu ersetzen.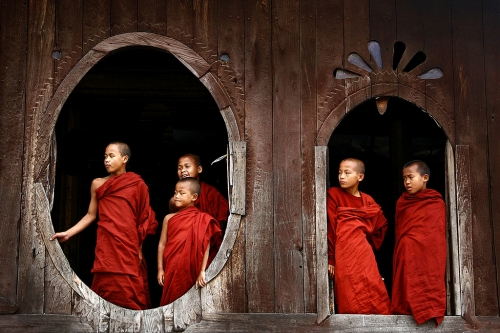 Nichts anderes auch als ein derart rassistisch begründeter Angriff auf die kulturelle Identität der Birmesen war die zuerst schleichende, dann militant und nun über den islamischen Opferkomplex eingeforderte Landnahme Arakans durch muslimische Bengalen und die Aktivisten des Mohamed.
Die sogenannten Rohingya, die sich heute als Kinder illegaler, bengalischer Migranten in den Lagern ihres Herkunftslandes finden, sind dabei nichts anderes als das Faustpfand und die Opfer jener, die ihre als Religion bezeichnete, rassistische Ideologie der Welteroberung immer noch auf den Fahnen stehen haben und gegen die sich die buddhistisch geprägte Bevölkerung Myanmars spätestens seit den Angriffen der Islamaktivisten auf buddhistische Nachbarn und die buddhistische Administration auch nach den Regeln des Völkerrecht völlig zurecht zur Wehr setzt. Denn der islamische Angriff richtet sich gegen ein Mitglied der Vereinten Nationen – und dieses hat nach der Charta der Vereinten Nationen gemäß Kapitel VII Artikel 51 "das naturgegebene Recht zur individuellen oder kollektiven Selbstverteidigung".
Illegale Einwanderer verbreiten Terrorismus
Anlässlich eines internationalen Treffens der Außenminister in der birmesischen Hauptstadt – der noch amtierende Deutsche hatte zuvor großzügig 20 Millionen Euro dafür bereitgestellt, dass die bengalischen Heimkehrer nicht in die Gesellschaft von Bangladesh reintegriert werden müssen – brachte Suu Kyi die Angelegenheit auf den Punkt.
"Illegale Einwanderung ist die Verbreitung von Terrorismus und gewalttätigem Extremismus, von sozialer Disharmonie bis hin zur Gefahr eines Atomkriegs. Die Konflikte stehlen den Gesellschaften den Frieden, lassen Unterentwicklung und Armut zurück, bringen Völker und selbst ganze Länder gegeneinander auf", schrieb die Friedensnobelpreisträgerin vor allem den böse dreinblickenden Vertretern Europas in Stammbuch. Sie meinte damit nicht nur die illegale Einwanderung der Muslime nach Myanmar, sondern schaute auf die ganze Welt.
Nur wenig ist so, wie es erscheinen soll
Ach, hätte sie doch nur geahnt, dass in dieser Welt Täter nur laut genug schreien müssen, um als bemitleidenswerte Opfer zu gelten! Hätte sie doch nur geahnt, dass Engel aus Entwicklungsländern niemals selbst die Initiative ergreifen dürfen, sondern für die Gutmenschen dieser Welt zu tätschelnde Mündel bleiben müssen! Ihr Sturz aus dem Olymp der Heiligkeit kannte kein Halten mehr – denn sie hatte es gewagt, der Weltmeinung der islamischen Opferrolle die Stirn zu bieten und ihr Land und ihr Volk gegen die muslimische Landnahme verteidigen zu wollen!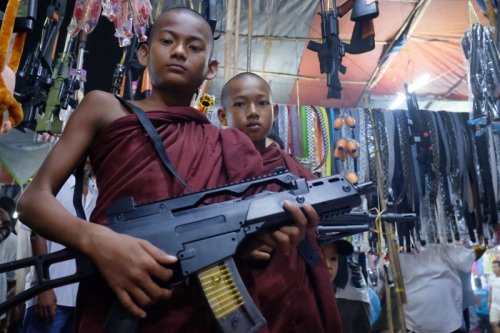 Birma geht verloren
Nun übten die Guten dieser Welt schließlich den massiven Druck auf das mühsam um eine demokratische Zukunft kämpfende Myanmar aus, der das Land einknicken ließ. Suu Kyi erklärte unter der Androhung der "Weltgemeinschaft", ihr Land durch Sanktionen abschließend ins Chaos zu treiben, die Bereitschaft, die illegalen Einwanderer wieder aufzunehmen. Sie wird wissen, dass sie damit ihre eigenen Landsleute in Rakhaing zu Fremden macht, die sich dem islamischen Rassismus nun entweder unterwerfen oder ihr angestammte Heimat unter dem Druck der Einwanderer verlassen müssen. Denn mit den bengalischen Opfern ihrer eigenen Agitatoren werden auch diese wieder in Myanmar eindringen und ihren Kampf um die Errichtung eines islamischen Staats auf birmesischem Boden ungebremst fortsetzen. Und sie werden diesen Kampf gewinnen – denn sie wissen nun: Sie müssen nur dafür sorgen, dass die Opfer Mohameds in den Augen der Welt zu Opfern der Gegner Mohameds werden, um den buddhistischen Gegner zu bezwingen.
Statt der Hydra des islamischen Terrors den Kopf abzuschlagen, hat die Weltgemeinschaft ihr einmal mehr das Futter gegeben, das sie braucht, um ihren Siegeszug fortzusetzen. Den Rakhaing wird ebenso wenig reichen, wie eines Tages Myanmar reichen wird. Bangladesh verfügt derweil und in Zukunft über genügend hungrige Mäuler, um nun auch die Eroberung der nächsten Provinz Birmas in Angriff nehmen zu können. Der Islam, der Südostasien bereits von Westen, Süden und Osten in die Zange nimmt, wird wie einst in Baktrien seinen Feldzug erst beenden, wenn es kein buddhistisches Südostasien mehr gibt.