Ex: https://www.xandernieuws.net
Gaat het 'The Witch' dan toch nog lukken om in het Witte Huis te komen?
—————————————————————————————————————————————–
Democratische kandidaten met impeachment proces in spagaat gebracht om weg vrij te maken voor Hillary
—————————————————————————————————————————————–
In 2016 werd de Democratische nominatie voor het presidentsschap gestolen van de extreemlinkse Marxist Bernie Sanders. Hoge officials binnen de partij erkenden later dat Hillary Clinton al op voorhand als winnaar was aangewezen. Toen Sanders ging klagen bij Obama kreeg hij te horen dat hij zijn verlies maar moest slikken en achter Hillary moest gaan staan. Vier jaar later zijn de Democratische machthebbers achter de schermen opnieuw bezig om te voorkomen dat Bernie genomineerd wordt. Ze weten echter ook dat Joe Biden te beschadigd is om een kans te maken tegen Donald Trump. Het plan lijkt daarom om toch weer Hillary Clinton naar voren te schuiven, en dat zonder haar aan de voorverkiezingen te laten meedoen.
Het computermodel van de Amerikaanse topeconoom voorspelt dat Trump in november weer de verkiezingen wint, maar wel met een veel kleinere marge dan op basis van zijn huidige populariteit mag worden aangenomen. Trump zou op dit moment namelijk met overmacht winnen van Joe Biden, Bernie Sanders of Elizabeth Warren.
De echte reden waarom de Democratische voorzitter van het Huis van Afgevaardigden, Nancy Pelosi, zo lang wachtte met het indienen van de impeachment artikelen in de Senaat is volgens hem 'niet zozeer om van Trump af te komen, maar om alle senatoren die zich kandidaat hebben gesteld tegen te werken, en hen te dwingen hun campagne te stoppen. Waarom? Niet slechts om Biden vrije doortocht te geven, want ze weten dat hij en zijn zoon als getuigen kunnen worden opgeroepen.' En aangezien de Bidens aangaande Oekraïne 'smerige handen' hebben, wordt het een makkie voor Trump om Joe te verslaan.
Afzetten Trump en Pence nauwelijks waarschijnlijk
Daarom wordt er al een poosje gefluisterd over een mogelijk Democratisch complot om behalve Trump ook zijn vicepresident Mike Pence af te zetten, waarna Nancy Pelosi volgens de grondwet zal worden ingezworen als waarnemend president. Zodra dat beklonken is, hoeft ze enkel nog af te treden en haar positie over te geven aan… Hillary Clinton.
'De Clintons worden al lang gezien als het meest corrupte politieke koppel in misschien wel de hele Amerikaanse geschiedenis,' schrijft Armstrong. 'Maar ik geloof niet dat deze optie achter de schermen serieus wordt genomen. Het wordt echter wel als een afleiding gebruikt om de echte samenzwering voor het publiek te verbergen.'
Democratische kandidaten in spagaat gebracht om weg vrij te maken voor Hillary
'Het ECHTE complot is dat de Democratische kandidaten op de Conventie zo verdeeld zullen zijn, dat ze Hillary naar voren zullen schuiven, zonder dat ze zich ooit maar in één voorverkiezing heeft hoeven laten zien, of het mikpunt is geweest van de hele horde rivalen. Het vertragen van de impeachment in de Senaat zal Trump er niet van weerhouden campagne te voeren, maar er wel voor zorgen dat de Democraten die zich op het Witte Huis hebben gericht het veld moeten ruimen.'
De enige manier om deze 'Hillary samenzwering' nog te stoppen is als de Democratische senatoren Bernie Sanders, Elizabeth Warren, Michael Bennet en Amyh Klobuchar zich uit het impeachment proces terugtrekken omdat ze het in de presidentscampagne tegen Trump opnemen. Volgens de grondwet is hun aanwezigheid echter vereist. De vraag is of dat nog steeds het geval is als ze officieel besluiten om niet meer aan de impeachment deel te nemen.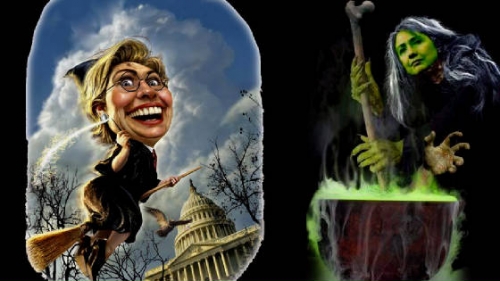 'Zelfs voor de Democraten veroorzaakt de impeachment een grote puinhoop,' is Armstrongs conclusie dan ook. 'We wachten het af. Onze bronnen zijn over het algemeen heel goed. Dit lijkt de echte samenzwering die op touw is gezet.' Er is dus een gerede kans dat Sanders en Warren ten tijde van de Democratische Conventie van 13 tot 16 juli dankzij partijgenoot (!) Nancy Pelosi nog verwikkeld zijn in het impeachment proces tegen Trump, en de partij dit zal aangrijpen om alsnog Hillary Clinton te nomineren.
Mocht het haar deze keer wel lukken om Trump te verslaan, dan kan de wereld zich opmaken voor een vreselijke tijd met vrijwel zeker een oorlog tegen Iran, en mogelijk ook tegen Rusland en/of China.

Xander
(1) Martin Armstrong
Afbeelding (bewerkt): Pixabay (rechtenvrij)

Zie ook o.a.:
14-01: Staflid Democratische kandidaat Bernie Sanders: 'Wij gaan Trump aanhangers in kampen stoppen'
12-01: Transport Coalitie VS waarschuwt voor grootschalige rellen, bevoorradingscrisis en burgeroorlog