---
Par le Saker – Source The Saker
D'abord, mes prévisions
En octobre dernier, j'ai écrit une analyse que j'ai intitulée Les États-Unis sont à la veille d'affronter la pire crise de leur histoire… et comment l'exemple de Poutine pourrait inspirer Trump et je pense que c'est une bonne chose d'y revenir maintenant. Je commençais l'analyse en examinant les calamités qui pourraient frapper les États-Unis si Hillary était élue. Puisque ce n'est pas arrivé (Dieu merci !), nous pouvons sans problème ignorer cette partie et regarder ma prédiction de ce qui arriverait si Trump était élu. Voici ce que j'écrivais.

Trump gagne. Problème : il sera complètement seul. Les néocons ont un contrôle total, total je le répète, sur le Congrès, les médias, la banque et la finance, et les tribunaux. De Clinton à Clinton, ils ont profondément infiltré le Pentagone, Foggy Bottom [quartier où se trouvent de nombreux services gouvernementaux, NdT] et les agences à trois lettres. La Fed est leur fief. Comment diable Trump pourrait-il faire face à ces féroces « fous dans la cave » ? Regardez la campagne de haine vicieuse que toutes ces « personnalités » (depuis les acteurs jusqu'aux journalistes en passant par les politiciens) ont déchaîné contre Trump – elles ont brûlé leurs vaisseaux, elles savent qu'elle perdront tout si Trump l'emporte (et s'il prouve qu'il se laisse facilement avoir, son élection ne fera aucune différence). Les néocons n'ont rien à perdre et ils combattront jusqu'au bout. Que pourra faire Trump pour que les choses changent s'il est entouré de néocons et de leurs agents d'influence ? Mettre en place une équipe totalement différente ? Comment va-t-il les sélectionner ? Son premier choix a été de prendre Pence comme vice-président – un désastre (il est déjà en train de saboter Trump sur la Syrie et le résultat des élections). Je redoute d'apprendre qui Trump désignera comme chef de cabinet à la Maison blanche et je crains qu'il ne nomme quelque nouvelle version du tristement célèbre Rahm Emanuel uniquement pour calmer les néocons… Et si Trump prouvait qu'il a à la fois des principes et du courage, les néocons peuvent toujours le liquider et le remplacer par Pence. Et voilà ! [En français dans le texte, NdT]
Je poursuivais en suggérant que le seul choix de Trump serait de suivre l'exemple de Poutine et de faire aux néocons ce que Poutine avait fait aux oligarques. À l'évidence ce n'est pas ce qui s'est passé. En effet, un mois après l'élection de Trump, j'ai écrit une autre analyse intitulée Les néocons et l'« État profond » ont châtré la présidence de Trump, c'est cuit, les gars !
Il y a moins d'un mois, j'ai averti qu'une révolution de couleur était en cours aux États-Unis. Mon premier élément de preuve était la prétendue « enquête » que la CIA, le FBI, la NSA et d'autres menaient contre le candidat du président Trump au poste de conseiller à la sécurité, le général Flynn. Ce soir, le complot pour se débarrasser de Flynn a finalement réussi et le général Flynn a dû offrir sa démission. Trump l'a acceptée. Maintenant, mettons immédiatement une chose de côté : Flynn était loin d'être un saint ou un homme parfaitement sage qui aurait sauvé tout seul le monde. Il ne l'était pas. Cependant, Flynn était tout simplement la pierre angulaire de la politique de sécurité nationale. (…) L'« État profond », dirigé par les néocons, a forcé Flynn à démissionner sous le prétexte idiot qu'il avait eu une conversation téléphonique avec l'ambassadeur de Russie sur une ligne ouverte, non sécurisée et clairement surveillée. Et Trump a accepté cette démission. Depuis que Trump est arrivé à la Maison Blanche, il a pris coup sur coup de la part des médias néocon-sionistes, du Congrès, de toutes les « stars » de Hollywood, culs doublement bénits, bien-pensants et propres sur eux, et même des politiciens européens. Et Trump a encaissé chaque coup sans jamais riposter. Nulle part on n'a vu son fameux « Vous êtes viré ! ». Mais j'avais encore de l'espoir. Je voulais espérer. Je sentais que c'était mon devoir d'espérer. Mais maintenant, Trump nous a tous trahis. Je le répète, Flynn n'était pas mon héros. Mais il était, tous comptes faits, le héros de Trump. Et Trump l'a trahi. Les conséquences de tout cela seront immenses. Pour une raison : Trump est maintenant clairement brisé. Il n'a fallu que quelques semaines à l'« État profond » pour castrer Trump et le faire s'incliner devant les puissances établies. Ceux qui auraient voulu le soutenir comprendront maintenant qu'il ne les soutiendra pas eux-mêmes et ils s'éloigneront tous de lui. Les néocons se sentiront des ailes d'avoir éliminé leur pire ennemi et, enhardis par cette victoire, ils pousseront leur avantage, doublant la mise encore et encore. C'est fini, les gars, l'État profond a gagné.
Je concluais ensuite que les conséquences de cette victoire seraient catastrophiques pour les États-Unis :
Dans leur rage haineuse contre Trump et le peuple américain – c'est-à-dire « le panier de déplorables » –, les néocons ont dû montrer leur vrai visage. Par leur rejet du résultat des élections, leurs émeutes, leur diabolisation de Trump, les néocons ont mis en évidence deux choses cruciales : premièrement que la démocratie américaine est une sinistre plaisanterie et qu'eux, les néocons, sont un régime d'occupation qui gouverne contre la volonté du peuple américain. En d'autres termes, exactement comme Israël, les États-Unis n'ont plus de légitimité. Et puisque, tout comme Israël, les États-Unis sont incapables d'effrayer leurs ennemis, ils sont fondamentalement nus, sans légitimité, sans capacité de coercition. Donc oui, les néocons ont gagné. Mais leur victoire élimine la dernière chance pour les États-Unis d'éviter un effondrement.
Je crois que ce que nous voyons aujourd'hui sont les premiers signes de l'effondrement imminent.
Les symptômes de l'agonie
À l'extérieur, la politique étrangère des États-Unis est essentiellement « gelée » et, à la place d'une politique étrangère nous avons une longue série de menaces vides lancées à une liste de pays diabolisés à qui sont promises maintenant « les flammes de l'enfer » s'ils osaient désobéir à Oncle Sam. Si c'est bon pour faire les grands titres, cela ne qualifie pas pour faire une « politique » quelle qu'elle soit (j'ai discuté longuement de cette question lors de ma récente interview avec South Front). Ensuite, il y a le Congrès qui a fondamentalement déchu Trump de ses pouvoirs de diriger la politique étrangère. Cette forme étrange et illégale de « vote de défiance » martèle encore dans son message que Trump est soit un fou, soit un traître, soit les deux.
À l'intérieur, Trump est maintenant accusé des dernières émeutes à Charlottesville ; après avoir été un agent de Poutine, il est encore diabolisé comme une sorte de nazi (voir le premier et le second avertissement de Paul Craig Roberts à propos de cette dynamique).
Sur le plan organisationnel, il est clair que Trump est entouré d'ennemis comme l'illustre le fait absolument scandaleux qu'il ne peut même pas parler à un chef d'État étranger sans que la transcription de cette conversation ne soit divulguée aux siomédias.
Je crois que ce sont là des étapes préliminaires pour préparer une crise majeure et l'utiliser pour chasser Trump, soit par un processus d'impeachment soit par la force sous prétexte de crise. Regardez le message que les siomédias ont martelé dans les esprits de la population américaine.
La préparation psychologique pour le coup d'État à venir : les terrifier tous à mort
Voici trois exemples très parlants tirés de la couverture de Newsweek :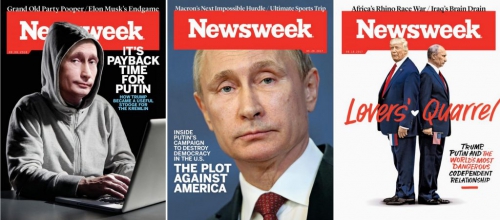 Posez-vous la question : quel est le message ici ?
Trump est un traître, il travaille pour Poutine, Poutine veut détruire la démocratie aux États-Unis et maintenant, ces deux hommes sont ensemble les deux personnes les plus dangereuses sur la planète. C'est un « complot contre l'Amérique », pas moins !
Pas mal, n'est-ce pas ?
« Ils » sont clairement là pour « nous » avoir et « nous » sommes terriblement en danger : Kim Jong-un est sur le point de déclarer une guerre nucléaire aux États-Unis, Xi et Poutine menacent le monde avec leurs armées et « notre » propre président est arrivé au pouvoir grâce au « KGB russe » et aux « hackers de Poutine », il travaille maintenant pour les Russes, il est aussi à l'évidence un nazi, un suprémaciste blanc, un raciste et, peut-être un « nouvel Hitler » (tout comme Poutine, bien sûr !).
Et puis il y a ces musulmans et ces Aye-rabs vraiment effrayants qui apparemment ne veulent que deux choses dans la vie : détruire « notre mode de vie » et tuer tous les « infidèles ». C'est pourquoi nous avons besoin de la TSA, de 16 agences de renseignement et de troupes de police militarisées SWAT partout : au cas où les terroristes viendraient nous prendre là où nous vivons.
De dangereuses conséquences internationales
Tout cela serait assez drôle si ce n'était pas extrêmement dangereux. D'une part, les États-Unis s'en prennent vraiment à un dangereux ennemi lorsqu'ils essaient constamment de faire peur à Kim Jong-un et au gouvernement de la RPDC. Non, pas à cause des armes nucléaires nord-coréennes (qui ne sont probablement pas des ICBM capables de lancer des armes nucléaires mais une combinaison pas nécessairement compatible de « dispositifs » nucléaires et de missiles balistiques à portée intermédiaire), mais à cause de l'immense et difficile tâche de détruire l'armée conventionnelle nord-coréenne. La vraie menace, ce n'est pas les missiles, mais une combinaison mortelle d'artillerie conventionnelle et de forces spéciales qui représente un très faible danger pour les États-Unis ou leur armée, mais qui constitue une énorme menace pour la population de Séoul et de la partie nord de la Corée du Sud. Les armes nucléaires, sous quelque forme que ce soit, sont vraiment un problème en plus, un « glaçage » toxique sur un « gâteau conventionnel » déjà très dangereux.
Aparté
Un cauchemar de la vie réelle : maintenant, si vous voulez vraiment vous terrifier vous-même et rester éveillé toute la nuit, considérez ce qui suit. Alors que je crois personnellement que Kim Jong-un n'est pas fou et que le principal objectif des dirigeants nord-coréens est d'éviter une guerre à tout prix, que se passe-t-il si je me trompe ?  Qu'en est-il si ceux qui disent que les dirigeants nord-coréens sont totalement fous ont raison ? Ou, ce que je crois beaucoup plus probable, si Kim Jong-un et les dirigeants nord-coréens sont parvenus à la conclusion qu'ils n'ont rien à perdre, que les Américains vont tous les tuer, en même temps que leurs familles et leurs amis ? Que pourraient-ils faire, théoriquement, s'ils sont vraiment désespérés ? Eh bien, permettez-moi de vous le dire : oubliez Guam, pensez Tokyo ! En effet, tandis que la RPDC pourrait dévaster Séoul avec des systèmes d'artillerie dépassés, ses missiles sont probablement capables de frapper Tokyo ou la région de Keihanshin qui englobe Kyoto, Osaka et Kobé, y compris les industries clés de la région industrielle de Hanshin. La zone du Grand Tokyo (la région de Kanto) et la région de Keihanshin sont très densément peuplées (37 et 20 millions d'habitants, respectivement) et contiennent un très grand nombre d'industries, dont beaucoup déclencheraient un désastre écologique aux proportions immenses si elles étaient frappées par des missiles. Non seulement cela, mais une attaque sur les principaux nœuds économiques et financiers du Japon donnerait probablement lieu à un effondrement international genre 9/11. Donc si les Coréens du Nord voulaient vraiment, vraiment nuire aux Américains, ce qu'il pourraient faire est de frapper Séoul et des villes importantes au Japon entraînant une immense crise politique pour la planète entière. Pendant la Guerre froide, nous avions coutume d'étudier les conséquences d'une attaque soviétique contre le Japon et la conclusion était toujours la même : le Japon ne peut se permettre aucune guerre. Le territoire japonais est trop petit, trop densément peuplé, trop riche en cibles lucratives et une guerre dévaste tout le pays. C'est encore vrai aujourd'hui, encore plus. Imaginez seulement la réaction en Corée du Sud et au Japon si une attaque américaine folle sur la RPDC entraînait une frappe de missiles sur Séoul et Tokyo ! Les Sud-Coréens ont déjà fait connaître leur position sans aucune ambiguïté, d'ailleurs. Quant aux Japonais, ils placent officiellement leurs espoirs dans des missiles (comme si la technologie pouvait atténuer les conséquences de la folie !). Donc oui, d'accord, la RPDC est extrêmement dangereuse et la pousser dans ses derniers retranchements est totalement irresponsable en effet, armes nucléaires ou non.
Ce que nous observons aujourd'hui est une boucle de rétroaction positive dans laquelle chaque geste des néocons déstabilise plus profondément le système tout entier. Inutile de le dire, c'est extrêmement dangereux et ne peut avoir qu'une catastrophe ou un effondrement final pour résultat. En fait, les signes que les États-Unis perdent totalement le contrôle sont déjà partout, voici seulement quelques gros titres en guise d'illustration :
Une expression française dit que « quand le chat n'est pas là, les souris dansent », et c'est exactement ce qui se passe maintenant : les États-Unis sont à la fois très faibles et essentiellement absents. Quant aux Arméniens, ils disent que « La souris rêve de ce qui pourrait terrifier le chat ». Bon, les « souris » du monde dansent et rêvent, et ignorent tout simplement le « chat ». Chaque mouvement du chat ne fait qu'aggraver les choses pour lui. Le monde change pendant que le chat est occupé à se détruire.
Des conséquences intérieures dangereuses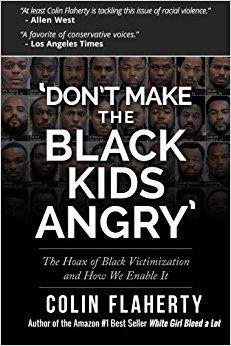 Les émeutes raciales seraient en tête de ma liste. En fait, elles se passent déjà partout aux États-Unis, mais elles sont rarement présentées en tant que telles. Et je ne parle pas des émeutes « officielles » de Black Lives Matter, qui sont assez mauvaises, je parle des nombreuses mini-émeutes que les médias officiels essaient systématiquement de dissimuler. Ceux qui sont intéressés à ce sujet devraient lire le livre de Colin Flaherty, Don't Make the Black Kids Angry, qui montre que les attaques racistes par des Noirs sur des Blancs (également dites « chasse à l'ours polaire ») sont en augmentation presque partout dans le pays. De même, à quelqu'un qui persiste obstinément à ignorer la forte corrélation entre la race et le crime devrait lire l'analyse essentielle de Ron Unz, Race and Crime in America. Maintenant, avant que quelque militant autoproclamé de la police de la pensée m'accuse de racisme : je ne parle pas du tout des causes des problèmes raciaux aux États-Unis. Je dis seulement que la violence raciale y est grave et s'aggrave rapidement.
Le deuxième problème que je vois menacer la société américaine est une délégitimation extrêmement rapide de tout le système politique étasunien et, en particulier, du gouvernement fédéral. Pendant des décennies, les Américains ont voté pour « A » et chaque fois ce qu'ils ont fini par avoir, c'est « non-A ». Parmi les exemples, il y a le célèbre « lisez sur mes lèvres, pas de nouveaux impôts », bien sûr, mais également les promesses d'Obama de stopper les guerres idiotes, et maintenant la promesse de Trump de « drainer le marais ». On a menti aux Américains pendant des décennies et ils le savent. Il y a un fossé grandissant entre les prétendues « valeurs américaines » enseignées dans les écoles et la réalité du pouvoir. Alors que les États-Unis sont officiellement censés défendre la démocratie, la liberté et toutes les bonnes choses préconisées par les Pères fondateurs, la réalité dégoûtante est qu'ils couchent avec les wahhabites, les nazis et les sionistes. L'hypocrisie omniprésente de tout cela menace maintenant de faire tomber tout le système politique étasunien exactement comme l'hypocrisie tout aussi omniprésente du système soviétique a fait tomber l'URSS (si vous êtes intéressé, vous pouvez en lire davantage sur ce thème ici). La simple vérité est qu'aucun régime ne peut survivre longtemps lorsqu'il soutient activement l'exact opposé de ce qu'il est officiellement censé défendre. Le résultat ? Je n'ai pas encore rencontré d'Américain adulte qui croie sincèrement qu'il/elle vit dans dans « le pays des hommes libres et la maison des braves ». Peut-être que les nourrissons avalent encore ces sottises, mais même les adolescents savent que c'est carrément de la foutaise.
Troisièmement, pour toutes les statistiques encourageantes sur le Dow Jones, le chômage et la croissance, la réalité est que la société américaine se transforme rapidement en une société à trois vitesses : au sommet, un petit nombre de gens obscènement riches, en dessous, une certaine quantité de professionnels qualifiés qui servent les richissimes et qui luttent pour maintenir un style de vie associé dans le passé à la classe moyenne. Et puis l'immense majorité des Américains qui cherchent fondamentalement à gagner « un salaire minimum plus un petit quelque chose » et qui survivent essentiellement en ne payant pas pour l'assurance santé, en ayant généralement deux emplois, en mangeant de la « bouffe prolo » bon marché et malsaine et en renonçant à ce dont tout travailleur américain pouvait profiter dans les années 1950 et 1960 (un parent à la maison, des vacances payées, une deuxième maison pour les vacances, etc.). Les Américains sont pour la plupart des gros bosseurs et, jusqu'à présent, la plupart d'entre eux survivent, mais ils sont aussi pour la plupart à un salaire de la pauvreté vraiment grave. Beaucoup d'entre eux ne font que joindre les deux bouts parce que leurs parents et leurs grands-parents les aident (c'est également vrai pour l'Europe du Sud, d'ailleurs). Un segment important de la population américaine survit maintenant grâce à Walmart et à Dollar Store. Une fois que cela ne marche plus, les tickets alimentaires sont la dernière option. Cela, ou la prison, bien sûr.
Combinez tout cela et vous obtenez une situation extrêmement explosive, potentiellement. Il n'est pas surprenant que lorsque tant d'Américains ont entendu le commentaire de Hillary sur le « panier de déplorables », ils aient pris cela comme une déclaration de guerre
Et que prévoient les néocons pour faire face à tout ça ?
En réprimant la liberté d'expression et la dissidence, bien sûr ? Quoi d'autre ?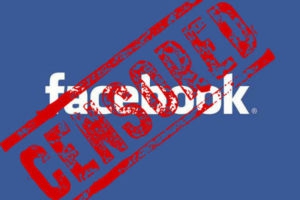 Leur unique réponse – la répression bien sûr !
YouTube, Google, Facebook, Twitter – tous sont en train de réprimer le « mauvais » discours qui comprend à peu près n'importe quel sujet qui fait froncer les sourcils à une grande variété de ceux qui se décrivent eux-mêmes comme « libéraux ». GoDaddy et Google poursuivent même des noms de domaine. Certes, personne n'est jeté en prison pour défendre, disons, le Deuxième amendement, mais ils sont « démonétisés » et leurs comptes sont simplement fermés. Ce ne sont pas les flics qui répriment la liberté d'expression, c'est « l'Amérique des affaires », mais l'effet est le même. Apparemment, les néocons ne réalisent pas que la censure n'est pas une stratégie viable à l'ère d'Internet. Ou peut-être le réalisent-ils et essaient-ils délibérément de provoquer une réaction ?
Ensuite il y a la campagne de diffamation dans les médias : à moins de faire partie d'une sorte de « minorité », vous êtes supposé être néfaste de naissance et coupable de tous les maux sur la terre. Et votre chef est Trump, bien sûr, ou peut-être même Poutine lui-même, voir ci-dessus. Les mâles blancs chrétiens et hétérosexuels feraient mieux de se mettre à l'abri…
Quoi qu'il en soit, par leur insistance maniaque, d'une part à humilier et à écraser Trump et d'autre part à réprimer des millions d'Américains, les néocons commettent une double erreur. D'abord ils montrent leur vrai visage et ensuite, ils déstabilisent les institutions mêmes qu'ils utilisent pour contrôler et diriger ce pays. Cela, bien sûr, ne fait qu'affaiblir les néocons et les États-Unis eux-mêmes et ensuite affaiblit la boucle de rétroaction positive mentionnée plus haut, qui menace maintenant le système international tout entier.
Nous et eux
Ce qui rend l'effondrement graduel de l'Empire anglosioniste particulièrement dangereux est qu'il est de loin le plus grand et le plus puissant empire de l'histoire mondiale. Aucun empire n'a jamais eu le quasi monopole du pouvoir dont les États-Unis ont joui depuis la Seconde Guerre mondiale. D'une manière ou d'une autre, militaire, économique, politique, sociale, les États-Unis sont sortis de la Seconde Guerre mondiale comme un géant et alors qu'il y a eu des hauts et des bas au cours des décennies qui ont suivi, l'effondrement de l'URSS n'a fait que réaffirmer ce qui apparaissait comme leur victoire totale. À mon avis, subjectif il est vrai, le dernier président américain compétent (non, je n'ai pas dit « bon », j'ai dit « compétent ») était George Herbert Walker Bush qui, contrairement à ses successeurs, savait au moins comment gouverner un Empire. Après cela, tout n'est que déclin, de plus en plus rapidement. Et si Obama a probablement été le président le plus incompétent dans l'histoire des États-Unis, Trump sera le premier à être ouvertement lynché pendant qu'il est en poste. Résultat, l'Empire anglosioniste est maintenant comme un immense train de marchandises qui a perdu sa locomotive mais qu'un énorme élan pousse en avant même s'il n'y a plus personne pour le contrôler. Le reste de la planète, à l'exception sans importance des Européens de l'Est, fait des pieds et des mains pour sortir de la trajectoire de ce train incontrôlé. Jusqu'à présents, les rails (bon sens minimum, réalités politiques) résistent plus ou moins, mais un accident (politique, économique ou militaire) pourrait arriver à tout moment. Et c'est très, très effrayant.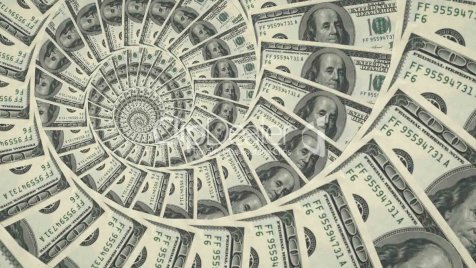 Les États-Unis ont entre 700 et 1000 bases militaires dans le monde, tout le système financier international est profondément enchevêtré avec l'économie américaine, le dollar US est toujours la seule véritable monnaie de réserve, les bons du Trésor américain sont détenus par tous les acteurs internationaux importants (y compris la Russie et la Chine), SWIFT est politiquement contrôlé par les États-Unis, qui sont le seul pays au monde qui peut imprimer autant d'argent qu'il veut et, pour couronner le tout, ils ont un énorme arsenal nucléaire. Résultat, un effondrement des États-Unis menacerait tout le monde et cela signifie que personne ne voudrait le provoquer. L'effondrement de l'Union soviétique n'a menacé l'humanité que d'une seule manière : par son arsenal nucléaire. En revanche, tout effondrement des États-Unis menacerait tout le monde de diverses manières.
Donc la vraie question aujourd'hui est celle-ci : le reste de la planète peut-il empêcher un effondrement catastrophique de l'Empire anglosioniste ?
C'est l'ironie de notre situation : même si la planète entière est malade et fatiguée de l'arrogance incompétente des Anglosionistes, personne ne veut que leur Empire s'écroule dans le désastre. Et pourtant, avec les néocons au pouvoir, un tel effondrement semble inévitable, avec des conséquences potentiellement dévastatrices pour tout le monde.
C'est vraiment incroyable, réfléchissez-y : tout le monde hait les néocons, non seulement une majorité d'Américains, mais vraiment la planète entière. Et pourtant ce groupe numériquement faible a en quelque sorte fait en sorte de mettre tout le monde en danger, y compris eux-mêmes, par leur affreux caractère vindicatif, leur arrogance infinie et leur myopie idéologiquement induite. Que cela ait pu se produire, et à l'échelle planétaire, est un témoignage dramatique de la dégradation morale et spirituelle de notre civilisation : comment avons-nous pu laisser aller les choses si loin ?
Et la question suivante, évidente : pouvons-nous les arrêter ?
Honnêtement, je ne sais pas. J'espère, mais je n'en suis pas sûr. Mon plus grand espoir avec Trump était qu'il serait prêt à sacrifier l'Empire pour le salut des États-Unis (le contraire de ce que font les néocons : ils sont prêts à sacrifier les États-Unis pour sauver l'Empire) et qu'il organiserait une transition relativement sûre et, avec un peu de chance, non violente de l'Empire à un « pays normal ». À l'évidence, cela ne se produira pas. Au lieu de quoi, les néocons menacent tout le monde : les Chinois, les Russes, les Nord-Coréens et les Vénézuéliens bien sûr, mais aussi les Européens (économiquement), tout le Moyen-Orient ( (via la « seule démocratie du Moyen-Orient »), tous les pays en développement et même le peuple américain. En plus, ils menacent même le président des États-Unis lui-même, et d'une manière assez peu subtile !
Donc quelle est la suite ?
Vraiment, je ne sais pas. Mais mon sentiment dominant est que Trump sera chassé du pouvoir, soit pour « crimes et délits graves », soit pour « raisons médicales » (ils le déclareront tout simplement fou et inapte à assumer la présidence). À voir combien Trump est faible et mou, il pourrait même être « convaincu » de démissionner. Je ne les vois pas l'assassiner, simplement parce qu'il n'est pas non plus Kennedy. Après cela, Pence arrive au pouvoir et ce sera présenté à tous comme un événement merveilleux, un rassemblement des élites suivi d'une répression immédiate et sans merci de toute forme d'opposition politique ou de dissidence, qui sera immédiatement étiquetée comme raciste, homophobe, antisémite, terroriste, etc. On trouvera la sale main du « KGB russe » (oui, je sais, le KGB a été dissout en 1991) partout, en particulier chez les libertariens américains (qui seront probablement les seuls à avoir assez de cervelle pour comprendre ce qui se passe). La (pseudo) Gauche jubilera. Si cette façon de procéder déclenche un niveau de résistance inattendu, régional ou social, un 9/11 sous fausse bannière suivi d'une guerre sera le scénario le plus probable (pourquoi renoncer à quelque chose qui a tellement bien marché la première fois ?). À moins qu'ils ne décident de ré-envahir la Grenade ou de donner à Nauru une raclée bien méritée, n'importe quelle guerre plus ou moins réelle entraînera un échec catastrophique pour les États-Unis au point que le recours aux armes nucléaires par les fous néocons pourrait devenir un risque très réel, en particulier si des cibles symboliques, comme des porte-avions, sont frappées (en 1991, lorsque les États-Unis ont envoyé la 82e AB en Irak, il n'y avait rien entre cette troupe d'infanterie légère et les divisions blindées irakiennes. Si les Irakiens avaient attaqué, le plan était d'utiliser des armes nucléaires tactiques. Ensuite tout cela fut rapidement oublié).
Il y a une raison pour laquelle les néocons prospèrent en temps de crise : cela leur permet de se dissimuler derrière le chaos, en particulier s'ils sont ceux qui l'ont provoqué en premier. Cela signifie que tant que les néocons sont proches du pouvoir, ils ne permettront jamais, jamais, que la paix éclate soudain, de peur que les projecteurs soient subitement dirigés sur eux. Chaos, guerre, crises – c'est leur habitat naturel. Pensez-y comme au sous-produit de leur existence. Finalement, bien sûr, ils seront arrêtés et vaincus, comme tous leurs prédécesseurs dans l'Histoire. Mais je frémis lorsque je pense au prix que l'humanité devra payer cette fois-ci.
The Saker
L'article original article a été rédigé pour Unz Review
Traduit par Diane, vérifié par Wayan, relu par Catherine pour le Saker francophone