Bestaat er wel een wereldziel, een soort geestelijke grammatica die aan de basis van elke grote cultuur ligt?
Dit is zo'n boek dat velen kennen maar weinigen lazen. Het is nochtans, zoals vele van zulke boeken, ruim de moeite waard. Er bestaan maar weinig studies waaruit een dergelijke eruditie spreekt, waar wetenschap, kunst, filosofie, wiskunde, religie, politiek, techniek, landschap … niet als dusdanig worden voorgesteld, maar vanuit hun ziel en dus onderlinge samenhang worden besproken. Eigenlijk vormt dat de grootst mogelijke (hedendaagse) kritiek op deze studie: bestaat dat wel, zo'n overkoepelend, alomvattend systeem dat elke cultuur in al haar veruitwendigingen verklaart? Bestaat er wel een wereldziel, een soort geestelijke grammatica die aan de basis van elke grote cultuur ligt? Gehoorzamen alle culturen aan eenzelfde historische wetmatigheid? Dreigt de werkelijkheid dan niet te worden opgeofferd aan het systeem?
Toen men Hegel opmerkte dat sommige elementen en gebeurtenissen uit de werkelijkheid niet pasten in zijn systeem, zou die koudweg geantwoord hebben: "Dat is dan jammer voor de werkelijkheid." Is dat in Spenglers 'morfologie van de culturen' ook het geval? De manhaftige en (daardoor) aanvechtbare aanpak van Spengler wordt nu voor het eerst volledig in Nederlandse vertaling door Mark Wildschut aangeboden door Uitgeverij Boom. De uitgever lanceert tegelijk ook het digitaal platform LeesSpengler.nl waar u mits een in het boek meegegeven code toegang krijgt op commentaren, samenvattingen en een hele video-voorstelling per hoofdstuk door Ad Verbrugge.
Rome
Ondanks wat veelal wordt beweerd, gaat het in dit boek niet om een pessimisme. Dat veronderstelt immers de mogelijkheid van een weliswaar afgewezen optimistische lezing van de geschiedenis. Spengler bejubelt noch betreurt, nog minder vuurt hij aan tot 'redding' uit de ondergang. Die ondergang heeft namelijk geen morele betekenis, alleen een fysionomische. De westerse cultuur, het Avondland, is oud geworden en treedt haar laatste fase in: de civilisatie. Dat leest Spengler af aan haar prioriteiten: een geesteloze pragmatiek, totale metropolisatie en geld als ultieme maat voor de weging van de wereld. Dat is geen veroordeling, een te remediëren toestand, een laakbare historische misstap van enkelen. Zo vergaat het nu eenmaal elke cultuur. Zo betekende Rome de laatste fase, de ondergang van de antieke cultuur.
Europees denken
De antieke cultuur is niet onze voorloper of de primitieve versie van de moderne cultuur, zoals dat vandaag de dag nog steeds wordt verkondigd. De antieke cultuur en de westerse cultuur staan volledig op zichzelf, net als bijvoorbeeld de Chinese, de Indiase, de Babylonische, de Egyptische, de Arabische en de Mexicaanse. Dat zijn ze dan ineens allemaal. Spengler wijst op twee fouten in het bedrijven van cultuurgeschiedenis, met name de (typisch moderne) idee van vooruitgang als bovengeschiedlijke as waarlangs culturen zich opvolgen; de (even typisch moderne) promotie van de eigen tijd als een historische finaliteit. Culturen zijn namelijk zo goed als onvertaalbaar naar elkaar, dus zeker niet afleidbaar uit elkaar volgens een boventijdelijk schema. Bovendien is er niets speciaals aan het heden, dat heeft geen enkele prevalentie op eender welke andere periode. Elke vorm van eurocentrisme of moderne arrogantie is dus uit den boze. Wél is het zo dat we alleen volgens het westers schema over culturen kunnen nadenken, omdat er nu eenmaal geen buiten-cultureel standpunt bestaat. We denken dus Europees, maar zonder Europa een speciale plaats binnen het wereldgebeuren te geven.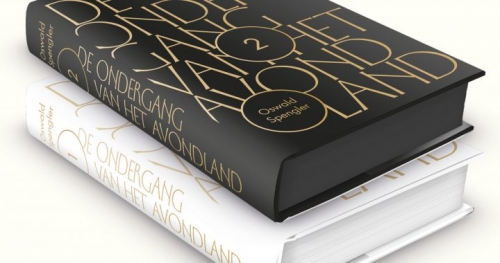 In die zin start Spengler een redelijk nieuwe geschiedbeoefening op, waarbij culturen vanbinnen uit als organismen worden opgevat, organismen die groeien, bloeien en afsterven. Spengler aanvaardt dus geen overkoepelende geschiedenis waarin culturen elk hun voorbestemde positie innemen, maar wel een organische wetmatigheid, een fysionomie, waaraan elke cultuur gehoorzaamt. Dat wil wel zeggen dat Spenglers geschiedenistheorie een westerse is, noodgedwongen. Eigenlijk is dat zelfs niet eens zo vreemd, omdat het belang dat wordt gehecht aan geschiedenis typisch westers is.
Getal
De westerse cultuur noemt Spengler 'faustisch', naar het bekende stuk van Goethe. De antieke cultuur heet dan apollinisch, de Arabische magisch … De faustische ziel wordt geëvoceerd in alle mogelijke facetten van de westerse cultuur: het oneindige (tot haar hoogtepunt gebracht in de infinitesimaalrekening en het 'limietbegrip'), het muzikale ('voelbaar' tot in de architectuur), de innerlijk-reflexieve ziel (het tragische bewustzijn van King Lear versus de tragische situaties bij Oidipous), de hang naar steeds meer tot in het onbereikbare … Dat leest Spengler zelfs af in de manier waarop het Westen het getal 'cultiveert'. Het is werkelijk fascinerend hoe die in een getal, voor de geciviliseerde westerling een louter rekenmiddel, de basisgrammatica van een hele cultuur kan oproepen. Geduldig ontvouwt Spengler hoe elke cultuur anders omgaat met het getal en hoe die manier telkens weer tekenend is voor die cultuur. Het getal als basissymbool en betekenaar voor de cultuurziel.
Caesarisme
Wat ons te doen staat, is het begrijpen van de actualiteit vanuit die ziel, voornamelijk dan in termen van haar politieke opdracht. Dat laatste maakte trouwens de oorspronkelijke opzet van deze studie uit. Maar om de politiek binnen het culturele raamwerk te kunnen begrijpen, in de 'diepte', moest hij eerst in een cultuurhistorische en –filosofische studie voorzien. Die ligt dus nu en hier voor. De westerse ziel is uitgeput, haar beschaving markeert haar eigen ondergang. Nogmaals, Spengler bepleit hier geen politiek die tegen die ondergang ingaat, dat is een foute nazi-lezing. De nazi-ideologen wilden de klok terugdraaien en de waarden en instellingen waarvan Spengler in zijn diagnose de erosie noteerde, nieuw leven inblazen. Dat is nu precies wat Spengler niét zegt. Hij voorspelt een terugval in een 'primitiever' politiek stadium, met onder meer een vorm van 'caesarisme', iets waarnaar ons huidig populisme misschien verwijst. Immers, democratie is een vervallen politieke vorm waarin geld en wetenschap overnemen van adel en priesterstand. Vervallen, omdat het volgens Spengler nooit om een echte democratie gaat, maar veeleer een verhulde dictatuur waarin het geld via dictatuur van partij en pers wezenlijk het maatschappelijk gebeuren bepaalt. Dat laat een mechanisme toe waar uiteindelijk een charismatisch figuur wars van elk programma of ideologie, utopie of visie, botweg de macht neemt door het handig inzetten van de massa. Het heeft geen enkele zin hier tegenin ter gaan, want zo vergaat het nu eenmaal elke cultuur.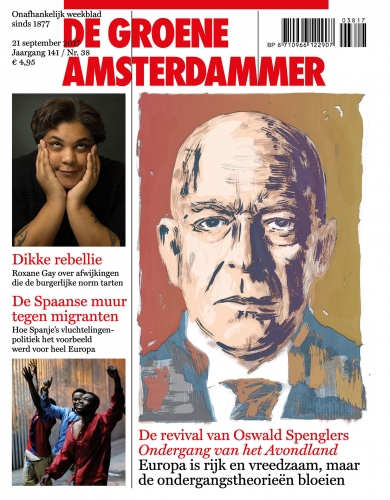 Cultuurrelativisme
Het verschil tussen het grote historische schema van Hegel en dat van Spengler zit hem hierin dat de eerste een alomvattende geschiedenis ontvouwt terwijl de laatste een westerse geschiedenis van binnenuit uitrolt volgens een universeel programma, geïnspireerd op het levend organisme. Dat leverde hem ten onrechte de titel van 'cultuurrelativist'. Volgens Spengler kan niemand, zelfs geen cultuurfilosoof, uit de cultuur stappen om vanuit een 'view fromnowhere' culturen als objecten te bestuderen. Cultuurrelativisme vooronderstelt namelijk dergelijk abstract gezichtspunt. De vraag naar de cultuurgeschiedenis is zelf typisch voor de westerse cultuur. Ook al bekritiseert hij de bestaande historische modellen en theorieën, toch noemt hij zijn aanpak en methode onvervalst westers.
We komen tussen de regels van deze studie vele voorlopers en volgelingen uit de (westerse) filosofie en wetenschap tegen. We lezen de echo's van onder meer Dilthey (natuur vs. geschiedenis) en Bergson (ruimte vs. tijd), begrijpen waar onder meer Heidegger (er bestaat geen universele historische dialectiek), Cassirer (symbolische vormen als bouwstenen van cultuur), Gadamer (historische horizontaliteit van het begrijpen) en Fukuyama (apocalyptiek van de westerse beschaving) hun inspiratie vandaan haalden. In die zin kan dus dit monumentale werk van Spengler terecht als mijlpaal worden gelezen.