Deutsche Wirtschafts Nachrichten: Herr Cohen, Sie sind Professor Emeritus für Russland-Studien und Politik an der Princeton Universität, politischer Berater der US-Regierung und Mitglied im Council on Foreign Relations (CFR). Wie kommt es, dass Sie dennoch von den US-Medien gemieden werden, wenn es um eine Einschätzung zu Russland geht?
Stephen Cohen: Ich wurde in den 1980ern zweimal von Präsident George H.W. Bush nach Washington und Camp David eingeladen, um über Russlands Politik zu sprechen. Und das Council on Foreign Relations? Bei Ihnen klingt das so, als ob ich der amerikanischen Elite nahe stehe, aber das ist nicht wahr. Es ist nur der innere Kreis des CFR, der einflussreich ist und die amerikanische Elite vertritt. Ich bin seit Jahrzehnten einfaches Mitglied. Einst interessierte man sich dort für eine ausgewogene Sicht auf Russland, doch nun nicht mehr. Diese Organisation ist inzwischen so uninteressiert an Russlands Politik, dass ich nicht länger hingehe. Es gab eine Zeit in den 70ern, 80ern und teilweise in den 90ern, als ich einfachen Zugang zu den Massenmedien hatte. Das hörte Ende der 90er Jahre langsam auf. Und seit Putin an der Macht ist, wurde ich fast gar nicht mehr eingeladen. Das trifft nicht nur auf mich zu, sondern auch auf andere Amerikaner, die gegen die derzeitige US-Außenpolitik sind. Wir wurden aus den Massenmedien verbannt.
Deutsche Wirtschafts Nachrichten: Welche politischen Fehler hat der Westen aus ihrer Sicht nach dem Zusammenbruch der Sowjetunion begangen?
Stephen Cohen: Ich denke, dass das heutige Desaster in der Ukraine und der Rückfall in einen neuen Kalten Krieg seinen Ursprung in den 90er Jahren in Washington hat. Was waren damals die größten Fehler? Einer war die Sieger-Mentalität bei beiden Parteien im US-Kongress. Es war die gefährliche Sichtweise, dass das post-sowjetische Russland eine Bittsteller-Nation für die Vereinigten Staaten sein würde. Die Idee war, dass Russland die Reformen durchführen würde, die die USA verlangten. Das ganze sollte durch den IWF, die Weltbank und unseren Verbündeten Boris Jelzin bewältigt werden. Der zweite große Fehler war die Entscheidung, die NATO östlich in Richtung Russlands Grenzen zu erweitern. Die Leute, die diese Politik bis heute verfolgen, sagen, sie sei rechtschaffen und könnten nicht nachvollziehen, wieso Russland dagegen sein könnte. Das war absolut dumm. Stellen Sie sich zum Vergleich ein russisches Militärbündnis vor, dass an den US-Grenzen in Mexiko oder Kanada auftaucht. Wenn der US-Präsident dann nicht den Krieg erklären würde, würde er auf der Stelle seines Amtes enthoben.
Deutsche Wirtschafts Nachrichten: Dabei sah es um die Jahrtausendwende zunächst nach einer Entspannung zwischen Russland und den USA aus…
Stephen Cohen: Ja, nach den Anschlägen auf das World Trade Center tat Wladimir Putin viel, um die USA im Kampf gegen die Taliban zu unterstützen. Im Gegenzug tat George Bush jedoch etwas, was in Russland als gebrochenes Versprechen und sogar Verrat verstanden wurde. Die USA kündigten einseitig den ABM-Vertrag auf [Anti-Ballistic-Missile Treaty zur Begrenzung von Raketenabwehr-Systemen; Anm. d. Red.]. Der ABM-Vertrag war das Fundament der internationalen Nuklearsicherheit und ein Schlüsselbestandteil für Russlands Sicherheitspolitik. Und darüber hinaus setzte die Bush-Regierung die NATO-Osterweiterung in den baltischen Staaten fort. Bush versuchte sogar Georgien und die Ukraine in die NATO zu holen, was letztlich aber von Frankreich und Deutschland durch ein Veto unterbunden wurde. Die USA haben die rote Linie Russlands in Georgien 2008 überschritten und es folgte ein Stellvertreter-Krieg. Und 2013 haben sie die rote Linie in der Ukraine erneut überschritten und nun haben wir meiner Meinung nach die schlimmste internationale Krise seit der Kubakrise.
Deutsche Wirtschafts Nachrichten: Der Auslöser für die Ukraine-Krise war das EU-Assoziierungsabkommen, dass die Ukraine enger an den Westen binden sollte. Warum war dieses Abkommen so explosiv?
Stephen Cohen: In dem Abkommen waren sowohl Regelungen zu Handelsbeziehungen, als auch Reise- und Visa-Bestimmungen enthalten. Das alles hörte sich zunächst gutmütig und großzügig an. Aber die Realität war, dass sich darin auch ein Paragraph zu militärischen und sicherheitsrelevanten Themen befand, was natürlich mit der NATO zu tun hatte. Die Ukraine wäre zwar nicht zum NATO-Mitglied gemacht worden, aber sie hätte sich der Sicherheitspolitik der EU und damit auch der NATO beugen müssen. Das machte sie de facto zu Verbündeten der NATO gegen Russland. Es war eine klare militärische Provokation gegenüber Russland. Das war hoch explosiv und wurde in den westlichen Medien nie ausreichend gewürdigt.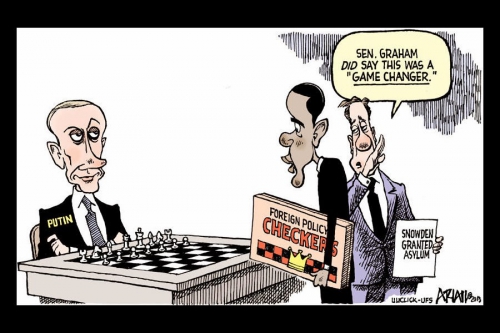 Deutsche Wirtschafts Nachrichten: Wurde Russland nicht ausreichend in die Verhandlungen zum EU-Abkommen eingebunden?
Stephen Cohen: Als das Thema des EU-Assoziierungsabkommens Mitte 2012 aufkam, war die offizielle Kreml-Position, dass dies gut für alle Beteiligten sein könnte. Putin arbeitete zu dieser Zeit an einer eurasischen Wirtschaftsunion. Deshalb sagte er, dass dies ein dreiseitiges Abkommen sein sollte, zwischen der Ukraine und der EU einerseits und zwischen Russland und der EU andererseits. Die Ukraine und Russland waren geschichtlich gesehen immer enge Handelspartner. Also sagte Putin: Je mehr Handel, desto mehr Produktion und Austausch, desto besser. Er schlug die Einbeziehung Russlands in das Abkommen vor. Doch die EU lehnte diesen Vorschlag ab und stellte die Ukraine vor die Wahl: Entweder die EU oder Russland. Sie drängten damit ein Land, dass kulturell, politisch und wirtschaftlich enge Verbindungen zu Russland hat, sich wirtschaftlich nur mit der EU zu verbünden und Russland auszuschließen. Das wäre ein Desaster für die Ukraine gewesen.
Deutsche Wirtschafts Nachrichten: Warum hat die EU ein Abkommen mit Russland boykottiert?
Stephen Cohen: Ich denke, es war eine Mischung aus Dummheit und böswilliger Absicht, die dahinter steckte. Aber als Janukowitsch dahinter kam, was dies für die Ukraine bedeuten würde, nämlich den Verlust von Milliarden Dollar an Handelsbeziehungen mit Russland und nur einige Millionen Dollar im Gegenzug durch die EU, da zögerte er mit seiner Unterschrift und erbat sich mehr Zeit. Kein ukrainischer Politiker, der noch ganz bei Verstand ist, hätte das Abkommen in dieser Form unterzeichnen können. Doch die EU wollte das Abkommen schnell zum Abschluss bringen und setzte Janukowitsch ein Ultimatum – eine Tatsache, die Putin der EU später zum Vorwurf machte.
Deutsche Wirtschafts Nachrichten: Der CEO des privaten Nachrichtendienstes Stratfor, George Friedman, sagte kürzlich, dass die Verhinderung einer deutsch-russischen Allianz das oberste Ziel der US-Außenpolitik sei. Inwiefern hat dies die US-Politik in der Ukraine-Krise beeinflusst?
Stephen Cohen: Offiziell haben die USA in der Ukraine keine Rolle gespielt, aber hinter den Kulissen haben die USA die Lage von Anfang an kontrolliert. Die NATO und der IWF waren involviert und beide werden durch Washington kontrolliert. Ein dreiseitiges Abkommen zwischen Russland, der EU und der Ukraine wäre nicht im Sinne der US-Außenpolitik gewesen, denn die USA hätten von diesem Abkommen nicht profitiert. Ob dies, wie George behauptet, Teil eines größeren Plans ist, kann ich nicht beurteilen. Das Problem mit Georges Argument ist, dass er sehr stark durch Leute aus der CIA beeinflusst wird und dass er ein hohes Maß an Intelligenz und strategischem Denken bei westlichen Politikern voraussetzt. Ich bezweifle aber, dass die meisten US-Abgeordneten wüssten wovon wir reden, wenn wir sie morgen fragen, ob es das Hauptziel der US-Außenpolitik ist, eine Allianz zwischen Russland und Kern-Europa zu verhindern. Wir müssten die Analyse von George also auf eine kleine Gruppe hochrangiger, historisch bewanderter und gut ausgebildeter Entscheider in Washington begrenzen. Und da, denke ich, hat er recht mit seiner Aussage.
Deutsche Wirtschafts Nachrichten: Gibt es historische Belege für seine Aussage?
Stephen Cohen: Georges Argument ist als historische Abstraktion von entscheidender Bedeutung. Ich bin der Ansicht, dass Russlands Beziehung zu den USA eine fundamental andere ist, als noch zu Zeiten des Kalten Krieges. Alles, was Russland heute von den USA benötigt, betrifft Fragen der nuklearen Sicherheit, also die Regulierung nuklearer Waffen. Alles andere, was Russland braucht, kann es von Berlin und Peking bekommen. Je nach dem wie die Ukraine-Krise verläuft – und zurzeit bin ich da sehr pessimistisch – könnten wir wieder an einen Punkt gelangen, wo Russland sich verstärkt auf seine Beziehungen zu Deutschland und China konzentriert. Ich denke, dass wäre eine gute Sache für die Sicherheit in der Welt. Es ist Zeit für Europa, dass es endlich eine Außenpolitik entwickelt, die unabhängig von den USA, aber nicht gegen sie ist. Und es könnte diese Krise sein, die Europa von den USA trennt.
Deutsche Wirtschafts Nachrichten: Sie sind der Ansicht, dass Russland in der Ukraine-Krise nur reagiert habe. War Putins Entscheidung gerechtfertigt, die Krim an Russland anzugliedern?
Stephen Cohen: Es war eine Reaktion auf die Ereignisse vom Februar 2014 in Kiew. George Friedman bezeichnete sie als "Coup" und genau so sahen es auch die Russen. Die gesamte politische Elite Russlands sah das als eine potentielle Bedrohung für die Krim und die russische Marinebasis dort. Außerdem sahen sie in der Rhetorik der neuen Machthaber eine Bedrohung für ethnische Russen auf der Krim. So musste Putin entscheiden, was zu tun ist. Er sagte später, dass es bis zu diesem Moment nie eine Diskussion über eine Angliederung der Krim gegeben habe und für gewöhnlich lügt er nicht in der Öffentlichkeit. Diese Entscheidung wurde Putin aufgebürdet und sie ist ein klassisches Beispiel dafür, dass er in dieser Krise nicht der Aggressor war, sondern der Reagierende.
Deutsche Wirtschafts Nachrichten: Putin wurde von den westlichen Medien als der Hauptschuldige der Krise ausgemacht. Wie sehen Sie die Sicht des Westens auf Putin?
Stephen Cohen: Als klar wurde, dass Putin seine eigenen Ideen hatte – und das wurde in Washington spätestens mit dem Chodorkowski-Fall klar – entfaltete sich die Dämonisierung Putins in den US-Medien. Die Leute, die den Anti-Putin-Kult geschaffen haben, sahen ihr Vorhaben in Russland durch seinen Aufstieg gefährdet. Sie verstanden dabei jedoch nicht, was Putins eigentliches Mandat war, und das war dasjenige, Russland vor dem Untergang zu bewahren.
Russland stand politisch, wirtschaftlich und geografisch vor dem Kollaps. Und Putin sah sich auf einer historischen Mission, die Souveränität Russlands wiederherzustellen. Im Jahr 2007 hielt er eine vielbeachtete Rede auf der Münchner Sicherheitskonferenz. Dort sagte er vor der gesamten westlichen Politik-Elite: "Die Beziehungen zwischen Russland und dem Westen glichen seit dem Zusammenbruch der Sowjetunion einer Einbahnstraße. Wir machten Zugeständnisse, und der Westen ignorierte unsere Position. Doch nun ist die Ära von Russlands einseitigen Zugeständnissen vorbei." Danach wurde Putin mit haltlosen Beschuldigungen überzogen und für alle möglichen Verbrechen verantwortlich gemacht – vom Attentat auf die Journalistin Anna Politkowskaja bis zur Ermordung des Ex-FSB-Agenten Andrey Litwinenko. Die offizielle Version wurde schnell die, dass alles, was zwischen den USA und Russland schief läuft, Putins Schuld sei. In der Ukraine-Krise ging es nicht mehr um Russland, sondern nur noch um Putin. Es war die Rede von "Putins Invasion" und "Putins Aggression" – eine wahre "Putinphobie" brach los (wie extrem dies sein kann, zeigt das martialische Statement der republikanischen Präsidentschaftskandidatin Carly Fiorino, Video am Anfang des Artikels; die Redaktion).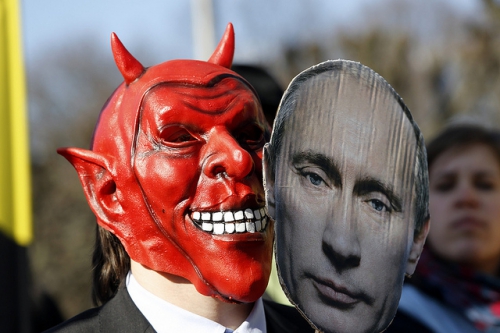 Deutsche Wirtschafts Nachrichten: Wer steckt hinter dieser Entwicklung?
Stephen Cohen: Diese Kampagne wird von Organisationen befeuert, die an einem Kalten Krieg mit Russland interessiert sind. Diese Anti-Putin-Lobby verfügt über Millionen von Dollars, um die Presse mit Angriffen auf Putin zu füttern. Hillary Clinton verglich ihn mit Adolf Hitler und sagte, er habe keine Seele. Obama nannte ihn einen rüpelhaften Schuljungen, der andere in die Ecke treibt und sich ständig streiten will. Zu meinen Lebzeiten wurde nie ein russischer Politiker derart verunglimpft wie Putin, nicht einmal auf dem Höhepunkt des Kalten Krieges. Jeder rationale Diskurs wird dadurch im Keim erstickt, was eine gefährliche Entwicklung darstellt. Sogar Henry Kissinger schrieb in der Washington Post, dass die "Dämonisierung Putins keine Strategie ist, sondern ein Alibi für die Abwesenheit einer Strategie" (Kissingers neue Sichtweise – hier). Ich denke, es ist sogar noch schlimmer, als keine Strategie zu haben. Die Dämonisierung Putins ist zum Selbstzweck geworden. Und ich denke, Kissinger weiß das, nur konnte er es nicht sagen, da er weiterhin das Weiße Haus politisch beraten möchte.
***
Stephen F. Cohen war Professor für Russistik an der Princeton University und der New York University. Er schreibt regelmäßig für das US-Magazin The Nation und ist Autor zahlreicher Bücher über Russland, darunter Failed Crusade: America and the Tragedy of Post-Communist Russia. Darüber hinaus hat er das American Committee for East-West Accord mitbegründet. Diese Organisation zählt ehemalige US-Senatoren, Botschafter und politische Berater zu ihren Mitgliedern, die sich für einen friedlichen Austausch mit Russland einsetzen. Sie fordern, dass die seit 2014 gestoppte Zusammenarbeit beider Staaten im NATO-Russland-Rat wiederaufgenommen wird und ihre Anstregnungen zur nuklearen Abrüstung fortgesetzt werden.