Quand Mae Holland est embauchée par The Circle (Le Cercle), l'entreprise vient tout juste de devenir la plus puissante du monde grâce à son système TruYou. TruYou a aboli l'anonymat et unifié tous les services sur le Net.
« The Circle », le dernier roman de Dave Eggers (pas encore publié en France), raconte un univers dont la ressemblance avec Google n'échappera à personne. La transparence, la civilité et le partage sont les piliers de cet nouvel âge numérique dicté par une entreprise privée.
Si on devait le comparer à la référence absolue en matière de dystopie (contre-utopie) qu'est « 1984 » d'Orwell :
Eggers a décidé de se projeter dans un avenir très proche (quelques années tout au plus) quand Orwell opérait un bond de 44 ans ;

Eggers a choisi de décrire le pouvoir totalitaire de l'intérieur et depuis ses hautes instances – le protagoniste principal devient peu à peu l'un des rouages. Orwell, lui, décrivait de l'extérieur un monde totalitaire ;

Eggers raconte l'engrenage qui conduit à l'instauration du cauchemar totalitaire quand le récit d'Orwell s'ancrait plusieurs décennies après son avènement.
Des faiblesses, mais une vraie réflexion
Il met en scène les angoisses de notre quotidien d'internaute. C'est bien là tout l'art de la dystopie : se faire plus peur que de raison. Mais à pousser le bouchon un peu loin, Eggers s'expose à des critiques (parfois justifiées) qui relèvent les incohérences technologiques (que pointent Wired, The Atlantic ou le New York Times).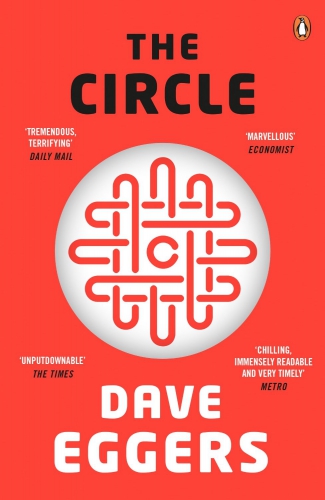 Et c'est vrai qu'il manque deux choses essentielles à un (très) bon roman : finesse et substance, tant dans les personnages (qui manquent vraiment de profondeur) que dans l'avènement du système totalitaire.
Le tout-connecté : la dictature des réseaux sociaux
Il n'est pas question dans « The Circle » de réseaux sociaux, mais d'un réseau social, Zing, d'échelle planétaire et universellement adopté. Une sorte de mix entre Google Plus et Twitter. Au fil du récit, les « Zingers » deviennent de plus en plus obsessionnels, harcelant, exigeant, masquant derrière une politesse de façade une intransigeance narcissique.
Il est impossible d'ignorer ces nouveaux cercles et « liens » sociaux, autant qu'il est impossible de refuser d'y prendre part. Les entreprises exigent une participation active à la communauté, une réponse à tous, une image soignée.
Censé réunir, le réseau social sépare : ceux qui s'en écartent sont des parias. Ceux qui en font partie sont en compétition : le « ParticipationRank » donne à chacun son degré de popularité sur le réseau, et tous bataillent de superficialités pour grimper cette nouvelle échelle sociale.
La transparence absolue : à bas l'anonymat et la vie privée
« Les secrets sont des mensonges, la vie privée est un vol, partager est prendre soin » (« Secrets are Lies, Privacy is Theft, Sharing is Caring »). Voilà les trois maximes résumant la philosophie du « Cercle » qui ne sont pas sans rappeler la sainte-trinité de l'univers de « 1984 » : « La guerre, c'est la paix ; la liberté, c'est l'esclavage ; l'ignorance est la force ».
Dans le monde de « The Circle », l'individu se doit de s'effacer face à la communauté, c'est-à-dire l'humanité. Garder pour soi un sentiment, une expérience vécue ou une chose vue, revient à voler les autres de l'opportunité de s'enrichir.
La planète se couvre de petites caméras haute-résolution, les hommes aussi. Tout doit pouvoir être capté et enregistré au profit de la mémoire commune, mensonges et secrets n'ont plus le droit de voiler le regard omniprésent de la communauté, et tout endroit doit être accessible en direct sur son écran.
Supprimer le bouton « supprimer »
Société du « big data » oblige, il faut stocker toujours plus de données. L'information est la matière première qui sert à connaître et donc influencer et conditionner chacun de nous. The Circle retire donc le doigt de ses usagers du bouton « supprimer », avant d'effacer tout simplement le bouton quand la technologie le permet enfin.
Comme l'héroïne du roman l'apprend à ses dépend, tout acte répréhensible ou intime capté par une caméra ou un portable, tout écrit ou commentaire qui finirait sur Internet sera éternel. Impossible de se défiler, les preuves ne disparaissent pas. Le droit à l'oubli est devenu tabou, et chacun se censure lui-même pour éviter le faux pas : même pas besoin de police de la pensée.
Faillite du système démocratique et totalitarisme inversé
L'ultra-médiatisation et la société informationnelle ont participé à l'abattement du système démocratique : le temps médiatique contraint les politiques à la dramaturgie au détriment du fond et décrédibilise tout le système. L'un d'entre eux accepte de devenir « transparent » et de porter une mini-caméra en permanence. Et tous le suivent peu à peu, bon gré mal gré.
Les gens partagent entre eux, sans intermédiaire, votent d'une simple pression sur écran tactile. Les études, questionnaires et pétitions pleuvent sans interruption sur des terminaux omniprésents. On échange d'un bout à l'autre de la planète sur tous les sujets, si bien que les identités culturelles et nationales s'effacent.
Grand marionnettiste, le Cercle récupère tout cela à son compte sans interférer, centralise cette activité en son sein. Après le totalitarisme répressif du XXe siècle, le « soft totalitarisme » du début des années 2000, bienvenue dans le cauchemar de demain : le totalitarisme inversé