Ray Bradbury once said, "I wasn't trying to predict the future. I was trying to prevent it." Really, that's the whole point of science fiction. The genre has never been about predicting new technologies. Instead, its purpose is to warn us about the dark future to come, if we don't change our path.
Occasionally, we listen and learn, and then society improves. But other times, we don't. And while the present day seems quite ordinary to us, the reality is that our modern era was once a horrible, terrifying nightmare that sci-fi writers desperately tried to stop.
10
'Number 12 Looks Just Like You' Warned Us About South Korea's Plastic Surgery Obsession
When The Twilight Zone first aired on TV, cosmetic surgery barely existed. It was only used for the absolute worst medical cases. The idea of someone getting their face restructured just for the sake of looking pretty still seemed outlandish to most people.
But not to the writers of The Twilight Zone. As it turns out, they knew exactly what was coming.
In the episode "Number 12 Looks Just Like You," we're taken to a future where every person is expected to go through a "transformation" at age 18. This surgery completely changes their face to resemble one of a small number of gorgeous models. It's such a big change that teenagers are appointed therapists to deal with the stress of waiting to become beautiful.
When they wrote it, the Twilight Zone writers were just worried about girls using too much make-up. But in South Korea, the world is more like "Number 12 Looks Just Like You" than even the writers could have predicted.
A shocking one in three girls in South Korea have had plastic surgery, and just like in the story, the results are drastic. So much so that plastic surgeons now have to hand out certificates proving that the attractive girl in question is really the same drab-looking person on her ID.
Just like in the story, plastic surgery is a common graduation gift for girls after high school. It really seems like they're living in the Twilight Zone. Girls suffering through high school, unable to live up to the unreal standards that adults have created, and then conforming to one of a few faces as soon as they turn 18.
9
'The Veldt' Warned Us About Video Game Violence
When Ray Bradbury wrote his short story, "The Veldt," televisions were just coming into homes for the first time, and these inventions changed everything, especially parenting. It's kind of hard to imagine how parents did it before Dora the Explorer was around to help out. Raising a child was a much different thing back in the day . . . and Bradbury was terrified about how it might change.
In "The Veldt," Bradbury writes about a family that uses a "nursery"—basically, an interactive TV—to keep their kids entertained. The children end up being raised more by the nursery than by the parents, and that's when the kids start going savage. It gets so bad that, when the worried parents finally shut the nursery down, the kids murder them.
Perhaps Bradbury's story sounds kind of far-fetched. How could TV make a kid murder his parents? Well, the thing is, it actually happened. The exact events of the story played out in real life.
A 14-year-old boy named Noah Crooks was obsessed with video games, and just like in the story, his mother began to worry about how it was affecting him. His grades were going down, and he was becoming more and more prone to violence. And just like in the story, his mother decided to shut the video games down.
Noah didn't take this well. He erupted in a fit of rage and murdered his own mother.
Sure, Noah isn't exactly normal, but neither are the kids in the story. They're portrayed as an extreme symptom of a larger problem. Ray Bradbury wasn't saying everyone would murder their parents. Instead, he argued that children would lose enough parental guidance that it could possibly happen. And maybe Bradbury was right. Maybe TV and video games have really messed us up, but we're just so used to them that we don't even realize it.
8
'The Machine Stops' Warned Us About Facebook Friendships
When it came out in 1909, "The Machine Stops" seemed like a bit of an overreaction. The telephone had just started to enter into people's homes, and E.M. Forster was already worried that society was somehow ruined. He imagined a ridiculous future where people would spend all their time indoors, sitting at machines, while sending short, pithy thoughts to thousands of "friends" they'd never met, and "liking" things as their main source of human interaction.
Sure, this probably sounded paranoid in 1909. After all, it was just a telephone. But today, our reality is almost exactly like the world in "The Machine Stops." The story's depiction of long-distance interactions is eerily similar to social media. The idea of having thousands of online friends you've never met is a terrifyingly dead-on prediction of Facebook. And the way people in the story send out short, one-sentence thoughts is basically an old-timey Twitter.
But it's more than just the inventions, though. The whole culture Forster predicted in 1909 is just like ours. For example, Forster portrayed social media as a form of distraction. When the protagonist of the story starts to feel sadness for her son, she's immediately pulled out of her thoughts by the ability to "like" things. And according to some people, that's exactly what happens in real life. Some claim that social media really does distract us from our families and emotions by giving us hard-to-ignore jolts of stimulation.
There's also our attitude toward the outdoors. In the story, going outside for pleasure is considered weird. Now, most people won't say that out loud, but it does seem to be our view today. According to one study, only about 1 percent of Americans actually participate in nature-based activities.
The final message of the story is that our connection to nature and our families is what brings us happiness, not social media. Similarly, a study of college students showed that heavy Facebook users are more likely to be depressed, so maybe that message hits home for us, too.
For a story written in 1909, the overlaps are incredible. The only thing Forster got wrong was that he thought some robotic dictator would force us into this scenario. In reality, we were happy to do it ourselves.
7
'The Fun They Had' Warned Us About Online Learning
When Isaac Asimov wrote "The Fun They Had," he wasn't really worried about any particular issue. Actually, he only wrote this story—a tale of kids learning on computers—as a favor for a friend. But what might've seemed inconsequential in Asimov's time is quickly becoming a reality today.
The story tells about a future where children learn exclusively at home, on computers. When the computers break down, the kids find out that students used to learn in classrooms, and suddenly, they begin wondering about "the fun they had" in the past.
We aren't quite at that point yet, but we're getting there. When Asimov penned this tale, all education took place in classrooms, and barely anyone was homeschooled. Today, the rate of homeschooled kids has tripled to nearly two million in America alone.
Learning on computers is becoming a reality, too. As of 2011, 30 percent of all college students were learning via the Internet. But it's not just limited to adults, though. Schools are already promoting online, computer-based teaching in nurseries. According to advocates, this will soon be the norm.
When you think of Asimov's time period, this was a truly crazy prediction. In the 1950s, personal computers didn't even exist, and the idea of giving up school must've seemed fairly far-fetched. But today, the technological innovations that Asimov wrote about are quickly becoming the way we learn.
6
'Marionettes, Inc.' Warned Us About 'Waifus'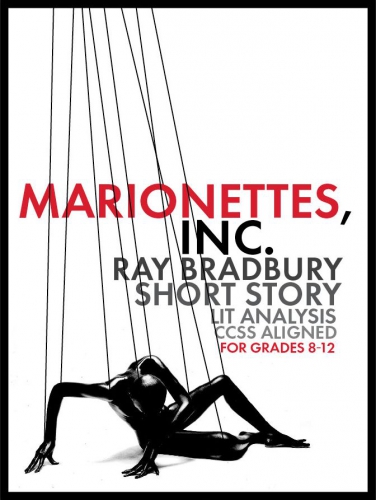 Ray Bradbury's "Marionettes, Inc." is a little silly.
In this short story, two men have such a hard time putting up with their wives' affections that they buy look-alike robots to stand in for themselves at home. But the twist is that the women like the robots better than their husbands. And in the end, the main character is stuffed into a crate and permanently replaced by the robo-hubby.
On its face, this sounds pretty ridiculous. It's not like we're so unwilling to put a little work into our relationships that we'd replace our partners with dolls . . . are we?
Well, in Japan, that's exactly what's happening.
Japan is dealing with an epidemic of growing disinterest in sex. Currently, 61 percent of unmarried Japanese men have never dated anyone, and 45 percent of women between the ages of 16 and 24 say they have no interest in having sex whatsoever. So why did half of Japan lose interest in having relationships with other people? Because it's too hard.
Experts have consistently blamed this phenomenon of so-called "herbivore" asexuals on people just giving up. Things are so serious that one economic analyst actually proposed a tax hike on sexually attractive people. He hopes this will give uglier men a chance when it comes to dating, thus increasing the national birthrate.
But while these "herbivores" say they have no interest in sex, that's not exactly true. While they might not put in the effort necessary to attract human girls, they're perfectly happy to start romantic relationships with artificial ones. These men spend their time playing with virtual girlfriends on computers, purchasing erotic figurines of cartoon characters, or dating "waifus"—pillows with pictures of girls on them.
This phenomenon isn't just limited to Japan, either. America has "iDollators," men who have given up on attracting human women. Instead, they've "married" realistic sex dolls, as seen in the video above.
There's something about "Marionettes, Inc." that feels like Bradbury just wrote it for a laugh. But weirdly enough, we're suddenly living in a world where life-like dolls really are creeping into our bedrooms.
5
'The Brain Center At Whipple's' Warned Us That Robots Would Take Our Jobs
In 1964, Rod Serling wrote a Twilight Zone episode that ended with one its trademark twists. The episode focuses on Wallace V. Whipple, a man who fires the employees at his manufacturing company and replaces them with robots. In the episode's ironic ending, Whipple ends up getting replaced by a robot himself.
Similar to many other Twilight Zone episodes, "The Brain Center at Whipple's" actually predicted the future. First of all, while robot factories are completely a thing these days, you might not realize how space-age they are. We're far past the point where we just have a few machines and computers to make the job easier. More and more, factories are increasingly operated by robots, just like Serling predicted.
Experts are predicting that, over the next 20 years, we are going to see about 50 percent of all jobs disappear. But we're not just talking about factory jobs, and that's what's so spot-on about "The Brain Center at Whipple's." Just like Wallace V. Whipple, the managers who had us replaced are starting to be replaced by robots themselves.
A computer program has been created and tested that not only chooses employees, but it actually seems to make better hiring decisions than humans do. When the program was put in charge of picking who to hire, its top choices stayed on the staff for an average of 29 days longer than the other applicants. So for those you at Amazon who are losing jobs to delivery drones, take a little comfort. The robots are coming for your boss, too.
4
'Solution Unsatisfactory' Warned Us About The Cold War
The world changed after America invented the atomic bomb. This terrifying weapon wreaked such destruction that it brought an end to World War II. It also gave us a world where America was a superpower, and nations carried enough weapons to destroy the planet, thus giving rise to the Cold War. And when that icy conflict ended, it left us in an era where the US patrols other countries, limiting their access to weapons of mass destruction in the name of peace.
That's not a history lesson. That's a summary of Robert Heinlein's story "Solution Unsatisfactory," written before the Manhattan Project even began.
Heinlein wrote this story before the US had entered World War II. The plot was inspired—according to Heinlein—by an editor asking him to write a story about "radioactive dust" being used as a weapon. But the weird thing about "Solution Unsatisfactory" isn't that Heinlein got the atomic bomb right. (In fact, he thought it would be more like a biological weapon.) It's that he predicted the next 60 years of history almost perfectly.
Like Heinlein guessed, the introduction of nuclear weaponry caused us to live in constant terror of imminent nuclear destruction. During the Cold War, children even watched "edutainment" videos on how to survive an apocalypse as part of a regular school curriculum. But Heinlein's story goes even further. He warns of a future when America would play the part of world police.
In his story, America holds enough weapons to destroy the entire planet. It then uses them to create a "Peace Patrol" that forces everyone else to give up their militaries. It's almost exactly what's happening today, with America's current efforts to keep countries like Iran from becoming nuclear powers.
Heinlein ends his story by warning that America probably won't be able to keep up its role as international peace officer, and the world will probably destroy itself. That should be a pretty troubling prediction, given how much of the future Heinlein actually got right.
However, the only thing he didn't predict is how complacent we'd become to this dystopian life. Heinlein ended his story by writing, "I can't be happy in a world where any man, or group of men, has the power of death over you and me." And really, whether we talk about it or not, that's the world we live in right now. Only we've just learned to go on with it, to stop worrying and love the dystopia.
3
'Static' Warned Us About Our Obsession With Nostalgia
If you want proof that our culture has become obsessed with nostalgia, just log onto Buzzfeed. You don't have to search hard to find an article with a title like "Only '90s Kids Will Remember This."
The Twilight Zone warned us about this problem, too. The 1961 episode "Static" tells the story of a man in his late 50s who finds an old radio that only plays programs from his childhood. He becomes obsessed with the radio, and he won't do anything but listen to it. Soon, his friends become worried about his mental health, and they take his radio away.
Does that sound familiar? The radio is basically Nickelodeon's TV station that only plays '90s shows, or any other "retro TV" station or website devoted to pop culture, for that matter. Basically, every aspect of our entertainment is obsessed with the past.
Take movies, for example. Josh Kurp of Uproxx looked at the top 10 grossing movies for each year since 1990. He found that, out of every hit so far this decade, there are only six that aren't remakes or sequels. It seems we're perpetually revisiting our childhood, just like the man by the radio. And this might be more of an issue than we realize.
Originally, "nostalgia" was a mental illness, not something we were supposed to take pride in. The word came about to describe a crippling longing for the past, which in turn leads to depression. These days, some worry that we're getting stuck in a rut because of our focus on the past, both artistically and culturally. Perhaps, like the man in the Twilight Zone episode, we're all sitting by a machine, playing back our past memories . . . and perhaps that's a problem.
2
Fahrenheit 451 Warned Us About Our Obsession With Reality TV
Fahrenheit 451 is about more than just burning books. It's about a culture that willingly gives up on its intellectualism and social connections, all thanks to TV. Sure, nobody is setting books on fire right now, but some other parts of the novel are eerily similar to our reality today.
In the book, the hero's wife, Mildred, spends most of her time watching a "parlor family" on TV as they play out their ordinary lives. She seems more emotionally invested in these characters than she is in her own family. Mildred insists that she has an obligation to keep up with what they're doing, and she ignores her husband to focus on the show, even putting "audible seashells" in her ears to shut off the world around her.
It's eerily close to modern reality TV shows, especially ones like the Kardashians. People today have a weirdly deep level of knowledge about that family. If you visit the right websites, you can find daily updates on everything the Kardashians are doing. Some people have, at least in a half-kidding tone, even admitted to knowing more about these socialites than their own families.
Bradbury's "audible seashells" are real, too. Only today, they're in the form of earphones. That's more than just a technological prediction, though. These buds have changed society, just as Bradbury assumed they would.
Headphones have been credited with changing the world of art by removing its social requirements. Where music was once a public art, people now have their own tastes because they listen to their iPods alone. And people often put on headphones as a way of saying, "Don't bother me. I want to be alone." So while we aren't burning books yet, it's probably because we'd have to gather with other people first.
1
The Sheep Look Up Warned Us About Beijing's 'Airpocalypse'
John Brunner's 1972 book, The Sheep Look Up, warns of a world ravaged by pollution. The people in the story use water filters to drink, and only the poorest risk drinking tap water. They wear masks when they go outside in order to survive the smog. And chemicals have absolutely devastated both water and land.
If you live in China, this might just sound like a news report.
Modern China has turned into the exact place Brunner described. People in China exclusively drink purchased water because it's unsafe to drink from the tap. Even the poor avoid tap water if possible, since major health problems can occur if you drink anything that comes out of a Chinese sink.
And, yes, people wear masks outside. But things have gone even further than most people would expect. Air pollution in Beijing has recently reached what's being called "doomsday levels" or the "airpocalypse." Pollution there is 18 times higher than the safe level, making it an absolute necessity to don a mask.
One of the most extreme cases of pollution can be found in the waters of Qingdao. Due to chemicals, the water has been overrun with so much green algae that it completely covers the surface. It's an absolute catastrophe with apocalyptic implications, but for the people in China, it's just everyday life. Because that's all you can do when you live in a dystopia. Just carry on.
Mark Oliver is a writer and a teacher.