En tant que traditionalistes (1), nous croyons en la doctrine des cycles cosmiques (2) et par conséquent nous savons que notre temps actuel correspond au dernier cycle, celui qui est connu sous le nom de Kali-Yuga (3). Ce cycle particulier est le plus sombre des quatre cycles et affecte tous les aspects de la vie en général. Ainsi, les êtres humains, les civilisations et la politique ne peuvent-ils échapper à son pouvoir corrupteur. C'est un fait important à garder à l'esprit.
Cependant, le cycle se termine seulement pour repartir avec le premier, l'Âge d'Or ou Krita-Yuga d'un cycle suivant, les jours sombres laissent place à une nouvelle ère. Toutefois, entre-temps, certains d'entre nous, ceux qui forment la Jeunesse, ressentent le besoin d'une action politique mais nécessitent une formation solide pour faire face aux abominations de nos sociétés postmodernes. La Droite est un concept large après tout, comme c'est le cas pour la gauche. En France, la Droite signifie « Droite économique », même si elle apparaît parfois plus progressiste, parfois plus conservatrice. Dans son échelle de principes, le principe économique est toujours le plus élevé et tous les autres lui sont subordonnés. Voici un exemple frappant d'une étape finale involutive.
La définition de ce qui devrait être considéré comme la vraie Droite est une tâche impérative. Parmi les nombreux sujets qu'il a abordés à travers ses écrits, Julius Evola a consacré de nombreux articles sur cette question. Le philosophe italien, souvent réduit à un « fasciste ésotérique », incarne l'homme de Droite. Ses écrits, mais surtout ses actes, en ont fait un exemple vivant de la droiture que chacun voudrait atteindre. La jeunesse néo-fasciste italienne d'après-guerre n'avait pas tort de chercher toutes ces pierres précieuses dans les livres d'Evola afin de construire sa doctrine.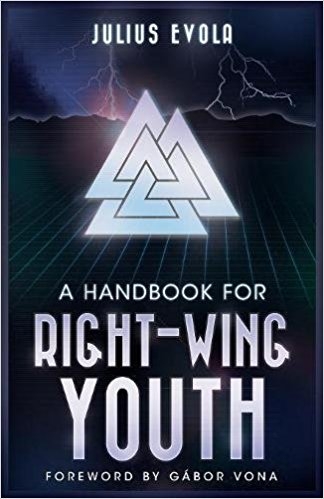 Publié à l'origine en hongrois fin 2012 en tant qu'anthologie des articles d'Evola sur la jeunesse et la Droite, A Handbook For Right-Wing Youth (Un manuel pour la jeunesse de Droite) est maintenant disponible grâce à Arktos en anglais. Nous espérons qu'une version française verra le jour tôt ou tard. En effet, l'influence d'Evola sur la désormais célèbre Nouvelle Droite française et tous ses héritiers (des identitaires aux militants nationalistes-révolutionnaires et traditionalistes radicaux), sans oublier le fondateur du présent site, Georges Feltin-Tracol (4), et certains contributeurs tels Daniel Cologne (5) et votre serviteur lui-même, est tout simplement énorme.
A Handbook For Right-Wing Youth contient dix-sept textes, principalement des articles de presse, mais aussi des extraits de livres tels que L'arc et la massue (6), ainsi que l'intégralité de l'essai intitulé Orientations (7). Il comprend une préface de Gabor Vona, président du parti hongrois Jobbik, et des notes bibliographiques de Robert Horvath. Nous devons également souligner les nombreuses notes de bas de page et la qualité de leurs explications. Le lecteur se retrouve avec un manuel destiné aux militants mais aussi à tous ceux qui désirent découvrir Julius Evola.
Comme le titre le suggère, les deux sujets principaux sont la Droite et la jeunesse. Le premier était un sujet classique développé par l'auteur à travers la totalité de ses écrits. En fait, la Droite suit l'écrivain italien comme son ombre. Julius Evola reste l'éveilleur le plus politique de la Tradition. Il s'est toujours considéré comme un homme de Droite, il a écrit à propos de la Droite et ses critiques et ses positions ont esquissé une doctrine, mieux encore, une vision du monde de Droite. « Cependant, il est également possible de laisser de côté toutes les hypothèses institutionnelles et de parler de la Droite en tant qu'orientation spirituelle et vision du monde. En plus de s'opposer à la démocratie et à tous les mythes " socialistes ", appartenir à la Droite signifie défendre les valeurs de la Tradition comme valeurs spirituelles, aristocratiques et guerrières (éventuellement avec des références à une tradition militaire stricte, comme dans le cas du prussianisme). De plus, cela signifie un certain mépris pour l'intellectualisme et pour le fétichisme bourgeois de l'homme cultivé (p. 50). »
Tout au long des différents textes du livre, Julius Evola insiste sur le fait que la vraie Droite est anti-égalitaire, anti-matérialiste, anti-démocratique mais aussi spirituelle et héroïque. En un mot traditionaliste. « En ce sens, le concept de Tradition s'applique à un système dans lequel toutes les activités sont en principe ordonnées d'en haut et ont une direction ascendante (p. 37). » En outre, Julius Evola vise les principaux foyers d'infection qui doivent être combattus selon lui (le marxisme, la psychanalyse, l'existentialisme et le darwinisme) et donne quelques indices sur les domaines culturels sur lesquels la Droite devrait se concentrer, c'est le cas de l'historiographie par exemple.
À propos du second sujet, Robert Harvath fait remarquer que « le sujet de la jeunesse ne faisait pas partie des préoccupations centrales d'Evola; c'est une ligne fine, mais visible, qui parcourt toute son œuvre (p. 150) ». Lorsqu'il écrit sur les jeunes, Julius Evola encourage une « autre jeunesse » ou, au contraire, critique la jeunesse au sens large. Cette dernière appartient à la jeunesse moyenne pour ainsi dire et Evola a surtout concentré ses critiques sur les étudiants et les beatniks comme dans Against the Youth (Contre les jeunes) ou Some Observations on the Student Movement (Quelques remarques sur le mouvement étudiant), tous deux présents dans ce manuel.
Julius Evola a rédigé ses premiers écrits d'après-guerre pour les jeunes militants néo-fascistes italiens. Il n'écrit pas sur ce qui doit être fait mais sur la façon d'être : « Ne pas se laisser aller est ce qui est crucial aujourd'hui. Dans cette société égarée, il faut se payer le luxe d'avoir un caractère. Il faut être du genre, avant même d'être reconnu comme le champion d'une idée politique, à faire preuve d'une certaine conduite de vie, d'une cohérence intérieure et d'un style de droiture et de courage intellectuel dans chaque relation humaine (p. 1). » Par ailleurs, « sur le plan de l'esprit, il existe quelque chose qui peut déjà servir de trace aux forces de résistance et de renouveau : c'est l'esprit légionnaire. C'est l'attitude de ceux qui surent choisir la voie la plus dure, de ceux qui surent combattre tout en étant conscients que la bataille était matériellement perdue, de ceux qui surent convalider les paroles de la vieille saga : " Fidélité est plus forte que feu ", et à travers lesquels s'affirma l'idée traditionnelle (p. 7) ». Enfin, « l'action intérieure doit précéder toutes les autres actions (p. 3) ».
Nous croyons que ces conseils sont d'une importance capitale même si Evola a écrit sur des thèmes strictement plus politiques comme l'idée impériale, le corporatisme, la guerre occulte ou la « démonie de l'économie ». Certaines personnes comme Claudio Mutti ont rapidement fait d'Evola un admirateur de l'islam puisqu'il a montré à ses lecteurs, de manière positive, la mentalité guerrière de cette religion et son concept du grand djihad. Ce qu'il voulait montrer (et surtout apprécier), c'est ce processus ascétique, cette transformation presque alchimique de soi-même pour atteindre quelque chose de plus élevé. Ses intérêts pour la magie, qu'il a explorée en compagnie d'Arturo Reghini (8) dans le groupe Ur, son intérêt pour le tantra vamachara ou l'alpinisme sont des faits qui tendent à prouver notre point de vue.
En ce qui concerne cette collection de textes, nous aurions pu apprécier l'ajout des dernières parties de Chevaucher le tigre (9) qui consistent en un groupe de préceptes pour être et devenir dans cet âge sombre du Kali-Yuga. Aussi, et cela aurait été une addition nécessaire selon nous, quelques textes ou extraits de ses écrits sur la race auraient été une excellente correctif concernant le racialisme.
En conclusion, A Handbook For Right-Wing Youth est certainement un must pour tous les militants politiques et métapolitiques, pour chaque homme de Droite dans sa véritable essence. Nous croyons fermement que les sociétés occidentales ont besoin d'un renouveau de la Droite, pour ne pas dire une révolution. Gabor Vona a souligné un vrai problème dans la vraie Droite de nos jours : « La tragédie de cette situation est que les outils de la gauche sont contagieux. Cela crée une catastrophe politique, qui est extrêmement banale de nos jours: le paysage de la soit-disant Droite est en réalité de plus en plus rempli d'idées gauchistes, et permet aux frontières de la gauche de s'approcher de plus en plus, de la fausse Droite. Bien sûr, cela aboutit à une confusion totale, à la schizophrénie et au chaos des idées (p. 11 de l'avant-propos). »
C'est le plus grand danger auquel la vraie Droite puisse faire face maintenant. Le national-bolchevisme et le maoïsme nazi mis à part (même si leur tiers-mondisme était idéologiquement néfaste), nous identifions clairement une forte « gauchisation » de la Nouvelle Droite française (en particulier de l'une de ses personnalités, Alain de Benoist) et ce que les médias nomment « extrême droite ». La prévalence des questions sociale et économique, les critiques du libéralisme d'un point de vue marxiste et pire, l'abandon de la défense de la race de notre peuple – l'urgence numéro une pour la plupart des pays d'Europe occidentale – et la volonté d'éviter ces sujets sont de véritables signes de dégénérescence. Nous n'avons pas le temps et ne devrions pas prendre la peine d'analyser les causes; le fruit est déjà trop pourri. Le temps de reconstruire une vraie Droite est maintenant venu. Les livres de Julius Evola et A Handbook For Right-Wing Youth sont plus que des lectures nécessaires pour remettre les idées à l'endroit !
Thierry Durolle
Notes
1 : Par « traditionaliste », nous entendons quelqu'un qui se réfère au sens du mot expliqué par René Guénon.
2 : La doctrine des cycles cosmiques est souvent comprise comme un concept uniquement hindou, mais elle correspond également aux âges d'homme d'Hésiode.
3 : Il est le même que l'Âge de Fer d'Hésiode ou l'Âge du Loup nordique.
4 : Né en 1970, Georges Feltin-Tracol est rédacteur en chef du site Europe Maxima et auteur de nombreux ouvrages et articles. Militant depuis longtemps pour la Grande Europe, il a toujours revendiqué l'influence de Julius Evola dans sa réflexion.
5 : Né en 1946, Daniel Cologne est journaliste et essayiste. Il a écrit plusieurs livres sur la Tradition et a travaillé pour la revue traditionaliste Totalité.
6 : Julius Evola, L'Arc et la massue, Éditions Trédaniel, 1983, 275 p.
7 : Julius Evola, Orientations, Éditions Pardès, 2011, 90 p.
8 : Né en 1878, Arturo Reghini était un franc-maçon italien et était considéré comme le plus célèbre pythagoricien italien.
9 : Julius Evola, Chevaucher le tigre, Éditions Trédaniel, 2002, 290 p.
• Julius Evola, A Handbook For Right-Wing Youth, en anglais, Éditions Arktos, 2017, 182 p., 21,07 €.
• D'abord mis en ligne en anglais sur Euro-Synergies, le 8 novembre 2017.