Zopas verscheen de Nederlandse vertaling van 'Soumission', de jongste roman van Michel Houellebecq, waarin de auteur een beeld schetst van Frankrijk anno 2022. Het land heeft dan een moslimpresident en de sharia is van kracht. Maar de intellectuelen passen zich (zoals altijd) aan, bekeren zich, en al bij al wordt Frankrijk terug een natie om fier op te zijn, zij het zonder vrijemeningsuiting en zonder minirokjes.
De roman als beeldspraak en passe-partout
Ik heb deze roman een paar maanden geleden in het Frans gelezen. Mijn commentaar: krachtig geschreven, meesterlijk verteld, subtiele satire. Effectief hekelt Houellebecq als cultuurcriticus de laksheid van links en de intellectuele elites, noemde al in 2002 de islam 'de stomste religie' en de Koran 'een slecht geschreven boek'. Dat is duidelijk. De vraag is alleen, of een roman –per definitie literaire fictie dus-, de geschikte vorm is om een maatschappelijk probleem aan te kaarten, of een politiek statement te maken. In VRT-Terzake van 18 mei gaf de schrijver aan reporter Karine Claassen een kort interview weg, duidelijk tegen zijn zin, en beperkt tot wat vrijblijvende of nietszeggende small talk. Zoals bekend haat de misantroop Houellebecq het mediagedoe, contact met het publiek en de verplichtingen die hij daarbij als schrijver heeft.
Maar de vaagheid heeft nog een andere reden: de schrijver wil alle ruimte geven aan vrije interpretatie. Dat is zelfs commercieel verantwoord en creëert een brede markt. Extreem-rechts kan er een bevestiging in zien van wat het al decennia verkondigt, links kan al dan niet meegaan in de zelfkritiek, en de rest moet het boek maar gewoon lezen en zich verkneukelen. Misschien vinden zelfs de slimmere moslims het een goed boek, want al-bij-al wordt Frankrijk in de optiek van Michel Houellebecq onder de sharia een veilig land zonder criminaliteit en zonder werkloosheid.
Anders gezegd: een roman is een verhaal, en een verhaal is in onze Westerse cultuur een passe-partout, een sleutel die op vele deuren past. Dat geldt zelfs voor krachtige distopieën zoals 1984 van George Orwell, verschenen in 1949: het zijn en blijven literaire constructies die 'met een korreltje zout moeten genomen worden'. Dat is in wezen een decadente evolutie. Er heeft zich een vrijheid van de schrijver ontwikkeld, maar ook die van de lezer om tussen de regels te lezen. Zo zijn zelfs christenen de bijbel gaan bestuderen: als 'beeldspraak' waar men zijn eigen interpretatie kan aan geven. Natuurlijk is de wereld niet in zeven dagen geschapen, je moet dat eerder zien als een parabel, een allegorie, waar schriftgeleerden en alle gelovigen zich hun hele leven lang mee kunnen bezig houden. De exegese dus: wat werd er nu eigenlijk bedoeld? Zelfs de bijbel is een roman geworden, met alle voor- en nadelen van dien.
Bartholomeusnacht
Dat is de reden waarom Michel Houellebecq geen essays schrijft: een essay zegt gewoon waar het op staat, en tracht zo min mogelijk misverstanden te creëren. Met alle respect, als er een boodschap in 'Soumission' verpakt zit, zou je die op één A4-tje kunnen neerschrijven. Maar zo werkt de literaire industrie natuurlijk niet. Boeken moeten dik zijn, van een mooi kaft voorzien, en meerduidig, zodat recensenten er lange bijdragen over kunnen pennen, wat de publicitaire amplitude nog vergroot, maar ook de postmoderne verwarring en het intellectuele imbroglio.
De eerlijkheid gebiedt ons om te zeggen dat dit boek ook, elf jaar na de moord op Theo Van Gogh (van wiens film 'Submission' de titel toch wel een beetje gepikt is), rijkelijk laat komt als waarschuwing tegen de Arabisering van Europa. Het Front National, Wilders, en jawel, ook het Vlaams Blok/Belang, verkondigen die these al sinds de jaren '90. Verbaal niet zo briljant, maar dus ook zonder dubbelzinnigheid, romanteske verdichting, of iets tussen de regels. In die zin lijkt me het opstel 'Le Suicide français' (2014) van Eric Zemmour over hetzelfde onderwerp veel krachtiger en minder omzwachteld. Dat is, of men het er nu mee eens is of niet, in deze tijd een verdienste.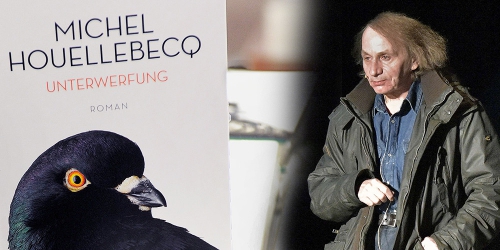 Een roman daarover in 2015 lijkt dan toch wel wat op een flauw doorslagje van die extreem-rechtse doctrine die al meer dan twintig jaar, en onder veel politiek-correcte censuur, haar weg zoekt. Of bedoelt de schrijver toch iets anders? Geen antwoord, Michel kijkt verveeld weg en steekt broebelend de zoveelste sigaret op. Waarom kan ik me niet van de indruk ontdoen dat de nonconformist en cynicus Houellebecq ook wel een opportunist is en een spelletje met ons speelt, één oog op de rinkelende kassa gericht?
Flou artistique alom dus: het is een literaire pose, een commerciële strategie, en misschien ook wel een vorm van sluwheid, een slag om de arm voor de schrijver zelf, die in 2022, het jaar van de voorspelde verkiezing van een moslimpresident in Frankrijk, nog moet kunnen uitleggen dat hij het zo allemaal niet bedoelde. 'Soumission' is een flirt met het rechtse gedachtegoed, maar ook niets meer. De literaire vedette Michel Houellebecq, van wie we nu al weten dat hij tijdens een van zijn veelvuldige bordeelbezoeken door een Arabische prostituee zal vermoord worden, ontkent trouwens bewust alle associaties met politiek rechts in Frankrijk, speciaal dan het FN, kwestie van zijn publiek niet te brusqueren.
Afin, terwijl wij ons het hoofd pijnigen over de vraag wat meester Houellebecq nu precies heeft willen zeggen, interpreteert uitgerekend die religie, waar zijn boek over gaat, haar eigen boek zeer letterlijk. Hier geen interpretatie of veelzinnigheid: het is wat het is, ongelovigen zijn varkens en mogen gedood worden. Punt.
De Koran is dan ook geen roman maar een reeks nauwlettend te volgen voorschriften. Dat is nog de grootste clash, die niemand bemerkt: de polemische, polyvalente lectuur van de Westerse roman versus de letterlijkheid van het religieuze handboek. Waarin eigenlijk dingen staan die ons moeten verbijsteren, veel meer dan enige symbolistisch omwikkelde bellettrie.
Naar mijn gevoel is de plot van 'Soumission' dan ook nog braaf en flou. Zo'n propere machtsoverdracht, vergeet het. Er zullen koppen rollen, en veel. Een reeks Bartholomeusnachten (naam voor de massale moordpartij op protestanten te Parijs in 1572), om in de Franse geschiedschrijving te blijven. Dat is mijn mening, waarvan de urgentie niet toelaat om daar 300 bladzijden schoonschrift aan te besteden, gesteld dat ik daar het talent voor zou hebben.
'Soumission' is nu al een hebbeding en prijkt mooi in de boekenkast. Iets te mooi misschien.